December 4, 2019— Six months ago, we noted tentative signs of improvement in the housing market. Since then, the recovery has become more sure-footed as the impact of lower interest rates, which peaked in late 2018, has begun to filter through to the housing market. In fact, residential investment (defined as spending on construction of new, single-family homes, multi-family buildings, manufactured homes, real estate brokers' commissions, and home improvements) made its first positive contribution to GDP growth in 3Q 2019, after six quarters of detracting from growth (denoted in orange in Figure 1 below). While the direct contribution to growth from residential investment has been small (just 0.2 percentage points of the total 2.1% growth for 3Q), its improvement should also have some spillover to the consumption component of GDP by encouraging consumer spending related to home purchases (furniture, appliances, etc.). This should provide a partial offset to the slump in business capital expenditures that has dampened growth for the past two quarters, as firms have been more reluctant to make large investment outlays given the overhang of uncertainty about future trade relations between the U.S. and China. Positive momentum in the housing market is a welcome development that has been noted by the Fed in recent communications, and will likely contribute to their bias to keep rates on hold for the near term. This of course could shift if conditions warrant a "material reassessment" as it monitors the economy for signs of stabilization in response to the recent rate cuts, as well as further developments on the trade front.
Figure 1: Residential investment contributed positively to growth for the first time since 2017
GDP and contributions (% change, quarter-over-quarter (q/q), seasonally adjusted annual rate (saar))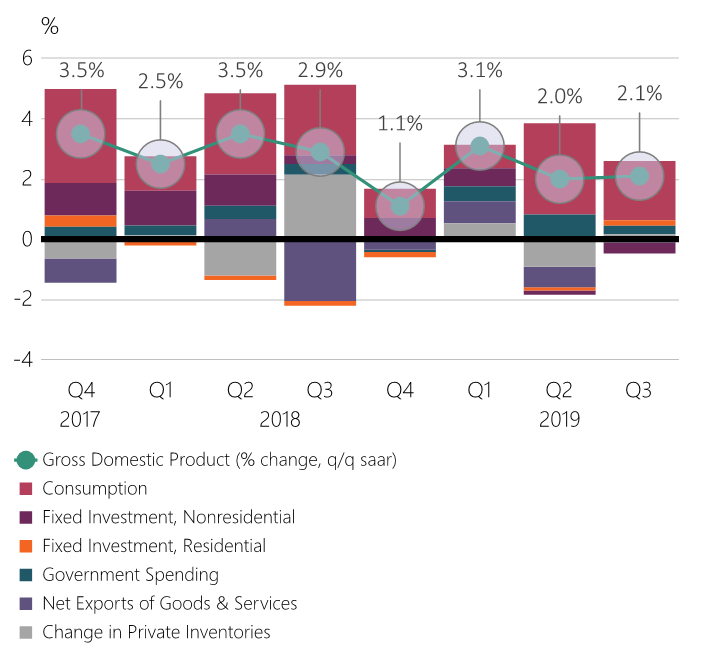 Source: Bureau of Economic Analysis. Data as of September 30, 2019.
Reversal of 2018 interest rate trends have been key in buoying the housing market recovery
The reversal of the sharp uptick in interest rates since late 2018 has been a key driver behind the housing market recovery. The 30-year mortgage rate moved from roughly 3.8% in September 2017, to nearly 5.0% in November 2018, pushing past highs seen during the 2013 taper tantrum (when the 30-year mortgage rate peaked at around 4.6%). This rapid pace of increase in interest rates weighed heavily on housing market activity in 2018 (in conjunction with the impacts of tax reform, supply side constraints (shortage of labor and buildable lots of land), and higher input costs due to tariffs and elevated construction sector wages. Since November 2018, however, the 30-year mortgage rate has come down sharply, by nearly 1.5 percentage points, to roughly 3.5% in early September (though it has drifted up slightly to 3.7% in recent weeks).
The impact of lower interest rates can be seen clearly in the housing market data. A rough gauge of total home sales activity (new plus existing home sales) is now in positive territory on a year-over-year (y/y) basis after declining for most of 2018 (Figure 2[i]). Similar trends can be seen in leading indicators of new home sales, including building permits for new homes and new housing units started; both are also showing year-over-year gains (+14.1% y/y and +8.5% y/y in October). The National Association of Homebuilders Housing market index, an indicator of homebuilder sentiment, bottomed in December 2018 as well. Leading indicators of existing home sales have also improved, with pending home sales rising by 3.9% y/y in October. Mortgage applications for purchase and refinancing have jumped sharply as well.
Figure 2: Retreating interest rates have helped boost housing market activity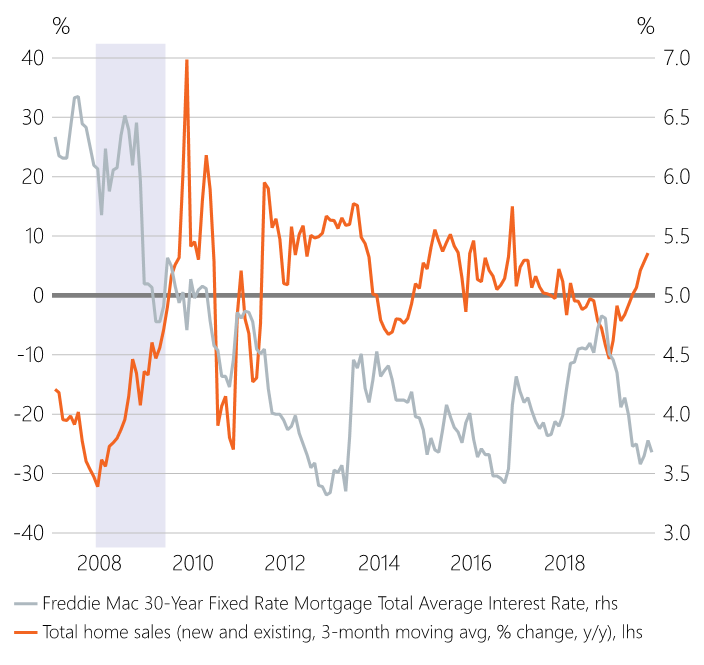 Sources: Freddie Mac, U.S. Census Bureau, National Association of Realtors, Macrobond. Data as of October 30, 2019.
Ripple effects of the housing market on GDP
The residential investment component of GDP is most often focused on to gauge the impact of housing on growth. Its share of GDP is fairly small, averaging roughly 4.6% over the long term. It currently sits at just 3.7% of GDP, though it reached 6.7% of GDP at its peak prior to the Great Recession. Nonetheless, it tends to be a key focus given its cyclical nature (orange line in Figure 3).
In reality, housing's impact on GDP can be larger, particularly through the channel of consumption. Home purchases can increase consumer spending on durable goods (such as furniture and appliances, which account for 1.7% of GDP), home improvements, and maintenance. Academic researchers examining data between 2001 and 2013 found that a home purchase is associated with an average spending increase of $3,700 during the three months leading up to the purchase and up to a year after the purchase.[ii] In addition, lower interest rates tend to boost mortgage refinancings, to either reduce monthly mortgage payments, or to extract equity from homes. Researchers have found that some portion of the savings or additional debt generated from these refinancings are typically used by households to increase the consumption of durable goods, or is spent on home remodeling.[iii] Spending on housing services (utilities, rent, and the rent-equivalent value of housing directly occupied by an owner) is an additional contribution of housing to GDP, though this is a less cyclical contributor to growth (currently 12.5% of GDP). A rough estimate of the broader share of housing in GDP, which includes consumption of housing services, and consumption of furniture and durable household equipment, in addition to residential investment, pushes the share up to roughly 18% of GDP.
Figure 3: Components of housing's share of GDP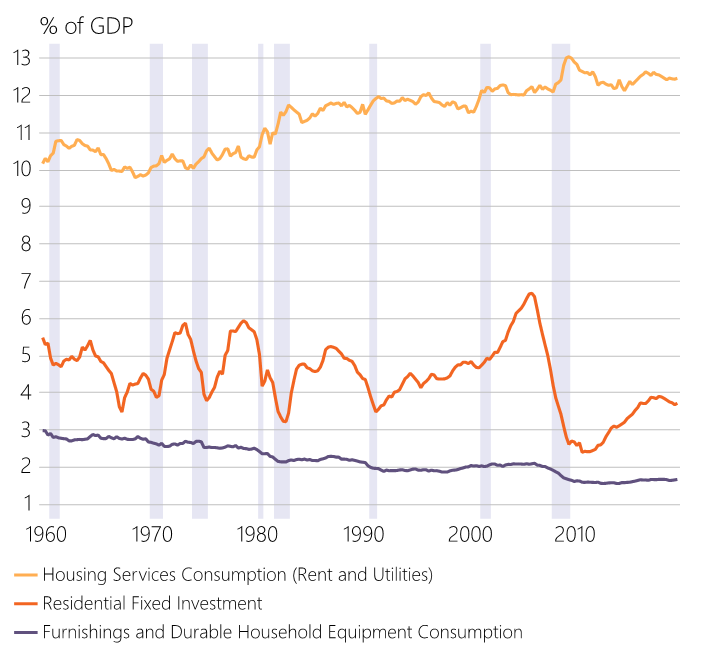 Source: Bureau of Economic Analysis. Data as of September 30, 2019.
Core narrative
We expect overall GDP growth to decelerate in 2020, but would expect housing to continue to provide some modest support in the coming quarters. This would help to partially buffer the drag on growth coming from still sluggish business investment until the headwinds of trade-related uncertainty abate. In addition, the ripple effect of housing on consumption could help provide some offset to the more moderate pace of consumer spending that would be expected as the labor market continues to tighten and gradually cool. This assumes that trade negotiations between the U.S. and China remain on track, with no further increase in tariffs, as an escalation of the trade war could risk derailing consumer confidence and deter large scale purchases, including homes. We currently remain neutral to U.S. and emerging market equities, but are modestly overweight to international developed equities, given nascent signs of stabilization in growth in the eurozone and Japan, and an expectation that if trade negotiations continue to make progress, international developed equities stand to benefit the most from a steadying of global growth.
Disclosures
Wilmington Trust is a registered service mark. Wilmington Trust Corporation is a wholly owned subsidiary of M&T Bank Corporation. Wilmington Trust Company, operating in Delaware only, Wilmington Trust, N.A., M&T Bank and certain other affiliates, provide various fiduciary and non-fiduciary services, including trustee, custodial, agency, investment management and other services. International corporate and institutional services are offered through Wilmington Trust Corporation's international affiliates. Loans, credit cards, retail and business deposits, and other business and personal banking services and products are offered by M&T Bank, member FDIC.
Facts and views presented in this report have not been reviewed by, and may not reflect information known to, professionals in other business areas of Wilmington Trust or M&T Bank who may provide or seek to provide financial services to entities referred to in this report. M&T Bank and Wilmington Trust have established information barriers between their various business groups. As a result, M&T Bank and Wilmington Trust do not disclose certain client relationships with, or compensation received from, such entities in their reports.
The information on Wilmington Wire has been obtained from sources believed to be reliable, but its accuracy and completeness are not guaranteed. The opinions, estimates, and projections constitute the judgment of Wilmington Trust and are subject to change without notice. This commentary is for information purposes only and is not intended as an offer or solicitation for the sale of any financial product or service or a recommendation or determination that any investment strategy is suitable for a specific investor. Investors should seek financial advice regarding the suitability of any investment strategy based on the investor's objectives, financial situation, and particular needs. Diversification does not ensure a profit or guarantee against a loss. There is no assurance that any investment strategy will succeed.
Past performance cannot guarantee future results. Investing involves risk and you may incur a profit or a loss.
Indexes are not available for direct investment. Investment in a security or strategy designed to replicate the performance of an index will incur expenses such as management fees and transaction costs which would reduce returns.
[i] New and existing home sales are averaged over three months, as monthly data are quite volatile.
[ii] Benmelech, Guren, and Melzer. "Making the House a Home: The Stimulative Effects of Home Purchases on Consumption and Investment," 2017.
[iii] Greenspan and Kennedy, "Sources and uses of equity extracted from homes," 2008.