August 30, 2017— It will be weeks before we know the full human and economic costs that Hurricane Harvey has inflicted on southeast Texas. With Hurricane Harvey making its final landfall as we go to press, we are actively monitoring the situation and offer an initial assessment of the potential impact on Wilmington Trust's centrally managed municipal fixed income accounts.
Harvey will go down as one of the most destructive storms in U.S. history and will impact well over the 6.7 million residents of the Houston Metropolitan Statistical Area (MSA) alone. As of Sunday August 27, the Federal Emergency Management Agency (FEMA) had declared 18 counties to be "disasters," making them eligible for both individual and public assistance.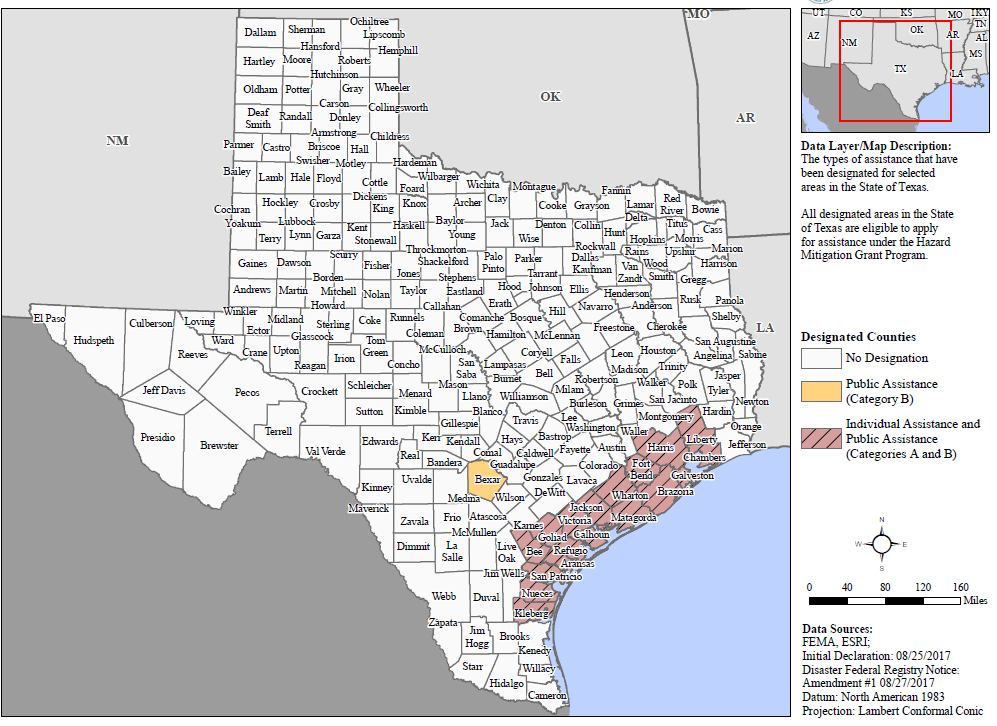 Source: The Federal Emergency Management Agency (FEMA)
Prior to Harvey's initial landfall, FEMA's real estate analytics firm CoreLogic's estimated Hurricane Harvey's damage at $40 billion. If this estimate holds true, Harvey will rank third in the level of destruction caused by hurricanes and tropical storms in the U.S. behind the $108 billion in damage caused by Katrina and the $72 billion in damage from Sandy.
Hurricane damage (in billions)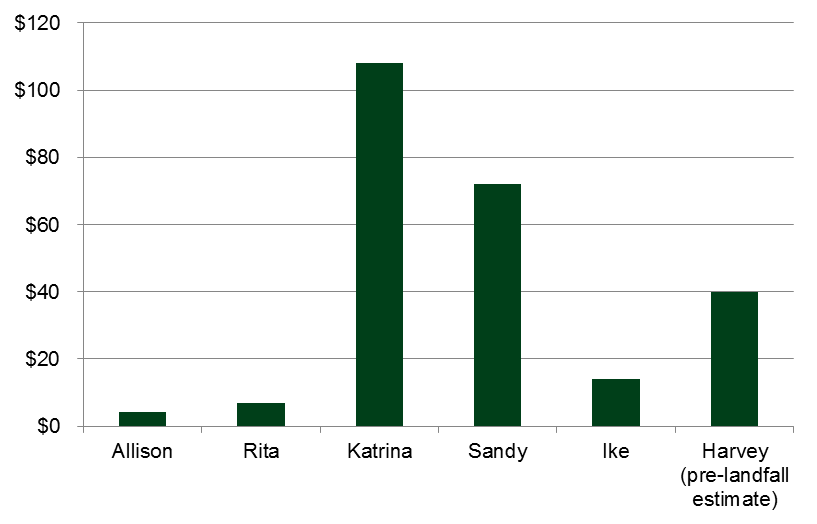 Source: FEMA *CoreLogic
Across our centrally managed municipal fixed income accounts, we currently hold $440 million from 74 different obligors in Texas. At this time, we have identified holdings from 24 obligors, totaling $164 million in the FEMA declared counties; this includes $36 million of AAA state of Texas General Obligation debt. The largest individual holding is AA rated Houston Methodist Hospital at $26 million. The largest credit type is general obligation school district bonds with $37 million in par held. Each of these school district holdings is rated AAA (on the basis of the state's Permanent School Fund guarantee), and carry at least an A underlying rating. The affected obligor's credit ratings as a whole are very strong.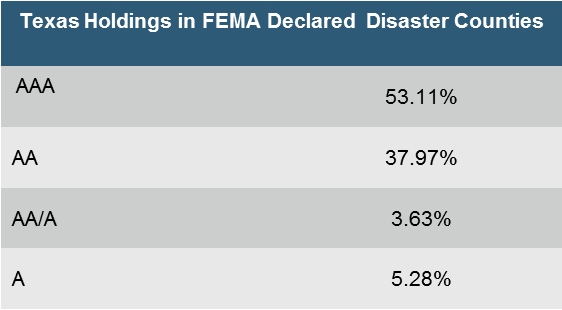 Source: Wilmington Trust Centrally Managed Municipal Fixed Income
Overall, based on past disaster experience and the underlying strong credit strength of each of these holdings, we do not have any immediate credit concerns. Our expectation is that, if need be, they have the resources to hold on until disaster aid readily flows. We do believe that many of these credits have been weakened by the effects of Harvey, some considerably. We also expect that a handful or more could be downgraded over time; however, it is too early to tell. The extent and timing of recovery aid will be a key determinate in assessing future credit quality. We have no reason to believe that federal aid will arrive with any less speed than in recent disasters and can argue that in this instance the timing and the extent of federal aid may exceed prior experience. We also believe that Texas is secure in its rating and will be a strong partner to those credits that need assistance.
We are concerned that some of these credits that have either September 1 or September 15 principal and/or interest payments will not be in a position to make their payments from a purely logistical standpoint. This was experienced on a limited basis after Hurricane Katrina.
Core narrative
While Hurricane Harvey will likely be one of the most costly natural disasters in U.S. history, the long-term effects to the tax-exempt municipal bond market ought to be manageable. We see the possibility for near-term disruptions in payments for some smaller credits, particularly in September, but these will probably be because of operational troubles due to flooding rather than credit issues. We are ever aware of event risk related to geographic concentration. As we structure portfolios, we consider these vagaries and endeavor to regulate issuer exposure accordingly.
Disclosures
Wilmington Trust is a registered service mark. Wilmington Trust Corporation is a wholly owned subsidiary of M&T Bank Corporation. Wilmington Trust Company, operating in Delaware only, Wilmington Trust, N.A., M&T Bank and certain other affiliates, provide various fiduciary and non-fiduciary services, including trustee, custodial, agency, investment management and other services. International corporate and institutional services are offered through Wilmington Trust Corporation's international affiliates. Loans, credit cards, retail and business deposits, and other business and personal banking services and products are offered by M&T Bank, member FDIC.
These materials are based on public information. Facts and views presented in this report have not been reviewed by, and may not reflect information known to, professionals in other business areas of Wilmington Trust or M&T Bank who may provide or seek to provide financial services to entities referred to in this report. M&T Bank and Wilmington Trust have established information barriers between their various business groups. As a result, M&T Bank and Wilmington Trust do not disclose certain client relationships with, or compensation received from, such entities in their reports.
The information on Wilmington Wire has been obtained from sources believed to be reliable, but its accuracy and completeness are not guaranteed. The opinions, estimates, and projections constitute the judgment of Wilmington Trust and are subject to change without notice. This commentary is for information purposes only and is not intended as an offer or solicitation for the sale of any financial product or service or a recommendation or determination that any investment strategy is suitable for a specific investor. Investors should seek financial advice regarding the suitability of any investment strategy based on the investor's objectives, financial situation, and particular needs. Diversification does not ensure a profit or guarantee against a loss. There is no assurance that any investment strategy will succeed.
Any investment products discussed in this commentary are not insured by the FDIC or any other governmental agency, are not deposits of or other obligations of or guaranteed by M&T Bank, Wilmington Trust, or any other bank or entity, and are subject to risks, including a possible loss of the principal amount invested. Some investment products may be available only to certain "qualified investors"—that is, investors who meet certain income and/or investable assets thresholds. Past performance is no guarantee of future results. Investing involves risk and you may incur a profit or a loss.
Any positioning information provided does not include all positions that were taken in client accounts and may not be representative of current positioning. It should not be assumed that the positions described are or will be profitable or that positions taken in the future will be profitable or will equal the performance of those described. Positions described are illustrative and not intended as a recommendation outside of a managed account.
Indices are not available for direct investment. Investment in a security or strategy designed to replicate the performance of an index will incur expenses, such as management fees and transaction costs that would reduce returns.
Third party trademarks and brands are the property of their respective owners.
Contact an Expert