June 26, 2017—The Illinois General Assembly continues its 10-day special session this week making a last-ditch effort to approve a state budget prior to the start of its fiscal year on July 1. Other states, including Delaware, New Jersey, and Pennsylvania are still hashing out their budgets, but the stakes for Illinois are much higher.
After failing to pass a budget for an unprecedented two years, the state's lack of funding support is creating severe financial stress at many of its public universities and social service agencies. Apart from this, however, court orders, consent decrees, and continuing appropriations have kept most state spending at levels of prior years, despite reduced revenue. Consequently, the state has built up a massive payables backlog. As of June 22, 2017, the state owed over $15 billion in payables, a threefold increase from just two years ago. Without a budget in place, this sharp rise in unpaid bills is expected to continue.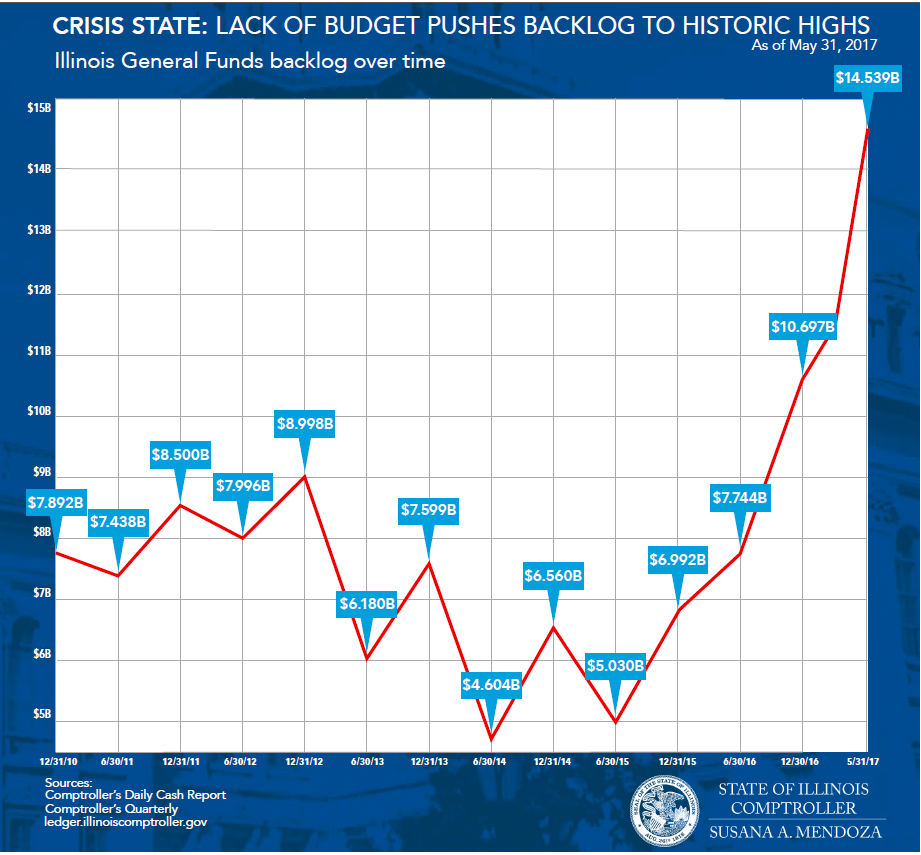 Source: The Ledger
http://ledger.illinoiscomptroller.gov/fiscal-condition/
If the state enters its third fiscal year without a budget, one or more rating agencies are expected to further downgrade the state's bond ratings. Current general obligation ratings by Moody's, S&P, and Fitch are Baa3/BBB-/BBB, respectively. At rating levels below investment grade, the state's access to capital becomes much more expensive.
Illinois' financial woes are long-standing and self-inflicted. Recent downgrades could have been avoided had the Republican governor and majority-Democratic legislature settled on a budget compromise. Illinois' political brinkmanship has led the state to unchartered territory—on the cusp of losing its investment-grade rating—and it is unlikely to experience improvement in its finances and bond ratings until its politicians agree upon a structurally balanced budget. Favorably for bondholders, statutory protections are strong and debt service is prioritized.
No comparison with Puerto Rico
Puerto Rico has been in the headlines daily as a result of its deepening financial distress. Not so long ago, Puerto Rico's general obligation ratings were similar to those held by Illinois. While it may be tempting to compare Puerto Rico and Illinois, there is little similarity between the two.
Although severe, Illinois' financial problems are more readily addressable than those of Puerto Rico's due to the state's deep and broad economy. Although Illinois's rebound from the recession lags that of its neighbors, the state has made progress, benefiting from the strength of the Chicago metro area economy. Strong tourism, a robust transportation/logistics sector, and around 200 academic and research institutions are key strengths of the area economy. Additionally, the Illinois workforce is well educated with approximately one-third of state residents holding at least a bachelor's degree.

Source: CreditScope
Puerto Rico is experiencing sizable outmigration, particularly among its highly educated. Although Illinois has also suffered from outmigration during the past three years, the pace is significantly slower. Puerto Rico's poverty rate is extremely high at over 45%, while that of Illinois is just 14.3%, below the national average of 15.5%. Puerto Rico's per capita and median household income levels are just 37% and 34%, respectively, those of Illinois, as shown above. These stark economic and demographic differences between Illinois and Puerto Rico suggest very different outcomes for their debtholders.
Core narrative
Both Illinois and Puerto Rico represent unique credit situations in the municipal sector, operating in highly uncommon terrain. As the evolving municipal market increases in complexity, Wilmington Trust Investment Advisor's Municipal Fixed Income Team's rigorous approach to fundamental credit analysis is designed to provide strong credit selection and critical oversight of municipal bond portfolios.
Disclosures
Wilmington Trust is a registered service mark. Wilmington Trust Corporation is a wholly owned subsidiary of M&T Bank Corporation. Wilmington Trust Company, operating in Delaware only, Wilmington Trust, N.A., M&T Bank and certain other affiliates, provide various fiduciary and non-fiduciary services, including trustee, custodial, agency, investment management and other services. International corporate and institutional services are offered through Wilmington Trust Corporation's international affiliates. Loans, credit cards, retail and business deposits, and other business and personal banking services and products are offered by M&T Bank, member FDIC.
These materials are based on public information. Facts and views presented in this report have not been reviewed by, and may not reflect information known to, professionals in other business areas of Wilmington Trust or M&T Bank who may provide or seek to provide financial services to entities referred to in this report. M&T Bank and Wilmington Trust have established information barriers between their various business groups. As a result, M&T Bank and Wilmington Trust do not disclose certain client relationships with, or compensation received from, such entities in their reports.
The information on Wilmington Wire has been obtained from sources believed to be reliable, but its accuracy and completeness are not guaranteed. The opinions, estimates, and projections constitute the judgment of Wilmington Trust and are subject to change without notice. This commentary is for information purposes only and is not intended as an offer or solicitation for the sale of any financial product or service or a recommendation or determination that any investment strategy is suitable for a specific investor. Investors should seek financial advice regarding the suitability of any investment strategy based on the investor's objectives, financial situation, and particular needs. Diversification does not ensure a profit or guarantee against a loss. There is no assurance that any investment strategy will succeed.
Any investment products discussed in this commentary are not insured by the FDIC or any other governmental agency, are not deposits of or other obligations of or guaranteed by M&T Bank, Wilmington Trust, or any other bank or entity, and are subject to risks, including a possible loss of the principal amount invested. Some investment products may be available only to certain "qualified investors"—that is, investors who meet certain income and/or investable assets thresholds. Past performance is no guarantee of future results. Investing involves risk and you may incur a profit or a loss.
Any positioning information provided does not include all positions that were taken in client accounts and may not be representative of current positioning. It should not be assumed that the positions described are or will be profitable or that positions taken in the future will be profitable or will equal the performance of those described. Positions described are illustrative and not intended as a recommendation outside of a managed account.
Indices are not available for direct investment. Investment in a security or strategy designed to replicate the performance of an index will incur expenses, such as management fees and transaction costs that would reduce returns.
Third party trademarks and brands are the property of their respective owners.
Contact an Expert