October 5, 2017— While President Trump is still early in his tenure, it is fair to speculate that one of his most influential contributions will come in the appointments he will make to key posts within the Federal Reserve Board ("Fed"). The composition of the Fed has incredibly important implications for the U.S. and international financial systems. As Trump narrows the field of potential Fed Chair nominees, we view the most likely impact to monetary policy to be less about the path of rate hikes and more about the prospects for deregulation.
It is still too early to confidently predict whom Trump will select. As we go to press, mainstream media outlets were reporting five frontrunners (in descending order of odds, according to PredictIt): Kevin Warsh, Jerome Powell, Gary Cohn, Janet Yellen, and John Taylor. There is also always the possibility that Trump nominates someone else entirely. Below is a quick summary of the various nominees and where they stand on particular issues. Possibly of utmost importance is where each nominee falls on the "hawk/dove" scale, where a "hawk" is viewed as focusing more on containing inflation—and therefore, more inclined to raise interest rates—and a "dove" weighs more heavily the consequences of high unemployment and is likelier to maintain lower interest rates.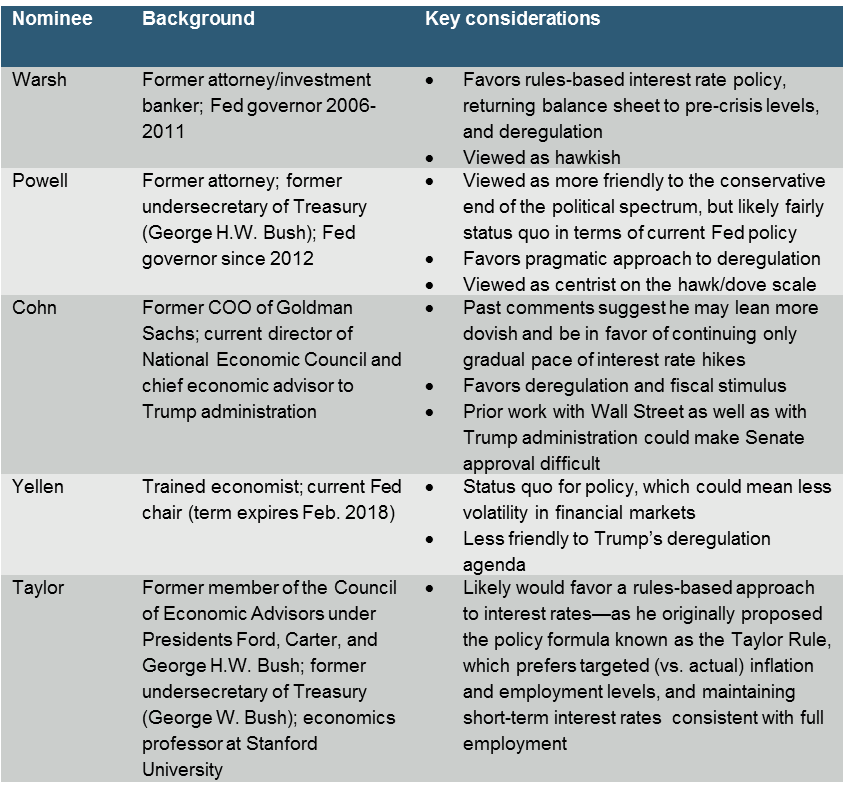 Source: Bloomberg, Federal Reserve, Wall Street Journal
If Yellen is not renominated for the post of chair, there will soon be four vacancies on the seven-member board in addition to the position of chair, as Vice Chairman Stanley Fischer is set to resign on October 13. (If Yellen is not chosen, she has the option of retaining her board seat until her term officially ends in January 2024, but such a transition has occurred only once before and is unlikely, in our view.) In other words, composition of the Fed's main voting body has the potential to shift dramatically if nominations are made for all vacant seats. One of those seats is set to be filled by Randy Quarles, as the Senate approved his nominations today for governor, and also vice chair of supervision, a key regulatory seat. (All Fed governors require approval by the Senate, including the posts of chair and vice chair.)
In terms of her impact on near-term monetary policy, Chair Yellen has managed to get the ball rolling on normalization, both by initiating several interest rate hikes after six years of a zero interest rate policy, as well as by queuing up the process for winding down the balance sheet (sometimes referred to as quantitative tightening, or QT), to begin this month.
However, in our view, monetary policy is far from set in stone. We think the Fed will remain data dependent and look for an acceleration or deceleration of macroeconomic data to justify more hawkish or dovish policy steps, respectively. The next chair will have an influence on the pace of interest rate hikes, as well as the pace of normalization and eventual terminal level of the balance sheet. We commented on the Fed's plan to reduce the balance sheet in a recent blog post. We think this influence will more likely be based on the types of data the chair weighs most heavily than on any preconceived notions of the pace of policy adjustment. For example, one of the Fed's favored inflation measures has been the core Personal Consumption Expenditure Index (PCE), which has fallen below the Fed's target of 2% and justified the gradual pace of rate hikes. Warsh, in particular, has been critical about the use of the core PCE, and the Fed shakeup could force investors to reassess the dashboard of indicators they watch most closely.
Another key area where the Fed plays a role is in the realm of regulation. Deregulation is a key priority of the Trump administration, as stated in the campaign, as well as signaled by the president's nomination of Quarles. If Yellen remains in the seat, for example, she could be a hindrance to a dramatic shift in regulator policy; she ardently defended the current regulatory regime in her Jackson Hole speech this past August. In contrast, Cohn and Warsh have been vocal in favor of reducing the regulatory burden on financial institutions.
Core narrative
The composition of the Fed is very much in flux, and this is a key source of potential volatility for interest rate, currency, and equity markets. We hesitate to draw definitive conclusions about the long-term market impact of one nominee over another, and we certainly would not position portfolios around speculation of one particular nominee's chances, at this point. Our view remains that U.S. and global economic growth remain robust, and while labor market slack is tightening, inflation remains under control. We expect interest rates to gradually rise as economic data warrant and for the curve to flatten with additional Fed hikes. All of this is consistent with our underweight position to fixed income.
Disclosures
Wilmington Trust is a registered service mark. Wilmington Trust Corporation is a wholly owned subsidiary of M&T Bank Corporation. Wilmington Trust Company, operating in Delaware only, Wilmington Trust, N.A., M&T Bank and certain other affiliates, provide various fiduciary and non-fiduciary services, including trustee, custodial, agency, investment management and other services. International corporate and institutional services are offered through Wilmington Trust Corporation's international affiliates. Loans, credit cards, retail and business deposits, and other business and personal banking services and products are offered by M&T Bank, member FDIC.
These materials are based on public information. Facts and views presented in this report have not been reviewed by, and may not reflect information known to, professionals in other business areas of Wilmington Trust or M&T Bank who may provide or seek to provide financial services to entities referred to in this report. M&T Bank and Wilmington Trust have established information barriers between their various business groups. As a result, M&T Bank and Wilmington Trust do not disclose certain client relationships with, or compensation received from, such entities in their reports.
The information on Wilmington Wire has been obtained from sources believed to be reliable, but its accuracy and completeness are not guaranteed. The opinions, estimates, and projections constitute the judgment of Wilmington Trust and are subject to change without notice. This commentary is for information purposes only and is not intended as an offer or solicitation for the sale of any financial product or service or a recommendation or determination that any investment strategy is suitable for a specific investor. Investors should seek financial advice regarding the suitability of any investment strategy based on the investor's objectives, financial situation, and particular needs. Diversification does not ensure a profit or guarantee against a loss. There is no assurance that any investment strategy will succeed.
Any investment products discussed in this commentary are not insured by the FDIC or any other governmental agency, are not deposits of or other obligations of or guaranteed by M&T Bank, Wilmington Trust, or any other bank or entity, and are subject to risks, including a possible loss of the principal amount invested. Some investment products may be available only to certain "qualified investors"—that is, investors who meet certain income and/or investable assets thresholds. Past performance is no guarantee of future results. Investing involves risk and you may incur a profit or a loss.
Any positioning information provided does not include all positions that were taken in client accounts and may not be representative of current positioning. It should not be assumed that the positions described are or will be profitable or that positions taken in the future will be profitable or will equal the performance of those described. Positions described are illustrative and not intended as a recommendation outside of a managed account.
Indices are not available for direct investment. Investment in a security or strategy designed to replicate the performance of an index will incur expenses, such as management fees and transaction costs that would reduce returns.
Third party trademarks and brands are the property of their respective owners.
Contact an Expert