April 5, 2019 – Indian general elections are scheduled to begin on April 11, lasting through May 19. These elections have the potential to be largely consequential not just for India, but also for the performance of emerging markets equities at large. Over the previous five years, Indian equities have outperformed the MSCI Emerging Markets Index due in part to the current pro-business administration. As the fourth-largest market in the MSCI Emerging Markets Index (Figure 1), political control over India's national parliament is of elevated importance. Client portfolios still have a slight overweight to emerging markets equities; thus, we will continue to monitor these events as they unfold and adjust our portfolios accordingly.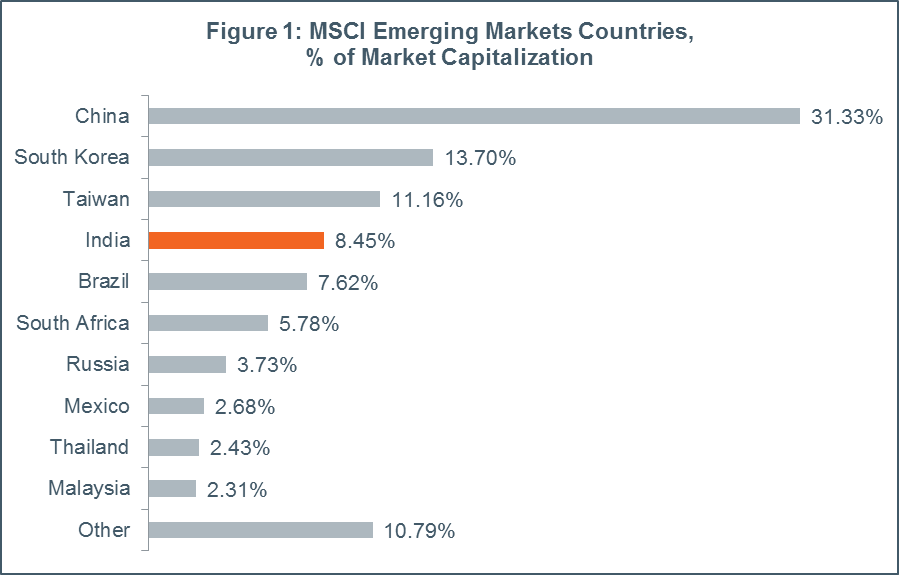 Data as of February 28, 2019.
Sources: Morningstar Direct, WTIA.
The Narendra Modi administration
The Bharatiya Janata Party (BJP) gained an outright majority of seats in parliament in the 2014 general elections and appointed Narendra Modi as the Prime Minister of India.
The 2019 elections can be seen as a referendum on Prime Minister Modi and his policies. During his first term as prime minister—and while previously serving as Chief Minister of Gujarat State—Modi positioned himself as a pro-business politician, enacting policies that often conflicted with the party's roots in populist Hindu nationalism. These policies have made Modi a divisive figure, and as a result, his former popularity has suffered since his landslide victory in 2014. Even so, he is still the favorite to retain power. He has embraced social media as a platform to reach his constituents, and remains India's most followed figure.
Modi's main opposition
Rahul Gandhi's Congress Party is the BJP's main opposition. Gandhi is part of a multi-generation political dynasty that led India to independence in 1947. The Congress Party was India's dominant political force for many succeeding decades.
The Congress Party's appeal has diminished over time and it was decisively defeated in 2014. Within the last year, however, it won several state-level elections, breathing new energy into the party as it prepares for nationwide elections.
Modi's agenda
Prime Minister Modi's pro-business measures have helped to improve national economic integration, the overall efficiency of the economy, and foreign investor sentiment toward India. The effects for very small businesses, labor unions, and the rural poor have been mixed, with critics pointing toward upticks in unemployment as proof that Modi's policies have not been very effective. Modi's principal measures and criticisms have included:
Tax reform aimed at replacing a complex state-level tax system with a single nationwide goods-and-services tax with improved collection mechanisms. A nationwide system facilitates greater volumes of trade in goods and services among Indian states.

Criticism: Many very small businesses have gone out of business, given that their customers could not afford the incremental tax expense.

A vast rural electrification program, necessitating a massive expansion of (mainly) coal-fired power plants.

Criticism: While electrical distribution has now reached nearly all parts of India, power delivery remains unreliable, with frequent blackouts and brownouts in some areas.

A broadening of opportunities for foreign direct investors, through a "Made in India" program.
An insolvency and bankruptcy code aimed at speeding up resolutions of troubled debts.

Criticism: This policy can theoretically improve asset utilization, but can also lead to sudden mass layoffs.

A weakening of labor's collective bargaining rights.

Criticism: While this may help make Indian products more competitive, it can come at the expense of depressing wages.

Policies that make it easier for the government to expropriate land for commercial corridors.

Criticism: This can help promote business development but has adverse impacts for resettled residents.

A "de-monetization" policy that removed large banknotes from circulation. This measure was aimed at sharply reducing sources and uses of cash for tax evasion, corruption, and other illicit activity. By encouraging greater use of electronic payment systems, it also advances national economic integration.

Criticism: Rural poor remain highly dependent on cash payments and have been badly hurt by the policy.

A reduction of government subsidies for diesel fuel, which has helped to reduce the budget deficit.

Criticism: This reduction came at the expense of higher prices for goods carried by diesel transportation.

A push for the Reserve Bank of India (RBI) to boost liquidity through the state banking system and to relax regulation of bad loans. The government has also pushed RBI to pay interim dividends, which it is using to cover budget expenses.

Criticism: While the government's intentions are to promote growth, they come at the risk of impairing the institutional autonomy of the central bank. Recently, the head of RBI resigned at the government's intrusions into RBI's independence.
Impact of measures on Indian equities performance
One reason such reforms have been—and can be—effective is because the Indian economy is meaningfully diversified across sectors (Figure 2). This reflects the fact that listed Indian companies primarily serve India's domestic market.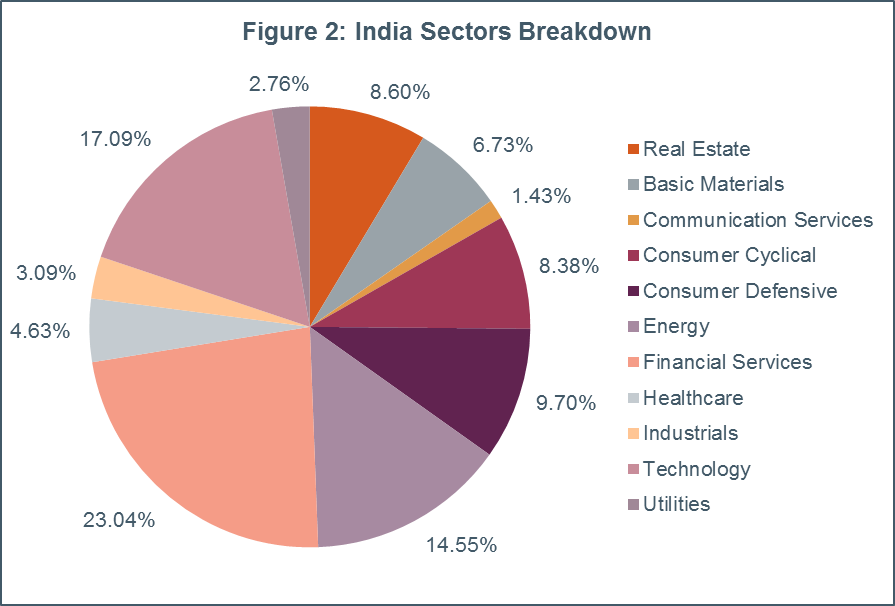 Data as of February 28, 2019.
Sources: Morningstar Direct, WTIA.
Undoubtedly, the pro-business measures described earlier are responsible for the fact that the MSCI India Index has outperformed other less diversified emerging markets since 2014, when Prime Minister Modi first took office. Figure 3 shows the relative outperformance of Indian equities against the MSCI Emerging Markets Index after extracting India's contribution.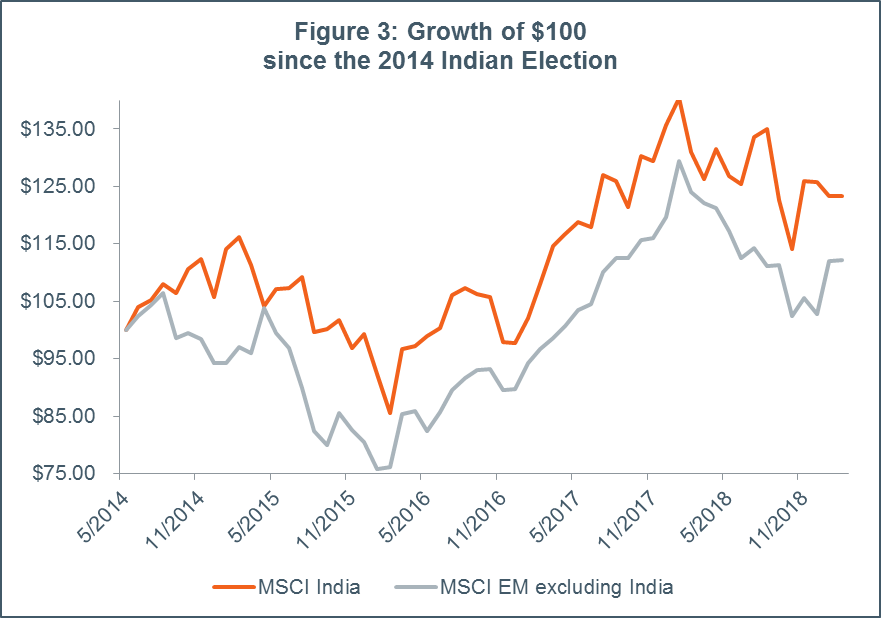 Data as of February 28, 2019.
Sources: Morningstar Direct, WTIA.
The illustration is hypothetical and is not intended to be indicative of the past or future performance of any specific investment option.
Foreign policy
While Modi is often derided by the upper-class elite as an uneducated "tea seller," his reputation among followers is that of a strong, decisive leader. In addition to his bold economic policies, he has advanced a foreign policy agenda that involves working with other countries, including the U.S. and Japan, to help contain Chinese influence. Recently, he engaged in brinksmanship with pro-China Pakistan over disputed Kashmir and successfully tested an anti-satellite weapon, a feat achieved by China a few years ago. Additionally, Modi is broadly popular in the West. Both Theresa May and the European Union have high hopes of establishing trade deals with India in the near future.
Potential outcomes
While Modi's BJP seems poised to gain a plurality of seats in parliament, it is possible that recent gains by the Congress Party will deny it an outright majority. In that case, Modi will seek to form a National Democratic Alliance (NDA) with other regionally based parties. Given the likely second-place showing of the Congress Party, it would also need considerable support from other regional parties to form a "Grand Alliance" coalition. Current polling by the Times of India Mega Poll suggests that over 83% of the respondents who took the survey see a Modi-led NDA government as the most likely outcome of the general election.
We believe that an outright win by the BJP would, on balance, be the best outcome for the Indian equity market. The more likely outcome of a Modi-led NDA would necessitate Modi making policy concessions, which could slow down his pro-business agenda. On the other hand, we believe a Congress-led "Grand Alliance" would present considerable market uncertainty.
Core narrative
Given Modi's consistent pro-business policies and the continued growth of the Indian economy, we have strong conviction that an outright Modi victory or a Modi-led NDA government in the coming elections would be positive for the Indian equity market. India currently represents the fourth-largest country exposure in the MSCI Emerging Markets Index in terms of market capitalization at around 8.5%, making this an important election not just for India, but also for emerging markets equities at large. Client portfolios continue to have a slight overweight to emerging markets equities. We will continue to monitor the Indian general election as events unfold and adjust our portfolios accordingly.
Disclosures
Wilmington Trust is a registered service mark. Wilmington Trust Corporation is a wholly owned subsidiary of M&T Bank Corporation. Wilmington Trust Company, operating in Delaware only, Wilmington Trust, N.A., M&T Bank and certain other affiliates, provide various fiduciary and non-fiduciary services, including trustee, custodial, agency, investment management and other services. International corporate and institutional services are offered through Wilmington Trust Corporation's international affiliates. Loans, credit cards, retail and business deposits, and other business and personal banking services and products are offered by M&T Bank, member FDIC. Wilmington Trust Investment Advisors, Inc. is an SEC-registered investment adviser providing investment management services to Wilmington Trust and M&T Bank affiliates and clients.
These materials are based on public information. Facts and views presented in this report have not been reviewed by, and may not reflect information known to, professionals in other business areas of Wilmington Trust or M&T Bank who may provide or seek to provide financial services to entities referred to in this report. M&T Bank and Wilmington Trust have established information barriers between their various business groups. As a result, M&T Bank and Wilmington Trust do not disclose certain client relationships with, or compensation received from, such entities in their reports.
The information on Wilmington Wire has been obtained from sources believed to be reliable, but its accuracy and completeness are not guaranteed. The opinions, estimates, and projections constitute the judgment of Wilmington Trust and are subject to change without notice. This commentary is for information purposes only and is not intended as an offer or solicitation for the sale of any financial product or service or a recommendation or determination that any investment strategy is suitable for a specific investor. Investors should seek financial advice regarding the suitability of any investment strategy based on the investor's objectives, financial situation, and particular needs. Diversification does not ensure a profit or guarantee against a loss. There is no assurance that any investment strategy will succeed.
Any investment products discussed in this commentary are not insured by the FDIC or any other governmental agency, are not deposits of or other obligations of or guaranteed by M&T Bank, Wilmington Trust, or any other bank or entity, and are subject to risks, including a possible loss of the principal amount invested. Some investment products may be available only to certain "qualified investors"—that is, investors who meet certain income and/or investable assets thresholds. Past performance cannot guarantee future results. Investing involves risk and you may incur a profit or a loss.
Any positioning information provided does not include all positions that were taken in client accounts and may not be representative of current positioning. It should not be assumed that the positions described are or will be profitable or that positions taken in the future will be profitable or will equal the performance of those described. Positions described are illustrative and not intended as a recommendation outside of a managed account. Indices are not available for direct investment. Investment in a security or strategy designed to replicate the performance of an index will incur expenses, such as management fees and transaction costs that would reduce returns.
Third-party trademarks and brands are the property of their respective owners.