May 16, 2017 — The advance in consumer prices has slowed noticeably in the past two months, prompting discussions about the health of the economy as well as the Federal Reserve's ("Fed") planned rate hikes in the months ahead. The slowdown was apparent in the March data for both major measures of inflation: the Consumer Price Index (CPI) and the Personal Consumption Expenditures (PCE) price index. Last week's release of the April data for the CPI showed another slowdown and rippled through markets in the form of a weaker U.S. dollar and lower yields on U.S. Treasuries as the markets priced in a lower path for Fed rate hikes.
Figure 1 shows the most recent slowdown in CPI inflation at the far right and in context with history. Inflation surged from late 2015 to early 2017 due to the well-known dynamic of energy prices which we wrote about here (The Fed's Case for Rate Hikes Strengthens) and here (Inflation Moves Up Slightly, Set to Jump in Coming Months). At the same time, so-called core inflation (which excludes energy and food prices) was also moving up smoothly. But the most recent two weak reports have dragged down core CPI below 2% for the first time since late 2015.
Figure 1
CPI Inflation y/y%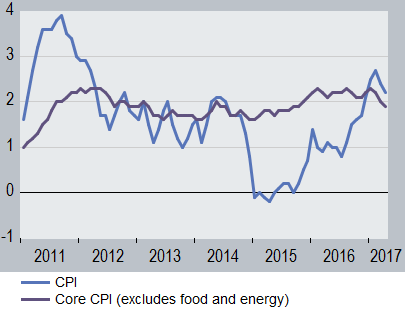 Source: Bureau of Labor Statistics; WTIA
We have long held a higher-than-consensus view of inflation, which was reflected in our investment positioning. Those higher expectations have come to fruition up until these last two months. Our assessment of the details of the inflation report, as well as our analysis of the economic environment, leads us to believe that the recent slowdown is a speed bump as opposed to the beginning of a true slowdown. But we must acknowledge the slowdown and be on alert for indications of continued weakening. Here are the details.
Anatomy of a slowdown
The first reason we are skeptical of a broad-based weakening in inflation is that a major source of the recent slowdown has been mobile communication prices, namely the decisions by Verizon and AT&T to move to unlimited data plans early this year. Industry competition pushed down pricing in the broader Education & Communication component of the CPI to below -8% in the past three months, as shown on the right-hand side of Figure 2. At a 7% weight in the overall CPI basket, that is a significant reason for the weak inflation readings. If pricing anemia was coming from a weak consumer it might be worrying, but this recent move in pricing appears to be an industry with strong demand that is jockeying for market share.
Figure 2
Inflation components (3 mo. annualized % chg.)

Source: Bureau of Labor Statistics, WTIA
We believe the shelter component is more worthy of attention for possible weakness. As the left-hand side of Figure 2 shows, this largest component of the CPI had been accelerating over the course of the recovery, hitting 4% at the end of 2016 before decelerating sharply in early 2017. This segment includes housing prices, apartment rents, and the prices of hotels and motels. Some of the weakness in 2017 is coming from hotels and motels. That last component showed a 30% annualized decline in February before bouncing back in March, likely just statistical volatility. Although hotel and motel prices have a miniscule weight in the index, that kind of big movement can move the total. The more important components, home prices and apartment rents, have slowed a bit and do merit attention.
Producer costs and import costs are pushing higher
We pay a great deal of attention to other pricing pressures in the economy that we believe impact consumer prices, i.e., the production costs faced by domestic firms and import prices. Both of these items are currently supportive of continued slight acceleration in consumer prices. Producer prices continue to increase, with the most recent data showing the overall producer price index (PPI) up 3.9% y/y in April. Those have been driven significantly by energy and commodity prices, and the PPI is generally more volatile than the CPI as firms are not always able to quickly pass through production costs to consumers. Still, removing food and energy from the PPI to see the core shows 1.9% y/y in April, a slight upward move from March and the highest since September 2015.
Additionally, the cost of imported consumer goods is moving up. After being pushed into negative territory for more than two years in a strong U.S. dollar environment, the prices of imported consumer goods were up 0.2% y/y in April. That is the first positive reading since December 2014. We believe the continued weakening of the dollar since hitting its peak in December 2016 will keep pushing up the prices of imported goods which will in turn push up the CPI.
The tight labor market and wage pressure
The last reason we are optimistic that CPI inflation will revert to a higher point is the tight labor market and increasing wage pressure. The unemployment rate is now down to 4.4%, and even the higher measure of unemployment that includes labor force dropouts and part time workers is down to 8.6%, the lowest in 10 years. Job openings remain very high, and that mix of strong demand for labor with low unemployment is pushing up on wages. Higher wages tend to push up on consumer prices and we believe will contribute to higher inflation going forward. The link between wage pressure and inflation is imperfect and challenging to pinpoint in terms of timing when looking at history. The biggest disconnect between the two came in the late 1990s when wages were accelerating strongly yet inflation was drifting down. But that was a time of very strong productivity growth which is not the case now. With productivity growth currently very low, we believe stronger wage pressure will be supportive of higher inflation.
Core narrative
The recent weakness in inflation has certainly put us (and markets) on notice that pricing pressure may not be as strong as previously thought. Going through some of the details, we find that some items, such as housing prices, merit attention while others such as mobile phone pricing are not worrisome. Importantly, our assessment of the drivers of inflation—including producer prices, the cost of imports, and increasing wage pressure—leads us to believe that the recent weakness in inflation is temporary. Accordingly we still believe the Fed is likely to follow through with its current projected path of two more rate hikes this year, though some members of the committee will argue to slow down.
Disclosures
Wilmington Trust is a registered service mark. Wilmington Trust Corporation is a wholly owned subsidiary of M&T Bank Corporation. Wilmington Trust Company, operating in Delaware only, Wilmington Trust, N.A., M&T Bank and certain other affiliates, provide various fiduciary and non-fiduciary services, including trustee, custodial, agency, investment management and other services. International corporate and institutional services are offered through Wilmington Trust Corporation's international affiliates. Loans, credit cards, retail and business deposits, and other business and personal banking services and products are offered by M&T Bank, member FDIC.
These materials are based on public information. Facts and views presented in this report have not been reviewed by, and may not reflect information known to, professionals in other business areas of Wilmington Trust or M&T Bank who may provide or seek to provide financial services to entities referred to in this report. M&T Bank and Wilmington Trust have established information barriers between their various business groups. As a result, M&T Bank and Wilmington Trust do not disclose certain client relationships with, or compensation received from, such entities in their reports.
The information on Wilmington Wire has been obtained from sources believed to be reliable, but its accuracy and completeness are not guaranteed. The opinions, estimates, and projections constitute the judgment of Wilmington Trust and are subject to change without notice. This commentary is for information purposes only and is not intended as an offer or solicitation for the sale of any financial product or service or a recommendation or determination that any investment strategy is suitable for a specific investor. Investors should seek financial advice regarding the suitability of any investment strategy based on the investor's objectives, financial situation, and particular needs. Diversification does not ensure a profit or guarantee against a loss. There is no assurance that any investment strategy will succeed.
Any investment products discussed in this commentary are not insured by the FDIC or any other governmental agency, are not deposits of or other obligations of or guaranteed by M&T Bank, Wilmington Trust, or any other bank or entity, and are subject to risks, including a possible loss of the principal amount invested. Some investment products may be available only to certain "qualified investors"—that is, investors who meet certain income and/or investable assets thresholds. Past performance is no guarantee of future results. Investing involves risk and you may incur a profit or a loss.
Any positioning information provided does not include all positions that were taken in client accounts and may not be representative of current positioning. It should not be assumed that the positions described are or will be profitable or that positions taken in the future will be profitable or will equal the performance of those described. Positions described are illustrative and not intended as a recommendation outside of a managed account.
Indices are not available for direct investment. Investment in a security or strategy designed to replicate the performance of an index will incur expenses, such as management fees and transaction costs that would reduce returns.
Third party trademarks and brands are the property of their respective owners.
Contact an Expert