December 16, 2016—Inflation was up 1.7% year-over-year in November, and we suspect it will move above 2% for the next several months. The Consumer Price Index (CPI) posted its fourth consecutive increase in the month of November, 0.2% higher than the October reading and 1.7% higher than a year earlier. This is the strongest annual advance since October 2014. The slight increase in month-over- month terms was exactly as the market expected. Core CPI, which removes the impacts of the more volatile inputs (food and energy prices), also had a slight 0.2% increase for the month of November. It is 2.1% higher than a year prior. The graph below shows how headline CPI and core CPI have behaved over the last six years. The separation of the two measures since late 2014 has been driven mostly by the collapse in oil prices which plays through to consumer prices via the price of gasoline. That dragged overall inflation down to zero for much of 2015.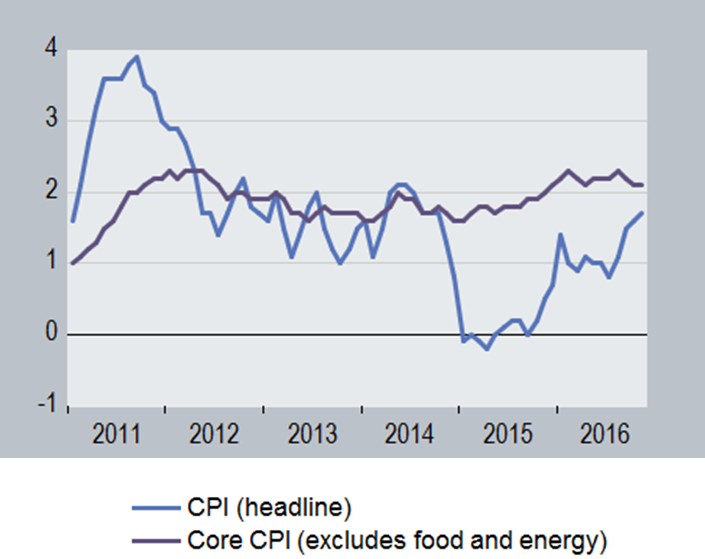 Sources: Bureau of Labor Statistics
Gasoline prices will put upward pressure on inflation…
Starting in late 2015, gas prices were no longer dragging CPI down so the overall reading began to move up again. This upward move is not because the price of gas has increased, but simply because the year-over-year comparison that had been negative for so long is abating. In mid-2014 before the collapse, the average national gas price, measured daily by the American Automobile Association, was about $3.50 per gallon. As it fell, the year-over-year (y/y) declines approached 40%, weighing heavily on overall inflation despite the very small weight that gas receives in the overall CPI. The low point came in February 2016 at about $1.70 per gallon. With prices in December 2016 around $2.25, they are well below the levels before the collapse, but are just now starting to register y/y increases.
For the first time since June 2014, gas prices posted an increase in the CPI report for the month of November, but it was just 1% higher relative to November of last year. The figure is setting up to be quite different for the next CPI report, which will be for the month of December to be released in mid-January 2017. As of last week, the daily prices were up 12% in year-over-year terms and moving higher. If they end up increasing 15% for the month, that would add half a percent to the overall CPI, and move overall inflation above 2% for the first time since mid-2014. We expect this to take place and, also, for the next two reports to move higher on this gas price impact.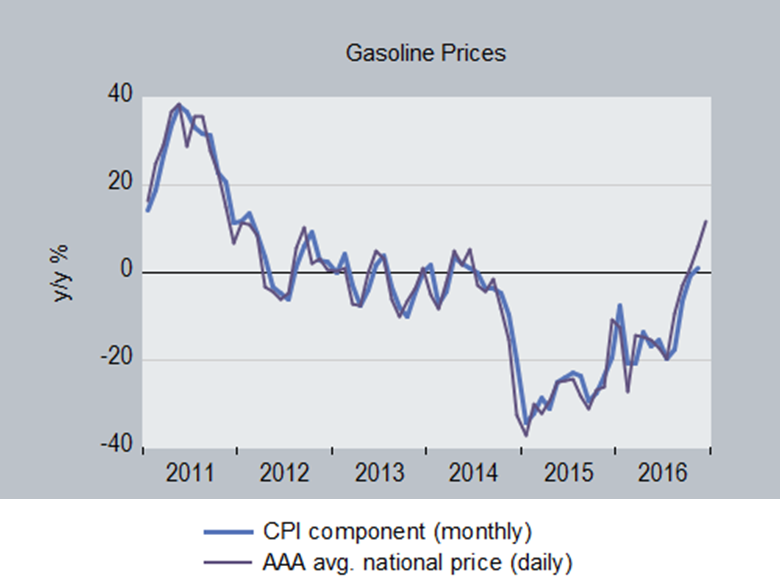 Source: American Automobile Association, Bureau of Labor Statistics, WTIA
…but it's not just gas prices
We expect other forces will also be pushing inflation higher in 2017, including the cost of imported goods. The chart below shows that China's costs of producing goods has been declining for nearly five years, but moved positive in the last few months of 2016. Perhaps not surprisingly, the cost of U.S. imported consumer goods has been declining over that timeframe. China is the largest source of U.S. imports. The data suggest that, over time, when China's producer prices increase for their manufacturing sector, the cost of U.S. imports increases about six to eight months later. If that relationship holds, we would expect to see import prices moving up in mid-2017. This would put upward pressure on U.S. consumer prices.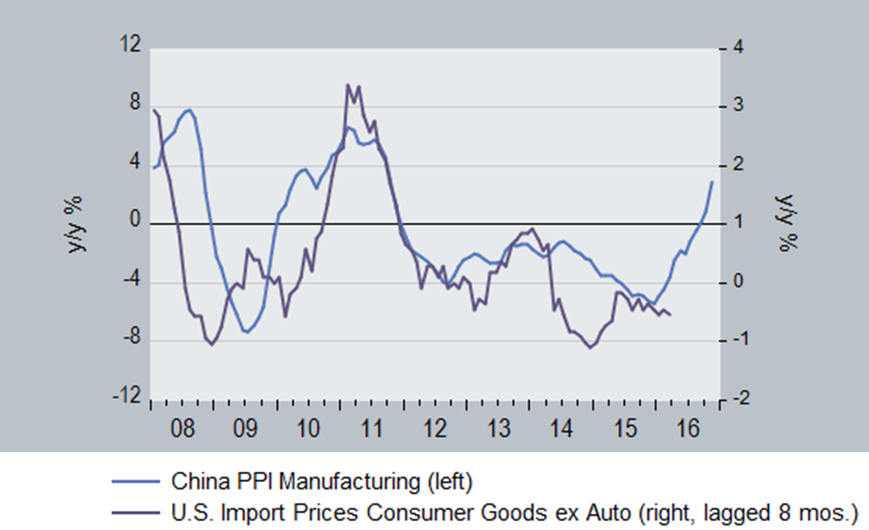 Source: Bloomberg
Core Narrative
The CPI data released this week support our core narrative of continued higher inflation for the next 12 months. We expect inflation to accelerate and exceed the Fed's 2% target rate, which will support the Fed's expectation for more rate hikes in 2017. The gas price impact will be short-lived, but other impacts such as the price of imported goods discussed above should also be pushing inflation higher. This is supportive of our overall overweight positioning to TIPS.
Disclosures
Wilmington Trust is a registered service mark. Wilmington Trust Corporation is a wholly owned subsidiary of M&T Bank Corporation. Investment management and fiduciary services are provided by Wilmington Trust Company, operating in Delaware only, and Wilmington Trust, N.A., a national bank. Loans, retail and business deposits, and other personal and business banking services and products are offered by Manufacturers and Traders Trust Company (M&T Bank), member FDIC. Wilmington Trust Investment Advisors, Inc., a subsidiary of M&T Bank, is a SEC-registered investment adviser providing investment management services to Wilmington Trust and M&T affiliates and clients.
These materials are based on public information. Facts and views presented in this report have not been reviewed by, and may not reflect information known to, professionals in other business areas of Wilmington Trust or M&T Bank who may provide or seek to provide financial services to entities referred to in this report. M&T Bank and Wilmington Trust have established information barriers between their various business groups. As a result, M&T Bank and Wilmington Trust do not disclose certain client relationships with, or compensation received from, such entities in their reports.
The information on Wilmington Wire has been obtained from sources believed to be reliable, but its accuracy and completeness are not guaranteed. The opinions, estimates, and projections constitute the judgment of Wilmington Trust and are subject to change without notice. This commentary is for information purposes only and is not intended as an offer or solicitation for the sale of any financial product or service or a recommendation or determination that any investment strategy is suitable for a specific investor. Investors should seek financial advice regarding the suitability of any investment strategy based on the investor's objectives, financial situation, and particular needs. Diversification does not ensure a profit or guarantee against a loss. There is no assurance that any investment strategy will succeed.
Any investment products discussed in this commentary are not insured by the FDIC or any other governmental agency, are not deposits of or other obligations of or guaranteed by M&T Bank, Wilmington Trust, or any other bank or entity, and are subject to risks, including a possible loss of the principal amount invested. Some investment products may be available only to certain "qualified investors"—that is, investors who meet certain income and/or investable assets thresholds. Past performance is no guarantee of future results. Investing involves risk and you may incur a profit or a loss.
Any positioning information provided does not include all positions that were taken in client accounts and may not be representative of current positioning. It should not be assumed that the positions described are or will be profitable or that positions taken in the future will be profitable or will equal the performance of those described. Positions described are illustrative and not intended as a recommendation outside of a managed account.
Indices are not available for direct investment. Investment in a security or strategy designed to replicate the performance of an index will incur expenses, such as management fees and transaction costs that would reduce returns.
Third party trademarks and brands are the property of their respective owners.
Contact an Expert