September 18, 2017 — After five months of sitting in the doldrums, core consumer prices (excluding food and energy) rose by 0.2% month over month in August, the largest jump since January. Headline and core inflation rates are still holding below the Federal Reserve Bank's (Fed's) 2% inflation target, at 1.9% and 1.7% year over year, but the August reading is the first in months to suggest that the underlying uptrend in inflation seen late last year could still be intact after March's sharp setback.
Consumer price rises started off strong going into 2017, but soon hit a speed bump in March, with month-over-month core CPI turning negative, triggered in large part by the impact of major telecom companies moving to unlimited data plans, which resulted in a sharp drop in wireless telephone service prices. We were not overly concerned by this drop, as it was the outcome of a methodological change in the measurement of prices, rather than a sign of underlying weakness in consumer demand.
The following months however, saw a continuation of soft inflation readings, prompting concerns about the large inflation picture, and putting a damper on expectations of future Fed rate hikes. Shelter, one of the largest components of CPI, and medical care, had experienced price deceleration since the start of the year. There were, however, more volatile movements month to month across a number of sub-categories (hotels and motels, apparel, new and used motor vehicles, airline fares, and prescription drugs, among others) which combined to weigh on inflation as well. These mixed movements, over the course of a few months, have made it more difficult for markets, and even officials at the Fed, to discern whether the weakness in inflation has been caused by idiosyncratic rather than broader structural factors.
Since March, month-over-month readings in CPI have moved back into positive territory and shown slow sequential improvement. Prices in categories with some of the largest declines have begun to recover. The August reading saw the largest jump in the shelter index since October 2005, with hotel and motel component rebounding after a record drop in July. Medical care, a previous source of weakness, has stabilized over the past few months as well. Wireless telephone prices drops have moderated since March, steadying the education and communication category, which caused the original steep drop in CPI. While price trends in new and used motor vehicles, airline fares, and household furnishings remain subdued, categories like recreation and motor vehicle insurance are holding up. The underlying details of the August release are supportive of a still-healthy inflation trend, in our view, though it is still early and data on inflation in upcoming months will be very important to corroborate the trend.
The recent weakness in the U.S. dollar should also bolster inflation in the coming months. The dollar has declined by nearly 12% this year since its peak in December 2016. A weaker dollar tends to raise import prices, which in turn should be a boost to inflation. The chart below shows how the strength of the dollar between 2014 and 2016 dampened import prices for consumer goods (ex-autos). With the dollar's decline so far this year, we have seen consumer goods import prices begin to creep up into positive territory once again, and believe this will also feed through to CPI.
Core CPI month-over-month % change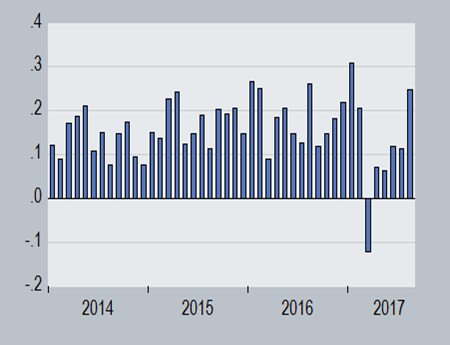 Source: Bureau of Labor Statistics, WTIA
U.S. dollar and imported consumer goods year-over-year % change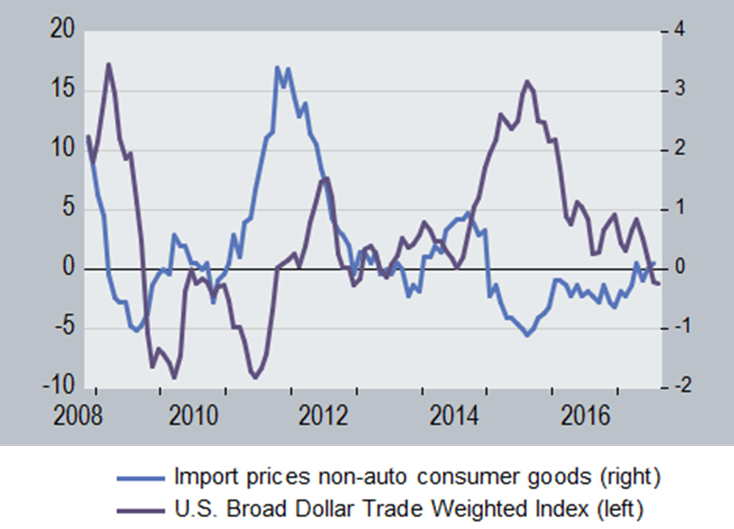 Source: Bloomberg, WTIA
The Fed will make its next announcement on September 20, where we expect it to keep rates on hold, but announce the start of balance sheet normalization, according to the guidelines released at the June 2017 FOMC meeting. We believe this is largely priced into markets already, as this has been a well-telegraphed message communicated by the Fed over the past few months. The Fed plans to draw down the balance sheet by changing its current policy of reinvesting principal and interest in more Treasuries and mortgage-backed securities (MBS). For the Treasury market, the Fed intends to let its holdings decline by $6bn per month initially, and later increase in steps of $6bn at 3-month intervals over 12 months until it hits $30bn per month. For agency debt and MBS, it intends to let holdings decline by $4bn per month initially and will increase in steps of $4bn at 3-month intervals over 12 months until it reaches $20bn per month.
We expect the Fed to keep rates on hold at its meeting ending November 1, as it takes time to assess the impact of balance sheet reduction on markets. The Fed will receive 3 more data points on inflation by the time of the December 13 announcement (with the data for November CPI released that morning). At that point, the deadline for a budget deal—postponed on September 6 to December 8—will have already passed. Assuming the balance sheet normalization process goes forward smoothly, and contingent on stronger inflation readings over the next 3 months, we expect the Fed to hike rates at its December 13 meeting.
Core narrative
The August CPI data is a first sign that the underlying trend in inflation may be able to resume its uptrend. The impact of a weaker dollar should also begin to feed through to import prices, eventually pushing up consumer prices as well. We expect the Fed will keep rates on hold in September to announce further details on plans to reduce the balance sheet, and then hike again in December, contingent on stronger inflation readings in the interim.
Disclosures
Wilmington Trust is a registered service mark. Wilmington Trust Corporation is a wholly owned subsidiary of M&T Bank Corporation. Wilmington Trust Company, operating in Delaware only, Wilmington Trust, N.A., M&T Bank and certain other affiliates, provide various fiduciary and non-fiduciary services, including trustee, custodial, agency, investment management and other services. International corporate and institutional services are offered through Wilmington Trust Corporation's international affiliates. Loans, credit cards, retail and business deposits, and other business and personal banking services and products are offered by M&T Bank, member FDIC.
These materials are based on public information. Facts and views presented in this report have not been reviewed by, and may not reflect information known to, professionals in other business areas of Wilmington Trust or M&T Bank who may provide or seek to provide financial services to entities referred to in this report. M&T Bank and Wilmington Trust have established information barriers between their various business groups. As a result, M&T Bank and Wilmington Trust do not disclose certain client relationships with, or compensation received from, such entities in their reports.
The information on Wilmington Wire has been obtained from sources believed to be reliable, but its accuracy and completeness are not guaranteed. The opinions, estimates, and projections constitute the judgment of Wilmington Trust and are subject to change without notice. This commentary is for information purposes only and is not intended as an offer or solicitation for the sale of any financial product or service or a recommendation or determination that any investment strategy is suitable for a specific investor. Investors should seek financial advice regarding the suitability of any investment strategy based on the investor's objectives, financial situation, and particular needs. Diversification does not ensure a profit or guarantee against a loss. There is no assurance that any investment strategy will succeed.
Any investment products discussed in this commentary are not insured by the FDIC or any other governmental agency, are not deposits of or other obligations of or guaranteed by M&T Bank, Wilmington Trust, or any other bank or entity, and are subject to risks, including a possible loss of the principal amount invested. Some investment products may be available only to certain "qualified investors"—that is, investors who meet certain income and/or investable assets thresholds. Past performance is no guarantee of future results. Investing involves risk and you may incur a profit or a loss.
Any positioning information provided does not include all positions that were taken in client accounts and may not be representative of current positioning. It should not be assumed that the positions described are or will be profitable or that positions taken in the future will be profitable or will equal the performance of those described. Positions described are illustrative and not intended as a recommendation outside of a managed account.
Indices are not available for direct investment. Investment in a security or strategy designed to replicate the performance of an index will incur expenses, such as management fees and transaction costs that would reduce returns.
Third party trademarks and brands are the property of their respective owners.
Contact an Expert