June 28, 2019—If you've been invested in international developed country stocks over the last ten years, you would have done much better investing in the international consumer staples, health care, and information technology sectors, rather than in financials or energy  (see Figure 1). Why has this been the case?
Figure : International developed stocks (MSCI EAFE) by sector
10-year annualized returns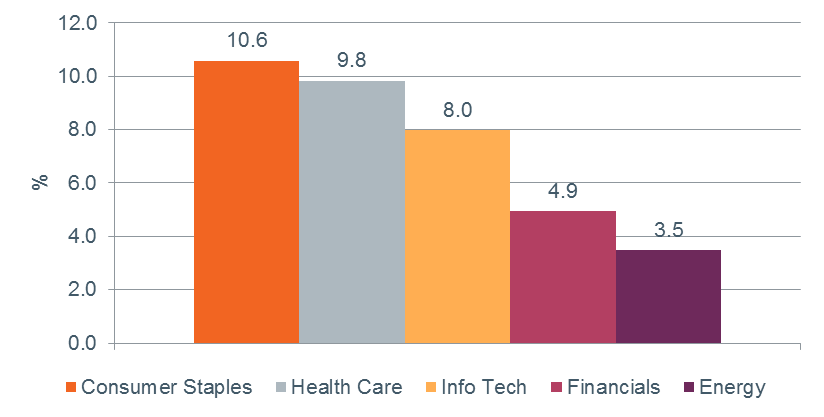 Data as of May 31, 2019
The MSCI EAFE Index returned 6.2% over the same time period, 10-year annualized ending May 31, 2019.
Source: Bloomberg
Past performance cannot guarantee future results.  Indices are not available for direct investment. Investment in a security or strategy designed to replicate the performance of an index will incur expenses, such as management fees and transaction costs that would reduce returns.
Consumer staples, health care, and information technology have offered structural advantages
European stocks in the consumer staples and health care sectors (in particular, the pharmaceuticals industry) have offered sustained high rates of earnings growth.  In the information technology space, European and Japanese stocks have been participating, and in some cases leading, in smartphone, cloud, and industrial automation development.
The earnings growth of many stocks in the consumer staples, health care, and information technology sectors have been supported by high and/or strengthening profitability, combined with low leverage. Additionally, earnings from sales to, or within, the U.S. and emerging markets have helped to protect such stocks' earnings from weak domestic economic activity in Europe and Japan.  Further, as the global economic cycle matures, investors have been willing to pay more for stocks which have offered less economically-sensitive earnings growth.
Likewise, sustained low interest rates have supported high valuations for stocks with long-term earnings growth prospects.  Low interest rates mean that investors apply a smaller discount to expected distant future earnings.
Financials and energy stocks have been structurally disadvantaged
Earnings of European and Japanese banks and diversified financials have been constrained by weak domestic economic activity, which impacts loan demand.  Some European banks remain saddled with loan quality problems arising from the Global Financial Crisis of 2008-2009, Eurozone debt crisis, and subsequent austerity measures.  Moreover, earnings of European and Japanese financials have been adversely impacted by negative interest rates across most of the yield curve.  As for European energy stocks, their earnings are highly sensitive to volatile oil prices. It is difficult for energy stocks to sustain high earnings and returns.   With earnings from financials and energy stocks weak or volatile, investors must rely on dividend yield to provide the bulk of such stocks' total return.
Core narrative
There have been lengthy periods in the past—prior to the last dozen years—when international financials and energy stocks have outperformed those in consumer staples, health care, and information technology.  However, these periods have generally been early-cycle, when global economic growth is recovering, inflation is rising, yield curves are steep, and oil prices are at sustained high levels.  Perhaps needless to say, we are currently in a late-cycle environment where global economic growth is uncertain or perhaps faltering, inflation is well-contained, yield curves are flat or negative, and oil prices are volatile.  Although no one can predict how the markets will perform,  we believe that international consumer staples, health care, and information technology stocks may continue to outperform financials and energy, at least for the near future.  However, as a caveat, we would note that even during the last dozen years, there have been periods when such quality growth stocks have sold off, after reaching too-high valuations, or when oil prices have risen, buoying energy stocks. However, these periods have been fairly brief, persisting only a quarter or two.
Disclosures
Wilmington Trust is a registered service mark. Wilmington Trust Corporation is a wholly owned subsidiary of M&T Bank Corporation. Wilmington Trust Company, operating in Delaware only, Wilmington Trust, N.A.,  M&T Bank and certain other affiliates, provide various fiduciary and non-fiduciary services, including trustee, custodial, agency, investment management and other services. International corporate and institutional services are offered through Wilmington Trust Corporation's international affiliates. Loans, credit cards, retail and business deposits, and other business and personal banking services and products are offered by M&T Bank, member FDIC. Wilmington Trust Investment Advisors, Inc. is an SEC-registered investment adviser providing investment management services to Wilmington Trust and M&T Bank affiliates and clients.
These materials are based on public information. Facts and views presented in this report have not been reviewed by, and may not reflect information known to, professionals in other business areas of Wilmington Trust or M&T Bank who may provide or seek to provide financial services to entities referred to in this report. M&T Bank and Wilmington Trust have established information barriers between their various business groups. As a result, M&T Bank and Wilmington Trust do not disclose certain client relationships with, or compensation received from, such entities in their reports.
The information on Wilmington Wire has been obtained from sources believed to be reliable, but its accuracy and completeness are not guaranteed. The opinions, estimates, and projections constitute the judgment of Wilmington Trust and are subject to change without notice. This commentary is for information purposes only and is not intended as an offer or solicitation for the sale of any financial product or service or a recommendation or determination that any investment strategy is suitable for a specific investor. Investors should seek financial advice regarding the suitability of any investment strategy based on the investor's objectives, financial situation, and particular needs. Diversification does not ensure a profit or guarantee against a loss. There is no assurance that any investment strategy will succeed.
Any investment products discussed in this commentary are not insured by the FDIC or any other governmental agency, are not deposits of or other obligations of or guaranteed by M&T Bank, Wilmington Trust, or any other bank or entity, and are subject to risks, including a possible loss of the principal amount invested. Some investment products may be available only to certain "qualified investors"—that is, investors who meet certain income and/or investable assets thresholds. Past performance cannot guarantee future results. Investing involves risk and you may incur a profit or a loss.
Any positioning information provided does not include all positions that were taken in client accounts and may not be representative of current positioning. It should not be assumed that the positions described are or will be profitable or that positions taken in the future will be profitable or will equal the performance of those described. Positions described are illustrative and not intended as a recommendation outside of a managed account. Indices are not available for direct investment. Investment in a security or strategy designed to replicate the performance of an index will incur expenses, such as management fees and transaction costs that would reduce returns.
Third-party trademarks and brands are the property of their respective owners.