March 31, 2017—Active managers in domestic equities have had less success in outperforming their benchmarks in virtually each successive year of the current bull market. Starting in March of 2009 when the market finally bottomed and started upward, a bit more than half of active managers in the large-cap space were able to beat the S&P 500 index on a rolling 5-year time frame (Figure 1). By 2016, however, less than 15% of large-cap equity managers had managed to do so. Will this remain the case or could conditions be shifting that may give these active managers a better chance at success?
Figure 1
Percent of large-cap managers beating S&P 500 over a rolling 5-year period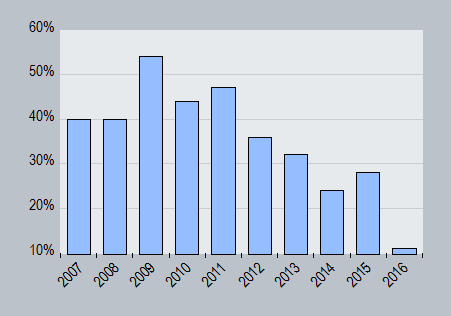 Source: Source: Morningstar, Bianco Research
A variety of factors have contributed to the challenges faced by active managers, such as: persistently low economic growth; central bank policies of extremely low interest rates; low cost of and increased participation in passive investment instruments; and high-speed trading.
The economic recovery that began in March of2009 has been characterized by low economic growth, averaging about 2% per year. This led the Federal Reserve to keep its long-term interest rate at zero until the end of 2015 and rates are still very low. The central bank also took actions to push down longer-term interest rates. As a result, market volatility has been very low, especially recently, which has made it even more difficult for active managers to find outperformers. Of the factors listed above, economic growth is the area we see most likely to improve. With data already improving, the Fed has finally raised interest rates—in fact, three times in the past 16 months. The prospect of stronger and more variable growth from the Trump administration's fiscal and regulatory policies should add to growth and be beneficial to active managers.
The accommodative policies of the Federal Reserve have tended to push down interest rates and keep GDP growth from advancing quickly enough to keep any economic problems from developing. The policy has kept recessions and depressions from taking place but it has also kept a lid on allowing markets to generate the kind of dynamics that is needed for active managers to perform well. This is shown in Figure 2, which shows the outperformance of active managers against the level of the fed funds rate since 2000. When the rate was declining or very low, less than half of active managers outperformed. When the fed funds rate started to move up again, relative performance improved. With the economy doing well enough that the Fed finally feels sufficiently comfortable to raise rates, the age of repression may be at an end. Furthermore, the Trump administration's intentions with respect to de-regulation and tax reform could open the door for even stronger economic growth which should add to the opportunity for active managers to begin making a comeback. Both of these will likely remove the constraints we have been experiencing, allowing us to perhaps move back toward a more traditional business cycle.
Figure 2
Outperformance of active managers against the level of the fed funds rate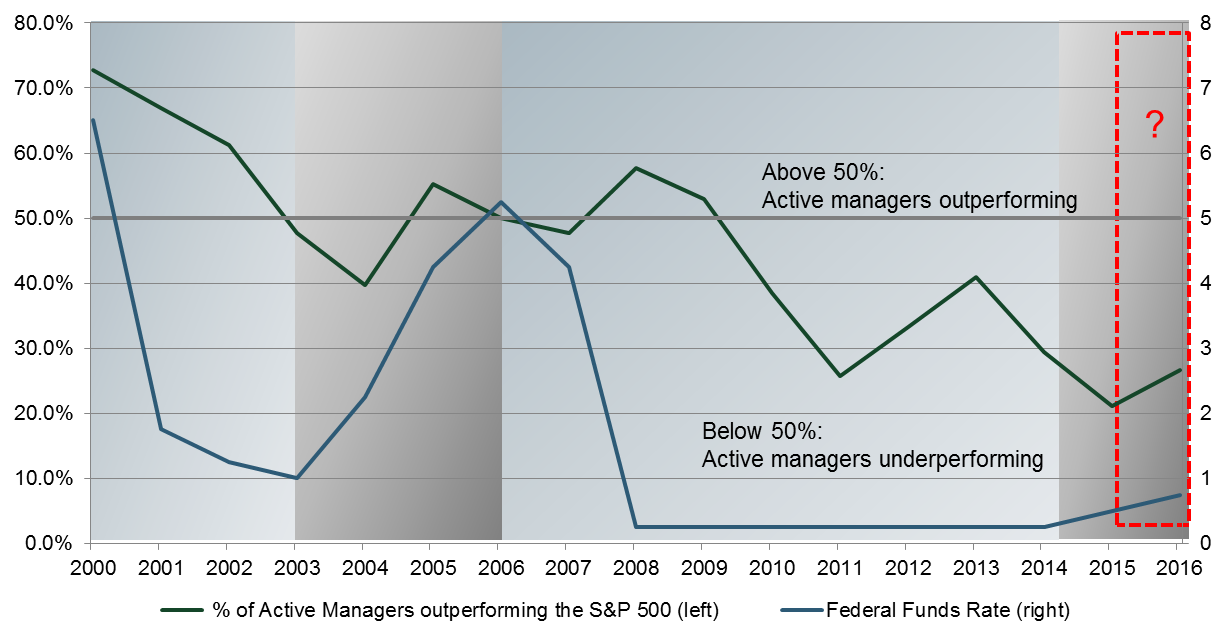 Source: Strategas Strategic Partners, LLC; Bloomberg
As the economy improves and the Fed continues to raise rates, the environment for active management could begin to gather steam in other ways. Active managers play a critical role in the financial markets by advancing the fortunes of good companies and penalizing bad ones. In a world dominated by passive investing, the good and bad companies are painted with the same brush as investor money is put to work buying both of these indiscriminately. But as active managers gain traction and less money heads toward passive investments, we can expect the indiscriminate market support to wane, thereby enhancing the ability for active managers to differentiate themselves from their indices.
Apart from our large-cap domestic market, we believe that some of the other equity markets across the globe lend themselves to active management. This is particularly true in such areas as developed and emerging markets, where the enormous breadth of geography and relatively less-developed financial markets result in more varied economic conditions and greater opportunity for active managers to identify winners and avoid losers.
Core narrative
At Wilmington Trust, we have advocated a mixture of active and passive managers. Both styles have risks and we have focused our efforts on managing these. We want to make sure that our clients benefit from both the tactical asset allocation decisions we make as well as the potential outperformance that individual mangers may generate. We believe this can be accomplished through a thoughtful mixture of active and passive styles that is adjusted as market conditions warrant. We will be keeping a careful eye on how the current evolving economic policy shifts impact these investment styles.
Disclosures
Wilmington Trust is a registered service mark. Wilmington Trust Corporation is a wholly owned subsidiary of M&T Bank Corporation. Wilmington Trust Company, operating in Delaware only, Wilmington Trust, N.A., M&T Bank and certain other affiliates, provide various fiduciary and non-fiduciary services, including trustee, custodial, agency, investment management and other services. International corporate and institutional services are offered through Wilmington Trust Corporation's international affiliates. Loans, credit cards, retail and business deposits, and other business and personal banking services and products are offered by M&T Bank, member FDIC.
These materials are based on public information. Facts and views presented in this report have not been reviewed by, and may not reflect information known to, professionals in other business areas of Wilmington Trust or M&T Bank who may provide or seek to provide financial services to entities referred to in this report. M&T Bank and Wilmington Trust have established information barriers between their various business groups. As a result, M&T Bank and Wilmington Trust do not disclose certain client relationships with, or compensation received from, such entities in their reports.
The information on Wilmington Wire has been obtained from sources believed to be reliable, but its accuracy and completeness are not guaranteed. The opinions, estimates, and projections constitute the judgment of Wilmington Trust and are subject to change without notice. This commentary is for information purposes only and is not intended as an offer or solicitation for the sale of any financial product or service or a recommendation or determination that any investment strategy is suitable for a specific investor. Investors should seek financial advice regarding the suitability of any investment strategy based on the investor's objectives, financial situation, and particular needs. Diversification does not ensure a profit or guarantee against a loss. There is no assurance that any investment strategy will succeed.
Any investment products discussed in this commentary are not insured by the FDIC or any other governmental agency, are not deposits of or other obligations of or guaranteed by M&T Bank, Wilmington Trust, or any other bank or entity, and are subject to risks, including a possible loss of the principal amount invested. Some investment products may be available only to certain "qualified investors"—that is, investors who meet certain income and/or investable assets thresholds. Past performance is no guarantee of future results. Investing involves risk and you may incur a profit or a loss.
Any positioning information provided does not include all positions that were taken in client accounts and may not be representative of current positioning. It should not be assumed that the positions described are or will be profitable or that positions taken in the future will be profitable or will equal the performance of those described. Positions described are illustrative and not intended as a recommendation outside of a managed account.
Indices are not available for direct investment. Investment in a security or strategy designed to replicate the performance of an index will incur expenses, such as management fees and transaction costs that would reduce returns.
Third-party trademarks and brands are the property of their respective owners.