February 26, 2018 – Ever since the surprise Brexit referendum in June 2016, global investors have been closely watching European elections for signs that political instability might impact regional economic progress or equity markets. On March 4, it is Italy's turn for general elections. Italian voters go to the polls to elect a new Chamber of Deputies (lower house of parliament) and Senate (upper house). We believe it is unlikely that these elections will produce an effective multi-party governing coalition for the following reasons:
Under a new voting system, a party or coalition of parties would need to win 40% of votes in order to form a government.
The latest available polls suggest that no single party would win the required 40%.
The current center-left governing coalition, led by Matteo Renzi's Democratic Party, seems unlikely to win more than 23%. This coalition has been successful in implementing a variety of structural economic reforms which have boosted Italian productivity. This coalition has also taken steps to recapitalize weaker Italian banks.
A shaky right-wing combination of Silvio Berlusconi's Force Italy and the anti-immigrant, anti-EU Northern League seems likely to win about 36%.
Silvio Berlusconi is a former media mogul who had risen to become a populist prime minister. During his tenure, 2008–2011, he was accused of soft authoritarianism. A tax fraud conviction has disqualified him from running from office, but he continues to lead Force Italy.
Even if a combination of Force Italy and the Northern League were to reach 40%, there is a possibility that the two parties will have a falling out over EU policies or other issues while trying to form joint policy positions and staff a cabinet.
The anti-establishment, anti-corruption, and Eurosceptic Five Star Movement may win about 28%. However, its anti-establishment stance has led it to reject joining a coalition with other parties.
If the parties cannot agree to form a coalition government, then new elections will be called. In the meantime, it is probable that a senior figure respected by all parties would serve as temporary prime minister.
We believe that an inconclusive outcome would be inconsequential for European equities:
An inconclusive outcome would not pose a threat to Italy's participation in the EU.
Only a government led by the Northern League with limited policy input from pro-EU Force Italy would pose such a threat.
Major reversals in pro-growth economic policies enacted under the Democratic Party are unlikely unless Five Star Movement wins.
For years, the thin capitalization of many Italian banks has been a concern for both the Italian government and EU. Fortunately, Italy has made progress in merging, restructuring, and recapitalizing several weaker banks.
Moreover, an increase in intermediate euro sovereign yields is supporting a widening of Italian banks' net interest margins, improving their profitability.
The overall European economy, including the Italian economy, has been strengthening. (See Figure 1 for European aggregate and Italian PMI).
We do not expect Italy to face political upheavals or economic setbacks. However, if these do occur, we are confident the European Central Bank will offer its support to calm markets, even if such support were to entail a more extended timeframe for scaling back its purchases of EU sovereign bonds.
Most importantly, Italian equities form only 4% of European market cap. (See Figure 2 for comparative country market-cap weights in the IEV ETF).
Figure 1
Italian and Eurozone Composite PMIs have reached high levels
(50 = long-term trend growth)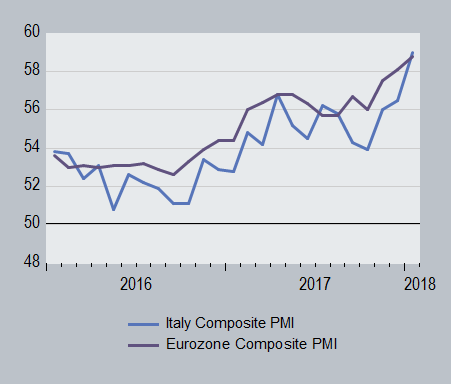 Source: Bloomberg
Data as of January 31, 2018
Figure 2
Market Cap Weights within the MSCI Europe Index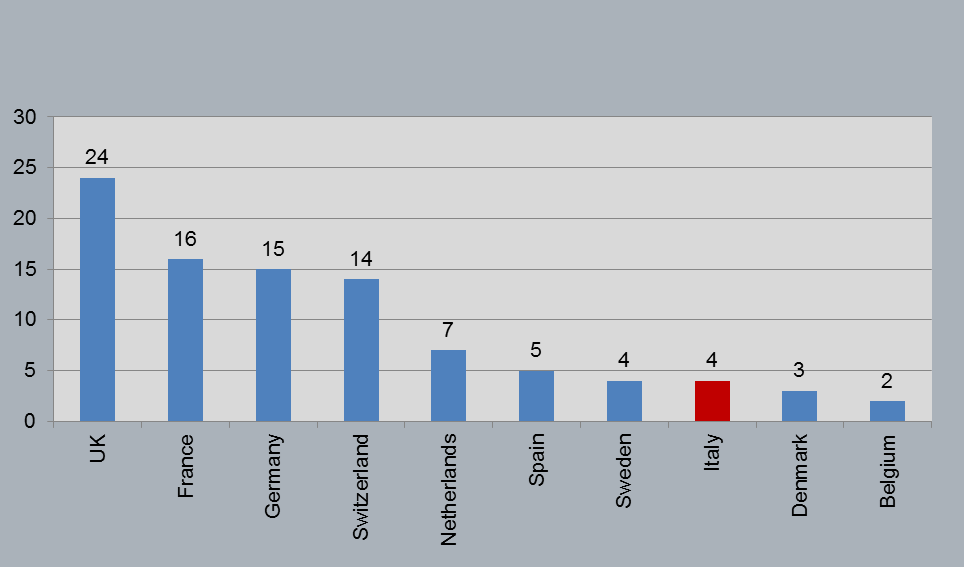 Source: Bloomberg
Data as of February 20, 2018
Core narrative
Our expectation is for continued improvement in European corporate earnings and share prices. With the European economy improving, we expect earnings recovery to broaden from globally oriented multinationals to more locally focused companies such as banks. Consequently, we maintain an overweight to International Developed equities.
Disclosures
Wilmington Trust is a registered service mark. Wilmington Trust Corporation is a wholly owned subsidiary of M&T Bank Corporation. Wilmington Trust Company, operating in Delaware only, Wilmington Trust, N.A., M&T Bank and certain other affiliates, provide various fiduciary and non-fiduciary services, including trustee, custodial, agency, investment management and other services. International corporate and institutional services are offered through Wilmington Trust Corporation's international affiliates. Loans, credit cards, retail and business deposits, and other business and personal banking services and products are offered by M&T Bank, member FDIC. Wilmington Trust Investment Advisors, Inc. is an SEC-registered investment adviser providing investment management services to Wilmington Trust and M&T Bank affiliates and clients.
These materials are based on public information. Facts and views presented in this report have not been reviewed by, and may not reflect information known to, professionals in other business areas of Wilmington Trust or M&T Bank who may provide or seek to provide financial services to entities referred to in this report. M&T Bank and Wilmington Trust have established information barriers between their various business groups. As a result, M&T Bank and Wilmington Trust do not disclose certain client relationships with, or compensation received from, such entities in their reports.
The information on Wilmington Wire has been obtained from sources believed to be reliable, but its accuracy and completeness are not guaranteed. The opinions, estimates, and projections constitute the judgment of Wilmington Trust and are subject to change without notice. This commentary is for information purposes only and is not intended as an offer or solicitation for the sale of any financial product or service or a recommendation or determination that any investment strategy is suitable for a specific investor. Investors should seek financial advice regarding the suitability of any investment strategy based on the investor's objectives, financial situation, and particular needs. Diversification does not ensure a profit or guarantee against a loss. There is no assurance that any investment strategy will succeed.
Any investment products discussed in this commentary are not insured by the FDIC or any other governmental agency, are not deposits of or other obligations of or guaranteed by M&T Bank, Wilmington Trust, or any other bank or entity, and are subject to risks, including a possible loss of the principal amount invested. Some investment products may be available only to certain "qualified investors"—that is, investors who meet certain income and/or investable assets thresholds. Past performance is no guarantee of future results. Investing involves risk and you may incur a profit or a loss.
Any positioning information provided does not include all positions that were taken in client accounts and may not be representative of current positioning. It should not be assumed that the positions described are or will be profitable or that positions taken in the future will be profitable or will equal the performance of those described. Positions described are illustrative and not intended as a recommendation outside of a managed account.
Indices are not available for direct investment. Investment in a security or strategy designed to replicate the performance of an index will incur expenses, such as management fees and transaction costs that would reduce returns.
Third-party trademarks and brands are the property of their respective owners.