May 31, 2018— Over the last week there were significant developments in Italian politics that roiled worldwide markets. We believe some of the market volatility was an overblown reaction to the proposal of an anti-euro finance minister, dredging up Greece-style fears of cracks in the eurozone but in a much larger, more consequential country. The proposal was more political theater than anything else. But there are real risks too, as Moody's placed Italian debt on review for a possible downgrade, which if it happened, could have severe impacts for financial markets. We do not currently expect a cataclysmic event such as Italy threatening to exit the euro or a debt downgrade, but we will be watching closely if elections were to occur in the summer or fall.
Angling for new elections
In the March 4 elections, popular support had swung away from the center-left Democrats and center-right Forward Italy, toward the leftist Five Star Movement and the right-wing League (also known as the Northern League).
Per normal protocol, the leading parties were obliged to work with Italian President Sergio Mattarella to form a governing coalition. However, the leaders of Five Star (Luigi di Maio) and the League (Matteo Salvini) were encouraged by the momentum they had achieved in March and decided instead that they would prefer new general elections through which they might accrue further popular support.
Although Di Maio and Salvini separately went through the motions of engaging in negotiations with other parties, they were never serious about closing any deal, and rather, used the negotiations to gather free media coverage for public posturing ahead of the new elections they sought to trigger.
The inter-party negotiations between Di Maio and Salvini illustrate this point. Neither would agree to the other serving as the coalition's prime minister, so they presented a little-known academic for that post. Salvini said he would not abandon his party's traditional alliance with Forward Italy even while joining a coalition with Five Star. Also, the two parties have deeply conflicting policy agendas, particularly over public finance. They were never meant to govern together.
The final intended move by Di Maio and Salvini was to present a highly controversial anti-euro, anti-German candidate, Paolo Savona, for finance minister. President Mattarella had already promised to veto Savona, so the fact that he was presented anyway meant his nomination was simply a "poison pill" designed to sabotage acceptance of the coalition. When Mattarella carried through with his veto promise, Di Maio and Salvini were each able to claim breathless outrage against the presidency, the global bankers, the European Union (EU), and the European Central Bank (ECB).
Lost amid all of the outrage was the fact that the president had suggested another qualified pro-euro candidate from within the League—not to mention the fact that, before the March 4 elections, the League and Five Star had stated they would prefer to remain in the euro.
After the president vetoed Savona, Di Maio and Salvini promptly withdrew their proposed coalition government. President Mattarella appointed former IMF economist and finance ministry official Carlo Cattarelli as interim PM. Di Maio and Salvini then pledged to carry out a no-confidence vote, which would trigger new elections by September—and is exactly what both wanted.
Interim PM Designate Cattarelli subsequently expressed doubts about formation of an interim technocratic government. His inability or unwillingness to form an interim government would have accelerated elections to July, allowing Salvini and De Maio insufficient time to campaign. Consequently, Salvini and De Maio reversed course and submitted a pro-euro candidate for finance minister, who was then promptly approved by President Mattarella. Acquiescence by Salvini and De Maio to forming a coalition government does not change the fact that their coalition is a forced, unstable marriage, nor the desire of each leader to seek the position of PM while their popularity is running high. Therefore, we assess a continuing significant risk of new elections.
Euro is not a core issue for Five Star and the League
While the Five Star and the League have serious issues with the EU, they do not directly involve Italy's place in the euro. Five Star wants the EU to relax budget constraints on member-states while the League wants the EU to tighten controls on migrants.
Moreover, Five Star and the League both recognize that a significant majority of Italians favor staying in the euro. (Most polls suggest about 60% are in favor of the euro, with 25% opposed and 15% undecided.) The parties know that to increase their popular appeal, they must draw pro-euro voters away from centrist parties while retaining anti-euro voters. Therefore, the parties' positions toward the euro have tended toward ambiguity. Ultimately, neither Di Maio nor Salvini will take a principled stand regarding the euro if doing so could cost one of them a shot at becoming PM.
Yields on 10-year sovereign debt (%)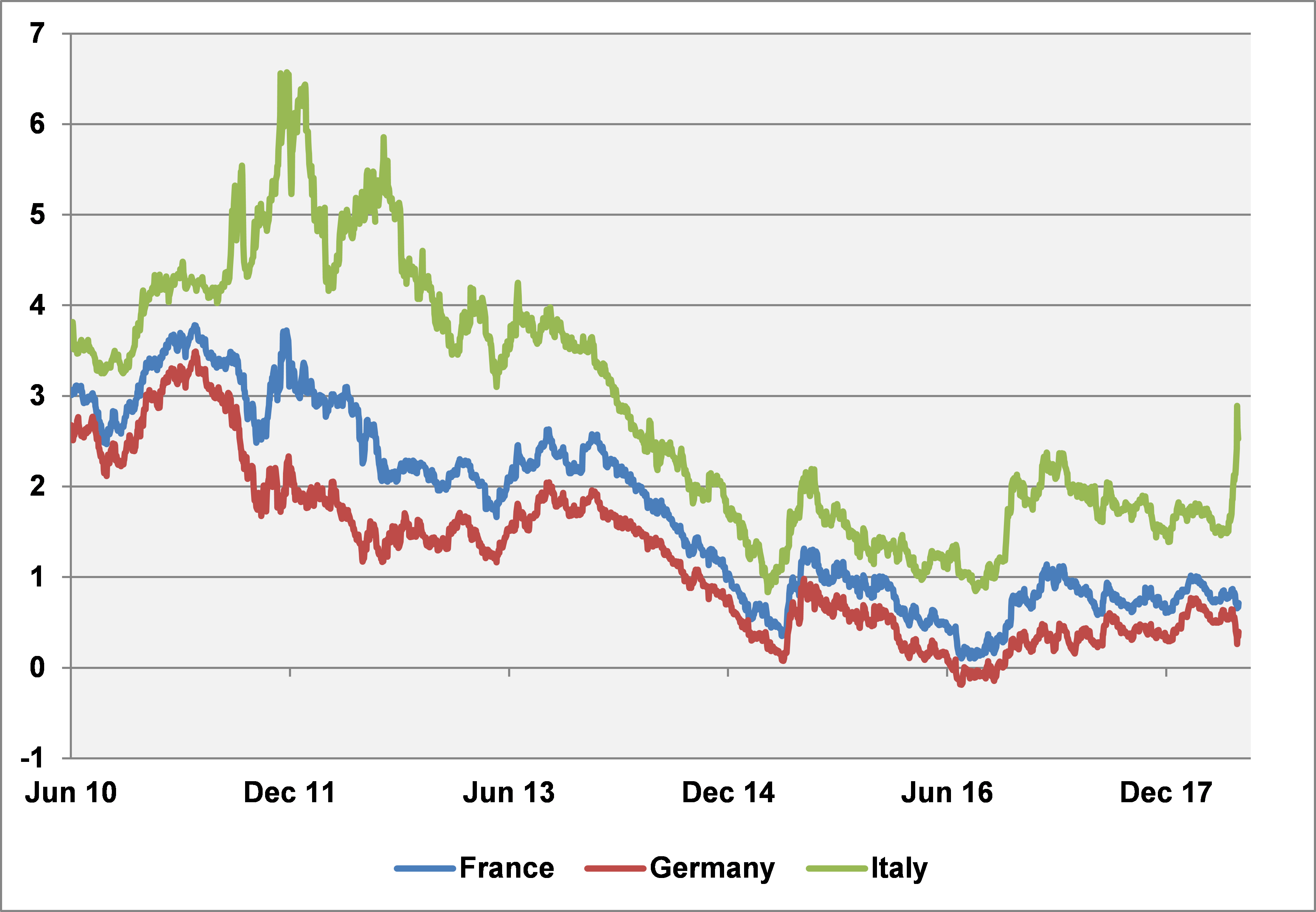 Source: WTIA, Bloomberg
Data as of June 1, 2018
Moody's weighs in
Moody's made its mark on the situation on May 25 when it placed its Italian debt Baa2 rating on review for a possible downgrade. The last time Moody's changed its rating on Italy was October 2017, affirming its Baa2 rating, but changing the outlook from stable to negative. At the time, Moody's highlighted the government's very high debt burden as reason for the change in outlook. A negative outlook typically signals to the issuer that unless current trends in credit quality change, a downgrade is likely over the long term (typically a two-year window).
The combination of the political machinations described above and Moody's announcement drove Italian yields sharply higher and roiled equity markets as investors fled the country's debt for the safe havens of Germany and France (Figure 1). Despite the Italian yield spike in the wake of the news, it is worth noting that they had been trending upward since the start of May.
Although Italy was not due to be reviewed, the ratings committee was called outside of the sovereign calendar dates for EU sovereign ratings, based on the event of a new Italian government with a decidedly credit-negative fiscal and economic platform. The primary drivers behind the review were concerns that a new government's fiscal plan will drive higher Italy's debt burden, and that pension reforms put into place by previous governments might be reversed.
Backdrop on ratings downgrades.
According to Moody's rating methodology, when a rating is placed under review, the agency will either affirm the rating or take action within 90 days. However, in reality, this is not a hard deadline and the rating can remain under review for a longer period of time, essentially until the agency has enough information to make a decision. The timing of the new elections could have an impact on Moody's timing.
A downgrade of two notches to "below investment grade" could have serious implications. For example, Italian banks hold a significant amount of Italian debt on their balance sheets, which helps explain the sharp volatility for Italian and worldwide bank equities after the announcement.
Another implication would be the eligibility of Italian bonds for purchase by the ECB. Under its rules for the ongoing asset purchase program, Italy's second-best credit rating must be of investment grade for eligibility to purchase. Both S&P and Fitch also currently rate Italy at the second-highest notch in investment grade, but they have both warned that fiscal actions that could worsen the debt load would put the ratings at risk.
Core narrative
The recent volatility in Italian and worldwide markets was driven both by political events and Moody's action. In our view, markets overreacted to what was likely a bit of political theater by Italian political parties caught in a stalemate and jockeying for control, while there are real reasons that the political situation could continue to drive markets in the future. We do not expect any Italian coalition government to do anything as dramatic as threaten an exit from the euro, nor do we expect it to test the ratings agencies—and by extension, the ECB—with reckless fiscal policy. We do, however, note the risks and will continue to closely monitor the situation.
Disclosures
Wilmington Trust is a registered service mark. Wilmington Trust Corporation is a wholly owned subsidiary of M&T Bank Corporation. Wilmington Trust Company, operating in Delaware only, Wilmington Trust, N.A., M&T Bank and certain other affiliates, provide various fiduciary and non-fiduciary services, including trustee, custodial, agency, investment management and other services. International corporate and institutional services are offered through Wilmington Trust Corporation's international affiliates. Loans, credit cards, retail and business deposits, and other business and personal banking services and products are offered by M&T Bank, member FDIC. Wilmington Trust Investment Advisors, Inc. is an SEC-registered investment adviser providing investment management services to Wilmington Trust and M&T Bank affiliates and clients.
These materials are based on public information. Facts and views presented in this report have not been reviewed by, and may not reflect information known to, professionals in other business areas of Wilmington Trust or M&T Bank who may provide or seek to provide financial services to entities referred to in this report. M&T Bank and Wilmington Trust have established information barriers between their various business groups. As a result, M&T Bank and Wilmington Trust do not disclose certain client relationships with, or compensation received from, such entities in their reports.
The information on Wilmington Wire has been obtained from sources believed to be reliable, but its accuracy and completeness are not guaranteed. The opinions, estimates, and projections constitute the judgment of Wilmington Trust and are subject to change without notice. This commentary is for information purposes only and is not intended as an offer or solicitation for the sale of any financial product or service or a recommendation or determination that any investment strategy is suitable for a specific investor. Investors should seek financial advice regarding the suitability of any investment strategy based on the investor's objectives, financial situation, and particular needs. Diversification does not ensure a profit or guarantee against a loss. There is no assurance that any investment strategy will succeed.
Any investment products discussed in this commentary are not insured by the FDIC or any other governmental agency, are not deposits of or other obligations of or guaranteed by M&T Bank, Wilmington Trust, or any other bank or entity, and are subject to risks, including a possible loss of the principal amount invested. Some investment products may be available only to certain "qualified investors"—that is, investors who meet certain income and/or investable assets thresholds. Past performance is no guarantee of future results. Investing involves risk and you may incur a profit or a loss.
Any positioning information provided does not include all positions that were taken in client accounts and may not be representative of current positioning. It should not be assumed that the positions described are or will be profitable or that positions taken in the future will be profitable or will equal the performance of those described. Positions described are illustrative and not intended as a recommendation outside of a managed account.
Indices are not available for direct investment. Investment in a security or strategy designed to replicate the performance of an index will incur expenses, such as management fees and transaction costs that would reduce returns.
Third-party trademarks and brands are the property of their respective owners.