October 24, 2016–Given the market volatility that followed the unexpected "leave" outcome in the U.K.'s Brexit referendum, it is understandable that global investors would be concerned about any European referendum. Hence, a great deal of global investor attention has turned to an Italian referendum scheduled for December 4.
The question on the ballot is whether to strip legislative powers from Italy's regionally elected Senate. Currently, the Chamber of Deputies (the equivalent of the U.S. House of Representatives) and the Senate are co-equal chambers of parliament, much as is the case with the U.S. Congress. A "yes" vote in the referendum would reduce the Senate to a smaller, consultative body. Current opinion polling suggests a slight preference for a "no" vote, however, many voters remain undecided.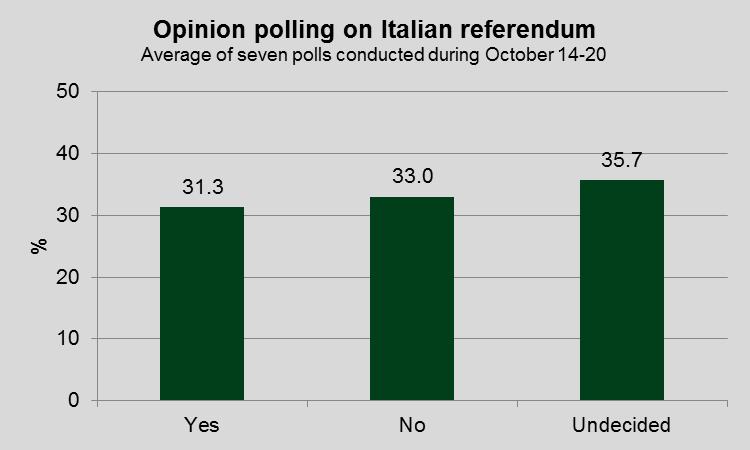 Source: Sondaggi Politico Elettorali – Italian Government; WTIA
The referendum would make it less burdensome for Italian prime ministers to obtain parliamentary approval for proposed legislation. The current prime minister, Matteo Renzi, sought the referendum so he could more easily secure passage of economic reform measures that had encountered obstacles in the Senate. The referendum has support from Renzi's Democratic Party, and other parties in his centrist coalition, but is opposed by the Five Star Movement (5SM). Renzi has indicated that he would resign as prime minister if the referendum were to fail.
Many Italians agree with the proposition that the Senate unnecessarily hampers legislation already approved by the Chamber of Deputies. They are likely to vote "yes," although many value the Senate as a guardian of the interests of Italy's regions. Further, since the prime minister's coalition by definition controls the Chamber of Deputies, some Italians who are likely to vote "no" view the Senate as a check against potential governmental abuse of power by would-be authoritarians, such as a Silvio Berlusconi.
By contrast, global investors tend to view the referendum as a competition between two contrasting political visions of Italy's economic future. For them, a "yes" vote would imply endorsement of the Renzi government's generally market-friendly economic policies, while a "no" vote would imply endorsement of 5SM's populist, eclectic, and occasionally "Eurosceptic" (anti-EU) message.
Some global investors may be worried that a "no" vote would trigger a political crisis that could ultimately lead to 5SM rule. We believe such a possibility is highly unlikely:
Were Renzi to resign, his governing Democratic Party would quickly elect his replacement
The constitution does not require a general election before May 2018, so there is no immediate electoral opportunity for 5SM to exploit momentum from a "no" vote
In the meantime, the Democratic Party and its coalition partners will continue to enjoy large majorities of seats in the Chamber of Deputies and the Senate
Some global Investors might also be worried that a "no" vote would increase the chances of Italy exiting the EU or the eurozone. We believe it is highly unlikely that Italy will follow the U.K.'s lead:
All parties in the governing coalition are fully committed to EU membership
If the Eurosceptic 5SM were to come to power in 2018, its leadership would likely give priority to implementing its core policy agenda, which does not include an EU exit
A U.K.-style popular referendum on an EU exit is not legally possible, since the Italian constitution precludes referenda on international treaties
Many Italians are witnessing British anxiety in the face of impending Brexit and may wish to avoid such an unpleasant experience
While Italy is one of Europe's largest economies, one should be careful not to overstate its importance to global financial markets. The market capitalization of Italy's stock market is only 3% of Europe's, roughly the same as that of Sweden or Denmark. By contrast, the market capitalization of the U.K.'s stock market is 29% of Europe's. Further, Milan is a relatively minor financial center, compared to London, Frankfurt, Paris, or Luxembourg. Italy's recent financial market significance has stemmed mainly from the challenges faced by several of its banks, namely Monte dei Paschi di Siena.
A "no" vote in the referendum may represent a lost opportunity for Italy to finally achieve an upward inflection in long-term economic growth. However, we expect a "no" vote would likely cause no more than a slight, temporary disruption to European and global financial markets.
Core narrative:
Our benign view on the Italian referendum is consistent with our near-neutral tactical allocation weight to developed international equities.
Disclosures
Wilmington Trust is a registered service mark. Wilmington Trust Corporation is a wholly owned subsidiary of M&T Bank Corporation. Investment management and fiduciary services are provided by Wilmington Trust Company, operating in Delaware only, and Wilmington Trust, N.A., a national bank. Loans, retail and business deposits, and other personal and business banking services and products are offered by Manufacturers and Traders Trust Company (M&T Bank), member FDIC. Wilmington Trust Investment Advisors, Inc., a subsidiary of M&T Bank, is a SEC-registered investment adviser providing investment management services to Wilmington Trust and M&T affiliates and clients.
These materials are based on public information. Facts and views presented in this report have not been reviewed by, and may not reflect information known to, professionals in other business areas of Wilmington Trust or M&T Bank who may provide or seek to provide financial services to entities referred to in this report. M&T Bank and Wilmington Trust have established information barriers between their various business groups. As a result, M&T Bank and Wilmington Trust do not disclose certain client relationships with, or compensation received from, such entities in their reports.
The information on Wilmington Wire has been obtained from sources believed to be reliable, but its accuracy and completeness are not guaranteed. The opinions, estimates, and projections constitute the judgment of Wilmington Trust and are subject to change without notice. This commentary is for information purposes only and is not intended as an offer or solicitation for the sale of any financial product or service or a recommendation or determination that any investment strategy is suitable for a specific investor. Investors should seek financial advice regarding the suitability of any investment strategy based on the investor's objectives, financial situation, and particular needs. Diversification does not ensure a profit or guarantee against a loss. There is no assurance that any investment strategy will succeed.
Any investment products discussed in this commentary are not insured by the FDIC or any other governmental agency, are not deposits of or other obligations of or guaranteed by M&T Bank, Wilmington Trust, or any other bank or entity, and are subject to risks, including a possible loss of the principal amount invested. Some investment products may be available only to certain "qualified investors"—that is, investors who meet certain income and/or investable assets thresholds. Past performance is no guarantee of future results. Investing involves risk and you may incur a profit or a loss.
Any positioning information provided does not include all positions that were taken in client accounts and may not be representative of current positioning. It should not be assumed that the positions described are or will be profitable or that positions taken in the future will be profitable or will equal the performance of those described. Positions described are illustrative and not intended as a recommendation outside of a managed account.
Indices are not available for direct investment. Investment in a security or strategy designed to replicate the performance of an index will incur expenses, such as management fees and transaction costs that would reduce returns.
Third party trademarks and brands are the property of their respective owners.
Contact an Expert