January 6, 2017— Job growth came in at 156,000 for December, which was in line with our expectations of 155,000 but below the consensus median estimate of 175,000. For all of 2016, the U.S. added 2.2 million new jobs or about 180,000 per month. That is well below the 2.7 million added in 2015 when the monthly average was about 230,000 and even farther below the 2014 which was the strongest year for job growth of this recovery. We believe the slowdown in job growth is due to a tight labor market, reflected by the unemployment rate, in an environment where companies are still looking to hire. Separate company surveys are showing an increasing share of companies and industries reporting they cannot fill open positions due to lack of qualified workers. The construction sector in particular, a major detractor in this report, is struggling to find people.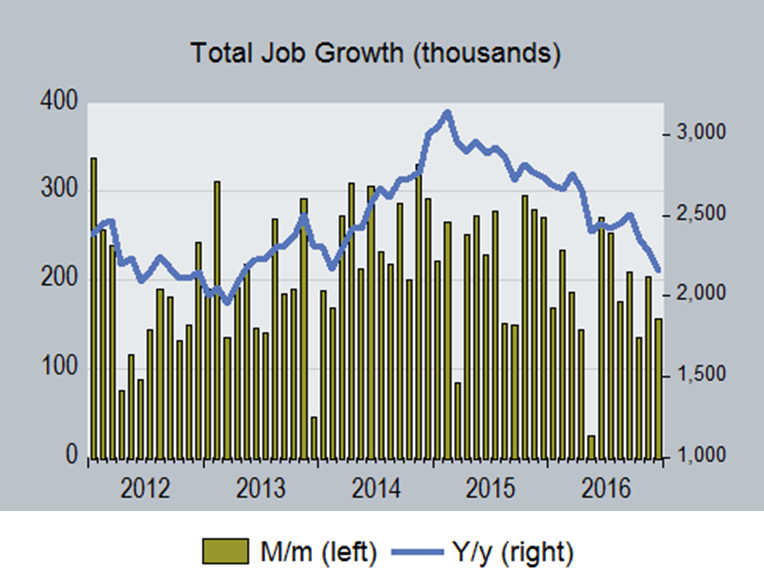 Source: Bureau of Labor Statistics
The unemployment rate moved up slightly to 4.7% in December from 4.6% the month before, but still remains quite low and probably at or below the long-term equilibrium rate, which we think of as about 5%. In such a tight labor market, companies are finding it challenging to fill positions, which drags out the hiring process and also puts upward pressure on wages.
Wage growth continued its upward momentum coming in at 2.9% year-over-year in December, the best pace since 2009 and a nice bump from the 2.5% posted the previous month. The low reading in November looked to us to be hindered by statistical noise and did not fit with the overall labor market tightness and media stories of wage increases for countless large companies. With the unemployment rate low, the labor market is tight enough to continue driving wages higher in 2017.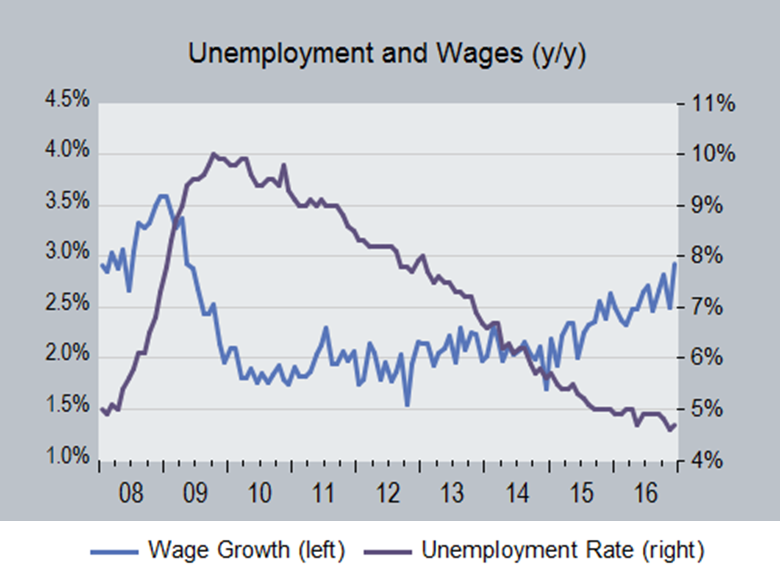 Source: Bureau of Labor Statistics
Direction of labor force is the key
The degree of tightness of the labor market is a hot point of debate and has important ramifications for job growth, wage pressure, inflation, and by extension the path of interest rate normalization pursued by the Fed. While the Bloomberg consensus forecast of job growth each month grudgingly moved down below the 200k mark in the second half of 2016, many members of Federal Reserve's Federal Open Market Committee (FOMC) that makes decisions on interest rates have much lower expectations. The FOMC members often speak in terms of the number of jobs needed each month to keep the unemployment rate steady, which is dependent on labor force growth. Many members have spoken of figures in the 100,000-150,000 per month range, while others have put that figure as low as 85,000.
The chart below shows the one-year growth in the labor force, which is volatile and highly sensitive to recessions (gray bars). The ten-year growth shows the underlying deceleration in labor force that is significantly affected by population growth. It peaked at 2.4 million and has mostly been decelerating since to about 800,000 in 2016. The three-decade slowdown is being caused by slowing population growth and more recently by the well-documented aging of the Baby Boomer generation. Labor force growth was very strong in 2016, but if it reverts to the to the longer term slowdown, then the labor market will tighten even more and wage pressure will increase. There is very little consensus on this topic among the FOMC or economists generally. We are encouraged by the increased labor force participation in 2016, but are doubtful that growth can remain at 2 million per year in the face of the retirement of Baby Boomers. We expect labor force growth to slow in order for labor markets to remain tight and keep that upward pressure on wages.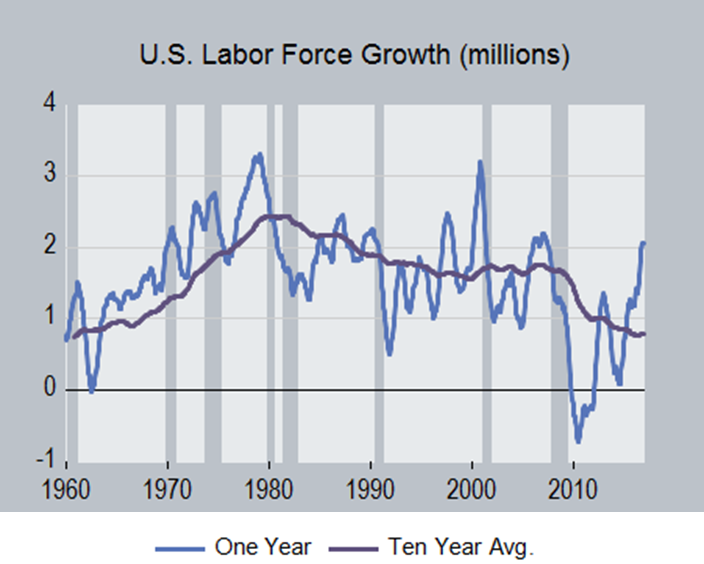 Source: Bureau of Labor Statics
Core narrative
U.S. employers maintained a modest pace of hiring in December while raising wages, putting the economy on a path to stronger growth. We believe that the U.S. has a sturdy labor market that is still expanding, but has slowed because of tightness. That tightness naturally leads to higher wage growth. This assessment of labor market tightness keeps the Fed on track for further rate hikes in 2017, and supports our current positioning of a slight overweight to U.S. equities.
Disclosures
Wilmington Trust is a registered service mark. Wilmington Trust Corporation is a wholly owned subsidiary of M&T Bank Corporation. Investment management and fiduciary services are provided by Wilmington Trust Company, operating in Delaware only, and Wilmington Trust, N.A., a national bank. Loans, retail and business deposits, and other personal and business banking services and products are offered by Manufacturers and Traders Trust Company (M&T Bank), member FDIC. Wilmington Trust Investment Advisors, Inc., a subsidiary of M&T Bank, is a SEC-registered investment adviser providing investment management services to Wilmington Trust and M&T affiliates and clients.
These materials are based on public information. Facts and views presented in this report have not been reviewed by, and may not reflect information known to, professionals in other business areas of Wilmington Trust or M&T Bank who may provide or seek to provide financial services to entities referred to in this report. M&T Bank and Wilmington Trust have established information barriers between their various business groups. As a result, M&T Bank and Wilmington Trust do not disclose certain client relationships with, or compensation received from, such entities in their reports.
The information on Wilmington Wire has been obtained from sources believed to be reliable, but its accuracy and completeness are not guaranteed. The opinions, estimates, and projections constitute the judgment of Wilmington Trust and are subject to change without notice. This commentary is for information purposes only and is not intended as an offer or solicitation for the sale of any financial product or service or a recommendation or determination that any investment strategy is suitable for a specific investor. Investors should seek financial advice regarding the suitability of any investment strategy based on the investor's objectives, financial situation, and particular needs. Diversification does not ensure a profit or guarantee against a loss. There is no assurance that any investment strategy will succeed.
Any investment products discussed in this commentary are not insured by the FDIC or any other governmental agency, are not deposits of or other obligations of or guaranteed by M&T Bank, Wilmington Trust, or any other bank or entity, and are subject to risks, including a possible loss of the principal amount invested. Some investment products may be available only to certain "qualified investors"—that is, investors who meet certain income and/or investable assets thresholds. Past performance is no guarantee of future results. Investing involves risk and you may incur a profit or a loss.
Any positioning information provided does not include all positions that were taken in client accounts and may not be representative of current positioning. It should not be assumed that the positions described are or will be profitable or that positions taken in the future will be profitable or will equal the performance of those described. Positions described are illustrative and not intended as a recommendation outside of a managed account.
Indices are not available for direct investment. Investment in a security or strategy designed to replicate the performance of an index will incur expenses, such as management fees and transaction costs that would reduce returns.
Third party trademarks and brands are the property of their respective owners.
Contact an Expert