January 10, 2020 — The first jobs report of 2020 was encouraging and supports our view that the U.S. economy remains strong enough to support equities as we start the new year. The report on jobs added one month ago in December 2019 showed 145,000 jobs added, with 139,000 of them by private employers and the other 6,000 in government. That was roughly in line with the median expectation of 160,000 in the monthly Bloomberg survey. It is a sharp slowdown from the revised 256,000 from November. The unemployment rate held at 3.5%. Disappointingly, wage growth continued a slowdown that has been going on for nearly a year. All told, the report does not affect our view that the U.S. economy is in good shape to start 2020. As we say in this year's Capital Markets Forecast (Market Tug of War: the interplay of productivity, populism and portfolios), we believe the economy and markets are in good shape to start the year but we recognize political risk in the second half as we approach the election. The Federal Reserve is unlikely to make any changes to interest rate policy in the near term.
Digging a little deeper
The monthly job growth in December was encouraging at 145,000. Due to the inherent statistical noise in the data, we find the three-month moving average to be a better indicator of the trend. That now stands at 184,000 to close out the last three months of 2019, an encouraging sign that employers are both willing to hire and able to find workers. We do note it is still a slowdown from the peak growth experienced in late 2018 when the average monthly gains were as high as 235,000 per month, generating as much as 2.8 million over 12 months as can be seen in Figure 1 (the technical terms for jobs and job growth are "nonfarm payrolls"). One positive aspect of the report is the continued increased participation by the so-called "prime age" workforce, between the ages of 25–54. That had dropped sharply after the 2008 recession as people either became discouraged with their job prospects or returned to school. It hit a low in 2015 and has now been on the rise, hitting 82.9% in this report, the highest since mid-2009.
In terms of the overall job growth in Figure 1, we also keep in mind that in just a few months we will see the impact of downward revisions coming from the Breau of Labor Statistics, announced last year but not yet showing in the data. We anticipate that those revisions will bring down job growth from March 2018 to March 2019 by a total of 501,000 and will likely change Figure 1 appreciably. Nevertheless, if monthly job gains remain anywhere near the 150,000 mark, the economy should continue to advance at a solid pace. For a detailed breakdown of job growth by sector, see the table at the bottom of this post.
Figure 1: Nonfarm payroll growth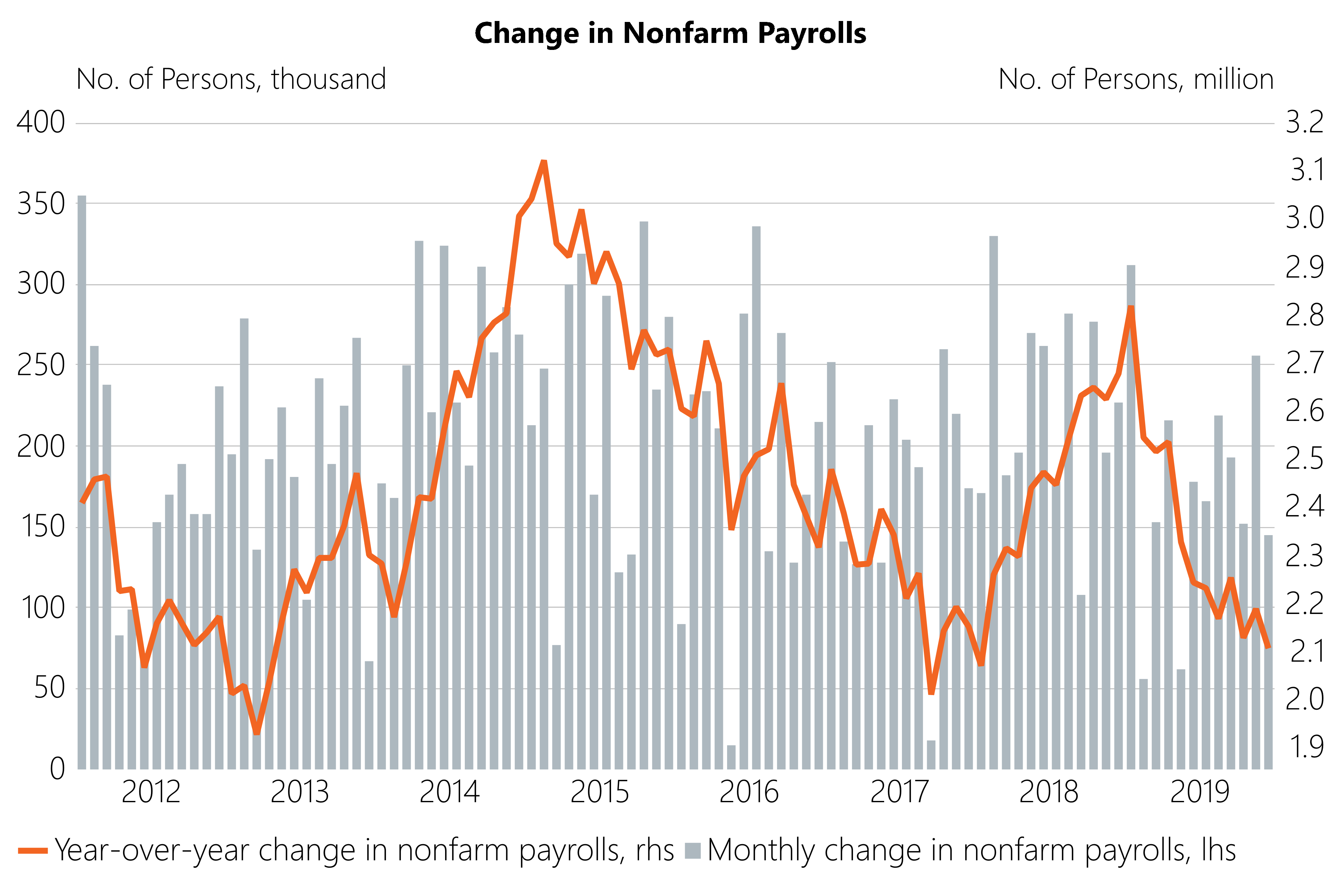 Source: Bureau of Labor Statistics. Data as of December 31, 2019.
What is going on with wages?
There is a bit of a conundrum going on with wages. Economic theory (flawed as it may be) gives a fairly straightforward and understandable prediction that when labor markets are tight, as they are right now with the lowest sustained unemployment rate since the 1960s, then wages should be pushing higher as employers fight to hire and retain workers. Not only do we believe the theory, we also hear this from our business contacts routinely, that they increasingly in recent years have been facing such wage pressure. It actually was showing up in the data, especially after 2015 or so when the unemployment rate fell below 5.5%. One would expect at today's scarcity of labor that wages would be surging, but they have actually decelerated since early 2019 as can be seen in the monthly data and the three-month moving average in Figure 2.
Figure 2: Average hourly earnings (%)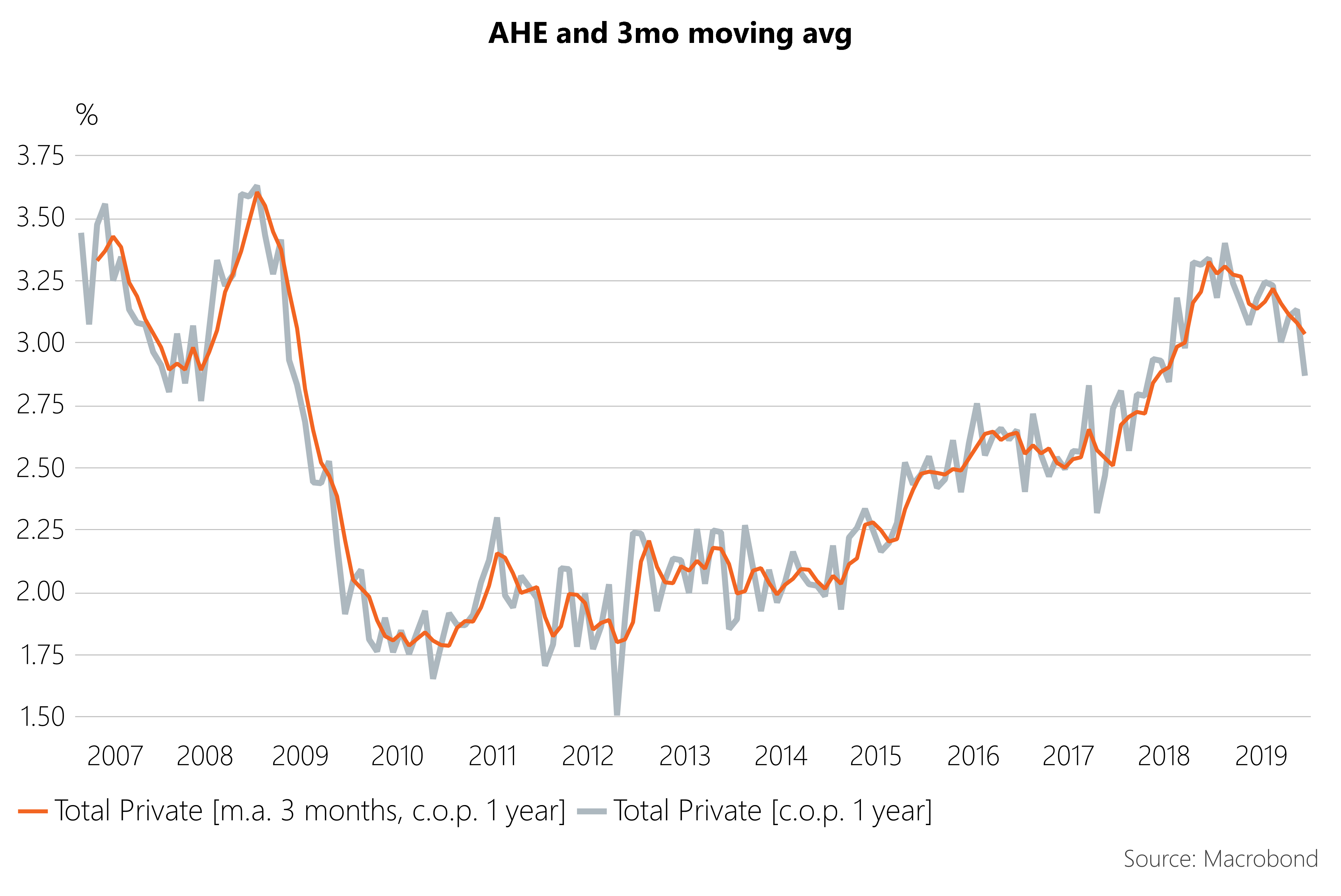 Sources: Bureau of Labor Statistics, Bureau of Economic Analysis, WTIA. Data as of December 31, 2019.
The first thing to do is to question the data (did you expect me to question the economic theory?). More accurately, the first thing to do is to dig deeper into the details of the data. Underneath the top line data, we've seen the wages of "production and non-supervisory workers" (roughly people who are paid hourly and are in non-management positions) grow at a stronger pace than the overall average. That is encouraging for an economy that up until the past two years had generated stronger gains for those with higher wages. Wage growth for those lower-paid workers accelerated through most of 2019, hitting 3.6% in October. But even that measure has dropped in the past two months, hitting 3.0% in today's report. It is unlikely, in our view, that labor market conditions have changed so much that wages are truly decelerating to such a degree. It is much more likely that these top-line figures have been hit by a combination of statistical volatility and one-off major disruptions such as the GM strike and seasonal volatility from the holiday season. And the increased participation in the labor force by "prime age" workers mentioned earlier also plays a part, acting as a "release valve" of sorts on this high-pressure labor market.
Nevertheless, the weakening of wage growth will surely be noticed by the members of the Federal Open Market Committee (FOMC) of the Federal Reserve (Fed). Their next meeting is on January 28–29, and they go into it with a stance of no expectation or bias of raising or cutting rates anytime soon. We think this jobs report supports that stance. The growth is strong enough to not be concerned about growth and the wages are weak enough to remain accommodative.
Core narrative
Today's jobs report is an encouraging sign that employers are willing to hire and, importantly, are finding people to hire in a tight labor market with a 3.5% unemployment rate. The deceleration in wage growth helps to keep at bay any fears that inflation will be moving up sharply anytime soon. That in turn keeps the Fed from needing to raise interest rates, which is supportive of equities. We enter the year with tactical overweights to U.S. small-cap equities as well as international developed equities, positions that we took near the end of last year and continue to believe are supported by the economic and market environments.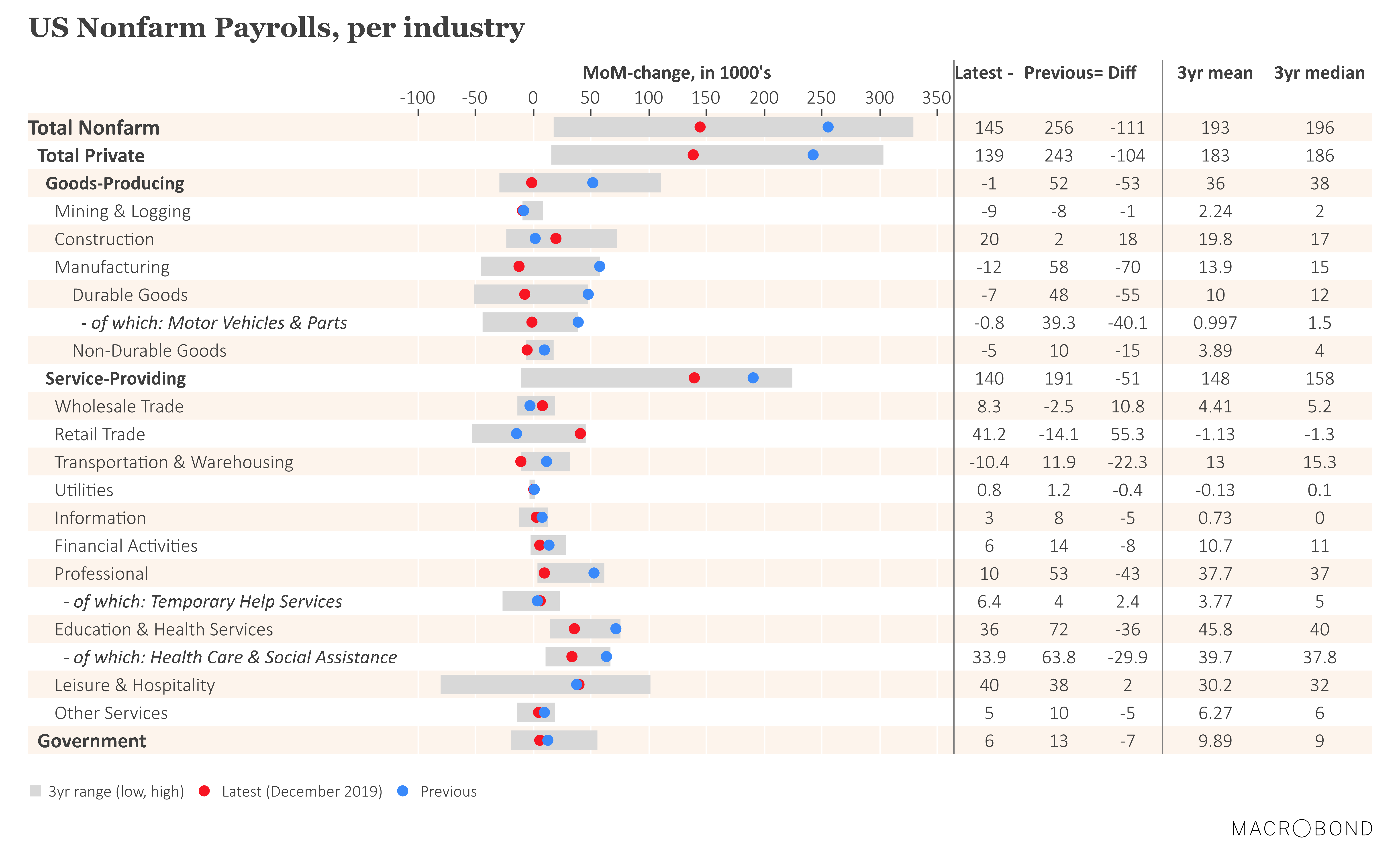 Sources: Macrobond, Bureau of Labor Statistics, WTIA.  Data as of December 31, 2019.
Disclosures
Wilmington Trust is a registered service mark. Wilmington Trust Corporation is a wholly owned subsidiary of M&T Bank Corporation. Wilmington Trust Company, operating in Delaware only, Wilmington Trust, N.A., M&T Bank and certain other affiliates, provide various fiduciary and non-fiduciary services, including trustee, custodial, agency, investment management and other services. International corporate and institutional services are offered through Wilmington Trust Corporation's international affiliates. Loans, credit cards, retail and business deposits, and other business and personal banking services and products are offered by M&T Bank, member FDIC.
Facts and views presented in this report have not been reviewed by, and may not reflect information known to, professionals in other business areas of Wilmington Trust or M&T Bank who may provide or seek to provide financial services to entities referred to in this report. M&T Bank and Wilmington Trust have established information barriers between their various business groups. As a result, M&T Bank and Wilmington Trust do not disclose certain client relationships with, or compensation received from, such entities in their reports.
The information on Wilmington Wire has been obtained from sources believed to be reliable, but its accuracy and completeness are not guaranteed. The opinions, estimates, and projections constitute the judgment of Wilmington Trust and are subject to change without notice. This commentary is for information purposes only and is not intended as an offer or solicitation for the sale of any financial product or service or a recommendation or determination that any investment strategy is suitable for a specific investor. Investors should seek financial advice regarding the suitability of any investment strategy based on the investor's objectives, financial situation, and particular needs. Diversification does not ensure a profit or guarantee against a loss. There is no assurance that any investment strategy will succeed.
Past performance cannot guarantee future results. Investing involves risk and you may incur a profit or a loss.
Indexes are not available for direct investment. Investment in a security or strategy designed to replicate the performance of an index will incur expenses such as management fees and transaction costs which would reduce returns.