August 5, 2016—Total nonfarm job growth in July came in at 255,000, well above the Bloomberg consensus and beating even the greatest of expectations. In addition, upward revisions to May and June brought those months up by a combined 18,000. Although the strong growth is quite welcome, we don't expect the robust figures to continue because of the tightness in the labor market, as we have been noting for quite some time. The unemployment rate was unchanged at 4.9%.
Job growth
The very strong figure of 255,000 jobs added was as well-distributed across sectors as one could ever expect. Private job growth was 217,000, with mild job gains in the goods-producing sectors of manufacturing and construction, and very strong growth in service sectors. The energy sector was the only major category to register job losses. Growth in professional and business services (70,000) and leisure and hospitality (45,000) both built on strong showings in the previous month.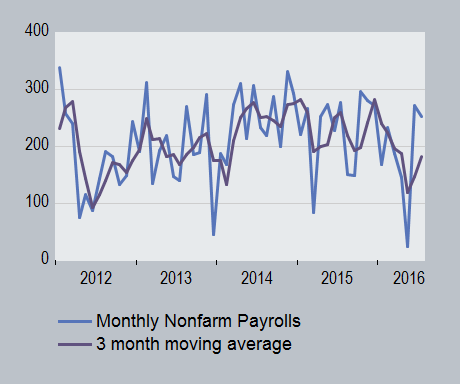 Source: Bureau of Labor Statistics
Although the staunch growth is welcome, we are wary of statistical "noise," (uncertainty and random error), which is often exhibited in the official jobs figures from the Bureau of Labor Statistics (BLS). As noted last month, we never believed that May was as weak as reported (now at +24,000) or that June was so strong (+292,000). It is more likely that actual hiring has been smoother but the BLS report contains some statistical noise in tracking the growth. We discuss this in more detail below.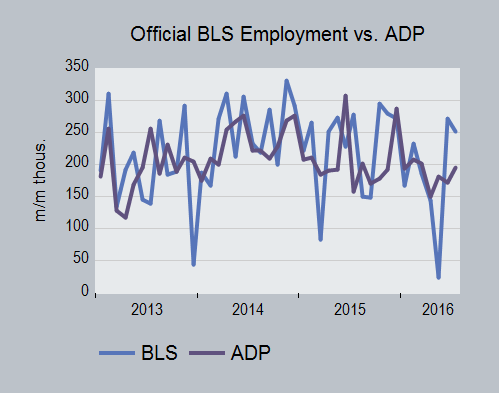 Sources: Bureau of Labor Statistics; ADP Research Institute
With the July report, the three-month average now stands at 190,000. That is a stronger figure, but still below the rates of growth experienced in 2014–15. As we have argued for months, the tightness of the labor market is the reason for the slowdown. Job openings are still near all-time highs as firms remain optimistic. But with unemployment at 4.9% there simply aren't as many available workers to choose from. This tightness in the market is extending the time it takes to fill positions and putting pressure on wages.
Back in the game
The stronger labor market and higher wages continue to draw people back into the labor market. After plateauing in late 2013, the 12-month change in the labor force has moved up steadily over the past 2.5 years with more and more people looking for work and filling jobs. The past 12 months have seen 2.2 million people enter the workforce. That is still below total job growth of 2.4 million, but enough to relieve some of the downward pressure on the unemployment rate. Stronger labor force growth is required for the labor market to revert to and consistently remain above the 200,000 mark. This would be challenging, given the structural headwind of a retiring Baby Boomer generation.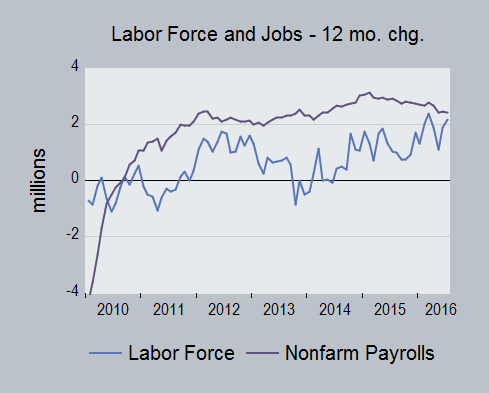 Source: Bureau of Labor Statistics
BLS vs. ADP
There may be a strong case for paying more attention to private payroll processor ADP's employment report than to the official Bureau of Labor Statistics (BLS) figures. I have always thought of the ADP report as a clever marketing tool. It is released two days before the official report and garners significant media attention. But it might also be the case that ADP does a better job of tracking the labor market and avoiding statistical noise. The official BLS vs. ADP chart above exhibits three instances over the course of the recovery when the BLS report registered an incredibly weak figure only to bounce back in subsequent months, while the ADP figure remained steadier.
Also, the ADP figures track nearly perfectly with the BLS figures over time. The table below shows a nearly identical measure of total job growth from 2010–2016, and by extension a near-perfect match for the average monthly growth. The volatility of the BLS measure can be seen in the difference in standard deviation. Of course, the volatility might be real and not statistical noise, but there is no way to know with certainty.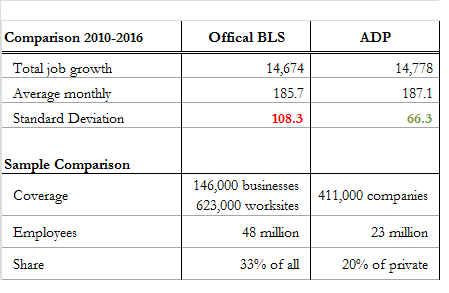 Sources: Bureau of Labor Statistics; ADP Research Institute
There is good reason to believe the ADP figures are solid. They have a massive sample, covering more than 400,000 companies and 23 million employees that make up 20% of the total private job market. That is not as large as the BLS sample, but a sample that is 20% of the population is very large for statistical purposes. Perhaps the private market firm (that has added personnel to its statistical team over the past two years) is doing a better job than the sequester-impacted bureaucrats in D.C.?
Core narrative
The strong July jobs report is supportive of our core narrative that the U.S. economy continues to improve, and that employers remain positive. But we don't expect job growth to remain above 200,000 consistently. The labor market is tight with a low unemployment rate and few available workers to fill the many open positions. This is leading to a slowdown in job growth and should continue to exert upward pressure on wages.
Disclosures
Wilmington Trust is a registered service mark. Wilmington Trust Corporation is a wholly owned subsidiary of M&T Bank Corporation. Investment management and fiduciary services are provided by Wilmington Trust Company, operating in Delaware only, and Wilmington Trust, N.A., a national bank. Loans, retail and business deposits, and other personal and business banking services and products are offered by Manufacturers and Traders Trust Company (M&T Bank), member FDIC. Wilmington Trust Investment Advisors, Inc., a subsidiary of M&T Bank, is a SEC-registered investment adviser providing investment management services to Wilmington Trust and M&T affiliates and clients.
These materials are based on public information. Facts and views presented in this report have not been reviewed by, and may not reflect information known to, professionals in other business areas of Wilmington Trust or M&T Bank who may provide or seek to provide financial services to entities referred to in this report. M&T Bank and Wilmington Trust have established information barriers between their various business groups. As a result, M&T Bank and Wilmington Trust do not disclose certain client relationships with, or compensation received from, such entities in their reports.
The information on Wilmington Wire has been obtained from sources believed to be reliable, but its accuracy and completeness are not guaranteed. The opinions, estimates, and projections constitute the judgment of Wilmington Trust and are subject to change without notice. This commentary is for information purposes only and is not intended as an offer or solicitation for the sale of any financial product or service or a recommendation or determination that any investment strategy is suitable for a specific investor. Investors should seek financial advice regarding the suitability of any investment strategy based on the investor's objectives, financial situation, and particular needs. Diversification does not ensure a profit or guarantee against a loss. There is no assurance that any investment strategy will succeed.
Any investment products discussed in this commentary are not insured by the FDIC or any other governmental agency, are not deposits of or other obligations of or guaranteed by M&T Bank, Wilmington Trust, or any other bank or entity, and are subject to risks, including a possible loss of the principal amount invested. Some investment products may be available only to certain "qualified investors"—that is, investors who meet certain income and/or investable assets thresholds. Past performance is no guarantee of future results. Investing involves risk and you may incur a profit or a loss.
Any positioning information provided does not include all positions that were taken in client accounts and may not be representative of current positioning. It should not be assumed that the positions described are or will be profitable or that positions taken in the future will be profitable or will equal the performance of those described. Positions described are illustrative and not intended as a recommendation outside of a managed account.
Indices are not available for direct investment. Investment in a security or strategy designed to replicate the performance of an index will incur expenses, such as management fees and transaction costs that would reduce returns.
Third party trademarks and brands are the property of their respective owners.

Contact an Expert