June 13, 2017 — Markets had cold feet last week with respect to high-momentum, technology-oriented positions that have contributed to a substantial run-up in equity values this year. Since Friday, June 9, the technology sector is down by 4.5% vs. -0.4% for the S&P 500. What goes up too fast often needs a periodic pause or correction. Much has been made of the appeal of the so-called "FANG" stocks (Facebook, Amazon, Netflix, and Google which were up 35%, 35%, 34%, and 27%, respectively, year to date through June 8). Additionally, other tech-oriented investments like Apple, NVIDIA, and Tesla were up 35%, 50%, and 73%, respectively, over the same period.
The question of too far too fast comes to mind as the Russell 1000 Growth, which contains 34% technology, is up 15.6% year to date vs. the Russell 1000 Value at 3.8% over this same period. It should be noted that growth stocks underperformed value stocks by 5.7% in the fourth quarter of 2016, as the period post Trump's win focused on the potential benefits to cyclical financials, energy, industrials, and basic materials companies during that period. Since the start of the year, less focus has been put on Trump's agenda benefits benefiting near term and potentially not seeing any benefits from his programs at all—which led the market to a more subdued economic expectation and lower interest rates. In a slower growth environment, the FANG stocks can thrive without an economic tailwind and, hence, become more valuable. The question today is whether the Trump agenda is more likely to come to fruition in the foreseeable future, which we think would benefit the cyclical names that sold off year to date. If not, sticking with more dependable growth is probably the better answer that we think would make the recent selloff more of a buying opportunity.
The selloff has been only two days in the making but the volatility measure shows a significant increase as fear wins the day. Below is a five-year graph showing the difference between the VXN (NASDAQ volatility) and the VIX (S&P 500 index volatility). As you can see, the reading taken on June 12th reached a high for the historical five-year period, which indicates there is much more fear in the VXN than the overall market.
NASDAQ (VXN) – S&P 500 (VIX) volatility difference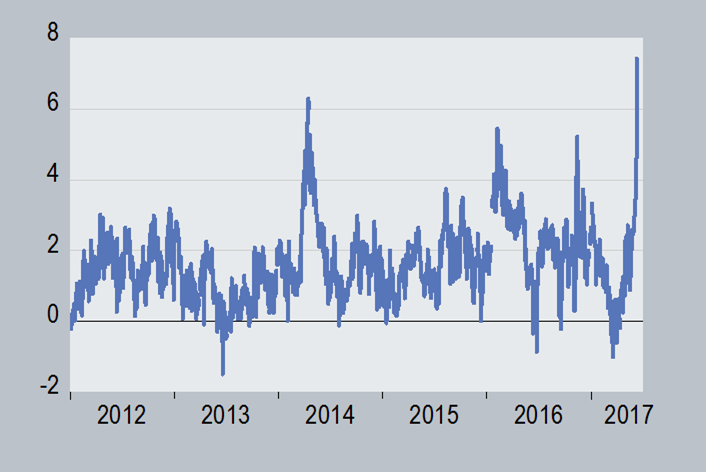 Source: Bloomberg
Core narrative:
The fundamentals may be stretched on their valuations to some degree—some more than others—but we remain bullish longer term. Our recommendation is to stay overweight technology as the base fundamentals remain strong and valuation has corrected somewhat in this downdraft. It provides an opportunity for some to buy on near-term weakness as the march upward has been unusually consistent for the entire year.
Disclosures
Wilmington Trust is a registered service mark. Wilmington Trust Corporation is a wholly owned subsidiary of M&T Bank Corporation. Wilmington Trust Company, operating in Delaware only, Wilmington Trust, N.A., M&T Bank and certain other affiliates, provide various fiduciary and non-fiduciary services, including trustee, custodial, agency, investment management and other services. International corporate and institutional services are offered through Wilmington Trust Corporation's international affiliates. Loans, credit cards, retail and business deposits, and other business and personal banking services and products are offered by M&T Bank, member FDIC.
These materials are based on public information. Facts and views presented in this report have not been reviewed by, and may not reflect information known to, professionals in other business areas of Wilmington Trust or M&T Bank who may provide or seek to provide financial services to entities referred to in this report. M&T Bank and Wilmington Trust have established information barriers between their various business groups. As a result, M&T Bank and Wilmington Trust do not disclose certain client relationships with, or compensation received from, such entities in their reports.
The information on Wilmington Wire has been obtained from sources believed to be reliable, but its accuracy and completeness are not guaranteed. The opinions, estimates, and projections constitute the judgment of Wilmington Trust and are subject to change without notice. This commentary is for information purposes only and is not intended as an offer or solicitation for the sale of any financial product or service or a recommendation or determination that any investment strategy is suitable for a specific investor. Investors should seek financial advice regarding the suitability of any investment strategy based on the investor's objectives, financial situation, and particular needs. Diversification does not ensure a profit or guarantee against a loss. There is no assurance that any investment strategy will succeed.
Any investment products discussed in this commentary are not insured by the FDIC or any other governmental agency, are not deposits of or other obligations of or guaranteed by M&T Bank, Wilmington Trust, or any other bank or entity, and are subject to risks, including a possible loss of the principal amount invested. Some investment products may be available only to certain "qualified investors"—that is, investors who meet certain income and/or investable assets thresholds. Past performance is no guarantee of future results. Investing involves risk and you may incur a profit or a loss.
Any positioning information provided does not include all positions that were taken in client accounts and may not be representative of current positioning. It should not be assumed that the positions described are or will be profitable or that positions taken in the future will be profitable or will equal the performance of those described. Positions described are illustrative and not intended as a recommendation outside of a managed account.
Indices are not available for direct investment. Investment in a security or strategy designed to replicate the performance of an index will incur expenses, such as management fees and transaction costs that would reduce returns.
Third party trademarks and brands are the property of their respective owners.

Contact an Expert