June 2, 2017 — The market got a bit of a shock with the release of the May jobs report, which came in at 138,000 jobs added, well below the Bloomberg median expectation of 182,000 and startlingly below the 253,000 in the private market figure published by ADP the day before. Combine that with a downward revision of job growth in the previous two months of 66,000 fewer jobs than previously thought, and the market response was swift with a selloff of the U.S. dollar and a big move into Treasuries, which pushed down interest rates. Predictably, there was immediate speculation in the financial press over whether the Federal Reserve would hold off and not hike rates at the meeting this month, as is currently anticipated. We read the reaction as a bit overdone, as we have long thought that job growth would continue to slow down in the face of a tight labor market. For Janet Yellen and the Fed, the broad set of labor market indicators continues to support the case for higher rates.
The details on the report
Total job growth of 138,000 was a combination of 147,000 added by private industry and a decline of 9,000 in government positions. On the private sector side, there were mild gains in the energy sector and construction, while manufacturing was essentially flat. Job gains were primarily in service sector positions and were spread across industries, but at slower rates than in April. There was no real culprit that could be pointed to as the source of weakness, just a slower month.
That slowness, though, is not coming from reticence of firms to hire, but from an incredibly tight labor market. Job openings remain near all-time highs and firms are scrambling to find workers but are struggling mightily. We believe this is the source of the slowdown in job creation. During the first several months of this year, I traveled throughout the M&T and Wilmington Trust footprints and had the opportunity to speak to business owners and executives in varied industries who report this very phenomenon in their markets. Couple that with news stories about firms being more willing to hire people with criminal records, and it is hard to conclude anything other than pervasive scarcity of labor. Last, my local gas station in rural Pennsylvania has been trying to hire at $12/hour, a 65% premium to the minimum wage and can't seem to fill the job.
Fed reaction and Yellen's dashboard
We believe the Fed will feel more urgency, not less, to keep hiking rates as a result of this report. No doubt the low job growth number will be acknowledged and debated by members of the committee. The labor market tightness described above is likely to make most of the committee members uncomfortable. The official unemployment rate, referred to as "U3," fell a tenth to 4.3%. We don't make too much of monthly changes for the household survey side of the jobs report (which gives us labor force, unemployment, the unemployment rate, etc. and is different from the establishment survey that gives us job growth), but it is notable that the 4.3% is lower than at any time over the 2004–2006 period in a very strong economy. This is the lowest unemployment rate since May 2001. The continued decline in the unemployment rate is likely to be more alarming to the Fed than anything else in this report.
We also know from past statements that Fed committee members don't expect job growth to remain above 200,000; in fact, quite the opposite. Chair Yellen said back in December 2015 that the economy only needs to generate 100,000 jobs per month to keep up with labor force growth, and that growth closer to 200,000 is "unsustainable." Many other members of the committee have given similar figures of sustainable job growth around the 100,000 mark.
Last, we have very specific information about the other labor market indicators that Yellen pays close attention to. Early in her tenure as chair of the committee, she laid them out in a few speeches and testimonies, leading many to create "Yellen Dashboards," which are still easily found today. Along with job growth and the unemployment rate, the other items she pays attention to continue to improve. The higher "U6" measure of unemployment that includes part-time workers and labor force dropouts declined to 8.4% last month (down from 9.7% a year ago)—the lowest level since November 2007. The number of people unemployed who have been without a job for more than six months has fallen by 230,000 over the past 12 months.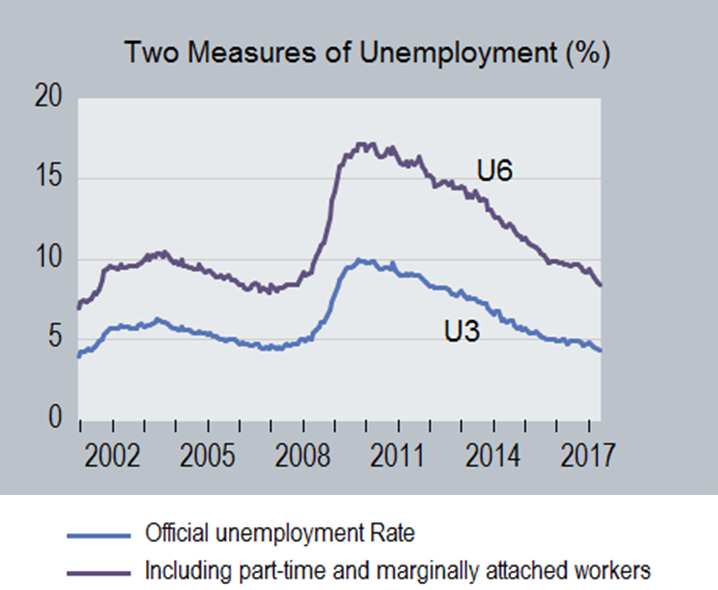 Source: Bureau of Labor Statistics
Labor force participation, which had fallen precipitously after the recession, bottomed out in late 2015 and has been in a modest uptrend since. And the rate at which people are willingly quitting jobs, a sign of opportunity elsewhere, has reached levels last seen in 2007.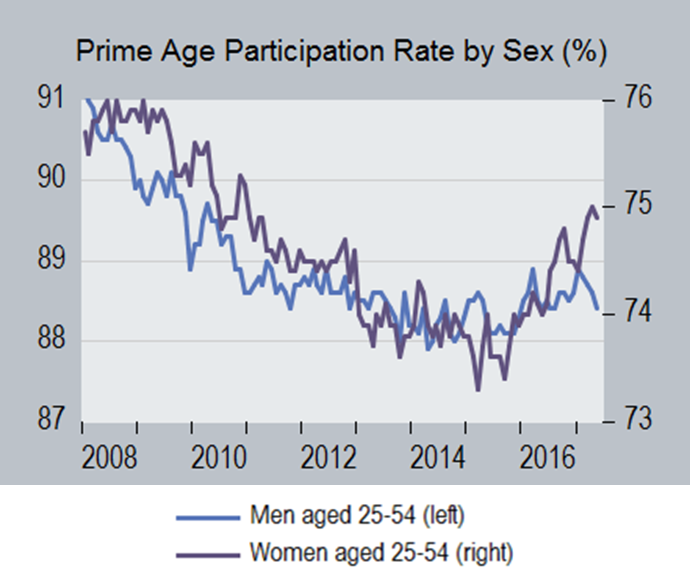 Source: Bureau of Labor Statistics
Core narrative
The job market remains healthy but the 16-year low for the unemployment rate means that labor is scarce and the rate of hiring is slowing down. Even when hiring was surprising to the upside earlier this year we believed it would slow down. Wage growth was decent in this report, and we still expect it to accelerate under the current conditions. Importantly, the broader set of labor market indicators are supportive of continued rate hikes from the Fed. We still expect them to hike at this month's meeting, which would be the second of this year. The market is not currently pricing in a third hike this year, but we do expect another at the September or December meeting.
Disclosures
Wilmington Trust is a registered service mark. Wilmington Trust Corporation is a wholly owned subsidiary of M&T Bank Corporation. Wilmington Trust Company, operating in Delaware only, Wilmington Trust, N.A., M&T Bank and certain other affiliates, provide various fiduciary and non-fiduciary services, including trustee, custodial, agency, investment management and other services. International corporate and institutional services are offered through Wilmington Trust Corporation's international affiliates. Loans, credit cards, retail and business deposits, and other business and personal banking services and products are offered by M&T Bank, member FDIC.
These materials are based on public information. Facts and views presented in this report have not been reviewed by, and may not reflect information known to, professionals in other business areas of Wilmington Trust or M&T Bank who may provide or seek to provide financial services to entities referred to in this report. M&T Bank and Wilmington Trust have established information barriers between their various business groups. As a result, M&T Bank and Wilmington Trust do not disclose certain client relationships with, or compensation received from, such entities in their reports.
The information on Wilmington Wire has been obtained from sources believed to be reliable, but its accuracy and completeness are not guaranteed. The opinions, estimates, and projections constitute the judgment of Wilmington Trust and are subject to change without notice. This commentary is for information purposes only and is not intended as an offer or solicitation for the sale of any financial product or service or a recommendation or determination that any investment strategy is suitable for a specific investor. Investors should seek financial advice regarding the suitability of any investment strategy based on the investor's objectives, financial situation, and particular needs. Diversification does not ensure a profit or guarantee against a loss. There is no assurance that any investment strategy will succeed.
Any investment products discussed in this commentary are not insured by the FDIC or any other governmental agency, are not deposits of or other obligations of or guaranteed by M&T Bank, Wilmington Trust, or any other bank or entity, and are subject to risks, including a possible loss of the principal amount invested. Some investment products may be available only to certain "qualified investors"—that is, investors who meet certain income and/or investable assets thresholds. Past performance is no guarantee of future results. Investing involves risk and you may incur a profit or a loss.
Any positioning information provided does not include all positions that were taken in client accounts and may not be representative of current positioning. It should not be assumed that the positions described are or will be profitable or that positions taken in the future will be profitable or will equal the performance of those described. Positions described are illustrative and not intended as a recommendation outside of a managed account.
Indices are not available for direct investment. Investment in a security or strategy designed to replicate the performance of an index will incur expenses, such as management fees and transaction costs that would reduce returns.
Third party trademarks and brands are the property of their respective owners.
Contact an Expert