March 20, 2018—As investors, one of our most important jobs at this point in the market cycle is watching for red flags that could signal the beginning of a bear market (often defined as a -20% selloff). One indicator that acted as such a red flag during the financial crisis was the spread, or difference, between the London interbank offered rate (LIBOR) and the Overnight Index Swap (OIS) rate. What is this telling us today, and why are we not concerned?
LIBOR is the rate at which banks are willing to lend to each other and acts as a benchmark for other interest rates in the market such as floating-rate mortgages. The OIS rate is a measure of what markets expect from the federal funds rate at various points in the future. The difference has, at times, acted as a gauge on the health of banks. When that spread widened in 2008 during the financial crisis, it meant banks were demanding more compensation for the risk of lending to each other, signaling duress in the banking system. Last week, the spread approached levels that we had not seen since the 2011 European sovereign debt crisis. The 3-month LIBOR-OIS spread hit 53 basis points, or bps (0.53%), on March 16 of this year. It hit 59bps in December 2011 and 185bps in December 2008, during the throes of the financial crisis.
3-month LIBOR minus OIS spread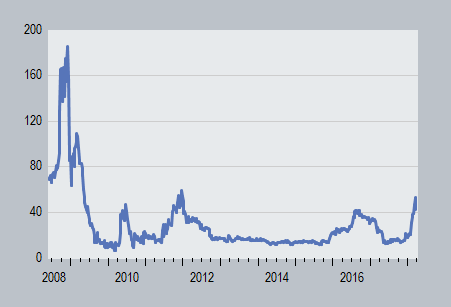 Data as of March 19, 2018.
Source: Bloomberg
Today's level pales in comparison to the crisis, but the sharp rise has many taking notice, as it did in the third quarter of 2016 when we highlighted the effects of U.S. Money Market reform. We are not concerned by the rise in the LIBOR-OIS spread because we view it as being driven by supply and demand factors, rather than credit stress:
Increased supply— The U.S. Treasury has increased issuance of short-term credit for a number of reasons, including replenishment of cash balances following the most recent debt ceiling debate, as well as long-term budget needs. This increased supply, to the tune of more than $300 billion, is also having the effect of crowding out corporate issuance.
Reduced demand—The Federal Reserve (Fed) is six months into shrinking what was a $4.5 trillion balance sheet, meaning it is currently letting $20 billion worth of Treasuries and mortgage-backed securities mature each month without reinvesting the proceeds. Fed balance sheet runoff is set to accelerate in 2018 and 2019, resulting in a decline in demand from a key buyer. Deemed repatriation included in the recently enacted tax plan is also contributing to the rise in LIBOR. U.S. companies have been major buyers of short-term credit in past years. As they bring cash home, this buyer will no longer be as prevalent in supporting the market. Additionally, these deposits leaving foreign banks will force banks to issue more commercial paper, adding to market supply. The overall impact of repatriation could be significant, as Bank of America estimates that the 10 largest U.S. high-grade non-financial holders of overseas cash (mainly technology or healthcare companies) now hold $856 billion in total cash, of which 87% is overseas.
These supply and demand fundamentals will result in Treasury net financing needs of over $950 billion in 2018, compared to approximately $500 billion in 2017, which will likely be met in part by an increase in Treasury bill supply. As a result, what was once a key indicator of financial stress is likely to stay elevated but is now flashing a false alarm. Importantly, other measures of financial health are not showing signs of stress: the TED spread (3-month LIBOR minus the "risk-free rate" as measured by the 3-month Treasury bill rate) remains contained, and lower credit corporate bonds within the high-yield space are outperforming higher-quality issuers.
TED spread (3-month LIBOR minus 3-month Treasury bill rate)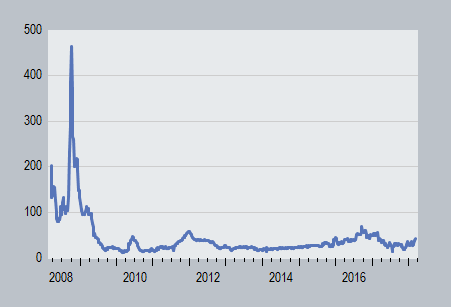 Data as of March 16, 2018.
Source: Bloomberg
Core narrative
For now, LIBOR and investment-grade corporate interest-rate spreads are not foreshadowing stress in banking or credit markets. Short-term rates are likely to continue grinding higher, as the supply and demand factors discussed above persist alongside a Fed that is on a path of gradually raising rates. This will inevitably contribute to a flattening yield curve, something we have discussed in the past as being part of a normal rate-hiking cycle but also a leading recessionary signal. A flatter yield curve will make short-duration fixed income and even cash more appealing, but we see many signs of health in equity markets —strong corporate earnings, stable profit margins, elevated sentiment, and expansionary fiscal policy— that give us reason to maintain an overweight to equities within portfolios.
Disclosures
Wilmington Trust is a registered service mark. Wilmington Trust Corporation is a wholly owned subsidiary of M&T Bank Corporation. Wilmington Trust Company, operating in Delaware only, Wilmington Trust, N.A., M&T Bank and certain other affiliates, provide various fiduciary and non-fiduciary services, including trustee, custodial, agency, investment management and other services. International corporate and institutional services are offered through Wilmington Trust Corporation's international affiliates. Loans, credit cards, retail and business deposits, and other business and personal banking services and products are offered by M&T Bank, member FDIC. Wilmington Trust Investment Advisors, Inc. is an SEC-registered investment adviser providing investment management services to Wilmington Trust and M&T Bank affiliates and clients.
These materials are based on public information. Facts and views presented in this report have not been reviewed by, and may not reflect information known to, professionals in other business areas of Wilmington Trust or M&T Bank who may provide or seek to provide financial services to entities referred to in this report. M&T Bank and Wilmington Trust have established information barriers between their various business groups. As a result, M&T Bank and Wilmington Trust do not disclose certain client relationships with, or compensation received from, such entities in their reports.
The information on Wilmington Wire has been obtained from sources believed to be reliable, but its accuracy and completeness are not guaranteed. The opinions, estimates, and projections constitute the judgment of Wilmington Trust and are subject to change without notice. This commentary is for information purposes only and is not intended as an offer or solicitation for the sale of any financial product or service or a recommendation or determination that any investment strategy is suitable for a specific investor. Investors should seek financial advice regarding the suitability of any investment strategy based on the investor's objectives, financial situation, and particular needs. Diversification does not ensure a profit or guarantee against a loss. There is no assurance that any investment strategy will succeed.
Any investment products discussed in this commentary are not insured by the FDIC or any other governmental agency, are not deposits of or other obligations of or guaranteed by M&T Bank, Wilmington Trust, or any other bank or entity, and are subject to risks, including a possible loss of the principal amount invested. Some investment products may be available only to certain "qualified investors"—that is, investors who meet certain income and/or investable assets thresholds. Past performance is no guarantee of future results. Investing involves risk and you may incur a profit or a loss.
Any positioning information provided does not include all positions that were taken in client accounts and may not be representative of current positioning. It should not be assumed that the positions described are or will be profitable or that positions taken in the future will be profitable or will equal the performance of those described. Positions described are illustrative and not intended as a recommendation outside of a managed account.
Indices are not available for direct investment. Investment in a security or strategy designed to replicate the performance of an index will incur expenses, such as management fees and transaction costs that would reduce returns.
Third-party trademarks and brands are the property of their respective owners.