September 14, 2016—LIBOR is a benchmark rate that some of the world's leading banks charge each other for short-term loans. LIBOR rates can be an indicator of stress in the financial system. Recently three-month LIBOR reached its highest level in more than seven years.  Today, the elevation in LIBOR is being attributed to the pending U.S. Money Market Reform and not some impending banking crisis.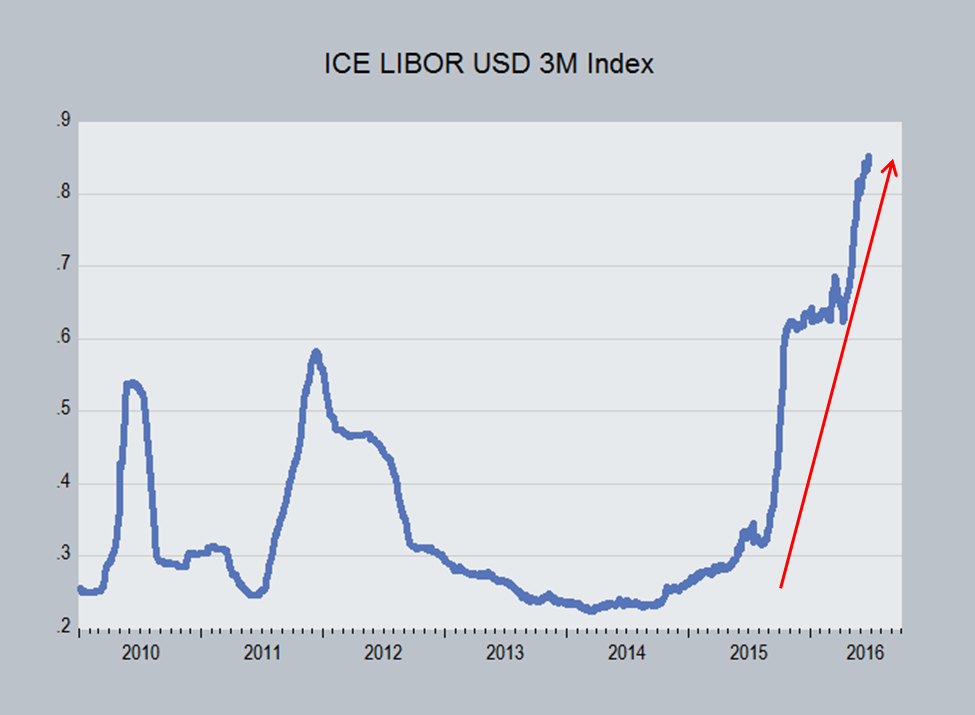 Source: Bloomberg
During the 2008 financial crisis, systemic risk in the global banking system caused LIBOR to reach 4.8% in October.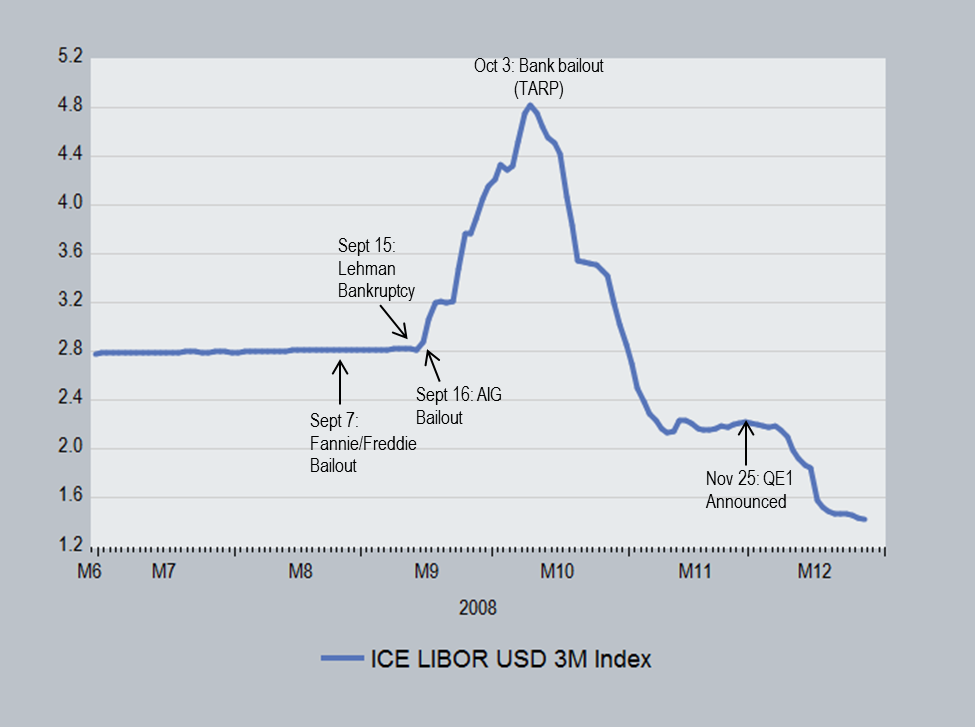 Source: Bloomberg
What's changing to Money Market Funds?
In July of 2014, the SEC adopted significant amendments to the rules that govern money market mutual funds. The new rules, set to go into effect October 14, 2016, and are intended to increase transparency as well as give investors additional protection during rare periods of market stress, when redemptions in some money market mutual funds may increase significantly.  Prime and Tax-Exempt money funds will be impacted the most by the reform as Government and Treasury funds will not.
Historically, Money Market Funds solved three distinct needs for investors: Stability/Preservation of principal, Liquidity, and Yield.  Post Money Market reform, investors will not be able to meet all three of these needs through the use of a single product.
The biggest change is that Institutional Prime and Institutional Tax-Exempt money market funds will now be required to have a floating net asset value (NAV). The daily share price will fluctuate to reflect changes in the market-based value of the funds' investments.  Certain factors, such as interest rates or credit conditions are examples of what could cause a change in NAV.
Changes to take effect October 14, 2016

What's LIBOR got to do with it?
European and other non-U.S. banks have typically borrowed funding needs in U.S. short-term markets from U.S. money market funds.  As a result of the SEC's reform, prime money market funds have become much less structurally attractive.  Over the past few months, a substantial amount of assets have shifted from prime money market funds to government money market funds creating a supply/demand imbalance which is causing Libor to become elevated.
What does a higher LIBOR mean?
Banks and other institutions who issue debt based on LIBOR will feel the pain. This will increase their funding costs as yields move higher and funding spreads widen. We do believe the environment remains constructive for high yield securities due to attractive income returns and therefore, we still maintain a modest overweight position.
Core Narrative:
We do not believe that the rise in LIBOR is a warning sign for the economy, but a technical issue in the wake of money market reform. We maintain our core narrative that growth will likely continue in the domestic economy.
Disclosures
Wilmington Trust is a registered service mark. Wilmington Trust Corporation is a wholly owned subsidiary of M&T Bank Corporation. Investment management and fiduciary services are provided by Wilmington Trust Company, operating in Delaware only, and Wilmington Trust, N.A., a national bank. Loans, retail and business deposits, and other personal and business banking services and products are offered by Manufacturers and Traders Trust Company (M&T Bank), member FDIC. Wilmington Trust Investment Advisors, Inc., a subsidiary of M&T Bank, is a SEC-registered investment adviser providing investment management services to Wilmington Trust and M&T affiliates and clients.
These materials are based on public information. Facts and views presented in this report have not been reviewed by, and may not reflect information known to, professionals in other business areas of Wilmington Trust or M&T Bank who may provide or seek to provide financial services to entities referred to in this report. M&T Bank and Wilmington Trust have established information barriers between their various business groups. As a result, M&T Bank and Wilmington Trust do not disclose certain client relationships with, or compensation received from, such entities in their reports.
The information on Wilmington Wire has been obtained from sources believed to be reliable, but its accuracy and completeness are not guaranteed. The opinions, estimates, and projections constitute the judgment of Wilmington Trust and are subject to change without notice. This commentary is for information purposes only and is not intended as an offer or solicitation for the sale of any financial product or service or a recommendation or determination that any investment strategy is suitable for a specific investor. Investors should seek financial advice regarding the suitability of any investment strategy based on the investor's objectives, financial situation, and particular needs. Diversification does not ensure a profit or guarantee against a loss. There is no assurance that any investment strategy will succeed.
Any investment products discussed in this commentary are not insured by the FDIC or any other governmental agency, are not deposits of or other obligations of or guaranteed by M&T Bank, Wilmington Trust, or any other bank or entity, and are subject to risks, including a possible loss of the principal amount invested. Some investment products may be available only to certain "qualified investors"—that is, investors who meet certain income and/or investable assets thresholds. Past performance is no guarantee of future results. Investing involves risk and you may incur a profit or a loss.
Any positioning information provided does not include all positions that were taken in client accounts and may not be representative of current positioning. It should not be assumed that the positions described are or will be profitable or that positions taken in the future will be profitable or will equal the performance of those described. Positions described are illustrative and not intended as a recommendation outside of a managed account.
Indices are not available for direct investment. Investment in a security or strategy designed to replicate the performance of an index will incur expenses, such as management fees and transaction costs that would reduce returns.
Third party trademarks and brands are the property of their respective owners.

Contact an Expert