April 25, 2018—When it comes to bond yields, investors are impossible to please these days. If investors in 2013 were comparable to a toddler throwing a tantrum over the Federal Reserve ("Fed") potentially withdrawing quantitative easing, then today it may be more appropriate to compare the market to a surly teenager who doesn't know what he or she wants and is not happy no matter which direction bond yields go. For weeks, investors have expressed concern over the flattening yield curve, as measured by the difference between the yields on the 10-year and 2-year Treasury notes. (A smaller number in the 10- minus 2-year "spread" indicates flattening, and a negative number signals an inversion in the yield curve.) The 10- minus 2-year Treasury yield spread fell to a new expansion low of 0.43% on April 17. Why do investors watch the shape of the yield curve? In theory, a rising 2-year yield indicates tightening monetary policy and a falling 10-year yield signals a slowdown in inflation and economic growth in the future. Practically speaking, the yield curve has inverted, or gone negative, before each of the last five recessions. As such, investors have a heightened sensitivity for this indicator.
Given this, one may then assume that a steepening yield curve, as we have seen this week, would allow investors to breathe a sigh of relief. However, the 10-year yield touching 3% on Tuesday—for the first time in four years—was met with as much if not more angst. Despite a solid start to first quarter earnings season, stocks sold off this week, at least in part on concerns about elevated bond yields.
The 10-year yield reaching 3% is a bit of a milestone in light of a prolonged period of extraordinarily low interest rates, but we do not believe it foreshadows a declining stock market, though we could see more volatility in the short term. Corporate debt is manageable and below last cycle's peak levels. Companies are reporting the highest profit margins since financial data company FactSet started tracking this measure in 2008, signaling higher input prices or increased debt cost can be absorbed. Valuations have reset to the lowest level in two years. From a consumer standpoint, a higher 10-year yield has coincided with higher mortgage rates, but consumers are still showing more appetite for home buying than at any other point in this expansion.
S&P 500 Index next-12-months P/E ratio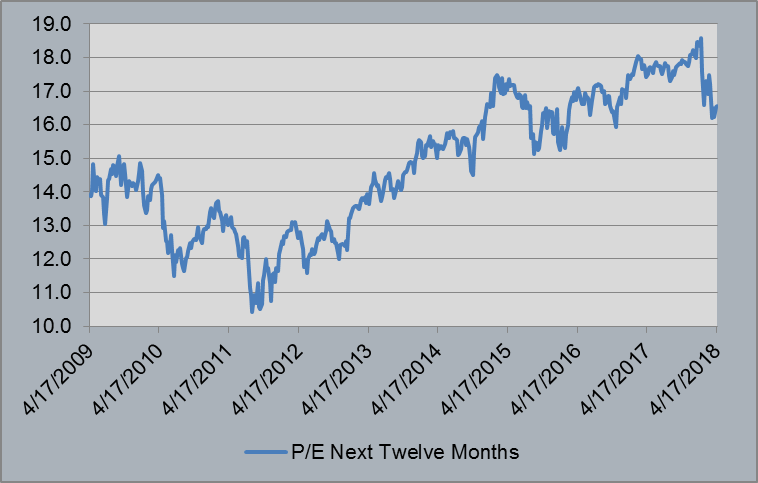 Data as of April 25, 2018
Source: Bloomberg
The U.S. Consumer Confidence Index
Long-term average = 100 Data as of March 30, 2018
Source: The Conference Board
Higher bond yields tend to weigh on equity sentiment for two main reasons. First, higher bond yields make fixed income—a less risky asset than stocks—more appealing. Second, higher yields translate to a higher discount rate for the future earnings growth of stocks, which necessarily makes those future cash flows less valuable. However, historically stocks have risen with yields at the beginning of the Fed's hiking cycle. It is not until yields reach a tipping point (which has historically been around 5% for the 10-year Treasury), that stocks have suffered. Today's tipping point is likely lower than 5%, given how low rates have been, but higher than 3%.
Core narrative
We are not ignoring yields—either the flattening of the curve or the upward climb of bond yields—but this is something we have been anticipating given our view of solid global economic growth and expectations for inflation closer to the Fed's target. We also see higher bond yields overseas, the possibility of less monetary stimulus from the European Central Bank and Bank of Japan, the winding down of the Fed's balance sheet, and increased U.S. Treasury issuance resulting from budgetary needs all lending support to a 10-year yield remaining at or above 3%. Our base case is that the 10-year Treasury yield is trading between 3.0% and 3.25% and the yield curve will not have inverted one year from now. We are closely monitoring global economic data and corporate earnings and believe we have not seen the peak in the stock market, despite a difficult start to the year. At this time we are maintaining our overweight to equities in portfolios, with a preference for non-U.S. stocks.
Disclosures
Wilmington Trust is a registered service mark. Wilmington Trust Corporation is a wholly owned subsidiary of M&T Bank Corporation. Wilmington Trust Company, operating in Delaware only, Wilmington Trust, N.A., M&T Bank and certain other affiliates, provide various fiduciary and non-fiduciary services, including trustee, custodial, agency, investment management and other services. International corporate and institutional services are offered through Wilmington Trust Corporation's international affiliates. Loans, credit cards, retail and business deposits, and other business and personal banking services and products are offered by M&T Bank, member FDIC. Wilmington Trust Investment Advisors, Inc. is an SEC-registered investment adviser providing investment management services to Wilmington Trust and M&T Bank affiliates and clients.
These materials are based on public information. Facts and views presented in this report have not been reviewed by, and may not reflect information known to, professionals in other business areas of Wilmington Trust or M&T Bank who may provide or seek to provide financial services to entities referred to in this report. M&T Bank and Wilmington Trust have established information barriers between their various business groups. As a result, M&T Bank and Wilmington Trust do not disclose certain client relationships with, or compensation received from, such entities in their reports.
The information on Wilmington Wire has been obtained from sources believed to be reliable, but its accuracy and completeness are not guaranteed. The opinions, estimates, and projections constitute the judgment of Wilmington Trust and are subject to change without notice. This commentary is for information purposes only and is not intended as an offer or solicitation for the sale of any financial product or service or a recommendation or determination that any investment strategy is suitable for a specific investor. Investors should seek financial advice regarding the suitability of any investment strategy based on the investor's objectives, financial situation, and particular needs. Diversification does not ensure a profit or guarantee against a loss. There is no assurance that any investment strategy will succeed.
Any investment products discussed in this commentary are not insured by the FDIC or any other governmental agency, are not deposits of or other obligations of or guaranteed by M&T Bank, Wilmington Trust, or any other bank or entity, and are subject to risks, including a possible loss of the principal amount invested. Some investment products may be available only to certain "qualified investors"—that is, investors who meet certain income and/or investable assets thresholds. Past performance is no guarantee of future results. Investing involves risk and you may incur a profit or a loss.
Any positioning information provided does not include all positions that were taken in client accounts and may not be representative of current positioning. It should not be assumed that the positions described are or will be profitable or that positions taken in the future will be profitable or will equal the performance of those described. Positions described are illustrative and not intended as a recommendation outside of a managed account.
Indices are not available for direct investment. Investment in a security or strategy designed to replicate the performance of an index will incur expenses, such as management fees and transaction costs that would reduce returns.
Third-party trademarks and brands are the property of their respective owners.
Download Article