January 10, 2019 – Volatile equity markets have bounced off of their Christmas Eve lows, heading higher in almost as dramatic a fashion as on the way down. We are not surprised to see the rapid move upward, as we assessed equity markets to be oversold and pessimistic sentiment extreme by the end of 2018. Historically, a pullback of the magnitude and speed that we experienced in the fourth quarter tends to be followed by above-average returns on both a 3-month and 12-month basis (Figure 1).
Figure 1: A sharp pullback in equities has often been followed by strong performance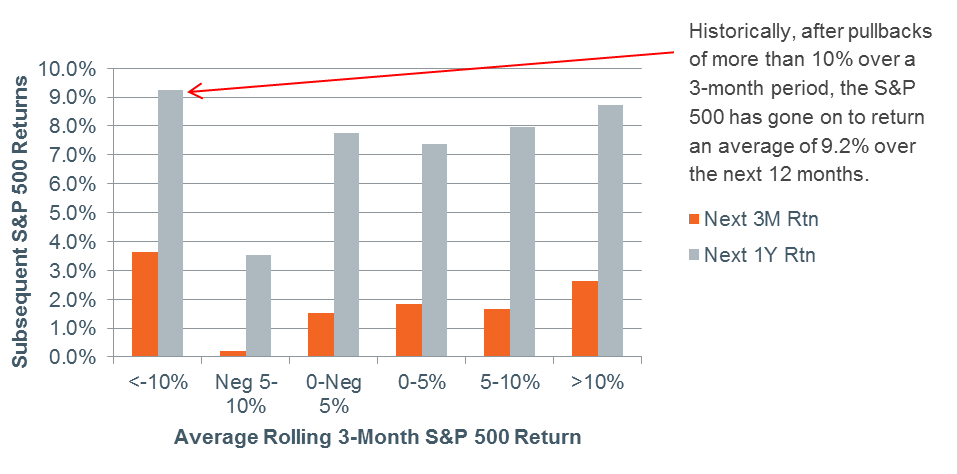 Past performance is no guarantee of future results. Indexes are not available for direct investment.
As of December 31, 2018. The x-axis represents average S&P 500 returns over rolling 3-month periods. The data represents S&P 500 historical returns from 1929-2018. Orange bars represent the S&P 500's average return over the next 3 months. Gray bars represent the S&P 500's average return over the next year. Average annual returns from 1929-2018 ranged from (lowest -47.1%- highest 46.6%).
Sources: Bloomberg, Standard & Poor's.
We have maintained our slight overweight to equities throughout this tumultuous time, advising our clients to ride through the volatility, rather than succumb to it. While we are optimistic on equities in 2019, we would caution against assuming the market's straight upward trajectory of the past couple weeks will continue unabated. Reduced liquidity globally—as central banks around the world tighten monetary policy—suggests higher volatility could be here to stay. Importantly though, for long-term investors, volatility can be your friend and provide opportunities to grow wealth longer term, whether through deploying cash on the sidelines or estate planning strategies like making tax-free gifts or funding a trust at a discount.
The decline in equity market valuations at the end of the year (to around 14x next-12-month earnings estimates for the S&P 500 index), was consistent with what we tend to see one or two quarters before a recession. However, our research suggests we will see a slowing growth rate in the U.S. from 2018's pace but not a recession. In fact, the 2%–2.5% GDP growth we expect in 2019 would mean "Goldilocks" is back. That is to say that we expect economic growth in the U.S. that is not so hot that it requires the Fed to hike rates more aggressively and kill inflation (and the economic cycle along with it), but not so cold that it risks a recession. Rather, a "just right" level of growth in the U.S.—and, critically, stabilization in growth abroad—is precisely what we need to extend the economic cycle. If productivity growth increases as well, as we expect and discuss in our 2019 Capital Markets Forecast, then we could see the economic cycle extend well beyond 2019.
Concerns about the Fed's pace of tightening have been a major source of angst for investors. Recent weeks of commentary from Chair Powell and other members of the FOMC suggest the Fed will be more patient with rate hikes in 2019. The minutes from December's policy meeting, released on Wednesday, are consistent with the more cautious tone we have heard from the Fed to start the year. We still think it's reasonable to expect two rate hikes in 2019 if the economy progresses as outlined above, but the Fed is not on a preset course and will adjust policy based on the strength of the economy.
Looking ahead, earnings season is upon us. However, we find ourselves in an interesting predicament when it comes to interpreting corporate earnings results from the fourth quarter of 2018. For one thing, earnings estimates for the S&P 500 have been reduced by about 4% since the beginning of the fourth quarter. Though not out of line with the average decline in estimates we've seen historically over the course of a given quarter, the reduced estimates from analysts, along with CEO uncertainty regarding the outlook for 2019, mean we expect markets to move more on the macroeconomic data and news than earnings reports in the near term. The twin uncertainties related to U.S. government policy—trade and the budget—make it increasingly difficult for companies to provide insight into next year.
Core narrative
Recent weeks of volatility have been uncomfortable, but looking out over the next year we expect equity markets to move higher and deliver respectable returns. Economic data are slowing, as expected, but to a more stable growth rate that should allow the cycle to continue. Stable economic growth does not necessarily mean stable markets, though, and higher volatility is likely here to stay. Above all else, it is imperative to remain focused on long-term goals and avoid rash portfolio decisions that could have long-term consequences.
Disclosures
Wilmington Trust is a registered service mark. Wilmington Trust Corporation is a wholly owned subsidiary of M&T Bank Corporation. Wilmington Trust Company, operating in Delaware only, Wilmington Trust, N.A., M&T Bank and certain other affiliates, provide various fiduciary and non-fiduciary services, including trustee, custodial, agency, investment management and other services. International corporate and institutional services are offered through Wilmington Trust Corporation's international affiliates. Loans, credit cards, retail and business deposits, and other business and personal banking services and products are offered by M&T Bank, member FDIC. Wilmington Trust Investment Advisors, Inc. is an SEC-registered investment adviser providing investment management services to Wilmington Trust and M&T Bank affiliates and clients.
These materials are based on public information. Facts and views presented in this report have not been reviewed by, and may not reflect information known to, professionals in other business areas of Wilmington Trust or M&T Bank who may provide or seek to provide financial services to entities referred to in this report. M&T Bank and Wilmington Trust have established information barriers between their various business groups. As a result, M&T Bank and Wilmington Trust do not disclose certain client relationships with, or compensation received from, such entities in their reports.
The information on Wilmington Wire has been obtained from sources believed to be reliable, but its accuracy and completeness are not guaranteed. The opinions, estimates, and projections constitute the judgment of Wilmington Trust and are subject to change without notice. This commentary is for information purposes only and is not intended as an offer or solicitation for the sale of any financial product or service or a recommendation or determination that any investment strategy is suitable for a specific investor. Investors should seek financial advice regarding the suitability of any investment strategy based on the investor's objectives, financial situation, and particular needs. Diversification does not ensure a profit or guarantee against a loss. There is no assurance that any investment strategy will succeed.
Any investment products discussed in this commentary are not insured by the FDIC or any other governmental agency, are not deposits of or other obligations of or guaranteed by M&T Bank, Wilmington Trust, or any other bank or entity, and are subject to risks, including a possible loss of the principal amount invested. Some investment products may be available only to certain "qualified investors"—that is, investors who meet certain income and/or investable assets thresholds. Past performance cannot guarantee future results. Investing involves risk and you may incur a profit or a loss.
Any positioning information provided does not include all positions that were taken in client accounts and may not be representative of current positioning. It should not be assumed that the positions described are or will be profitable or that positions taken in the future will be profitable or will equal the performance of those described. Positions described are illustrative and not intended as a recommendation outside of a managed account. Indices are not available for direct investment. Investment in a security or strategy designed to replicate the performance of an index will incur expenses, such as management fees and transaction costs that would reduce returns.
Third-party trademarks and brands are the property of their respective owners.