June 27, 2017—Seasoned investors are well aware that market prices are set at the margin, or alternatively, it is price and not quantity that matters for small flows. Sometimes the small percentage (or "flow") of transactions occurring is representative of where a much larger "stock" or percentage of the market would trade; and other times, it isn't. The latter is particularly true when it is difficult to sell short a significant portion of this larger "stock." This backdrop helps explain why Puerto Rico debt, in general, advanced 16% in 2016, easily outpacing the overall muni market at a time when significant numbers of prescient investors foreshadowed deteriorating fundamentals for the debt. The Bloomberg Barclays High Yield Index returned 3.0% including Puerto Rico and 1.7% ex (without) Puerto Rico in 2016. Puerto Rico debt even continued to rally up until the early part of March 2017.
The following chart depicts recent prices for the last benchmark general obligation (GO) Puerto Rico deal issued in 2017. Holders of GO bonds rely on the full faith and credit of the issuing municipality, whereas revenue bonds are backed by a specific revenue stream. Note that the price has dropped over 19% since March 8.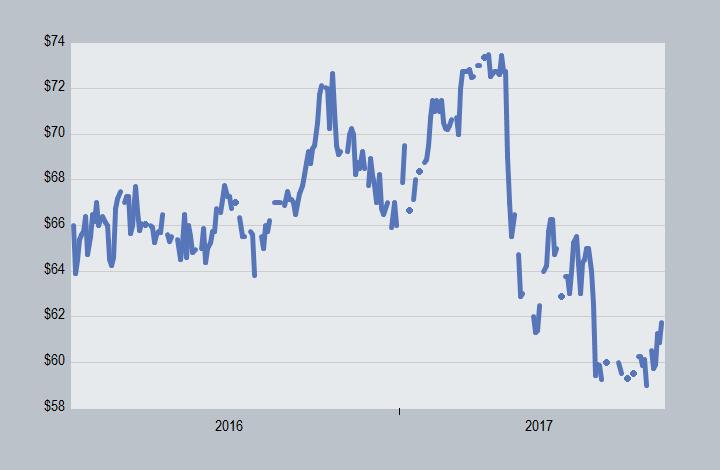 Source: Bloomberg
Dimensioning America's version of Greece that is about to get worse
In 1999, Puerto Rico had an investment-grade rating and the island had approximately $16 billion of debt. That figure today is $74 billion, which is double the size of the debt since 2006. Puerto Rico has a population of 3.4 million people, similar to Connecticut. Yet the $74 billion of debt is an amount only eclipsed by three U.S. states: California, New York, and Massachusetts. The central government debt of Greece is over $326 billion with a current population of 10.8 million. Since 2006, Puerto Rico's economy has contracted every year but one, and the poverty rate of 50% is double that of Mississippi (the poorest state) and well above Greece's 36%. Puerto Rico hasn't filed audited financial statements since its 2014 fiscal year.
The situation in Puerto Rico is likely to get worse as Puerto Rico's oversight board in mid-March certified a 10-year plan that estimates Puerto Rico will only have $7.8 billion of free cash flow or primary surplus for approximately $33 billion in debt service payments, or about 24% of what is actually due over that period. Additionally, Puerto Rico has three principal retirement systems with total pension liabilities of $49.6 billion with a 1% funded status. These retirement systems are projected to be out of money between July and December 2017, according to a complaint filed with the Title III itself on May 3, 2017 (see a previous Wilmington Wire post Puerto Rico Title III Filing—Impacts on and off the Island).
What is the relevance for our investors?
Our current tactical asset allocation weight in high yield (HY) municipal bonds for our High-Net-Worth Growth & Income strategy is 3.0% vs. our strategic asset allocation (SAA) of 2.00%. Puerto Rico bonds comprise 11.9% of the Barclays Municipal High Yield Index and 9.5% of the S&P Municipal Yield Index. Thus, both past and future performance of Puerto Rico debt is material for the investor allocating to the Muni High Yield asset class.
The good news for our investors
Our overall exposure to distressed Puerto Rico debt is exceptionally low: 0.36% of one manager's fund. Our Manager Research Group has three "buy" rated open-end Municipal High Yield funds on the Master List of Approved Vehicles or MLAV which is our "buy list" for approved vehicles. Two funds are managed by Nuveen and have zero exposure to Puerto Rico vs. a 9.5% benchmark weight. These funds are the Nuveen High Yield Muni Bond Fund (NHMRX) and the Nuveen Short Duration High Yield Muni Bond Fund (NVHIX). The third fund is the T. Rowe Price Tax-Free High Yield Fund (PRFHX). As of 4/28/17, this fund's total Puerto Rico exposure was 1.55% vs. 4.51% for its benchmark. However, 0.58% is insured by Assured Guaranty and 0.66% is invested in the PR Commonwealth Aqueduct and Sewer Authority (PRASA), which remains solvent and has been making debt service payments even after the GO debt began defaulting on July 1st, 2016. Prices on the PRASA bonds have also been sticky and remain in the 80 cents on the dollar range. T. Rowe has a constructive view on Assured Guaranty and is confident that Assured can support this debt over time. Rounding out its exposure are two other positions that we view as distressed: 0.25% in the Puerto Rico Electric Power Authority (PREPA) and 0.06% in the Puerto Rico Sales Tax Financing Corporation (COFINA) that, when combined, total 0.36% of its fund.
Implications and the "read through" for muni investing
As was pointed out in the May 10 Wilmington Wire blog, as a credit becomes highly distressed and courts intercede, contractual provisions in bond indentures may not protect bondholders. In this case, it is likely that Puerto Rico residents, including pensioners, will receive favorable treatment at the expense of GO bondholders. Increasingly, our third-party muni managers would rather own essential service revenue bonds that are well covered by cash flows than GO bonds in states with significant net pension liabilities or deteriorating economic fundamentals where courts and/or political interests can trump covenants. A lot of ink has been spilled on intra-mural battles between various bondholders' priority of claims regarding senior vs. junior COFINA debt and COFINA vs. G.O. debt. While important to mutual funds or hedge funds positioned in a particular piece of highly distressed debt, the headline is how the preponderance of Puerto Rico debt is upside down, and how so many investors let down their credit surveillance guard while many others saw the writing on the wall. It is academic which of the 33 cantos of Dante's Inferno one is in when residing in the Inferno and not the other two canticles.
Core narrative
We continue to overweight High Yield Muni as an asset class given a stable-to-improving economy, improving fundamentals in the asset class ex-Puerto Rico, and wider-than-average credit spreads compared to AAA munis. Our fundamental analytical process (see again previous blog post: Puerto Rico Title III Filing—Impacts on and off the Island) and manager research efforts have positioned us with managers that have little to no exposure to Puerto Rico and we believe this remains the appropriate choice.
Disclosures
Wilmington Trust is a registered service mark. Wilmington Trust Corporation is a wholly owned subsidiary of M&T Bank Corporation. Wilmington Trust Company, operating in Delaware only, Wilmington Trust, N.A., M&T Bank and certain other affiliates, provide various fiduciary and non-fiduciary services, including trustee, custodial, agency, investment management and other services. International corporate and institutional services are offered through Wilmington Trust Corporation's international affiliates. Loans, credit cards, retail and business deposits, and other business and personal banking services and products are offered by M&T Bank, member FDIC.
These materials are based on public information. Facts and views presented in this report have not been reviewed by, and may not reflect information known to, professionals in other business areas of Wilmington Trust or M&T Bank who may provide or seek to provide financial services to entities referred to in this report. M&T Bank and Wilmington Trust have established information barriers between their various business groups. As a result, M&T Bank and Wilmington Trust do not disclose certain client relationships with, or compensation received from, such entities in their reports.
The information on Wilmington Wire has been obtained from sources believed to be reliable, but its accuracy and completeness are not guaranteed. The opinions, estimates, and projections constitute the judgment of Wilmington Trust and are subject to change without notice. This commentary is for information purposes only and is not intended as an offer or solicitation for the sale of any financial product or service or a recommendation or determination that any investment strategy is suitable for a specific investor. Investors should seek financial advice regarding the suitability of any investment strategy based on the investor's objectives, financial situation, and particular needs. Diversification does not ensure a profit or guarantee against a loss. There is no assurance that any investment strategy will succeed.
Any investment products discussed in this commentary are not insured by the FDIC or any other governmental agency, are not deposits of or other obligations of or guaranteed by M&T Bank, Wilmington Trust, or any other bank or entity, and are subject to risks, including a possible loss of the principal amount invested. Some investment products may be available only to certain "qualified investors"—that is, investors who meet certain income and/or investable assets thresholds. Past performance is no guarantee of future results. Investing involves risk and you may incur a profit or a loss. Investors should consider the investment objectives, risks, charges and expenses of an investment company carefully before investing. The prospectus contains this and other information about an investment company and is available from your financial advisor. The prospectus should be read carefully before investing.
Any positioning information provided does not include all positions that were taken in client accounts and may not be representative of current positioning. It should not be assumed that the positions described are or will be profitable or that positions taken in the future will be profitable or will equal the performance of those described. Positions described are illustrative and not intended as a recommendation outside of a managed account.
Indices are not available for direct investment. Investment in a security or strategy designed to replicate the performance of an index will incur expenses, such as management fees and transaction costs that would reduce returns.
Third party trademarks and brands are the property of their respective owners.
Contact an Expert