June 18, 2019—There are two sides to every story. And then there is the truth, which often lies somewhere in the middle. This is true of stock and bond markets today, and while we are not in the business of "taking sides," we think there is truth to both narratives.
The bond side of the story
After confirmation from European Central Bank president Mario Draghi that further easing would be on the way in the absence of growth and inflation improvement, French 10-year government bond yields hit 0% for the first time ever, and the 10-year German bund yield is making fresh all-time lows at -0.32% (Figure 1). In the U.S., the 10-year U.S. Treasury is flirting with a yield below 2%, the lowest since 2016. Market-based expectations of the average inflation rate five years from now are below 1.8%, also the lowest since 2016. The fed funds futures market is pricing in at least three rate cuts from the Fed over the next twelve months. The yield curve has been inverted (between the 10-year and 3-month tenors) for almost a month.
Figure 1: Pessimism in Rate Markets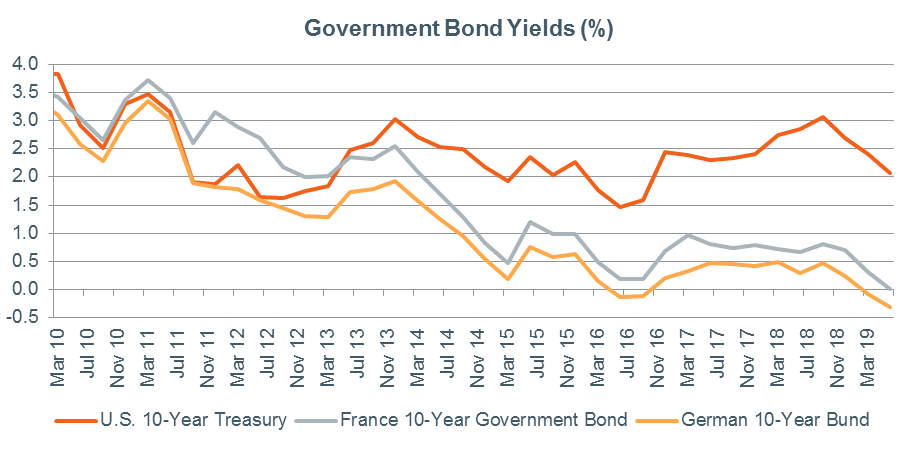 As of June 18, 2019. Source: Bloomberg.
This does not paint a positive picture. In fact, interest rate markets seem to be providing a pretty stern warning that global growth is on the precipice of a recession. However, credit and equity markets are telling a different story.
The risk markets' version
Credit markets, focusing on high yield in particular, have seen interest rate spreads rise over the past few months, to around 4% from 3.5% in April. This is neither significant nor worrisome, as it compares to an option-adjusted spread of 5.4% in December 2018 and 8.4% in January 2016. In addition, this increase in spreads is a result of the overall collapse in Treasury yields, not an elevation of default risk. In terms of equity markets, after a very sharp correction in December 2018, global equities are up almost 14% year to date. The S&P 500 is hanging in there with a total return of over 16%, less than 2% off all-time highs. Though defensive sectors have generally outperformed over the last three months, technology and consumer discretionary (which do better in a risk-on, pro-cyclical market) are still two of the three best-performing sectors in the S&P 500 year to date. The price-to-earnings ratio on the S&P 500 of 16.5x next-twelve-month-earnings is 10% above its 10-year average.
Taking sides
Did the equity market not get the memo? Or is the bond market too pessimistic?
In our view the proper tone to strike is somewhere in the middle of both of these markets. The chance of a policy misstep related to trade is high, and we believe further escalation of tariffs could threaten the U.S. consumer, capex cycle, and broader economic cycle. We are already seeing this in weakening manufacturing data.
However, tariffs can be pulled off with the flick of a wrist, and if the U.S. and China can come to a trade agreement that avoids additional tariffs and removes those already in place, we would expect the global economy to reaccelerate. Low interest rates globally increase the relative attractiveness of equities and historically have supported higher multiples. Low rates also help stimulate cyclical areas of the economy like autos and housing; the average 30-year fixed mortgage rate in the U.S. according to BankRate.com is back below 4%.
And then there is central bank action to consider. In our view, the equity market is looking through this slowdown and expecting the Fed to engineer a "soft landing." In other words, the equity market is pricing in that the Fed will do a series of "insurance rate cuts" to stimulate the economy and extend the cycle, similar to the mid-1990s. This may indeed be what occurs, but if the trade tensions do not deescalate, we would expect a bumpier ride.
Some comfort can be taken from measures of equity investor sentiment, including the AAII Bull/Bear indicator and Bank of America fund manager surveys, both of which suggest equity investors are expressing a degree of caution.
Core narrative
In May we reduced our longstanding equity overweight to neutral versus our strategic benchmark and increased our allocation to fixed income. The U.S. manufacturing sector is slowing, but the services sector and consumer are still holding up well. While the bond market is signaling a more negative scenario than our base case, we also think the equity market is a bit too complacent in the face of mounting risks. The binary nature of the U.S.-China trade talks, which remain one of the most pivotal inputs to our economic assumptions, and the competing tensions in the economic data, are supportive of a neutral allocation to risky assets at this time. We stand ready to adjust that allocation in either direction as the economic data and trade developments unfold.
Disclosures
Wilmington Trust is a registered service mark. Wilmington Trust Corporation is a wholly owned subsidiary of M&T Bank Corporation. Wilmington Trust Company, operating in Delaware only, Wilmington Trust, N.A.,  M&T Bank and certain other affiliates, provide various fiduciary and non-fiduciary services, including trustee, custodial, agency, investment management and other services. International corporate and institutional services are offered through Wilmington Trust Corporation's international affiliates. Loans, credit cards, retail and business deposits, and other business and personal banking services and products are offered by M&T Bank, member FDIC. Wilmington Trust Investment Advisors, Inc. is an SEC-registered investment adviser providing investment management services to Wilmington Trust and M&T Bank affiliates and clients.
These materials are based on public information. Facts and views presented in this report have not been reviewed by, and may not reflect information known to, professionals in other business areas of Wilmington Trust or M&T Bank who may provide or seek to provide financial services to entities referred to in this report. M&T Bank and Wilmington Trust have established information barriers between their various business groups. As a result, M&T Bank and Wilmington Trust do not disclose certain client relationships with, or compensation received from, such entities in their reports.
The information on Wilmington Wire has been obtained from sources believed to be reliable, but its accuracy and completeness are not guaranteed. The opinions, estimates, and projections constitute the judgment of Wilmington Trust and are subject to change without notice. This commentary is for information purposes only and is not intended as an offer or solicitation for the sale of any financial product or service or a recommendation or determination that any investment strategy is suitable for a specific investor. Investors should seek financial advice regarding the suitability of any investment strategy based on the investor's objectives, financial situation, and particular needs. Diversification does not ensure a profit or guarantee against a loss. There is no assurance that any investment strategy will succeed.
Any investment products discussed in this commentary are not insured by the FDIC or any other governmental agency, are not deposits of or other obligations of or guaranteed by M&T Bank, Wilmington Trust, or any other bank or entity, and are subject to risks, including a possible loss of the principal amount invested. Some investment products may be available only to certain "qualified investors"—that is, investors who meet certain income and/or investable assets thresholds. Past performance cannot guarantee future results. Investing involves risk and you may incur a profit or a loss.
Any positioning information provided does not include all positions that were taken in client accounts and may not be representative of current positioning. It should not be assumed that the positions described are or will be profitable or that positions taken in the future will be profitable or will equal the performance of those described. Positions described are illustrative and not intended as a recommendation outside of a managed account. Indices are not available for direct investment. Investment in a security or strategy designed to replicate the performance of an index will incur expenses, such as management fees and transaction costs that would reduce returns.
Third-party trademarks and brands are the property of their respective owners.