By Clem Miller, Senior Portfolio Manager
January 18, 2018— Amidst all of the market excitement about U.S. tax reform, many investors fail to appreciate the mounting risk that President Trump could soon announce U.S. withdrawal from the North American Free Trade Agreement (NAFTA). Last week, several developments occurred, which signal the rising likelihood that NAFTA may collapse:
Senior Canadian officials began telling the news media, on condition of anonymity, that they increasingly believe Trump will soon announce U.S. withdrawal, and that the Canadian government is undertaking advance preparations for that development.
Canada filed with the World Trade Organization (WTO) a wide-ranging "shot-across-the-bow" challenge to the Trump administration's increasingly aggressive policies regarding the use of anti-dumping and countervailing duties. Canada has long viewed itself as a champion of global free trade, even beyond trade that serves Canadian national interests.
The U.S. Chamber of Commerce launched a pull-out-the-stops campaign to stop NAFTA withdrawal. The Chamber's president and chief policy officer put out the word to member chambers, lawmakers, the media, and other audiences that withdrawal could wipe out the economic gains from tax reform and regulatory relief.
U.S. merchandise trade with Canada and Mexico is approximately $1 trillion (see chart below). Much of this intra-continental trade could be exposed to WTO tariffs, throwing global companies' carefully optimized supply chains into disarray.
U.S. merchandise trade with Canada and Mexico (USD billions)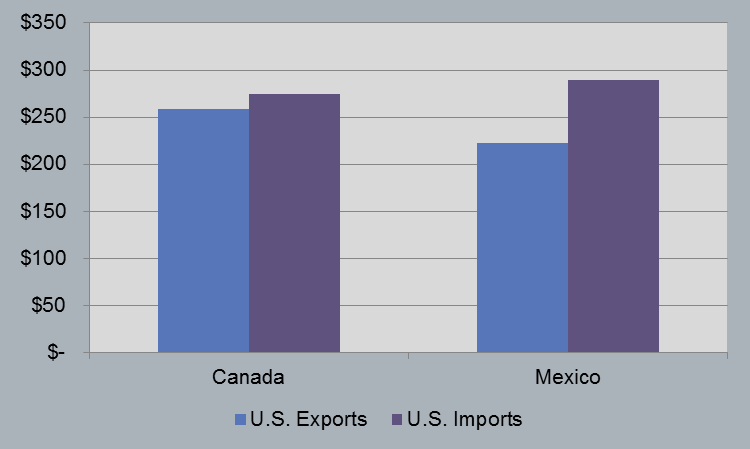 Data as of January 1 -November 30, 2017
Source: Office of U.S. Trade Representative (USTR)
How did we reach the brink of U.S. NAFTA withdrawal?
President Trump entered office in January 2017 prepared to fulfill his campaign promise to renegotiate or withdraw from NAFTA. When Canada and Mexico indicated a desire to "modernize" the 1994 agreement, President Trump agreed to try negotiations, anticipating an opportunity to rework a "bad" deal to become "fair" to the U.S.
There have been five rounds of negotiations since August. While there has been progress on updating many chapters of the 1994 agreement to reflect the 2018 global economy, the Trump administration has accused Canada and Mexico of failing to engage on several key "fairness" items it has placed on the negotiating table:

Minimum 50% U.S. and minimum 85% North American content, on automobiles imported into the U.S. duty free from Canada and Mexico
Opportunity for U.S. companies to bid for Canadian and Mexican public sector procurement
Elimination of the dispute settlement panels, the mechanism by which the agreement's provisions are enforced
A sunset clause under which NAFTA would automatically lapse at the end of every 5-year period unless all three countries agree to renew
Complicating negotiations are Trump's occasional off-the-cuff comments that he will be using a revised NAFTA to ensure that Mexico "pays for the wall." Of course, Mexican officials are unwilling to accept any concessions that could be characterized this way.
A sixth round of negotiations is scheduled for January 23-28 in Montreal. This may well be the final opportunity for the negotiators to reach a breakthrough in resolving key U.S. fairness demands. While there might still be time for a "clean-up" round in February or early March, there is a "hard stop" in that Mexico enters campaign season in late March for July 1 presidential and legislative elections.
The possibility that negotiations will resume after the Mexican elections are slim. A populist hard-left presidential candidate, Andres Manuel Lopez Obrador currently enjoys a commanding lead in the opinion polls and he is opposed to renegotiating NAFTA.
What could happen next?
Policy is notoriously difficult to predict, particularly under a fairly new and less conventional President, but we have tried to outline three different ways the negotiations could unfold and assign probabilities based on our best assessment. There are any number of reasons why these three scenarios may not play out – in full or at all.
Scenario 1: Negotiators reach a breakthrough on key issues during the sixth-round negotiation and a deal is finalized. Under this scenario, Canada and Mexico arrive at the sixth round prepared to address U.S. fairness demands with creative solutions. The Trump administration shows last-minute flexibility in accepting such solutions—cognizant of the Mexican election calendar and recognizing that the alternative to withdrawing from NAFTA could have deleterious economic and market consequences. A deal is finalized. A modernized NAFTA opens the way for increased trade in energy-related and agricultural goods, as well as in information, banking, and other services. This scenario assumes that Trump is convinced by the U.S. business community and business-friendly Republican lawmakers to pursue a commercially sensible course of action that would boost rather than damage equity markets and that Trump is able to characterize the deal as a personal triumph as well as one that the Canadian and Mexican governments can themselves characterize the deal as a "win-win-win."
Scenario 2: Trump announces withdrawal with six months' notice and implements withdrawal thereafter. Under this scenario, the parties remain at odds over the U.S. fairness demands and no breakthrough is reached. Trump thereafter issues the six-month advance notice of withdrawal to Canada and Mexico required under NAFTA article 2205. The U.S. Chamber of Commerce and others file lawsuits challenging the president's authority to withdraw from NAFTA without congressional approval. The courts side with the executive branch. When the NAFTA notice period lapses, U.S. trade with both Canada and Mexico becomes subject to higher World Trade Organization (WTO) tariffs (perhaps not so coincidentally allowing Trump to claim that the duties paid on Mexican imports will be used to help pay for the wall). Global businesses undertake strategic reviews to evaluate what steps they must take to re-optimize their supply chains. In all likelihood, this could involve a shifting of some procurement from North America to Asia (although China may well become the administration's next trade target).
Scenario 3: Trump announces withdrawal with six months' notice, but the courts rule that Congress must approve withdrawal. As in Scenario 2, sixth-round negotiations fail, Trump issues six-month advance notice of withdrawal, and lawsuits challenging Trump's unilateral authority to implement withdrawal are filed. However, under Scenario 3, these lawsuits prove successful, and the issue of NAFTA withdrawal is tossed to Congress. With midterm elections looming, lawmakers treat NAFTA as an unwelcome hot potato. Ultimately, Congress fails to act before the elections. NAFTA enters a "zombie" state. It is still legally in force. However, the global business community fears that the U.S. executive branch will seek to undermine NAFTA through executive orders or regulatory action, as it has done with other policy issues, creating the risk that NAFTA-related business matters will become mired in litigation.
Core narrative
We believe it is more likely than not that a breakthrough resolution of key U.S. fairness demands will be achieved during the sixth round. This would be accretive in both the short run and long run to North American economic growth. However, the other two scenarios are not so easily dismissed. They would lead to restoration of tariffs among the three North American countries and greater uncertainty regarding global supply chains. Under these scenarios, one can expect currently strong North American economic growth to be trimmed. However, we maintain a healthy exposure to fixed income (though underweight) and liquid hedge funds, which should help protect portfolios in the event of heightened volatility. Our portfolios are overweight non-U.S. developed and emerging markets equities, of which only a small portion is concentrated in Mexico (0.4%) or Canada (3.7%) of the total allocation (20.2%) to international equities (which is less than 1% of the fully diversified portfolio), based on our High-Net-Worth Growth and Income Portfolio with liquid hedge funds. While a slowdown in U.S. growth would impact the global growth outlook, we tend to think companies are adaptive and would be able to pivot to cheaper Asian trading partners to offset some of the tariff cost, with more punitive impacts to certain industries (e.g., autos and agriculture).
Disclosures
Wilmington Trust is a registered service mark. Wilmington Trust Corporation is a wholly owned subsidiary of M&T Bank Corporation. Wilmington Trust Company, operating in Delaware only, Wilmington Trust, N.A., M&T Bank and certain other affiliates, provide various fiduciary and non-fiduciary services, including trustee, custodial, agency, investment management and other services. International corporate and institutional services are offered through Wilmington Trust Corporation's international affiliates. Loans, credit cards, retail and business deposits, and other business and personal banking services and products are offered by M&T Bank, member FDIC.
These materials are based on public information. Facts and views presented in this report have not been reviewed by, and may not reflect information known to, professionals in other business areas of Wilmington Trust or M&T Bank who may provide or seek to provide financial services to entities referred to in this report. M&T Bank and Wilmington Trust have established information barriers between their various business groups. As a result, M&T Bank and Wilmington Trust do not disclose certain client relationships with, or compensation received from, such entities in their reports.
The information on Wilmington Wire has been obtained from sources believed to be reliable, but its accuracy and completeness are not guaranteed. The opinions, estimates, and projections constitute the judgment of Wilmington Trust and are subject to change without notice. This commentary is for information purposes only and is not intended as an offer or solicitation for the sale of any financial product or service or a recommendation or determination that any investment strategy is suitable for a specific investor. Investors should seek financial advice regarding the suitability of any investment strategy based on the investor's objectives, financial situation, and particular needs. Diversification does not ensure a profit or guarantee against a loss. There is no assurance that any investment strategy will succeed.
Any investment products discussed in this commentary are not insured by the FDIC or any other governmental agency, are not deposits of or other obligations of or guaranteed by M&T Bank, Wilmington Trust, or any other bank or entity, and are subject to risks, including a possible loss of the principal amount invested. Some investment products may be available only to certain "qualified investors"—that is, investors who meet certain income and/or investable assets thresholds. Past performance is no guarantee of future results. Investing involves risk and you may incur a profit or a loss.
Any positioning information provided does not include all positions that were taken in client accounts and may not be representative of current positioning. It should not be assumed that the positions described are or will be profitable or that positions taken in the future will be profitable or will equal the performance of those described. Positions described are illustrative and not intended as a recommendation outside of a managed account.
Indices are not available for direct investment. Investment in a security or strategy designed to replicate the performance of an index will incur expenses, such as management fees and transaction costs that would reduce returns.
Third-party trademarks and brands are the property of their respective owners.