February 25, 2020 — The spread of the novel coronavirus COVID-19 has gripped the globe, risking lives and spreading fear even faster than the virus itself. From an investment perspective, we have been following the progression from its believed origin in the Hubei province of China to roughly 36 other countries and anticipating the economic and market ramifications. Until now, we have maintained an overweight to equities in our portfolio, expecting the virus to delay, but not derail, our expectation for a reacceleration of global growth. In light of a worsening backdrop and the growing uncertainty around the spread of the coronavirus, today we took the significant step of reducing our risk exposure to a modest underweight in portfolios from an equity overweight versus our strategic benchmark—the first time we are recommending an underweight to equities since my tenure with Wilmington Trust.
What did we do?
Coming into this week we held an overweight to equities, favoring U.S. small-cap and international developed equities. We are now moving to an underweight, trimming equity exposure across the four major asset classes in which we invest: U.S. large-cap, U.S. small-cap, international developed, and emerging markets equities. This will result in a neutral allocation to U.S. small-cap and international developed equities and an underweight allocation to U.S. large-cap and emerging markets equities. While the U.S. economy has, thus far, been shielded from the outbreak, federal health authorities have expressed an increased possibility that the disease will spread in the U.S. We also recognize a potent combination of elevated valuations, crowded positioning, and supply chain risk (from the U.S. equity market's hefty weight to the technology sector), which all warrant a slight underweight to U.S. large cap. With respect to emerging markets equities, while China appears to be getting the virus under control, we are skeptical about the quality of the data coming from China, and doubt the ability of other emerging markets countries to control the spread of the disease.
The proceeds are being used to fund a neutral allocation to municipal bonds and a slight overweight to cash. While bond yields are currently at, or near, all-time lows, we feel the possibility of a more severe and sustained economic slowdown could result in yields moving even lower over coming months. We also feel confident in the credit quality of U.S. municipalities, despite the risks to global growth.
What has changed?
Until now, the spread of the COVID-19 virus has remained fairly contained to China, with relatively few cases cropping up globally and the number of new cases daily tapering off. In our last Wilmington Wire post we stated that the end of February would be critical to determine the course the disease would chart—either tapering off following extreme quarantine measures adopted in China, or producing a second wave from people who carried the disease but showed no symptoms and, therefore, escaped detection initially. It is increasingly looking like the "second wave scenario" is taking hold, as evidenced by a recent jump in cases in countries such as Italy (confirmed cases increasing jumped from three on Friday, February 21, to 229 on Monday, February 24) and South Korea (just 30 cases on February 17, to 893 on February 24), some with no obvious linkages to China (Figure 1).
Figure 1: Growing number of COVID-19 cases outside of China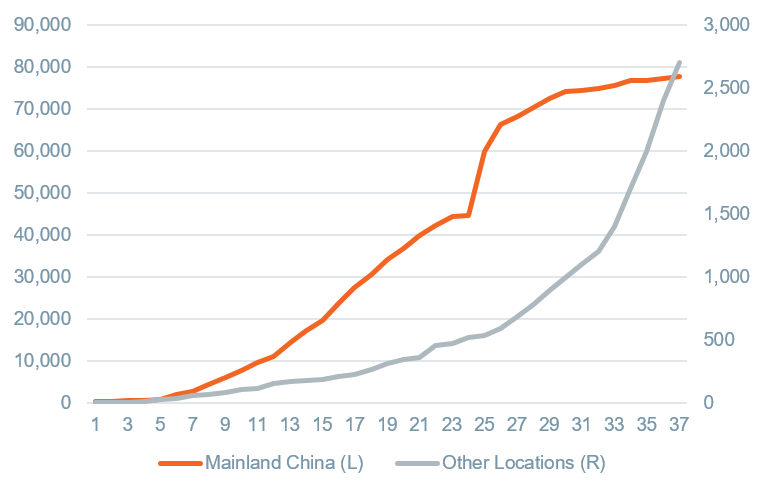 As of February 25, 2020. Source: Johns Hopkins University
While we cannot say with certainty how the spread of the virus will progress (and, quite frankly, anyone who claims to know this is being less than genuine), we have growing conviction that the virus could become a global pandemic and would therefore not be limited to a first quarter 2020 story from an economic perspective. It is increasingly possible that we will see a sustained disruption in global trade, cross-border travel, and global supply chains. The cancellation of large gatherings in Europe, including the Milan fashion show and the Venice Carnival celebration, foreshadow a longer lasting economic hit to companies in virtually every industry. The Center for Disease Control warned of potentially severe disruptions in the U.S. given the possibility of it spreading in this country. For the sake of human lives, we hope we are wrong, but given the extremely high level of uncertainty around the path of the virus, we feel it is our obligation to reduce risk to protect and preserve client capital.
What do we now expect?
While equity markets have corrected from the all-time highs set in February (the MSCI All Country World Index—about 6% at the time of this writing), we think they could have further to go, eventually resulting in a drawdown of 15%, 20%, or even more. Even more than the science behind the disease (i.e., contagion factor and mortality rate), the biggest risk is posed by a shutdown of global commerce. This could amount to a simultaneous shock to supply and demand. The fed funds futures markets are pricing in almost three rate cuts from the Fed over the next year, with the first now expected to occur in June. However, we are concerned that additional monetary policy stimulus will do little to slow the spread of fear and market contagion, let alone the virus. Put another way, investors are faced with a lose-lose proposition: If global policymakers go to extreme measures to quarantine or contain the spread of the disease, it could result in a massive hit to global economic growth. If they instead err on the side of keeping production running and people at work, the virus could remain with us for far longer.
Core narrative
At this point, our best-case scenario is that the global reacceleration of growth from 2019 levels is pushed into the second half of 2020. More likely is a sustained period of economic slowdown such that a growing amount of economic activity is lost, rather than pushed into subsequent quarters. A U.S. recession is not yet our base case, but the risk of recessions occurring in Europe, Japan, or emerging economies has dramatically risen. China's growth need not go negative for it to effectively feel like a recession and have significant knock-on effects to global companies.
Equity markets have been trading with some degree of complacency about the potential negative effects of the virus, and even with the negative price action early in the week we feel it prudent to reduce risk. Our primary goal has always been to preserve and protect our clients' capital, even if that means missing some of the upside in order to protect on the downside. Our portfolio changes are meant to protect against the growing uncertainty around the path forward for the virus and markets. We aim to stay nimble. Should the trajectory of the virus improve, or if equity markets correct enough such that we feel the risk is adequately priced in, we would consider returning to an equity overweight, but right now we feel an abundance of caution is warranted.
Disclosures
Wilmington Trust is a registered service mark. Wilmington Trust Company, operating in Delaware only, Wilmington Trust, N.A., M&T Bank and certain other subsidiaries of M&T Bank Corporation, provide various fiduciary and non-fiduciary services, including trustee, custodial, agency, investment management and other services. International corporate and institutional services are offered through M&T Bank Corporation's international subsidiaries. Loans, credit cards, retail and business deposits, and other business and personal banking services and products are offered by M&T Bank, member FDIC.
Facts and views presented in this report have not been reviewed by, and may not reflect information known to, professionals in other business areas of Wilmington Trust or M&T Bank who may provide or seek to provide financial services to entities referred to in this report. M&T Bank and Wilmington Trust have established information barriers between their various business groups. As a result, M&T Bank and Wilmington Trust do not disclose certain client relationships with, or compensation received from, such entities in their reports.
The information on Wilmington Wire has been obtained from sources believed to be reliable, but its accuracy and completeness are not guaranteed. The opinions, estimates, and projections constitute the judgment of Wilmington Trust and are subject to change without notice. This commentary is for information purposes only and is not intended as an offer or solicitation for the sale of any financial product or service or a recommendation or determination that any investment strategy is suitable for a specific investor. Investors should seek financial advice regarding the suitability of any investment strategy based on the investor's objectives, financial situation, and particular needs. Diversification does not ensure a profit or guarantee against a loss. There is no assurance that any investment strategy will succeed.
Past performance cannot guarantee future results. Investing involves risk and you may incur a profit or a loss.
Indexes are not available for direct investment. Investment in a security or strategy designed to replicate the performance of an index will incur expenses such as management fees and transaction costs which would reduce returns.