November 22, 2016—Following up on our post from last week, The Transition Begins, as we continue to explore how the new administration will impact the economy and financial markets, we turn to a highly publicized topic, the North American Free Trade Agreement (NAFTA).
As a candidate, Donald Trump frequently cited NAFTA as a "disaster" that had hollowed out U.S. manufacturing, particularly in Pennsylvania, Ohio, Michigan, and Wisconsin. He pledged to either renegotiate the agreement or to withdraw from it altogether. His stated aim is to "bring back jobs" lost because of NAFTA, particularly those lost due to U.S. companies moving production to Mexico. Trump's rhetoric about both NAFTA and China has raised the prospect of so-called "trade wars."
The financial market impacts of Trump's surprise electoral triumph were immediate. It prompted sharp Mexican peso depreciation, reflecting the expectation of adverse impacts on U.S. trade with Mexico. The election has no doubt adversely impacted U.S. stocks reliant on Mexican and Canadian trade, even if such impacts have been masked by the broader positive market reaction to the likelihood of corporate tax cuts and infrastructure spending.
What is likely to happen?
First, the U.S. can withdraw from NAFTA with six months' notice. There is some question as to whether the President possesses legal authority to withdraw from NAFTA without Congressional action. Even if he does, we believe that there is very little chance that Trump would give such notice without first attempting renegotiation. This is because:
North American supply chain integration has deepened to the point where abrupt NAFTA termination could devastate many U.S. firms and border communities
Abrupt termination could destabilize Mexico and lead to new waves of illegal immigration
We believe that attempts at renegotiation are more likely, and that global markets would react positively. Given how much the North American and global economy have evolved over the 23 years since NAFTA was first negotiated, modernization seems sensible. We note that both Presidents George W. Bush and Obama also wanted to renegotiate NAFTA:
In 2001, newly-elected President Bush signaled his desire to work with Mexico's president Vicente Fox to upgrade NAFTA, but his attention soon turned to Afghanistan, Iraq, and homeland security
President Obama also came into office wanting to improve NAFTA. Ultimately, he decided that the best course of action would be to negotiate a Trans-Pacific Partnership (TPP) that would supersede NAFTA but also incorporate other Pacific Rim countries, excluding China. The Obama administration negotiated TPP, but ratification has been held up in Congress. Under Trump, ratification seems highly unlikely
As a candidate, Trump criticized U.S. companies such as Carrier and Ford which have moved jobs to Mexico. Given these criticisms, we expect Trump to seek changes to NAFTA that would enable him to penalize such moves. He may also seek authority to reward U.S. companies who move jobs back to the United States. And there are important details that can be up for negotiation. For example, currently a U.S. company can import items made in Mexico that has no U.S. content (U.S. content trade agreement terminology for U.S. jobs). But there are a lot of items made in Mexico or Canada that do have U.S. content, too. Obviously, it is counterproductive to target the latter. We expect Trump to target the former especially when to avoid adversely impacting U.S. jobs.
Canadian and Mexican officials have already indicated a willingness to re-evaluate and renegotiate NAFTA. Canada and Mexico are themselves not entirely happy with NAFTA and could place their own items on the agenda. For example:
Eco-conscious Canada has been prevented from implementing environmental regulation because American energy companies have won lawsuits under NAFTA's dispute settlement tribunal
Mexico is unhappy that U.S. ethanol has pushed up the price of corn, Mexico's traditional low-cost staple, and that American processed foods have led to deteriorating Mexican diets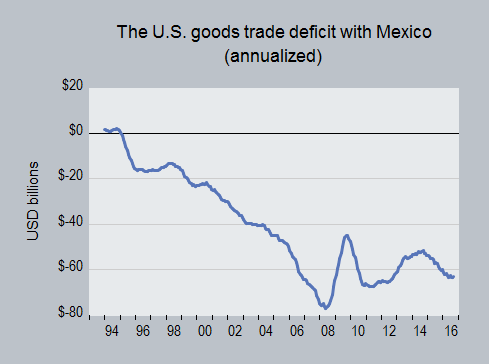 Source: Bloomberg
Core narrative
We believe that an abrupt withdrawal from NAFTA by the Trump administration is unlikely, and expect attempts at renegotiation first. We believe markets would react positively to such a development, and there is room for improvement in the deal that benefits each country. This could complement other Trump administration priorities such as lower U.S. corporate taxes and increased U.S. infrastructure spending to support increased U.S. manufacturing. To that degree, NAFTA renegotiation could prove a net positive for the North American economy and global financial markets. We also note, though, that failed negotiations and the prospect of escalating trade tensions pose a risk.
Disclosures
Wilmington Trust is a registered service mark. Wilmington Trust Corporation is a wholly owned subsidiary of M&T Bank Corporation. Investment management and fiduciary services are provided by Wilmington Trust Company, operating in Delaware only, and Wilmington Trust, N.A., a national bank. Loans, retail and business deposits, and other personal and business banking services and products are offered by Manufacturers and Traders Trust Company (M&T Bank), member FDIC. Wilmington Trust Investment Advisors, Inc., a subsidiary of M&T Bank, is a SEC-registered investment adviser providing investment management services to Wilmington Trust and M&T affiliates and clients.
These materials are based on public information. Facts and views presented in this report have not been reviewed by, and may not reflect information known to, professionals in other business areas of Wilmington Trust or M&T Bank who may provide or seek to provide financial services to entities referred to in this report. M&T Bank and Wilmington Trust have established information barriers between their various business groups. As a result, M&T Bank and Wilmington Trust do not disclose certain client relationships with, or compensation received from, such entities in their reports.
The information on Wilmington Wire has been obtained from sources believed to be reliable, but its accuracy and completeness are not guaranteed. The opinions, estimates, and projections constitute the judgment of Wilmington Trust and are subject to change without notice. This commentary is for information purposes only and is not intended as an offer or solicitation for the sale of any financial product or service or a recommendation or determination that any investment strategy is suitable for a specific investor. Investors should seek financial advice regarding the suitability of any investment strategy based on the investor's objectives, financial situation, and particular needs. Diversification does not ensure a profit or guarantee against a loss. There is no assurance that any investment strategy will succeed.
Any investment products discussed in this commentary are not insured by the FDIC or any other governmental agency, are not deposits of or other obligations of or guaranteed by M&T Bank, Wilmington Trust, or any other bank or entity, and are subject to risks, including a possible loss of the principal amount invested. Some investment products may be available only to certain "qualified investors"—that is, investors who meet certain income and/or investable assets thresholds. Past performance is no guarantee of future results. Investing involves risk and you may incur a profit or a loss.
Any positioning information provided does not include all positions that were taken in client accounts and may not be representative of current positioning. It should not be assumed that the positions described are or will be profitable or that positions taken in the future will be profitable or will equal the performance of those described. Positions described are illustrative and not intended as a recommendation outside of a managed account.
Indices are not available for direct investment. Investment in a security or strategy designed to replicate the performance of an index will incur expenses, such as management fees and transaction costs that would reduce returns.
Third party trademarks and brands are the property of their respective owners.
Contact an Expert