August 21, 2019—Brexit as well as the United States economic conflict with China, have so dominated U.S. business news that it is easy to overlook three important trade agreements that have recently gone into effect. These free trade agreements link markets whose governments remain dedicated to the preservation and expansion of economic globalization: the EU, Japan, Canada, Australia, and some other Pacific Rim countries. These agreements exclude the U.S. and China—the world's principal trade/ investment disruptors. This post summarizes these accords and evaluates their market implications.
What are the three new free trade agreements?
Comprehensive and Progressive Agreement for Trans-Pacific Partnership (CPTPP): This agreement is the reformulated "TPP." It became effective on December 30, 2018. After President Trump withdrew the U.S. from the original TPP at the beginning of his term, other countries proceeded to amend, sign, and ratify a new CPTPP. Japan has always been the primary sponsor of a trans-Pacific partnership—whose goal is to deepen markets around the Pacific and create a regional economic counterweight to China's mercantilist, funding-based, Belt-and-Road Initiative. One can think of this agreement as primarily one among Japan, Australia, and Canada, but which also includes others as junior partners, including New Zealand, Singapore, Vietnam, and Mexico. Additional countries have signed but have not yet ratified. China, of course, is not invited. Like other modern trade agreements, CPTPP covers not just merchandise trade, but also services and investment.
Chart 1: Comprehensive and Progressive Agreement for Trans-Pacific Partnership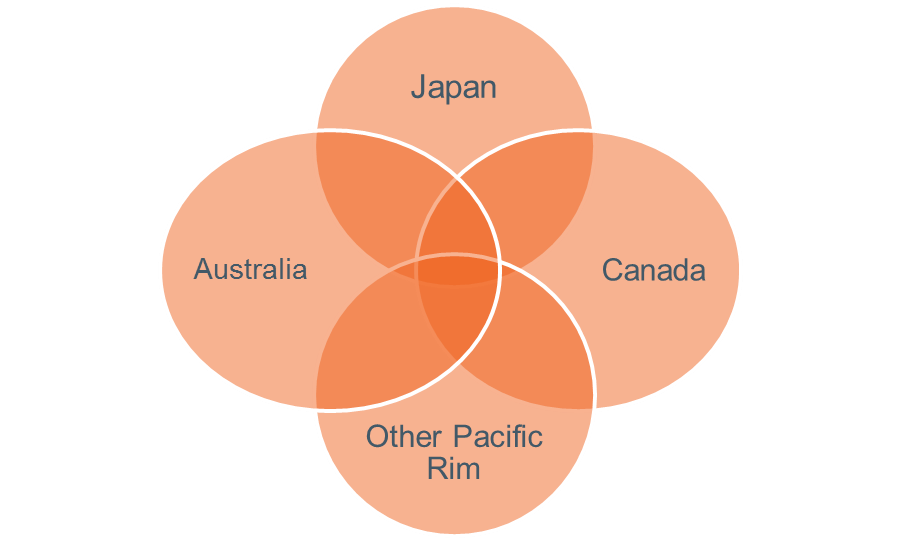 Source: Wilmington Trust Investment Advisors (WTIA)
EU–Japan Economic Partnership Agreement (EPA): This free trade agreement became effective on February 1, 2019. Previously, these two large advanced economies have been trading mainly under World Trade Organization (WTO) rules. EPA has already eliminated tariffs on many agricultural and manufactured goods, and is progressively reducing tariffs on still more. It also commits both parties to remove non-tariff barriers, such as the Japan-only quality standards that have a discriminatory impact on European exporters. It also makes it easier for European and Japanese firms to make investments in the others' markets. The EU–Japan economic partnership can be seen as providing the basis for a broader strategic partnership. The EU and Japan have a mutual interest in countering the emerging China-Russia partnership and in reducing their dependence on the U.S.
Chart 2:  EU–Japan Economic Partnership Agreement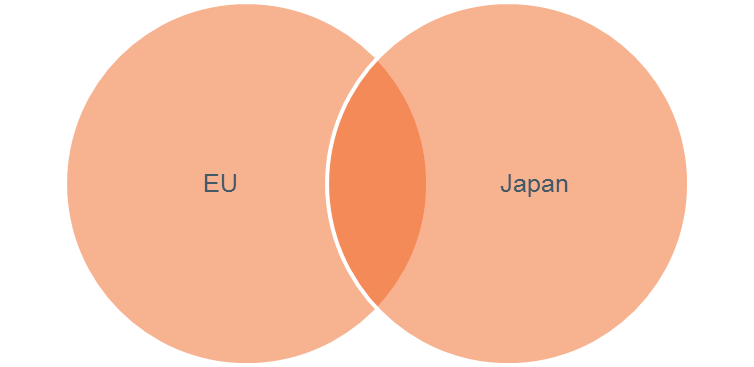 Source: WTIA
Comprehensive Economic Trade Agreement (CETA): This is a free trade agreement between EU and Canada that became "provisionally" effective on September 21, 2017, upon ratification by the European Parliament. It will become fully effective once all EU member states have ratified. Even under its "provisional" status, CETA has already removed 98% of all tariffs and many non-tariff barriers between Canada and the EU. It also provides for mutual investor protections.
Chart 3: Comprehensive Economic Trade Agreement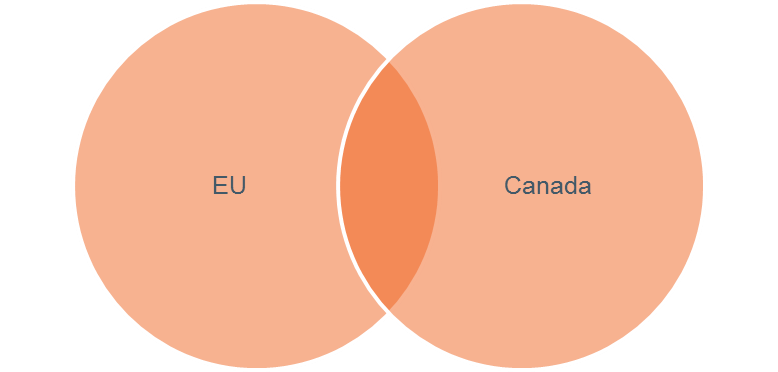 Source: WTIA
What are the market implications of this set of agreements?
First, these agreements should help to greatly expand trade volumes and investment flows among the EU, Japan, Australia, Canada, and other Pacific Rim markets. Such expansion would be constructive for economic activity in these markets.
Second, the U.S., China, and (after possible Brexit) the UK, will be left outside these agreements. The new agreements will directly and preferentially benefit only the parties to these agreements.
Third, free trade agreements do not produce immediate economic results. It can take time for companies to rework supply chains and undertake strategic investments. Consequently, these agreements are unlikely to be immediately helpful in staving off current or prospective manufacturing recession in some countries.
Fourth, while materialization of economic benefits may be quite protracted, savvy investors with long investment horizons may be able to reap earlier profits from investing in those EU, Japanese, Australian, and Canadian companies with global operations whose earnings streams are likely to increase.
Core narrative
Currently, we remain risk-neutral in our portfolios, including to International Developed markets such as the EU, Japan, Australia, and Canada. Our risk-neutral stance reflects concerns about sluggish economic activity worldwide, including the prospect of recession in some markets, notably in Europe and Japan, whose economies already grow very slowly, on account of demographic constraints. Our stance also reflects concerns about the U.S.–China trade conflict, Brexit, the U.S. presidential election, and other political uncertainties.
Nevertheless, it is worth peering beyond the current unsettled situation. It is reasonable to anticipate that economic conflicts between the U.S. and China will persist in some fashion, even in the event a Democrat wins the U.S. presidential election. It is also reasonable to assign a low probability to the U.S. reaching free trade agreements with Japan or the EU, given longstanding sector disputes in areas like automobiles, aircraft manufacture, and agriculture. Lastly, it is reasonable to expect that the U.K. relationship with the EU will remain unsettled for several years, whether a Brexit deal is reached or not.
Assuming these three expectations prove accurate, it appears that these three new free trade agreements among the EU, Japan, Australia, and Canada may provide an important part of the foundation for future globalization, as well as for longer-term global economic recovery or reacceleration.   Depending on one's investment horizon, it may still be too early to undertake profitable investments on the basis of such free trade agreements. However, in three to five years it may well be too late.
Disclosures
Wilmington Trust is a registered service mark. Wilmington Trust Corporation is a wholly owned subsidiary of M&T Bank Corporation. Wilmington Trust Company, operating in Delaware only, Wilmington Trust, N.A.,  M&T Bank and certain other affiliates, provide various fiduciary and non-fiduciary services, including trustee, custodial, agency, investment management and other services. International corporate and institutional services are offered through Wilmington Trust Corporation's international affiliates. Loans, credit cards, retail and business deposits, and other business and personal banking services and products are offered by M&T Bank, member FDIC.
Facts and views presented in this report have not been reviewed by, and may not reflect information known to, professionals in other business areas of Wilmington Trust or M&T Bank who may provide or seek to provide financial services to entities referred to in this report. M&T Bank and Wilmington Trust have established information barriers between their various business groups. As a result, M&T Bank and Wilmington Trust do not disclose certain client relationships with, or compensation received from, such entities in their reports.
The information on Wilmington Wire has been obtained from sources believed to be reliable, but its accuracy and completeness are not guaranteed. The opinions, estimates, and projections constitute the judgment of Wilmington Trust and are subject to change without notice. This commentary is for information purposes only and is not intended as an offer or solicitation for the sale of any financial product or service or a recommendation or determination that any investment strategy is suitable for a specific investor.