April 21, 2020—Financial markets remain in turmoil, but the focus has shifted from the equity market to the oil market. This week, oil prices fell into negative territory, a phenomenon that would seem to make about as much intuitive sense as negative interest rates. Here we discuss what is happening and offer some perspective on the path forward for energy prices.
What happened?
On Monday, April 20, the May contract for West Texas Intermediate crude, the U.S. oil benchmark, dipped into negative territory for the first time on record and closed at a shocking -$37.63 per barrel ahead of the final trading day (April 21), well below the previous all-time low of $10.42 per barrel recorded on March 31, 1983. This was the only time that a front-month WTI contract, the contract closest to expiration often used as the reference price, turned negative, and yesterday's price action reflects a concerning supply/demand imbalance in the market for U.S. crude oil. It is important to clarify that oil, the physical commodity, isn't priced negative, and gas stations surely will not pay consumers to take gasoline off their hands. Notably, Brent crude, the international benchmark, closed the day at $25.57 per barrel, while the June contract for WTI closed at $20.43 per barrel, highlighting the idiosyncrasies impacting the May contract (Figure 1). We would note that as of mid-day on April 21, the June contract had also begun to collapse and was trading below $13 per barrel.
Figure 1: The Price of oil for May delivery plummets into negative territory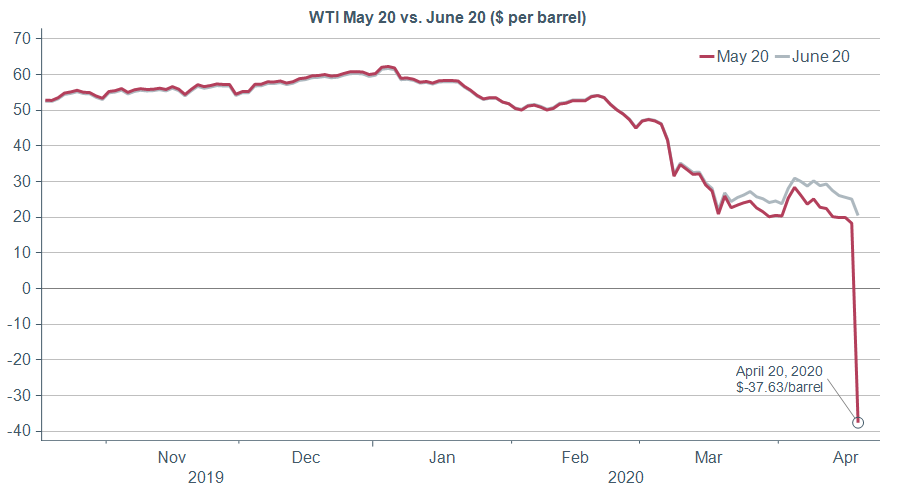 Source: Bloomberg. Data as of April 20, 2020. May 20 reflects the front-month contract for WTI oil delivery in May 2020, while June 20 reflects the next month's contract for WTI oil delivery in June 2020.
A primer on oil trading
Oil trading is implemented through futures, contracts that give the holder (those that are "long" a particular contract) the right to receive crude shortly after the expiration date of the contract. In the U.S., oil is priced based on the "front" or "current" month contract for West Texas Intermediate (WTI), which trades on CME's NYMEX exchange and is settled through physical delivery. This means that, unlike a buyer of an equity, any party holding the oil contract (or any commodity trading in the futures market) through expiration is contracted to then receive and store the physical commodity.
The shift from one month's contract to the next is typically a seamless process. Noncommercial traders in the market (financial market participants with no need for or intention of ever accepting physical delivery of the commodity), such as the United States Oil Fund (USO) ETF, roll over contracts to the next month before expiration. Commercial traders, typically those in the oil business, such as refiners and pipeline operators who do have the ability to take possession of the oil underlying the futures contract, can roll over the contract or take physical delivery at expiration and store the commodity. In Cushing, Oklahoma, home of the world's largest storage facility and the delivery and pricing hub for WTI, oil travels inbound from producers, outbound to refiners, and oil without a destination moves to storage.
Inadequate storage and low volume created a liquidity squeeze
The dual shock of depressed global oil demand and the ongoing flood of new supply has created such a severe imbalance that U.S. storage capacity is filling up and threatening to reach "tank tops," at which point there will be no place to store any additional oil that comes out of the ground. Oil inventories at Cushing have risen almost 50% since February and continue to increase at a historic pace of six to seven million barrels per week. At this rate, Morgan Stanley estimates that the facility could reach full capacity in just four weeks—right around the time when those who are long the May contract would be expected to receive delivery.
As of yesterday, most financial holders of the May 20 contract had already rolled over to June, as evidenced by low trading volume (only around 120,000 contracts traded versus 800,000 for June), but the remaining holders came under extreme pressure to sell. The number of financial market participants incapable of physical delivery vastly outnumbered the number of willing buyers (able and willing to accept physical delivery), forcing noncommercial traders to pay a steep price to offload their contract (which runs counter to the normal dynamic of the seller receiving money). No storage, low volume, a dearth of willing buyers, and an oversupply of sellers created a vicious and historic downward price spiral, leading the May contract price to decline into uncharted territory.
Core narrative:
The recent negative price action in oil should not be taken lightly, and is another reminder of the unprecedented nature of the current environment, but it does not reflect a sudden deterioration in fundamentals. Those fundamentals remain very weak, but the current dynamic is more a financial market anomaly due to lack of adequate storage for immediate U.S. delivery. The price of oil is more accurately reflected in the $20 per barrel price of Brent crude and the price of WTI June or July contracts ($13 per barrel and $20 per barrel, respectively, as of mid-day April 21). Were the collapse in the front-month contract price based on a change in fundamentals rather than a storage issue, we would expect energy equities across the spectrum to be trading much weaker than they have in the past couple of days.
It is important to point out that the current dynamic is not an arbitrage or profit opportunity for anyone unwilling to take physical delivery of oil, and most passive investment vehicles including the Bloomberg Commodity Index (the strategic benchmark for the "Other" category within our tactical real asset exposure) have exposure to the June 2020 WTI contract, not May 2020.
At a higher level, the pain for oil is unlikely to subside until we see a material recovery in demand, which depends primarily on the progression of the pandemic and duration of containment measures in place. U.S. oil supply is also somewhat inelastic in the sense that shale oil production cannot be turned on and off as easily as a sink faucet, but rather takes time to ramp up and down with a significant risk that rigs taken offline may never come back online when the price of oil does recover. The recently announced production cut from OPEC+ is a modest positive and will remove a substantial amount of new supply from the market starting in May. However, the 9.7 million barrels-per-day reduction still falls well short of the near-term loss in demand, which the International Energy Agency (IEA) estimates could be as high as 26 million barrels per day in April. The bottom line is that the economy must reopen in scale to begin the process of recovering oil demand and ultimately, a healthier price level. Until then, add this to the list of firsts for the current global virus crisis.
Disclosures
Wilmington Trust is a registered service mark used in connection with various fiduciary and non-fiduciary services offered by certain subsidiaries of M&T Bank Corporation including, but not limited to, Manufacturers & Traders Trust Company (M&T Bank), Wilmington Trust Company (WTC) operating in Delaware only, Wilmington Trust, N.A. (WTNA), Wilmington Trust Investment Advisors, Inc. (WTIA), Wilmington Funds Management Corporation (WFMC), and Wilmington Trust Investment Management, LLC (WTIM). Such services include trustee, custodial, agency, investment management, and other services. International corporate and institutional services are offered through M&T Bank Corporation's international subsidiaries. Loans, credit cards, retail and business deposits, and other business and
personal banking services and products are offered by M&T Bank, member FDIC.
Facts and views presented in this report have not been reviewed by, and may not reflect information known to, professionals in other business areas of Wilmington Trust or M&T Bank who may provide or seek to provide financial services to entities referred to in this report. M&T Bank and Wilmington Trust have established information barriers between their various business groups. As a result, M&T Bank and Wilmington Trust do not disclose certain client relationships with, or compensation received from, such entities in their reports.
The information on Wilmington Wire has been obtained from sources believed to be reliable, but its accuracy and completeness are not guaranteed. The opinions, estimates, and projections constitute the judgment of Wilmington Trust and are subject to change without notice. This commentary is for information purposes only and is not intended as an offer or solicitation for the sale of any financial product or service or a recommendation or determination that any investment strategy is suitable for a specific investor. Investors should seek financial advice regarding the suitability of any investment strategy based on the investor's objectives, financial situation, and particular needs. Diversification does not ensure a profit or guarantee against a loss. There is no assurance that any investment strategy will succeed.
Past performance cannot guarantee future results. Investing involves risk and you may incur a profit or a loss.
© 2020 M&T Bank Corporation and its subsidiaries. All rights reserved.