May 26, 2020—We design our client portfolios in two stages. The first stage is tactical asset allocation. For example, in equity asset classes, we allocate among U.S. large cap, U.S. small cap, developed international, and emerging markets. The second stage is the construction of portfolios within each asset class, comprising mixes of funds to achieve various objectives and tilts. The developed international and emerging market segments of our portfolios are currently tilted toward those stocks that have generated sustained, above-average earnings growth.
Within the developed international space, growth-style equities have returned a cumulative 99.6% over the last 10 years, while value-style equities have returned only 29.2% (as measured by the MSCI EAFE Growth Net Total Return and the MSCI EAFE Value Net Total Return, respectively). As can be seen in Figure 1, growth and value stocks exhibited similar performance between 2010 and 2014. Thereafter, growth stocks have demonstrated cumulative outperformance. We will summarize the reasons why high growth stocks have outperformed value stocks in the international space, and why it is reasonable to expect that such outperformance can persist, even after the global economy recovers from its COVID-19 downturn.
Over the last few years, the world has experienced an accelerating innovation revolution that favors e-commerce, internet communications, technology semiconductor and hardware, renewable energy, pharmaceutical, and medical equipment stocks that typically produce such sustained high earnings growth. We have discussed these developments in our 2020 Capital Markets Forecast.
Figure 1: Growth stocks have started to show signs of outperformance in the last five years
Developed International Equities, Cumulative % Returns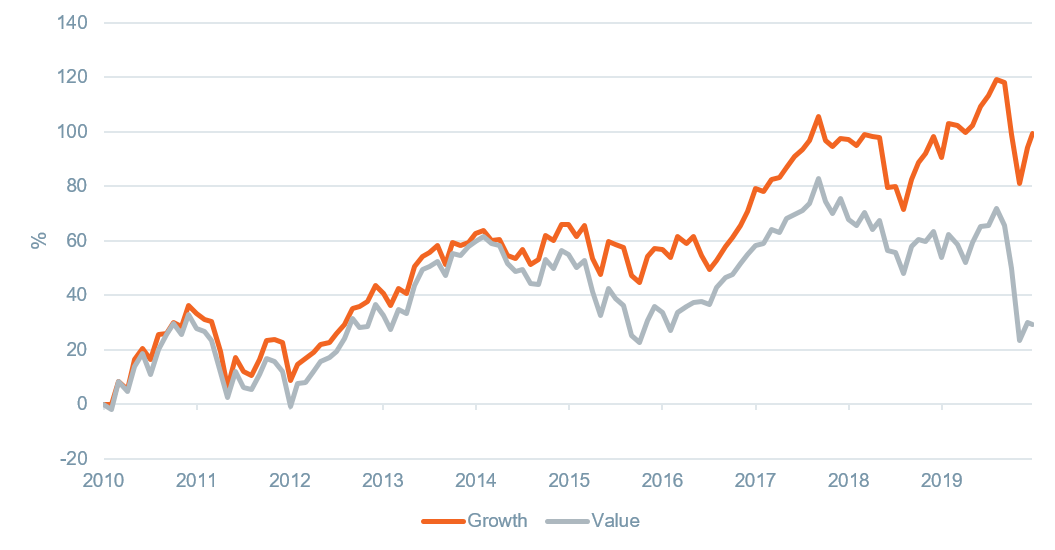 Data as of May 20, 2020. Source: Bloomberg. Benchmarks represent the MSCI EAFE Growth Net Total Return, and the MSCI EAFE Value Net Total Return.
Indices are not available for direct investment. Investment in a security or strategy designed to replicate the performance of an index will incur expenses, such as management fees, taxes and transaction costs that would reduce returns. Past performance does not guarantee future results.
One characteristic of high earnings growth companies is that they can flexibly direct their global sales activity toward market niches offering the most rapid demand growth. For example, among European stocks, pharmaceutical giants Roche, Novartis, and Glaxo enjoy a growing global market, as do wind turbine manufacturers Siemens Gamesa and Vestas. Among Chinese stocks, Alibaba, Tencent, and others benefit from rapid Chinese internet/mobile expansion and consumer growth. There are also many high-growth international stocks beyond the "innovation" complex. For example, European luxury goods stocks, such as LVMH, Essilor Luxottica, Hermes, and Ferrari benefit from a global market. By contrast, cyclical value stocks such as banks, real estate firms, energy, and utility stocks enjoy fewer opportunities for market growth and less flexibility in addressing them. Since the global financial crisis, and especially since the 2010–2013 eurozone debt crisis, developed-country banks and real estate companies have chronically underperformed.
Further, given the innovation revolution, and particularly the expansion of e-commerce and mobile applications, high growth stocks now include a large representation of "asset light" companies, as opposed to cyclical/value stocks that rely more heavily on capital equipment and brick-and-mortar storefronts. The most valuable assets of many growth stocks are the intangibles. Namely, skilled people, high-quality management, good governance, brands, patents, copyrights, process improvements, and network effects.
A major benefit of being an asset light company is that many of these stocks can operate with low or in some cases zero leverage. They can use a greater proportion of their operating cash flow to secure high-quality staff, and make investments and acquisitions, and conduct research aimed at trying to secure sustained earnings growth into the future.
One common measure of stock valuation is the forward price-to-earnings ratio, also known as the multiple. The measure is the ratio of the stock's share price to its one-year future earnings. Stocks with high multiples are often considered to be expensive. However, the multiple suffers from a drawback. It looks only one year ahead. For stocks with sustained or accelerating earnings growth, two-year or three-year forward multiples would be more appropriate guideposts. Using a longer-term measure, stocks offering sustained high growth may well be inexpensive. This is particularly the case when interest rates have been zero or negative, as they have been in Europe and Japan, as such interest rates influence the rates at which stock analysts and investors discount forward earnings. It seems likely that zero or negative interest rates will persist, as the central banks from both of these countries provide monetary support for jump-starting COVID-19-impaired economic growth.
In addition to zero/negative rates, a second macroeconomic foundation supports high multiples for high growth stocks in international markets. The European and Japanese economies typically register very low, often near-zero, nominal GDP growth for a host of demographic and other reasons. This constrains aggregate broad-market earnings growth. As a result, investors will pay more for stocks offering comparatively high and sustained earnings growth. At the time of the eurozone debt crisis, investors had generally expected European GDP to recover once the crisis was resolved. However, European GDP subsequently disappointed, and investors favored growth stocks. Once COVID-19 recedes and international economies begin to recuperate, share prices of cyclical stocks may temporarily outpace those of high earnings growth stocks. However, we would not expect Europe and Japan to achieve sustained GDP growth trajectories higher than those recorded pre-COVID-19.
Another important reason why high earnings growth stocks in Europe and Japan have outperformed value/cyclical stocks is that banks comprise a heavy weight in the developed international value indexes. In a persistent environment of zero or negative interest rates, and very low GDP growth, banks face severe challenges with respect to profitable operations. Banks' net interest margins are paper thin and their credit quality is weak. This situation began after the Great Recession, it worsened as a result of the eurozone debt crisis, and is likely to persist due to the COVID-19 crisis and due to the responsive actions by central banks to further suppress yields.
Finally, one cannot ignore the growing influence that ESG investing has had over the past five years on the market's preference for high growth stocks. Cyclical/value sectors, such as energy, materials, and industrials, include large concentrations of carbon-emitting stocks. As investors increasingly seek out funds offering favorable ESG qualities, greater volumes of capital will flow into high growth stocks, helping to support their share prices.
Core narrative
Given the considerations described above, we have designed the developed international segment of our recommended client portfolios to tilt toward the growth style.
Disclosures
Wilmington Trust is a registered service mark used in connection with various fiduciary and non-fiduciary services offered by certain subsidiaries of M&T Bank Corporation including, but not limited to, Manufacturers & Traders Trust Company (M&T Bank), Wilmington Trust Company (WTC) operating in Delaware only, Wilmington Trust, N.A. (WTNA), Wilmington Trust Investment Advisors, Inc. (WTIA), Wilmington Funds Management Corporation (WFMC), and Wilmington Trust Investment Management, LLC (WTIM). Such services include trustee, custodial, agency, investment management, and other services. International corporate and institutional services are offered through M&T Bank Corporation's international subsidiaries. Loans, credit cards, retail and business deposits, and other business and personal banking services and products are offered by M&T Bank, member FDIC.
Facts and views presented in this report have not been reviewed by, and may not reflect information known to, professionals in other business areas of Wilmington Trust or M&T Bank who may provide or seek to provide financial services to entities referred to in this report. M&T Bank and Wilmington Trust have established information barriers between their various business groups. As a result, M&T Bank and Wilmington Trust do not disclose certain client relationships with, or compensation received from, such entities in their reports.
The information on Wilmington Wire has been obtained from sources believed to be reliable, but its accuracy and completeness are not guaranteed. The opinions, estimates, and projections constitute the judgment of Wilmington Trust and are subject to change without notice. This commentary is for informational purposes only and is not intended as an offer or solicitation for the sale of any financial product or service or a recommendation or determination that any investment strategy is suitable for a specific investor. Investors should seek financial advice regarding the suitability of any investment strategy based on the investor's objectives, financial situation, and particular needs. Diversification does not ensure a profit or guarantee against a loss. There is no assurance that any investment strategy will succeed.
Past performance cannot guarantee future results. Investing involves risk and you may incur a profit or a loss.
An Overview of Our Asset Allocation Strategies
Wilmington Trust offers seven asset allocation models for taxable (high-net-worth) and tax-exempt (institutional) investors across five strategies reflecting a range of investment objectives and risk tolerances: Aggressive, Growth, Growth & Income, Income & Growth, and Conservative. The seven models are High Net Worth (HNW), HNW with Liquid Alternatives, HNW with Private Markets, HNW Tax Advantaged, Institutional, Institutional with Hedge LP, and Institutional with Private Markets. As the names imply, the strategies vary with the type and degree of exposure to hedge strategies and private market exposure, as well as with the focus on taxable or tax-exempt income. On a quarterly basis we publish the results of all of these strategy models versus benchmarks representing strategic implementation without tactical tilts.
Model Strategies may include exposure to the following asset classes: U.S. large-capitalization stocks, U.S. small-cap stocks, developed international stocks, emerging market stocks, U.S. and international real asset securities (including inflation-linked bonds and commodity-related and real estate-related securities), U.S. and international investment-grade bonds (corporate for Institutional or Tax Advantaged, municipal for other HNW), U.S. and international speculative grade (high-yield) corporate bonds and floating-rate notes, emerging markets debt, and cash equivalents. Model Strategies employing nontraditional hedge and private market investments will, naturally, carry those exposures as well. Each asset class carries a distinct set of risks, which should be reviewed and understood prior to investing.
Allocations
Each strategy is constructed with target weights for each asset class. Wilmington Trust periodically adjusts the target allocations and may shift away from the target allocations within certain ranges. Such tactical adjustments to allocations typically are considered on a monthly basis in response to market conditions. The asset classes and their current proxies are: large–cap U.S. stocks: Russell 1000® Index; small–cap U.S. stocks: Russell 2000® Index; developed international stocks: MSCI EAFE® (Net) Index; emerging market stocks: MSCI Emerging Markets Index; U.S. inflation-linked bonds: Bloomberg/Barclays US Government ILB Index; international inflation-linked bonds: Bloomberg/Barclays World exUS ILB (Hedged) Index; commodity-related securities: Bloomberg Commodity Index; U.S. REITs: S&P US REIT Index; international REITs: Dow Jones Global exUS Select RESI Index; private markets: S&P Listed Private Equity Index; hedge funds: HFRI Fund of Funds Composite Index; U.S. taxable, investment-grade bonds: Bloomberg/Barclays U.S. Aggregate Index; U.S. high-yield corporate bonds: Bloomberg/Barclays U.S. Corporate High Yield Index; U.S. municipal, investment-grade bonds: S&P Municipal Bond Index; U.S. municipal high-yield bonds: Bloomberg/Barclays 60% High Yield Municipal Bond Index / 40% Municipal Bond Index; international taxable, investment-grade bonds: Bloomberg/Barclays Global Aggregate exUS; emerging bond markets: Bloomberg/Barclays EM USD Aggregate; and cash equivalents: 30-day U.S. Treasury bill rate.
©2020 M&T Bank Corporation and its subsidiaries. All rights reserved.