August 12, 2016—In the soon-to-be-released August version of the Capital Perspectives presentation, we have redesigned the way our S&P 500 price target is determined to account for the extremely low interest rate environment inspired by central banks. Through this, we have a visual representation of how the financial markets are being influenced by the broad-based efforts of central banks globally. We have generated a range of potential price targets that reflect how the market may respond based on the level of central bank involvement at our future target date.
Before we get into the rationale for our new approach, it is worth spending a few moments reviewing how we generate our estimate. Typically the S&P 500 estimate has been constructed by looking at the forward earnings for the 12 months beginning with our projection point and then using the current market multiple to generate the expected index level. Thus for our June 2017 target price, the earnings we use are the earnings we expect to see over the 12 months from June '17 to June '18. Developing this estimate is fraught with challenges and potential sources of error; the uncertainty is only compounded when also trying to figure out how much the market will pay for those earnings in the future. However, we do know how much the market is willing to pay today for the earnings expected over the next 12 months, so we use that factor to generate our multiple and in the calculation of the future index value.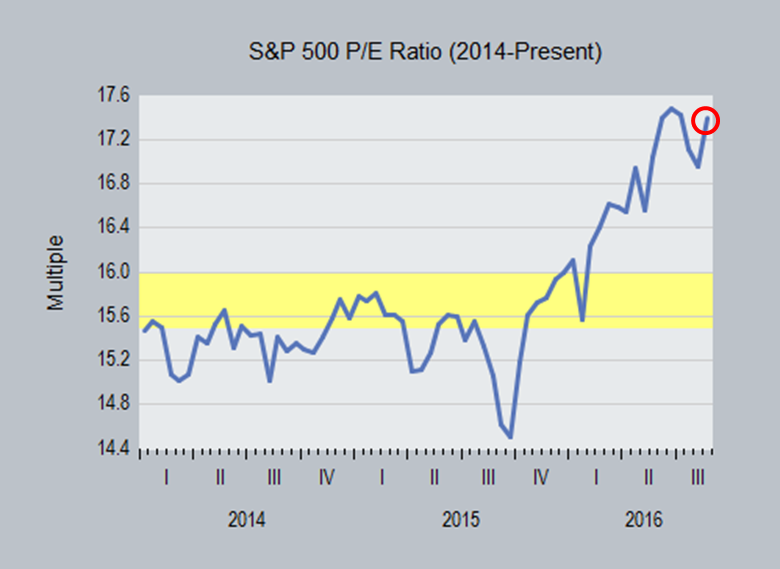 Source: Bloomberg
As we look at current market conditions vs. the past, we see the situation has changed. The market is currently valuing the next 12 months of S&P earnings at more than 17x those earnings. The chart above shows this is an elevated level that has expanded with the recent push to new record highs. Also, the current level is now well above a multiple band between 15.5 and 16 (shaded area) that has served as a "normal" level over the past three years. We have clearly arrived at a crossroads in our analysis.
So what is going on here? Simply put, we believe we are seeing the market being influenced by the efforts of central banks across the globe to inject liquidity into the markets. This is not a new story and it has certainly influenced markets over the past years since quantitative easing was first introduced, but we are reaching a point where these banking institutions are reaching the limits of their effectiveness. We see the limits of what they can do as negative rates are surfacing which may punish the profitability of financial institutions and fund flows are working in many cases in directions that do not help the economies the central bankers are trying to help. This has helped to lower Treasury yields, narrow corporate bond spreads, and creating an appetite for risk assets that provide higher yields, such as higher-yielding equities. Even if they are reaching the limits of what they can do, we don't believe this support is going away any time soon.
Given this situation, we have revised the chart showing our S&P target to reflect future prices at both 15.5x and 17x our estimated earnings of $135/share. This gives us a price range of between 2093 and 2295. However, given our belief that central banks will remain heavily involved for some time and that positive year-over-year earnings growth will likely return in the fourth quarter of this year, we are placing more of an emphasis on the 2295 number which reflects the higher current PE. We don't want to lose sight of the fact that 2093 at 15.5x is more reflective of an environment that would feature far less central bank support and a more normal yield curve.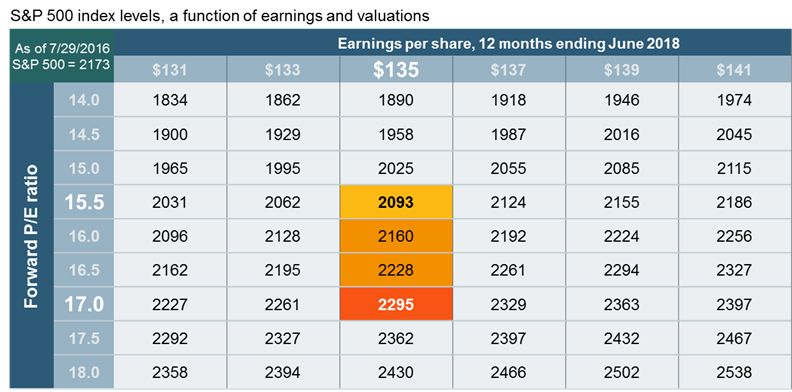 Source: Wilmington Trust Investment Advisors
The message that central banks are providing a premium in our market equivalent to as much as 1.5x forward earnings is an important one made more so by the fact that we are getting to the point where central bank easing policies are having a diminishing impact. This is a story that we will be returning to in the months ahead as it will have a big influence on our approach to financial markets.
Disclosures
Wilmington Trust is a registered service mark. Wilmington Trust Corporation is a wholly owned subsidiary of M&T Bank Corporation. Investment management and fiduciary services are provided by Wilmington Trust Company, operating in Delaware only, and Wilmington Trust, N.A., a national bank. Loans, retail and business deposits, and other personal and business banking services and products are offered by Manufacturers and Traders Trust Company (M&T Bank), member FDIC. Wilmington Trust Investment Advisors, Inc., a subsidiary of M&T Bank, is a SEC-registered investment adviser providing investment management services to Wilmington Trust and M&T affiliates and clients.
These materials are based on public information. Facts and views presented in this report have not been reviewed by, and may not reflect information known to, professionals in other business areas of Wilmington Trust or M&T Bank who may provide or seek to provide financial services to entities referred to in this report. M&T Bank and Wilmington Trust have established information barriers between their various business groups. As a result, M&T Bank and Wilmington Trust do not disclose certain client relationships with, or compensation received from, such entities in their reports.
The information on Wilmington Wire has been obtained from sources believed to be reliable, but its accuracy and completeness are not guaranteed. The opinions, estimates, and projections constitute the judgment of Wilmington Trust and are subject to change without notice. This commentary is for information purposes only and is not intended as an offer or solicitation for the sale of any financial product or service or a recommendation or determination that any investment strategy is suitable for a specific investor. Investors should seek financial advice regarding the suitability of any investment strategy based on the investor's objectives, financial situation, and particular needs. Diversification does not ensure a profit or guarantee against a loss. There is no assurance that any investment strategy will succeed.
Any investment products discussed in this commentary are not insured by the FDIC or any other governmental agency, are not deposits of or other obligations of or guaranteed by M&T Bank, Wilmington Trust, or any other bank or entity, and are subject to risks, including a possible loss of the principal amount invested. Some investment products may be available only to certain "qualified investors"—that is, investors who meet certain income and/or investable assets thresholds. Past performance is no guarantee of future results. Investing involves risk and you may incur a profit or a loss.
Any positioning information provided does not include all positions that were taken in client accounts and may not be representative of current positioning. It should not be assumed that the positions described are or will be profitable or that positions taken in the future will be profitable or will equal the performance of those described. Positions described are illustrative and not intended as a recommendation outside of a managed account.
Indices are not available for direct investment. Investment in a security or strategy designed to replicate the performance of an index will incur expenses, such as management fees and transaction costs that would reduce returns.
Third party trademarks and brands are the property of their respective owners.
Contact an Expert