January 17, 2020 — On January 15, President Trump and Vice Premier of the People's Republic of China Liu He signed a Phase 1 trade deal, bringing a hiatus—though likely not an end—to two years (almost to the day) of tariff threats and levies on goods traded between the U.S. and China.
The Phase 1 deal covered several areas, some more fully than others. Among them were openness of markets, particularly related to finance and agriculture, intellectual property (IP) protections and forced IP transfer, and specific targets for Chinese purchase of U.S. agricultural products. Here we provide our three most important takeaways from the deal as it relates to the economy and markets.
Phase 1 to provide welcome relief for business sentiment. We expect the signing of the deal to be a positive for growth and markets, especially the manufacturing sector. In our view, tariffs levied between the U.S. and China and the threat of ever-higher tariffs were key contributors to the global manufacturing recession experienced in 2019. The peak of manufacturing activity in mid-2018, as measured by the U.S. and Global Manufacturing PMIs, occurred at precisely the same time as the escalation of tariffs between the U.S. and China (Figure 1). The de-escalation of trade tensions, beginning at the end of September with President Trump signaling that a tentative Phase 1 agreement had been reached, has already ushered in some more positive manufacturing data. We fully expect that the global economy has put in a bottom for manufacturing—assuming businesses do not expect tensions to worsen again.
The deal is somewhat fragile. To be fair, the deal covers a wide array of issues (more than many of the more skeptical media outlets give credit). However, we note some gaps in enforcement of IP theft and transfer, as well as agricultural purchases. The deal was also not passed through Congress or signed by President Xi Jinping himself. To us, this means it would not be all that difficult for either side to walk away from the deal at some point in the future. We do not expect this to occur in the near term and certainly not before the 2020 U.S. presidential election, but we are wary of what a second term for President Trump could mean in terms of reigniting the trade fight. It may very well be that these fights need to be had and some of the more challenging issues—including Chinese subsidies to state-owned enterprises, dealt with in a forceful manner—but we are confident such a situation would not be welcomed by the markets.
The opening of China's markets is a significant long-term positive. China is the second-largest economy in the world and growing at one of the fastest rates of any country in the world. The Phase 1 deal provides access to China's economy for a variety of U.S. exports, from financial services to beef to biotechnology products. It also sets import/export review and other standards that are more typical of the U.S. and other trading partners. If this new arrangement can indeed pave the way for a broadening of China's economy to the U.S. and other trading partners, it would be a significant long-term tailwind to the global economy.
Figure 1: Markit Manufacturing Purchasing Managers' Index (PMI)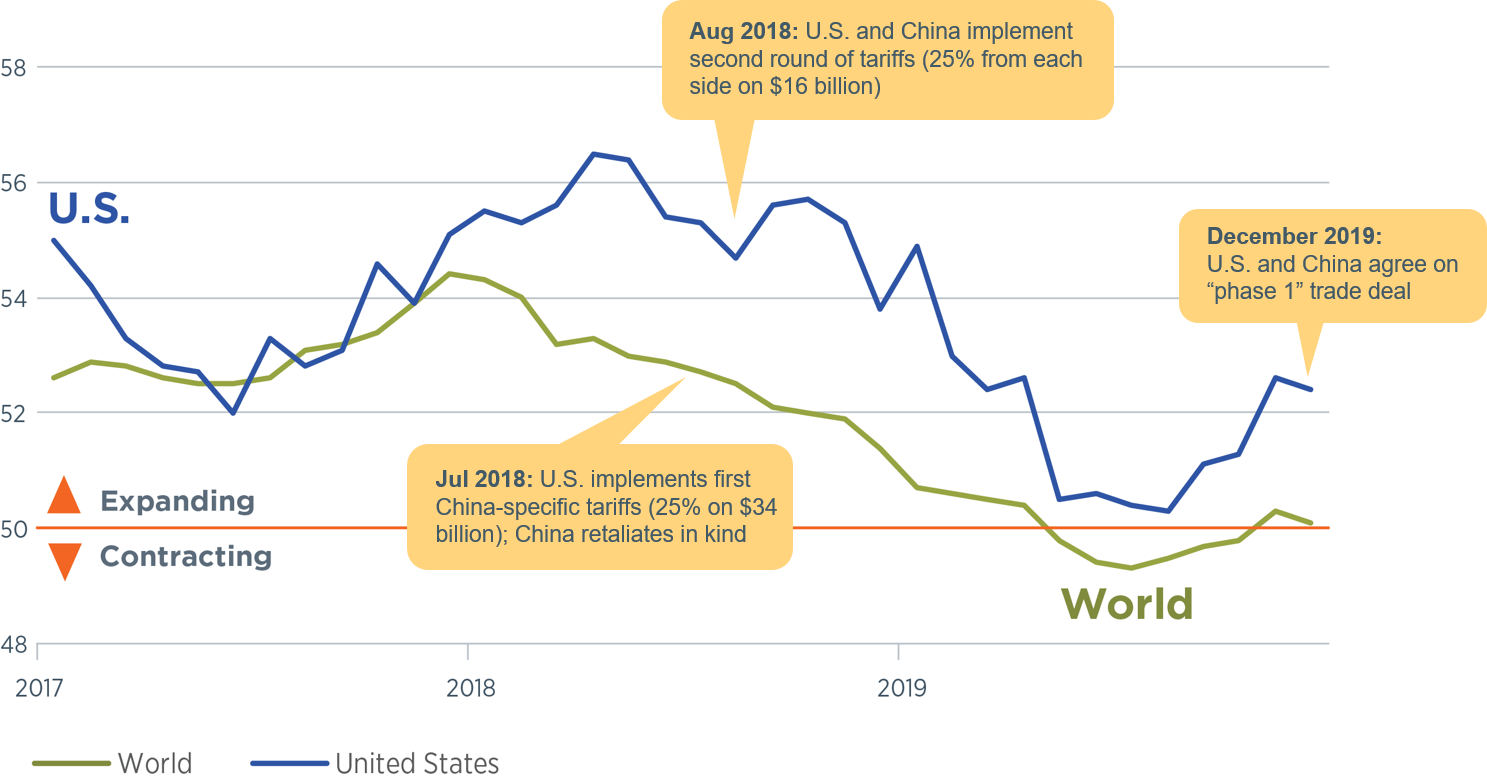 Data as of December 31, 2019. Sources: Markit, Macrobond.
Core narrative
We have been closely following the trade negotiations between the U.S. and China, with the tariffs factoring into our economic expectations and resultant asset allocation decisions. In particular, the cooling of tensions in October were a key reason why we reverted to an equity overweight in November and increased our equity exposure again in December.
The market reaction to the U.S.-China trade deal has been quite positive, with the S&P 500 gaining over 10% in the past three months and the U.S. equity market reaching new all-time highs across a number of indices. Valuations in U.S. large cap are quite full at this point, and it may be necessary for the market to hit the pause button to allow for earnings growth to catch up to valuations. While a market reset is entirely possible (and, lest we forget, a normal part of market cycles), we think the positive momentum can continue. We do not see a recession on the horizon and expect that 2020 will see a return to earnings growth and be another positive year for equities.
We would also point out that there are areas of the equity market outside of U.S. large cap that continue to look attractive to us and present upside opportunity in light of the trade deal, including international developed equities and U.S. small cap, where we currently hold an overweight in portfolios. In fact, these slightly less loved areas of the market are typically more levered to the trade talks, with international developed equities more exposed to exports and U.S. small cap with less supply chain flexibility. We expect they will end up benefiting more from a cooling of trade tensions and reacceleration of the global economy.
Disclosures
Wilmington Trust is a registered service mark. Wilmington Trust Corporation is a wholly owned subsidiary of M&T Bank Corporation. Wilmington Trust Company, operating in Delaware only, Wilmington Trust, N.A., M&T Bank and certain other affiliates, provide various fiduciary and non-fiduciary services, including trustee, custodial, agency, investment management and other services. International corporate and institutional services are offered through Wilmington Trust Corporation's international affiliates. Loans, credit cards, retail and business deposits, and other business and personal banking services and products are offered by M&T Bank, member FDIC.
Facts and views presented in this report have not been reviewed by, and may not reflect information known to, professionals in other business areas of Wilmington Trust or M&T Bank who may provide or seek to provide financial services to entities referred to in this report. M&T Bank and Wilmington Trust have established information barriers between their various business groups. As a result, M&T Bank and Wilmington Trust do not disclose certain client relationships with, or compensation received from, such entities in their reports.
The information on Wilmington Wire has been obtained from sources believed to be reliable, but its accuracy and completeness are not guaranteed. The opinions, estimates, and projections constitute the judgment of Wilmington Trust and are subject to change without notice. This commentary is for information purposes only and is not intended as an offer or solicitation for the sale of any financial product or service or a recommendation or determination that any investment strategy is suitable for a specific investor. Investors should seek financial advice regarding the suitability of any investment strategy based on the investor's objectives, financial situation, and particular needs. Diversification does not ensure a profit or guarantee against a loss. There is no assurance that any investment strategy will succeed.
Past performance cannot guarantee future results. Investing involves risk and you may incur a profit or a loss.
Indexes are not available for direct investment. Investment in a security or strategy designed to replicate the performance of an index will incur expenses such as management fees and transaction costs which would reduce returns.