August 3, 2018—There doesn't seem to be a day where trade and tariffs are not at the top of your news—or Twitter— feed. Some tariffs have already been implemented, but the proposed list appears to be growing. Here is an overview of what has been implemented and proposed at this point.
First major trade action of 2018…
On January 22, the U.S. announced tariffs on all imported solar panels and washing machines. The tariffs were in response to petitions from U.S. manufacturers (Suniva, SolarWorld, Whirlpool, etc.) who have grumbled for years that rising imports were cutting into their profits. The tariffs went into effect on February 7.
…then came steel and aluminum
In April of 2017, President Trump had asked Commerce Secretary Wilbur Ross to investigate whether steel and aluminum imports threatened U.S. national security under Section 232 of the Trade Expansion Act of 1962.
Using the findings and recommendations from the Commerce Department's investigation, President Trump formally announced on this past March 9 the introduction of a 25% tariff on U.S. steel imports, and a 10% tariff on aluminum imports, with an effective date of March 23. The administration argued that unfair trade practices threatened U.S. manufacturers—and therefore national security. Canada, Mexico, and the European Union (EU) were granted exemptions due to ongoing NAFTA renegotiations. Those exemptions expired on June 1, and 25% and 10% tariffs on U.S. steel and aluminum imports, respectively, went into effect.
The EU and Canada retaliated on a range of U.S. products (including agricultural and industrial products, Harley-Davidson motorcycles, cheese) and the imposed tariffs (including steel and aluminum) initial list covered $3.2 billion of U.S. products for the EU and $12.8 billion of U.S. products for Canada. Steel would make up 34% and aluminum 50% of those products.
Tit-for-tat with China
The current trade conflict comes after a multi-decade surge in trade between the two countries. The U.S. has been the top importer of Chinese goods since 1998, and China surpassed Canada as the U.S.' largest trading partner in 2015, totaling nearly $500 billion in total imports and exports at that time.
On March 22, the day before the steel and aluminum tariffs went into effect, President Trump announced a 25% tariff on $50 billion worth of Chinese goods under Section 301 of the Trade Act of 1974, in response to what the White House claimed is Chinese theft of U.S. technology and intellectual property. A little under two weeks later the president announced a different tariff on Chinese goods, which was another 25% tax on 1,300 different products, totaling an additional $50 billion (flat-screen TVs, medical devices, aircraft parts, and batteries). China retaliated the next day, April 4, with proposed tariffs on a range of products (soybeans, cars, chemicals, and other goods) totaling, you guessed it, $50 billion. On April 5, the U.S. considers additional tariffs on another $100 billion of U.S. imports from China.
On June 15, the U.S. revised the list of tariffs on almost $50 billion of Chinese products, compared to the original list from April 3; the new list added semiconductors and plastics. The same day, China revised their retaliation list, including more agricultural and food products.
President Trump raised the stakes on June 19 announcing that the U.S. will impose tariffs on an additional $200 billion worth of Chinese goods if China refuses to change its unfair practices on how it acquires American intellectual property and technology. The list of these additional items were released on July 10 (see our recent blog posts The New Proposed China Tariffs Are a Big Deal and U.S.—China Trade Tensions Heating Up), which would be subject to a 10% tariff rate. This list is currently in the comment period, which is the time which the Environmental Protection Agency (EPA) accepts comments from the public on proposed actions for decisions, with a hearing that has not been scheduled yet, but most likely will be sometime in August.
The first wave of tariffs went into effect on July 6, totaling $34 billion worth of imported Chinese goods. The remaining $16 billion of goods is still going through the review process, with a tentative implementation date in September of this year.
In retaliation to the tariffs that went into effect last month, China announced on August 3 it plans on implementing tariffs on $60 billion of imports if the Trump administration continues with its latest trade threats.
(Click on the image to view full size)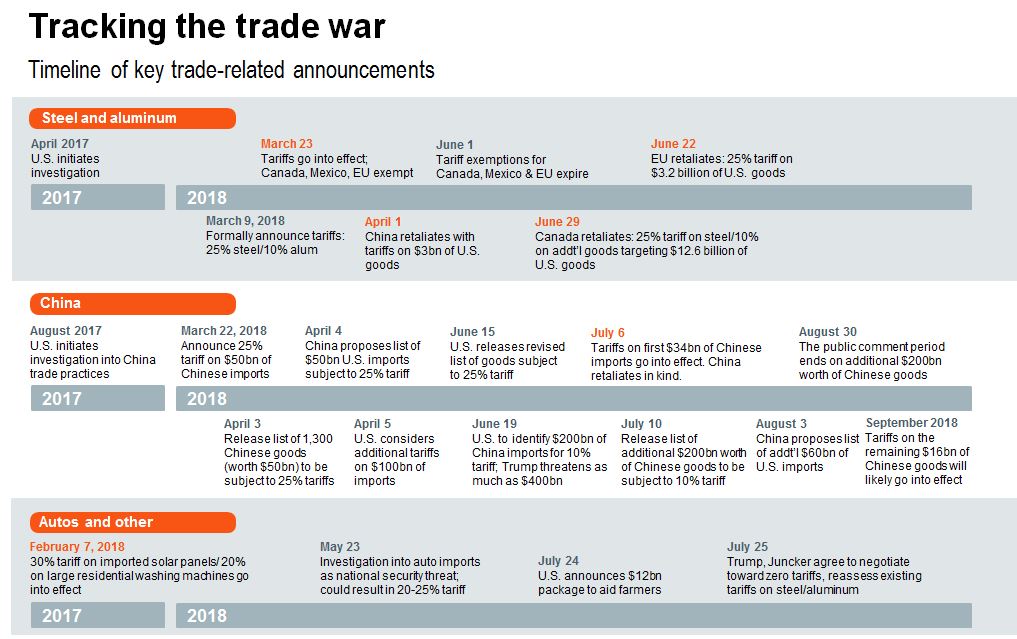 Timeline is from the perspective of the U.S., unless otherwise noted. Dates highlighted in orange signify tariffs going into effect.
Source: WTIA
As of August 3, 2018
Auto tariffs are kind of a big deal
While the "game of chicken" between the U.S. and China continued, and remains a key focus for most, President Trump announced on May 23 that the Commerce Department had launched another national security investigation regarding imported autos and their parts. President Trump is considering pushing forward a 25% tariff on close to $200 billion in foreign made automobiles later this year.
On July 25, President Trump met with European Commission President Jean-Claude Juncker where they agreed to put their arguments aside over autos and decided to talk more, which was a welcome de-escalation of trade tensions between the U.S. and the EU. The two agreed to pursue a range of possibilities, which included U.S. soybean and natural gas exports. Reports were vague but the outcome suggested the U.S. will postpone implementing tariffs on EU auto imports. The U.S. and EU are now working on resolving their differences over the steel and aluminum tariffs, as well as the EU agreeing to work toward a "zero tariff" for industrial goods.
Emergency aid to U.S. farmers
With retaliatory tariffs placed on China—and as of right now, it is just a possibility of the EU exporting more soybeans from the U.S.—farmers are feeling the summer heat. Retaliatory tariffs on goods, such as soybeans, have hit farmers' bottom lines. On July 24, the Trump administration announced $12 billion in emergency aid to farmers caught in escalating trade spats. The plan is to offset tariff retaliation's negative effects on U.S. farmers. The plan will include direct subsidies to farmers, purchase of U.S. products for redistribution through federal nutrition assistance programs, and other resources to promote U.S. farm products.
Core narrative
As we discussed in our 2018 Capital Markets Forecast, trade remains the major risk to our otherwise positive outlook as it is weighing on investor sentiment. The global economy continues to grow, the U.S. in particular. Second-quarter real gross domestic product (GDP) growth was reported at 4.1% and growth for the first half of 2018 is 3.1%, which is in line with our 2018 expectation.
We still believe that the bull market will keep running (for now) on the legs of strong growth fundamentals (GDP, 2Q 2018 earnings surprising to the upside, and a positive outlook for the second half of the year for Europe, Japan, and China).
We are currently overweight non-U.S. equities, but have become more cautious in recent weeks. It remains our base case that trade tensions will dissipate. We can't yet know who will blink first and which "chicken" will prevail, but if trade war risks keep escalating, we would likely make adjustments to our tactical asset allocation positioning.
Disclosures
Wilmington Trust is a registered service mark. Wilmington Trust Corporation is a wholly owned subsidiary of M&T Bank Corporation. Wilmington Trust Company, operating in Delaware only, Wilmington Trust, N.A.,  M&T Bank and certain other affiliates, provide various fiduciary and non-fiduciary services, including trustee, custodial, agency, investment management and other services. International corporate and institutional services are offered through Wilmington Trust Corporation's international affiliates. Loans, credit cards, retail and business deposits, and other business and personal banking services and products are offered by M&T Bank, member FDIC. Wilmington Trust Investment Advisors, Inc. is an SEC-registered investment adviser providing investment management services to Wilmington Trust and M&T Bank affiliates and clients.
These materials are based on public information. Facts and views presented in this report have not been reviewed by, and may not reflect information known to, professionals in other business areas of Wilmington Trust or M&T Bank who may provide or seek to provide financial services to entities referred to in this report. M&T Bank and Wilmington Trust have established information barriers between their various business groups. As a result, M&T Bank and Wilmington Trust do not disclose certain client relationships with, or compensation received from, such entities in their reports.
The information on Wilmington Wire has been obtained from sources believed to be reliable, but its accuracy and completeness are not guaranteed. The opinions, estimates, and projections constitute the judgment of Wilmington Trust and are subject to change without notice. This commentary is for information purposes only and is not intended as an offer or solicitation for the sale of any financial product or service or a recommendation or determination that any investment strategy is suitable for a specific investor. Investors should seek financial advice regarding the suitability of any investment strategy based on the investor's objectives, financial situation, and particular needs. Diversification does not ensure a profit or guarantee against a loss. There is no assurance that any investment strategy will succeed.
Any investment products discussed in this commentary are not insured by the FDIC or any other governmental agency, are not deposits of or other obligations of or guaranteed by M&T Bank, Wilmington Trust, or any other bank or entity, and are subject to risks, including a possible loss of the principal amount invested. Some investment products may be available only to certain "qualified investors"—that is, investors who meet certain income and/or investable assets thresholds. Past performance cannot guarantee future results. Investing involves risk and you may incur a profit or a loss.
Any positioning information provided does not include all positions that were taken in client accounts and may not be representative of current positioning. It should not be assumed that the positions described are or will be profitable or that positions taken in the future will be profitable or will equal the performance of those described. Positions described are illustrative and not intended as a recommendation outside of a managed account.
Indices are not available for direct investment. Investment in a security or strategy designed to replicate the performance of an index will incur expenses, such as management fees and transaction costs that would reduce returns.
Third-party trademarks and brands are the property of their respective owners.