November 10, 2017— Saudi Arabia is planning an IPO for 5% of ARAMCO, the state-owned oil company, for 2018 or 2019. With an estimated value ranging from $50-$100 billion, the IPO would be the largest-ever IPO. The proceeds are slated to fund a capital increase in Saudi Arabia's sovereign wealth fund, the Public Investment Fund. New York and London are competing to be the listing venue – President Trump even promoted New York by tweet. Moreover, with implied market capitalization of $1-$2 trillion, ARAMCO would instantly become one of the world's largest listed companies by market cap, bigger even than Apple or ExxonMobil. This would have global investment implications, since ARAMCO's market cap would be bigger than that of other major global oil companies, not just Exxon Mobile, but also Chevron, Royal Dutch Shell, BP, Total, and Petrochina (see chart).
Market capitalization of major oil companies (USD Billions)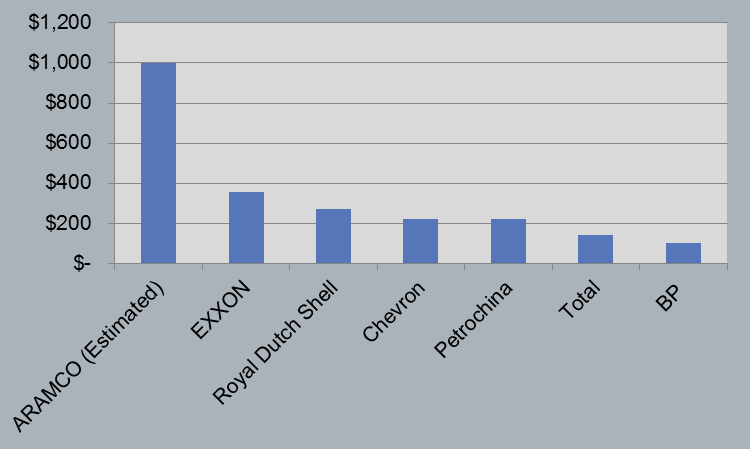 Source: Bloomberg
Potential MSCI emerging market status for Saudi Arabia
In addition, quite apart from the ARAMCO IPO, index provider MSCI will be considering whether to move Saudi Arabia from "frontier" to "emerging market" status in its 2018 market classification review. An inclusion determination would bring Saudi stocks into many emerging market ETFs and mutual funds. Saudi authorities have been taking measures in recent years to bring the local stock exchange up to international standards, and expect a fast-tracked MSCI determination. Currently, relatively few Saudi stocks are traded, and Saudi Arabia would likely be ranked 9th in the emerging markets (EM) index by market cap. However, with EM funds seeking out Saudi stocks, we can expect many more listings, so the weight will rise. Further, if the ARAMCO IPO goes forward, the inclusion of ARAMCO would dramatically increase the weight of both Saudi Arabia and energy stocks in the EM index, reducing the current preponderance of Asian e-commerce and technology stocks in that index.
Political turmoil puts both at risk
However, current political turmoil in Saudi Arabia places both the ARAMCO IPO and the MSCI EM determination at risk. Muhammad bin Salman, the 32 year-old son of 81 year-old King Salman, has been pursuing an aggressive consolidation of power since his father ascended to the throne in April 2015, and especially since the King elevated him from Deputy Crown Prince to Crown Prince in June 2017. There are even rumors that King Salman might step down within the next few days or weeks.
The latest development occurred last weekend. The Crown Prince established an anti-corruption committee, which promptly detained many rival princes, billionaire businessmen, and government ministers on corruption and money laundering charges and froze their personal assets. Detaining ultra-wealthy Saudis on grounds of corruption and money laundering is a move that is a bit reminiscent of the movie Casablanca. As Captain Renault is shutting down Rick's Café he's saying, "I'm shocked, shocked to find that gambling is going on in there," just as a croupier hands the captain a pile of money, saying "Your winnings, sir."
The Crown Prince replaced one of the detainees, Prince Mutaib, the head of the National Guard, with himself. As a result, the Crown Prince now controls all three of the nation's security services. Amidst the purge, one prince has died, in a suspiciously timed helicopter accident. These actions are reminiscent of Xi Jin Ping's actions upon his ascension to power, when he, too, detained rivals based on anti-corruption charges.
We believe that the King and Crown Prince are establishing a father-to-son, direct hereditary monarchy. The last time a son succeeded his father as king in Saudi Arabia was in 1953. Traditionally, Saudi Arabia has been governed through consensus among the senior princes of the "House of Saud." Also, traditionally, an "allegiance council" of the senior princes confirms selection of a new king. To date, the monarchy has rotated among the increasingly elderly sons of the first king, Saud, who founded the Kingdom in 1932. King Salman appears to be taking advantage of the necessity of generational change to position his own son as future king, thereby, in effect, establishing a new "House of Salman."
No doubt the would-be kings from other branches of the House of Saud, especially those in their fifties and sixties, are angered by these moves by the King and Crown Prince. Clearly, actions taken against rival princes reflect an attempt to force compliance by the Allegiance Council in selecting the new king.
In addition, since taking reins of the military, the Crown Prince has been taking aggressive action against other perceived threats. He has stepped up suppression of the large Shi'a minority and has confronted Iran's Shi'a proxies in nearby countries, who may be fomenting Shi'a insurrection within the Kingdom. In particular, he is engaged in military confrontation against Yemen's Houthis, a Shi'a rebellion that now controls much of that country. He has also led a boycott of Qatar, whom the Crown Prince accuses of interference in Saudi affairs and of financing terrorism. These actions seem to reflect a degree of paranoia about the true state of the Kingdom's political stability, mixed with a desire to project Saudi Arabia as a regional power, equal to Iran.
Additionally, the King and Crown Prince are trying to reduce the power of Saudi Arabia's own ultra-conservative Wahhabi Islamic clergy. They have reduced the power of the religious police to enforce dress codes and have decreed that women shall have the right to drive cars. Clearly, they undertook these moves to soften discontent, as well as to identify and detain those clergy who have openly dissented against these decrees.
Of course, there are multiple ways to interpret these developments. A more optimistic interpretation is that the Crown Prince represents an autocratic modernizing force, much like Ataturk, who suppressed all Turkish opposition and fought off foreign forces in order to transform the Ottoman Empire into the Republic of Turkey. The Crown Prince's "Vision 2030" plan speaks to such economic and social modernization, but does not involve evolution into a republic. A pessimistic interpretation is that all of these moves are entirely defensive—that there is a fear that Saudi Arabia will be torn apart by corruption, Saud family conflicts, clerical interventions, Shi'a rebellion, and external interference. A worst-case scenario is that Saudi Arabia would become a failed state, broken up into Sunni and Shi'a provinces, much like Iraq had been.
As much as the Crown Prince (and future King) would seek the ARAMCO IPO and MSCI EM determination to proceed, we believe that the current political turmoil and the uncertainty it spawns will force delays in the Vision 2030 agenda.
Core narrative
We are currently overweight emerging market equities. As we believe that MSCI EM determination will be delayed, the current unrest in Saudi Arabia will have no impact on ETFs and mutual funds which benchmark to the MSCI Emerging Markets index. Consequently, Saudi developments provide no reason to go equal weight or underweight. Moreover, the likely delay in the ARAMCO IPO will forestall the impacts that this would have on global energy-sector investing. We will keep monitoring the situation closely, and watch for further signs of political destabilization.
Disclosures
Wilmington Trust is a registered service mark. Wilmington Trust Corporation is a wholly owned subsidiary of M&T Bank Corporation. Wilmington Trust Company, operating in Delaware only, Wilmington Trust, N.A., M&T Bank and certain other affiliates, provide various fiduciary and non-fiduciary services, including trustee, custodial, agency, investment management and other services. International corporate and institutional services are offered through Wilmington Trust Corporation's international affiliates. Loans, credit cards, retail and business deposits, and other business and personal banking services and products are offered by M&T Bank, member FDIC.
These materials are based on public information. Facts and views presented in this report have not been reviewed by, and may not reflect information known to, professionals in other business areas of Wilmington Trust or M&T Bank who may provide or seek to provide financial services to entities referred to in this report. M&T Bank and Wilmington Trust have established information barriers between their various business groups. As a result, M&T Bank and Wilmington Trust do not disclose certain client relationships with, or compensation received from, such entities in their reports.
The information on Wilmington Wire has been obtained from sources believed to be reliable, but its accuracy and completeness are not guaranteed. The opinions, estimates, and projections constitute the judgment of Wilmington Trust and are subject to change without notice. This commentary is for information purposes only and is not intended as an offer or solicitation for the sale of any financial product or service or a recommendation or determination that any investment strategy is suitable for a specific investor. Investors should seek financial advice regarding the suitability of any investment strategy based on the investor's objectives, financial situation, and particular needs. Diversification does not ensure a profit or guarantee against a loss. There is no assurance that any investment strategy will succeed.
Any investment products discussed in this commentary are not insured by the FDIC or any other governmental agency, are not deposits of or other obligations of or guaranteed by M&T Bank, Wilmington Trust, or any other bank or entity, and are subject to risks, including a possible loss of the principal amount invested. Some investment products may be available only to certain "qualified investors"—that is, investors who meet certain income and/or investable assets thresholds. Past performance is no guarantee of future results. Investing involves risk and you may incur a profit or a loss.
Any positioning information provided does not include all positions that were taken in client accounts and may not be representative of current positioning. It should not be assumed that the positions described are or will be profitable or that positions taken in the future will be profitable or will equal the performance of those described. Positions described are illustrative and not intended as a recommendation outside of a managed account.
Indices are not available for direct investment. Investment in a security or strategy designed to replicate the performance of an index will incur expenses, such as management fees and transaction costs that would reduce returns.
Third-party trademarks and brands are the property of their respective owners.
Contact an Expert