March 20, 2020—Asset allocation is about balancing risk and reward. A disciplined investment approach encourages investors to trim asset classes that have outperformed the rest of the portfolio over some period and increase the allocation to asset classes that suffer temporary underperformance, a strategy known as portfolio rebalancing. This process serves two important purposes for investors. First, it can increase potential future returns by "buying low" (i.e., buying assets that are out of favor) and reducing future volatility by "selling high" (i.e., trimming what is expensive). Second, it keeps an investor "in the right lane" and on the correct risk profile for their long-term investment plan.
Rebalancing can be a particularly important action to take in the wake of significant market volatility like we have experienced over the past month. On February 19, 2020, U.S. large-cap equities reached all-time highs but have since experienced one of the most rapid declines in history. In just one month the Russell 1000 Index (a composite of the largest 1,000 publicly listed companies in the U.S.) declined 30%. On the other hand, corporate and municipal bond investors have had a very different experience. During that period the Bloomberg Barclays Municipal Bond Index was down just 4.5%.
Figure 1: Performance of Equities and Municipal Bonds February-March 2020 (%)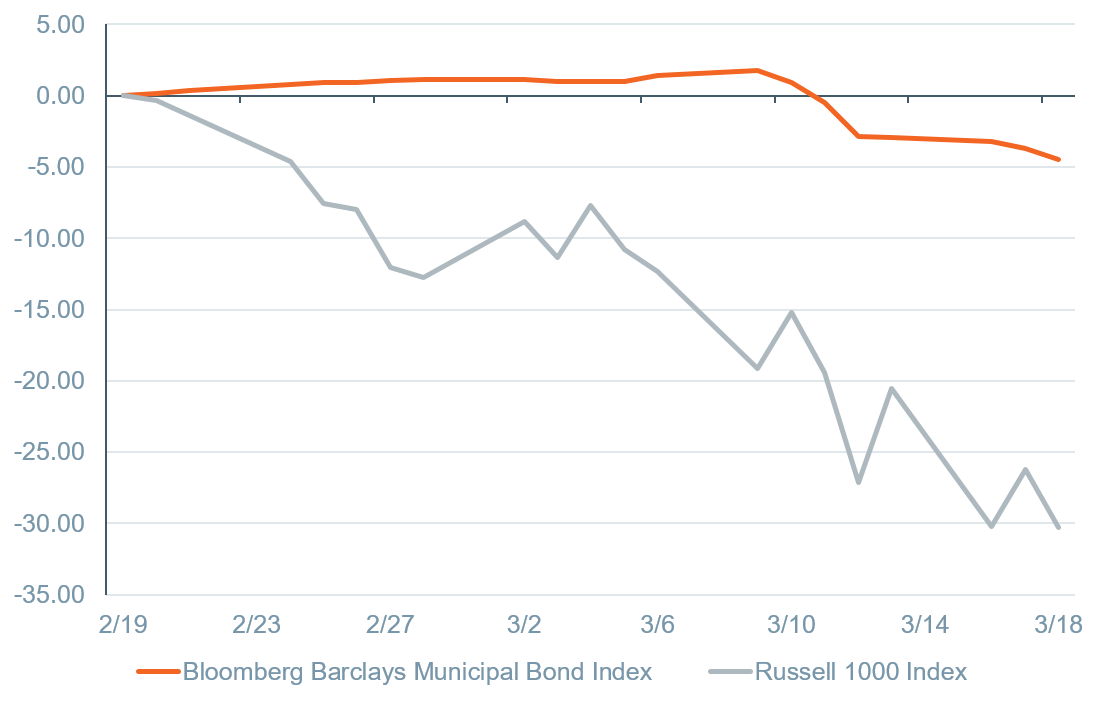 Source: Bloomberg, Barclays, WTIA. Data as of March 18, 2020.
If a portfolio is left untouched, this type of sharp divergence in relative performance of stocks versus bonds will result in portfolios drifting significantly from the desired asset allocation. For example, consider a $100,000 "balanced" portfolio starting with a classic 60% equities (Russell 1000 Index) and 40% municipal bond (Bloomberg/Barclays Municipal Bond Index) allocation on February 19. Just one month later, assuming no changes were made to the allocation, that same portfolio would now be holding $41,813 in equities and $38,198 in fixed income. The portfolio's allocation would now be just 52% stocks and 48% bonds, a clear departure from the desired 60%/40% stock/bond asset allocation mix. In order to restore the portfolio to the proper long-term allocation, the investor would need to sell 8% of their bond holdings to buy 8% more equities.
The magnitude of this rebalancing transaction is quite significant and can be a meaningful driver of long-term portfolio returns – in many cases larger than the incremental return obtained from more modest tactical asset allocation changes.
The value of rebalancing a portfolio to the desired allocation subsequent to substantial market moves is twofold. For one, it can keep an investor "honest" with their risk profile and on track with their long-term investment plan. In the example above, a failure to rebalance would find an investor with a more conservative portfolio than desired. Second, rebalancing enforces investor discipline. In other words, rebalancing can force the investor to take advantage of dislocated markets that historically have reverted to their longer-term averages. Buying additional equities when prices decline sharply or selling equities after a substantial price rise to get a portfolio back on target can both increase wealth and reduce the subsequent volatility of a portfolio.
The ideal frequency of rebalancing must be considered in the context of the individual investor's cash flows, market volatility, tax consequences, and transaction costs. In a period of normal volatility, rebalancing a portfolio 1-2 times a year can often strikes the proper balance, but rebalancing with greater frequency may be necessary during sharp up or down moves in stock or bond markets. It is best to consult your advisor to discuss what is appropriate for your specific situation.
Core Narrative
The goal of a long-term asset allocation is to maintain an asset class distribution that fits the investor's desired risk-reward tradeoff, achieves optimal risk-adjusted returns, and help achieve the investor's wealth goals. As asset classes experience different returns, particularly during volatile periods like the current environment, the portfolio allocation can drift away from the desired targets. Portfolio rebalancing after such episodes can be a powerful tool and important to strategy for disciplined investors.
Disclosures
Wilmington Trust is a registered service mark used in connection with various fiduciary and non-fiduciary services offered by certain subsidiaries of M&T Bank Corporation including, but not limited to, Manufacturers & Traders Trust Company (M&T Bank), Wilmington Trust Company (WTC) operating in Delaware only, Wilmington Trust, N.A. (WTNA), Wilmington Trust Investment Advisors, Inc. (WTIA), Wilmington Funds Management Corporation (WFMC), and Wilmington Trust Investment Management, LLC (WTIM). Such services include trustee, custodial, agency, investment management, and other services. International corporate and institutional services are offered through M&T Bank Corporation's international subsidiaries. Loans, credit cards, retail and business deposits, and other business and personal banking services and products are offered by M&T Bank, member FDIC.
Facts and views presented in this report have not been reviewed by, and may not reflect information known to, professionals in other business areas of Wilmington Trust or M&T Bank who may provide or seek to provide financial services to entities referred to in this report. M&T Bank and Wilmington Trust have established information barriers between their various business groups. As a result, M&T Bank and Wilmington Trust do not disclose certain client relationships with, or compensation received from, such entities in their reports.
The information on Wilmington Wire has been obtained from sources believed to be reliable, but its accuracy and completeness are not guaranteed. The opinions, estimates, and projections constitute the judgment of Wilmington Trust and are subject to change without notice. This commentary is for information purposes only and is not intended as an offer or solicitation for the sale of any financial product or service or a recommendation or determination that any investment strategy is suitable for a specific investor. Investors should seek financial advice regarding the suitability of any investment strategy based on the investor's objectives, financial situation, and particular needs. Diversification does not ensure a profit or guarantee against a loss. There is no assurance that any investment strategy will succeed.
Past performance cannot guarantee future results. Investing involves risk and you may incur a profit or a loss.
Indexes are not available for direct investment. Investment in a security or strategy designed to replicate the performance of an index will incur expenses such as management fees and transaction costs which would reduce returns.