January 27, 2017—The first reading for fourth-quarter economic growth showed that the economy slowed a bit in quarterly terms, but that the momentum in the second half of the year is intact. The Bureau of Economic Analysis reported real gross domestic product (GDP) increased at an annual rate of 1.9% in the fourth quarter of 2016, a slowdown from 3.5% in the third quarter. Fourth-quarter growth was lower than our expectations of 2.2%, but it shows an overall strengthening of the economy in the second half of 2016 after a slow start. We expect this positive momentum to be carried forward into 2017.
Components of growth
The line in the graph below shows overall GDP growth, while the bars show the percentage contribution from each of the components. Consumer spending¸ the largest part of GDP, slowed a bit from 3% in the third quarter down to 2.5% in the fourth quarter, driven by acceleration in spending on nondurable goods (+2.3%) and a third consecutive double-digit quarter for durable goods spending at 10.9%.
GDP growth and sector contribution and Wilmington Trust forecast(q/q SAAR %)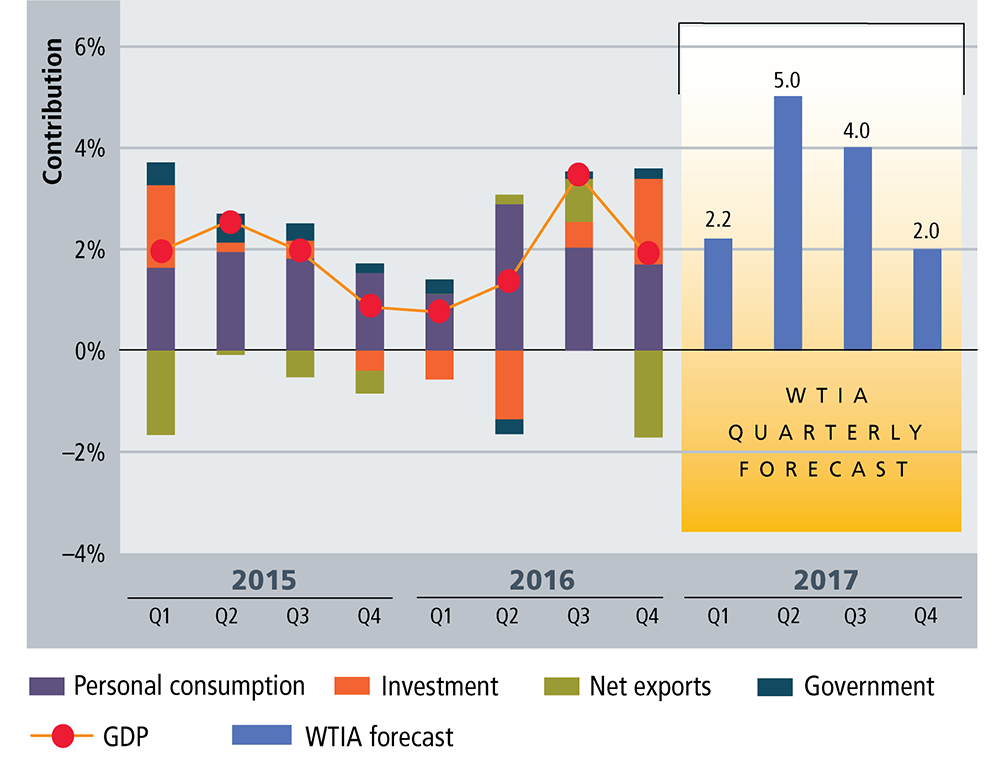 Source: The Bureau of Economic Analysis; WTIA
Business investment was the report's primary bright spot. Capital expenditures by firms have been painfully weak during the recovery, but increased 2.4% in the fourth quarter, the third consecutive acceleration. Add to that new home construction and the overall investment category accelerated from 3% growth in the third quarter to 10.7% for the fourth quarter—the strongest growth since the start of 2013. We expect stronger investment by firms to continue due to wage pressure prompting them to take on more capital expenditures. Business inventories also experienced a strong increase of 1% in the fourth quarter, doubling the 0.5% contribution in the third quarter.
The major detractor from growth in the report was net exports of goods and services, which decreased substantially from a positive contribution of 0.9% in the third quarter to a 1.7% deficit in the fourth quarter. This pullback in the fourth quarter was one of the main contributors to the quarter-over-quarter change. Government spending added modestly to GDP with a 0.4% increase from the previous quarter to a positive 1.2% increase in the fourth quarter.
Second half acceleration
As noted above, the fourth quarter figure was below expectations but does not contradict the storyline of an economy that was accelerating in the second half of last year. Real GDP growth for all of 2016 was disappointing at 1.9%. That is slightly below the post-recession recovery average of 2.2%. But the weakness in 2016 came in the first half of the year when growth was just 1.1%, followed by acceleration in the second half to 2.7%. This dynamic of a first-half slowdown followed by an acceleration is supported by other data including consumer spending, manufacturing orders, inflation, and the Institute for Supply Management's (ISM) surveys of the manufacturing and non-manufacturing sectors. The economy was certainly displaying weakness in the early part of last year and then improved in the second half. The GDP report confirms that assessment.
Core narrative
The slowdown in fourth-quarter GDP is not as bad as it appear at first glance. GDP for the first half of the year averaged only 1.1% while GDP for the second half of the year averaged 2.7%. GDP actually accelerated in the later part of 2016 and we expect this positive momentum to continue going into 2017. We expect consumer spending to be supported by continued, albeit slowing, job growth accompanied by higher wages. Those higher wages are already pushing firms to look for higher productivity through capital expenditures.
Additionally, we expect the Trump administration will be successful in pushing through policies that will promote short-term growth. We believe corporate tax reform, reduced regulation, and a repatriation of earnings held abroad would prompt stronger business investment in 2017. Individual income tax cuts, according to the proposed plan set forward by the Trump administration, would give greater after-tax income to consumers and amplify spending. Additionally, infrastructure spending would add to GDP through government spending, though very little is likely in 2017. Our expectations for higher growth from Trump's policies are tempered by the longer-term damage that will be incurred if the growth policies are deficit-financed. There is also the very real short-term risk that negotiations on international trade could be harmful to growth. All things considered, our growth expectations combined with risks support our position of a small but meaningful overweight to risk assets.
Disclosures
Wilmington Trust is a registered service mark. Wilmington Trust Corporation is a wholly owned subsidiary of M&T Bank Corporation. Investment management and fiduciary services are provided by Wilmington Trust Company, operating in Delaware only, and Wilmington Trust, N.A., a national bank. Loans, retail and business deposits, and other personal and business banking services and products are offered by Manufacturers and Traders Trust Company (M&T Bank), member FDIC. Wilmington Trust Investment Advisors, Inc., a subsidiary of M&T Bank, is a SEC-registered investment adviser providing investment management services to Wilmington Trust and M&T affiliates and clients.
These materials are based on public information. Facts and views presented in this report have not been reviewed by, and may not reflect information known to, professionals in other business areas of Wilmington Trust or M&T Bank who may provide or seek to provide financial services to entities referred to in this report. M&T Bank and Wilmington Trust have established information barriers between their various business groups. As a result, M&T Bank and Wilmington Trust do not disclose certain client relationships with, or compensation received from, such entities in their reports.
The information on Wilmington Wire has been obtained from sources believed to be reliable, but its accuracy and completeness are not guaranteed. The opinions, estimates, and projections constitute the judgment of Wilmington Trust and are subject to change without notice. This commentary is for information purposes only and is not intended as an offer or solicitation for the sale of any financial product or service or a recommendation or determination that any investment strategy is suitable for a specific investor. Investors should seek financial advice regarding the suitability of any investment strategy based on the investor's objectives, financial situation, and particular needs. Diversification does not ensure a profit or guarantee against a loss. There is no assurance that any investment strategy will succeed.
Any investment products discussed in this commentary are not insured by the FDIC or any other governmental agency, are not deposits of or other obligations of or guaranteed by M&T Bank, Wilmington Trust, or any other bank or entity, and are subject to risks, including a possible loss of the principal amount invested. Some investment products may be available only to certain "qualified investors"—that is, investors who meet certain income and/or investable assets thresholds. Past performance is no guarantee of future results. Investing involves risk and you may incur a profit or a loss.
Any positioning information provided does not include all positions that were taken in client accounts and may not be representative of current positioning. It should not be assumed that the positions described are or will be profitable or that positions taken in the future will be profitable or will equal the performance of those described. Positions described are illustrative and not intended as a recommendation outside of a managed account.
Indices are not available for direct investment. Investment in a security or strategy designed to replicate the performance of an index will incur expenses, such as management fees and transaction costs that would reduce returns.
Third party trademarks and brands are the property of their respective owners.
Contact an Expert