December 18, 2018 – Many of our clients are familiar with our economics-led investment process. It is essentially grounded in a view of the economic landscape, which we believe informs and drives financial markets over the long term. We rely heavily on this process to sort through the tremendous amount of news and information we receive on a daily basis and guide our asset allocation advice for our clients, particularly during turbulent markets like the one we are experiencing into the end of 2018. Through the volatility that began in the fourth quarter, we have remained consistent in our view that the economic cycle is not yet over and equities will recover from a challenging few months of performance. As a result, we are maintaining our slight overweight to equities. However, we are reallocating some of our developed market equity risk by reducing the overweight to non-U.S. developed equities and allocating the proceeds to U.S. large cap, where we see more promising risk-adjusted returns over the next twelve months.
There is no question that the financial market landscape has been challenging. U.S. large cap stocks have fallen more than 10% from the highs made in September (U.S. small cap and international equities are down even more), volatility has moved up from 2017's exceptionally low levels (Figure 1), investor sentiment is fragile, and some are questioning whether the U.S. is heading into recession.
Figure 1: Higher Volatility in 2018

Represents standard deviation of daily returns, from January 1958- December 2018 with 2018 annualized.
As of December 12, 2018.
Source: Bloomberg, Standard & Poor's, WTIA.
We expect the U.S. economy to slow from 2018's robust levels but to a GDP growth rate of 2-2.5%, right in line with the expansionary average outside of this year. In our view, U.S. equities have decoupled somewhat from otherwise solid U.S. economic data, including the robust labor market, strong consumer spending, and the manufacturing outlook. For example shown in Figure 2, U.S. equities and the ISM Manufacturing indices have diverged, showing stronger manufacturing growth among a weaker equity market.
Figure 2: S&P 500 and ISM Manufacturing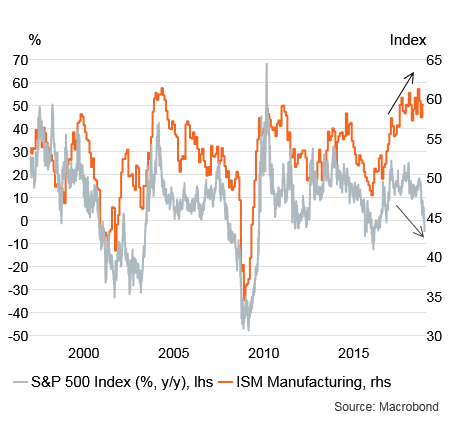 As of December 17, 2018.
Source: Bloomberg, Standard & Poor's, Macrobond
At this point, we think equities—both domestic and international—are pricing in slower growth in 2019 than we are likely to see. The U.S. consumer continues to show strength, both in consumption activity and household balance sheets. Capital expenditure growth has increased this year in the wake of the 2017 Tax Cuts and Jobs Act. Though business investment is at risk of stalling if U.S./China trade tensions are not resolved soon, we expect that it is in the best interest of both countries to come to a resolution before subjecting their economies to the risk of a further sharp deceleration in growth. In short, slowing growth does not necessarily mean recession, and we believe U.S. equities have not peaked for this cycle.
Where our views have changed of late is within developed international equities. Through the course of 2018 we saw a growing divergence between indicators of U.S. versus international economic growth, and equity indices followed suit. We expected that the growth gap would begin to close as non-U.S. data began to recover, and we also felt that non-U.S. valuations were pricing in a very negative outcome when it came to trade and tariffs. We still maintain this view, but the international developed economic data has taken longer to stabilize, and all the while the picture in Europe has become further clouded by risks pertaining to Brexit, Italy's debt, and more recently the "yellow vest" protests in France, which threaten the pace of French President Macron's promised structural reforms. The potential for any of these risks to result in a destabilizing outcome for the Euro area has grown though is still not our base case. We feel that this shifting in the balance of risks makes a neutral allocation to non-U.S. developed equities more appropriate than an overweight versus our strategic benchmark. At the same time, a decline in U.S. valuations from the start of 2018 improves our expectation for future risk-adjust returns, warranting a modest reallocation of 0.75% from non-U.S. developed equities to U.S. large cap.
Core narrative
At this time, our work is suggesting that U.S. growth will slow somewhat from this year, while economic data in emerging markets—China, in particular—should stabilize if Chinese policy makers continue to cushion the impact of tariffs with easier policy, and the U.S. and China come to a benign resolution on trade issues. We believe global equities are oversold, and we remain overweight equities and underweight fixed income versus our long-term strategic benchmark. We see attractive risk/reward tradeoff in both developed and emerging market equities, though our preference within developed has shifted modestly from international to the U.S.
At times of increased market uncertainty, it can be difficult to know where to turn for evidence of what the future may hold. We recognize that volatility can be very unsettling, but we take this opportunity to remain committed to our economics-led investment process and comprehensive wealth planning strategy. Please reach out to your advisor for further discussion or for a customized risk assessment, and we will strive to keep you informed on our latest thinking as we head into the new year.
Disclosures
Wilmington Trust is a registered service mark. Wilmington Trust Corporation is a wholly owned subsidiary of M&T Bank Corporation. Wilmington Trust Company, operating in Delaware only, Wilmington Trust, N.A.,  M&T Bank and certain other affiliates, provide various fiduciary and non-fiduciary services, including trustee, custodial, agency, investment management and other services. International corporate and institutional services are offered through Wilmington Trust Corporation's international affiliates. Loans, credit cards, retail and business deposits, and other business and personal banking services and products are offered by M&T Bank, member FDIC. Wilmington Trust Investment Advisors, Inc. is an SEC-registered investment adviser providing investment management services to Wilmington Trust and M&T Bank affiliates and clients.
These materials are based on public information. Facts and views presented in this report have not been reviewed by, and may not reflect information known to, professionals in other business areas of Wilmington Trust or M&T Bank who may provide or seek to provide financial services to entities referred to in this report. M&T Bank and Wilmington Trust have established information barriers between their various business groups. As a result, M&T Bank and Wilmington Trust do not disclose certain client relationships with, or compensation received from, such entities in their reports.
The information on Wilmington Wire has been obtained from sources believed to be reliable, but its accuracy and completeness are not guaranteed. The opinions, estimates, and projections constitute the judgment of Wilmington Trust and are subject to change without notice. This commentary is for information purposes only and is not intended as an offer or solicitation for the sale of any financial product or service or a recommendation or determination that any investment strategy is suitable for a specific investor. Investors should seek financial advice regarding the suitability of any investment strategy based on the investor's objectives, financial situation, and particular needs. Diversification does not ensure a profit or guarantee against a loss. There is no assurance that any investment strategy will succeed.
Any investment products discussed in this commentary are not insured by the FDIC or any other governmental agency, are not deposits of or other obligations of or guaranteed by M&T Bank, Wilmington Trust, or any other bank or entity, and are subject to risks, including a possible loss of the principal amount invested. Some investment products may be available only to certain "qualified investors"—that is, investors who meet certain income and/or investable assets thresholds. Past performance cannot guarantee future results. Investing involves risk and you may incur a profit or a loss.
Any positioning information provided does not include all positions that were taken in client accounts and may not be representative of current positioning. It should not be assumed that the positions described are or will be profitable or that positions taken in the future will be profitable or will equal the performance of those described. Positions described are illustrative and not intended as a recommendation outside of a managed account. Indices are not available for direct investment. Investment in a security or strategy designed to replicate the performance of an index will incur expenses, such as management fees and transaction costs that would reduce returns.
Third-party trademarks and brands are the property of their respective owners.