May 22, 2020—Just one month has passed since West Texas Intermediate (WTI) crude oil, the U.S. benchmark, moved into uncharted territory and closed the day at a shocking -$37.63/barrel, indicating that owners of a "front month" contract (for delivery of oil in the following month) would have to pay a premium to offload it (as opposed to receiving proceeds from the sale, as is customary). Multiple factors set the stage for this strange phenomenon, which we detailed in our April post "Oil Market Collapse." Notably, the recent price action in WTI, which traded back above $30/barrel for the first time in two months this week, has conveyed a more optimistic view for oil markets. Negative prices were not a concern this month as the supply/demand imbalance that weighed on oil in April reached a critical inflection point, with both sides of the equation improving faster than anticipated. Below we will walk through the key dynamics at play in oil's recovery from April lows and our view on the path forward.
Supply falls faster than anticipated
The predominant driver of lower oil prices in 2020 has been the pandemic's devastating impact on global demand, while excess supply from OPEC (Organization of the Petroleum Exporting Countries) and non-OPEC producers tipped the scale further out of balance. However, over the past few weeks the supply picture brightened materially as OPEC+ (OPEC and allies including Russia) and the U.S., which account for around two-thirds[i] of the world's oil production, pared back output by far more than anticipated.
On May 1, OPEC+'s agreement to cut production by 9.7 million barrels per day (bpd) officially went into effect. Given the extent of demand destruction from the pandemic (estimated by the International Energy Agency or IEA to decline by as much as 19.9 million bpd year over year (y/y) in 2Q 2020, per their May report), the OPEC+ deal initially underwhelmed investors despite its historic magnitude. However, last week Saudi Arabia surprised the market by pledging to deliver additional voluntary cuts of 1 million bpd beyond its pro-rata share starting in June. Other Gulf producers followed suit, with Kuwait and the UAE adding a combined 180,000 bpd to the pool of voluntary curtailments, and in just two days' time the largest coordinated production cut in history increased by 12%. Furthermore, high frequency data has signaled that OPEC+ producers are complying with the agreement at a high level, which has not always been the case. Over the 30 days ending May 11, Kpler, a company that tracks global oil flows, estimates that OPEC+ oil shipments declined by 6.3 million barrels per day—a sharp drawdown that signaled the group is on track to hit its May targets.
Across the Atlantic, low oil prices forced price-sensitive U.S. producers, even the largest and best capitalized players, to shutter unprofitable wells and put new projects on hold. During the 1Q 2020 earnings season, oil majors Exxon, Chevron, and ConocoPhillips announced plans to cut back production by more than 600,000 barrels per day, combined. The resulting collapse in U.S. oil production has been far larger than expected. According to Citi, U.S. oil production is expected to decline by 2.3 million bpd (or 18%) in May from March levels, and weekly data have confirmed the immense scale of curtailments taking place. Baker Hughes's weekly rig count, a census of the number of active oil drilling rigs in North America, has dropped more than 60% since mid-March to its lowest level in over a decade. In its monthly oil report, the IEA estimates that global oil supply will drop to 88 million bpd in May, a nine-year low, and that the U.S. will be the largest individual contributor to this reduction across all countries.
WTI crude oil's recovery from April lows and timeline of key events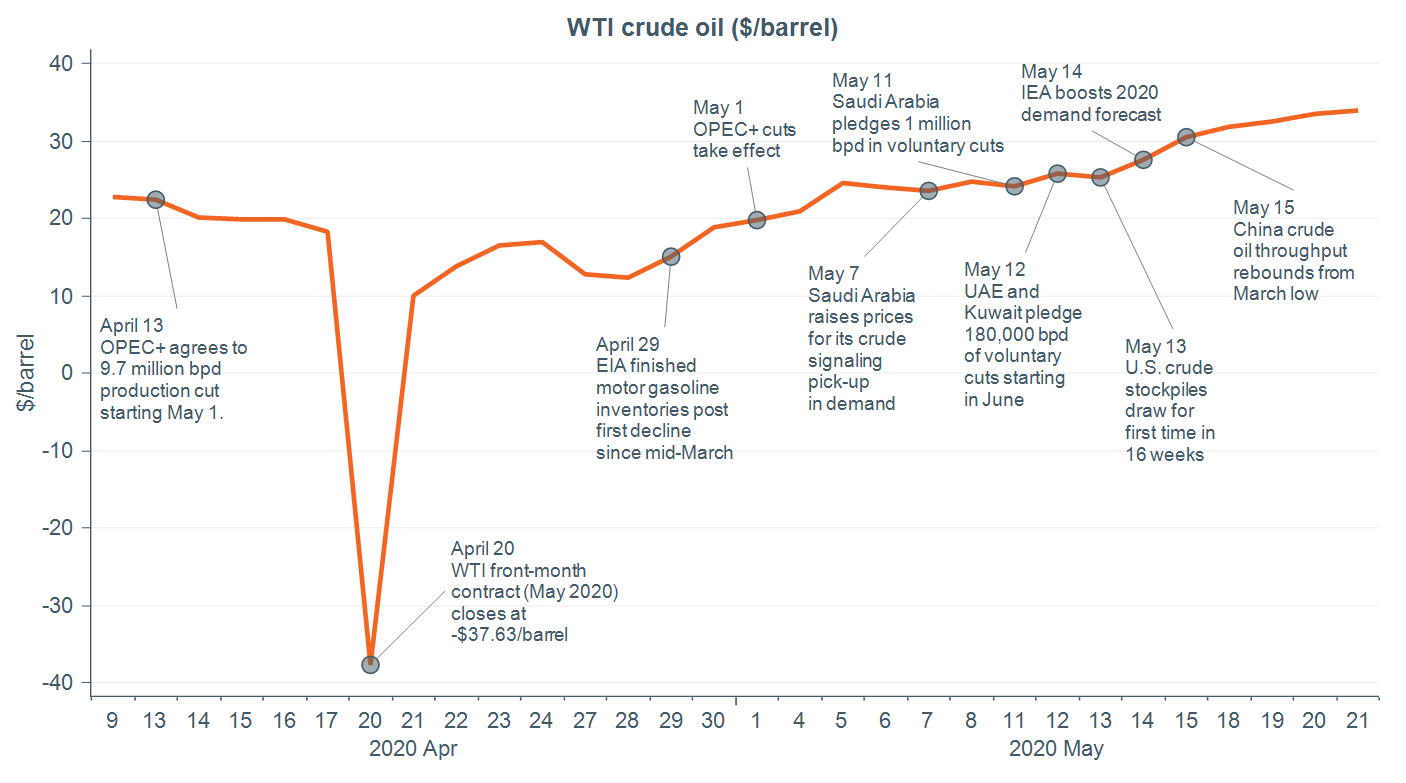 Source: Macrobond. Data as of May 20, 2020.
Fuel demand showing signs of life as countries ease restrictions
On the demand front, gradual easing of lockdown restrictions across the world is beginning to support a recovery in oil consumption. According to Bloomberg data, China, the world's second-largest oil consumer and the first country to recover from the pandemic, saw oil consumption rebound in mid-May to roughly 13 million bpd, just shy of the 13.4 million bpd consumption figures recorded one year ago. This has been the result of commuters returning to the roads and factories reopening. Better-than-expected mobility across OECD (Organisation for Economic Cooperation and Development)  countries prompted the IEA to revise its estimates for global oil demand in 2Q 2020 upward by 3.2 million bpd, while in the U.S., the Energy Information Administration's (EIA) weekly report (for the week ending May 15) showed gasoline supplied (implied demand) down 28% y/y, but increasing over five of the last six weeks. The modest pickup in demand combined with steeper-than-expected production declines led to a contraction in weekly U.S. oil inventories for the first time since January. Cushing, Oklahoma, the main delivery hub for WTI crude, where storage had reached 83% of working capacity (according to the EIA), also saw storage utilization decline for the first time since February, alleviating some of the concerns that pushed oil prices into negative territory in April.
While motor gasoline is experiencing an uptick in demand, jet fuel, which contributes nearly 10% of global oil demand is an important piece of the puzzle that has yet to show much of a recovery. Consumption is well below normal as the bulk of consumers remain reluctant to fly. According to the EIA, U.S. jet fuel demand is still down almost 60% y/y, and the Transportation Security Administration's daily passenger throughput shows traffic over 90% below pre-crisis levels. The International Air Transport Association does not expect to see air travel traffic return to 2019 levels until 2023.
While overall demand has shifted in a positive direction, the path forward depends on two factors that are unknowable at this point: first, the pace of economic recovery, which depends on the development of vaccines and medical treatment and whether the reopening of economies is successful (i.e., does not lead to a second wave of new cases); and second, whether the pandemic permanently alters the behaviors and processes of consumers and businesses in a way that requires less physical travel and hence structurally lowers demand for fuel. Until we have further clarity on these two points, it will be difficult to surmise the path ahead for oil.
Core narrative:
Recent improvement in consumption and larger-than-expected drawdowns in global production have helped oil prices rebound sharply from April lows. Stabilization in the price of oil is helpful for overall market stability and may also be a sign that the worst of the oil demand shock is behind us. However, the future for oil and commodities more broadly depends heavily on the path of recovery from COVID-19 and when economies revert to pre-pandemic levels of activity – both of which are unpredictable at this point. At this time we hold an underweight to commodities in client portfolios and an equal-weight to energy in our sector strategy.
[i] Energy Information Administration (EIA), Joint Organizations Data Initiative (JODI). Data as of March 2020.
Disclosures
Wilmington Trust is a registered service mark used in connection with various fiduciary and non-fiduciary services offered by certain subsidiaries of M&T Bank Corporation including, but not limited to, Manufacturers & Traders Trust Company (M&T Bank), Wilmington Trust Company (WTC) operating in Delaware only, Wilmington Trust, N.A. (WTNA), Wilmington Trust Investment Advisors, Inc. (WTIA), Wilmington Funds Management Corporation (WFMC), and Wilmington Trust Investment Management, LLC (WTIM). Such services include trustee, custodial, agency, investment management, and other services. International corporate and institutional services are offered through M&T Bank Corporation's international subsidiaries. Loans, credit cards, retail and business deposits, and other business and personal banking services and products are offered by M&T Bank, member FDIC.
Facts and views presented in this report have not been reviewed by, and may not reflect information known to, professionals in other business areas of Wilmington Trust or M&T Bank who may provide or seek to provide financial services to entities referred to in this report. M&T Bank and Wilmington Trust have established information barriers between their various business groups. As a result, M&T Bank and Wilmington Trust do not disclose certain client relationships with, or compensation received from, such entities in their reports.
The information on Wilmington Wire has been obtained from sources believed to be reliable, but its accuracy and completeness are not guaranteed. The opinions, estimates, and projections constitute the judgment of Wilmington Trust and are subject to change without notice. This commentary is for informational purposes only and is not intended as an offer or solicitation for the sale of any financial product or service or a recommendation or determination that any investment strategy is suitable for a specific investor. Investors should seek financial advice regarding the suitability of any investment strategy based on the investor's objectives, financial situation, and particular needs. Diversification does not ensure a profit or guarantee against a loss. There is no assurance that any investment strategy will succeed.
Past performance cannot guarantee future results. Investing involves risk and you may incur a profit or a loss.
©2020 M&T Bank Corporation and its subsidiaries. All rights reserved.