August 31, 2020 — Citing a debilitating health condition, Shinzo Abe has resigned as Japan's Prime Minister (PM) after eight years in office, and with one year remaining before the next general election. His resignation becomes effective once his Liberal Democratic Party (LDP), the dominant political party in Japan, selects a successor. During his eight years in office, PM Abe's government had pursued policies that promoted corporate earnings growth and shareholder returns. In 2020, Abe adjusted some of these policies to address the economic costs of COVID-19, although for Japan, the virus has been much less impactful than in many other countries. Abe's most likely successor will be someone who has served as a minister in Abe's government. We expect that his successor will continue to pursue these policies prior to the 2021 general election, and afterward, if the LDP prevails. This Wilmington Wire briefly surveys these policies.
Japanese-domiciled stocks are highly dependent on sales to North America, Europe, and elsewhere in Asia. Some of these sales involve exports from Japan and some involve production from overseas plants. PM Abe's government has made great efforts to advance the interests of Japanese companies in the Asia-Pacific region, North America, and Europe. After President Trump withdrew from the Trans-Pacific Partnership early in his term, PM Abe took the lead, working with Australia, Canada, and other partners, to bring into effect a revised version of the free trade agreement, called the Comprehensive and Progressive Agreement for Trans-Pacific Partnership (CPTPP). PM Abe had also negotiated and brought into effect a free trade agreement with the European Union. Lastly, through his personal relationship with President Trump, PM Abe has been able to forestall trade disputes with the United States. We expect that Japan will continue to advance such leadership. If there is a change in U.S. administration, we would anticipate Japan will coax the U.S. to join the CPTPP.
Many Japanese firms have long exercised technological leadership in their industries; pursuing automation in order to maintain productivity in the face of the country's population decline. These firms have also benefited from partnerships with government agencies and universities. Under PM Abe, the Japanese government launched Society 5.0 to support participation of Japanese firms in the areas of artificial intelligence (AI), internet-of-things (IOT), big data, and other fields. While the government has framed Society 5.0 in terms of promoting human welfare, the program also helps these firms maintain a global competitive edge against Chinese firms, that are supported by Beijing.
Improved corporate governance
Despite the reach of global trade and many areas of technological leadership, Japanese firms have, on average, historically generated surprisingly meager equity returns and weak earnings growth. This has been due to weak corporate governance. Entrenched executives who control corporate boards of directors, have foregone independent directors who might very well provide proper oversight. This has led to bureaucratic inertia. Companies would build up cash hoards rather than make potentially productive capital investments or, alternatively, distribute cash to shareholders through dividends or insider buybacks. To address the corporate governance problem, PM Abe's government promulgated a Governance Code to make companies more accountable to shareholders. The Code requires more extensive use of independent directors and reduces cross-shareholdings, whereby profitable companies bolstered unprofitable ones. Additionally, the government exhorted firms to target higher levels of returns-on-equity (ROE), which requires deployment of cash for capital investments or distribution to shareholders. To reinforce the Governance Code, the government instituted a Stewardship Code to encourage institutional investors to invest in companies improving their corporate governance. Institutional Investor Services (ISS), which votes proxies, began to recommend rejecting management proposals made by companies with inadequate board oversight and where ROE had not reached 5% (a high ratio for many Japanese stocks but meager for U.S. stocks). Additionally, the index provider Nikkei established a JSX-Nikkei 400 Index that includes only stocks meeting certain profitability criteria. Inclusion in this index signifies a "seal of approval," which has attracted capital into such stocks. As a result of these measures, shareholder activism and private equity activities have both increased, as firms have spun off unprofitable subsidiaries. Japanese firms have made considerable progress on corporate governance, due to these efforts. Corporate profits were on the rise until COVID-19 struck. We expect continued progress on corporate governance under a new PM.
Traditionally, participation by Japanese women, even highly educated women, in the workforce has been lower than for other advanced economics. Additionally, Japan has long had restrictive immigration policies. These conditions have constrained the size of the workforce. As a result, many Japanese manufacturers have offshored large parts of their production. PM Abe's government has tried to encourage growth of the domestic labor force. It opened child care facilities in order to increase the female labor participation rate, introduced paternity leave, and offered preferential contracting treatment for firms with higher female workforce participation. The government also granted work visas to a large number of expatriates. As a result, there are now a significant number of non-Japanese individuals working in the headquarters of Japanese firms. These policies have worked, to a degree. We expect Abe's successor to continue to promote such policies.
Japan's hyper-accommodative monetary policy
Unusually, the Bank of Japan (BOJ) has a policy of purchasing Japanese equity exchange-traded funds (ETFs). This has provided direct support for Japanese stock prices. Additionally, the BOJ's bond purchases target a zero long-term bond yield, which, in turn, lowers the corporate financing costs for companies considering a capital investment. Also, while the BOJ has not been able to reach its 2% inflation target, it did manage (prior to COVID-19) to bring inflation above zero, helps companies sustain prices and profit margins. Because of COVID-19, the BOJ has started lending to small businesses. It should be noted that the BOJ is less independent than central banks in other countries. PM Abe has worked very closely with BOJ Governor Haruhiko Kuroda. We expect pro-equity BOJ policies to persist under a new PM, especially given the expected long-lasting impact of COVID-19. The BOJ is concerned about the value of the yen, even though its influence over the currency's value is limited. Monetary expansion can weaken the yen, helping Japanese exporters, but only if the BOJ is more accommodative than foreign central banks. Moreover, investors and speculators consider the yen to be a safe-haven currency during periods of global equity market volatility. They will often sell euro, sterling, and other currencies, driving up the value of the yen, only to reverse their currency transactions when volatility subsides. It is possible that a future BOJ governor might try to do more in an effort to control such yen fluctuations.
COVID-19 pause in fiscal austerity
Japan has long had a massive public debt, by any standard debt-burden measure. However, few have been worried about the debt. The debt is held by Japanese citizens through pension plans and postal savings schemes in addition to other ways. Moreover, the BOJ has been willing to seemingly purchase an unlimited volume of bonds, pushing rates down to zero. Nevertheless, the government is deeply worried about a time when its cost of borrowing might suddenly rise. This is what had driven the Abe government's propensity toward fiscal austerity, including its decision to impose a consumption tax in the fall of 2019. The tax led to a sharp GDP contraction, which the government expected would be brief. But then COVID-19 hit, compounding the contraction. The government then reversed itself on austerity and approved a massive fiscal expansion program. We expect Abe's immediate successors to continue spending heavily in order to help bridge the divide between the Japanese economy and a post-COVID-19 recovery. However, such spending will ultimately leave the public debt burden much higher. This increases the potential magnitude of future austerity, likely by whichever government is formed after the 2021 general election. Thus, Japanese businesses that rely on domestic personal consumption face a long-term risk.
Greater regional defense profile
For many decades, Japanese firms have been able to benefit from a growing Asia-Pacific economy due in part to the low probability of regional conflict as well as to the country's military alliance with the United States. However, in recent years, China and North Korea have become greater threats. Japan and China have maritime disputes in the East China Sea. Japan is also an interested party in regional maritime disputes in the South China Sea. North Korea has fired missiles over Japanese territory. Understanding these threats, the Abe government has gradually built a formidable military and has developed loose defense partnerships with Australia and India, each of whom is also concerned about China. We tend to believe that Japan's military build-up and alliances will serve to deter potential Chinese and North Korean aggression, although this is not guaranteed.
Core narrative
Thanks at least in part to PM Abe's policies, Japanese equities have somewhat outperformed European equities over the last five years (see Figure 1). While our tactical asset allocation (TAA) continues to be underweight equities overall, we are neutral on developed-country equities. This neutral weight is driven largely by our relatively favorable forward-looking view toward European equities, as Japan represents only one-quarter of the MSCI EAFE index. The actions of PM Abe's successor would no doubt also influence our weighting.
Figure 1: Japan's policies have helped strengthen Japanese equities
MSCI Japan Index vs. MSCI Europe Index: Total Return Indexes (Last 3 years)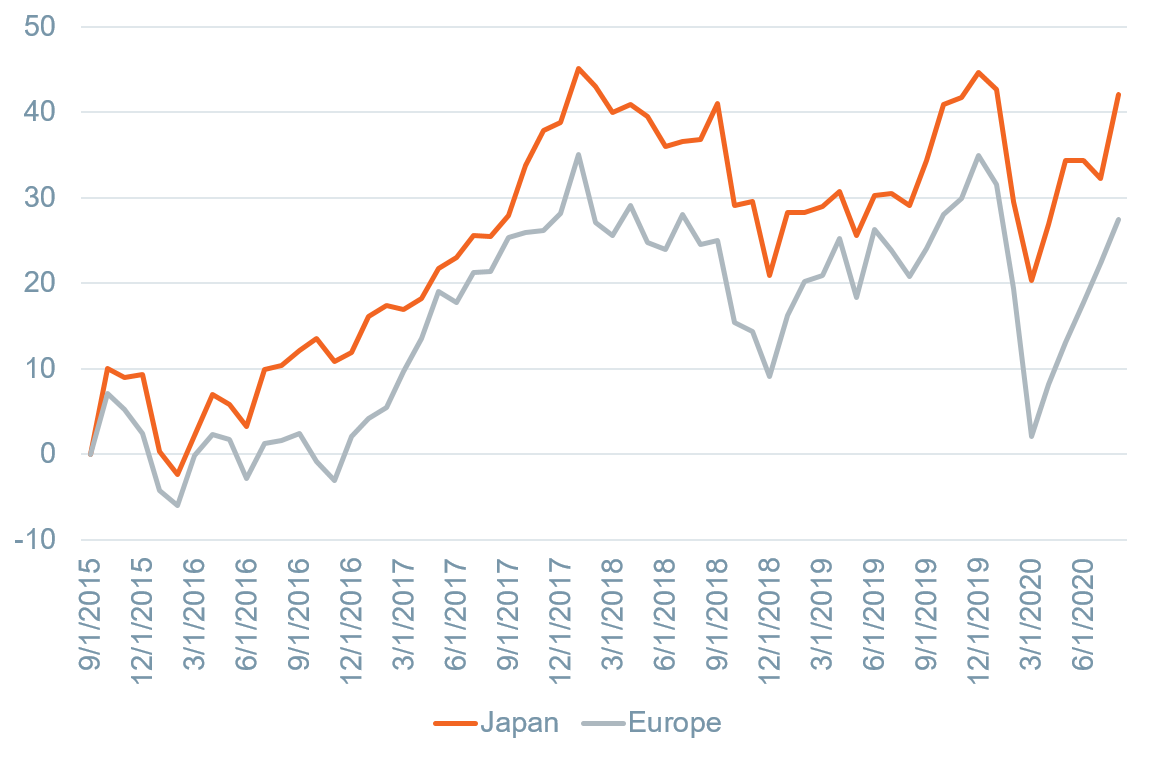 Data as of August 28, 2020. Source: Bloomberg.
Past performance cannot guarantee future results. Indexes are not available for direct investment.
Disclosures
Wilmington Trust is a registered service mark used in connection with various fiduciary and non-fiduciary services offered by certain subsidiaries of M&T Bank Corporation including, but not limited to, Manufacturers & Traders Trust Company (M&T Bank), Wilmington Trust Company (WTC) operating in Delaware only, Wilmington Trust, N.A. (WTNA), Wilmington Trust Investment Advisors, Inc. (WTIA), Wilmington Funds Management Corporation (WFMC), and Wilmington Trust Investment Management, LLC (WTIM). Such services include trustee, custodial, agency, investment management, and other services. International corporate and institutional services are offered through M&T Bank Corporation's international subsidiaries. Loans, credit cards, retail and business deposits, and other business and personal banking services and products are offered by M&T Bank, member FDIC.
Facts and views presented in this report have not been reviewed by, and may not reflect information known to, professionals in other business areas of Wilmington Trust or M&T Bank who may provide or seek to provide financial services to entities referred to in this report. M&T Bank and Wilmington Trust have established information barriers between their various business groups. As a result, M&T Bank and Wilmington Trust do not disclose certain client relationships with, or compensation received from, such entities in their reports.
The information on Wilmington Wire has been obtained from sources believed to be reliable, but its accuracy and completeness are not guaranteed. The opinions, estimates, and projections constitute the judgment of Wilmington Trust and are subject to change without notice. This commentary is for informational purposes only and is not intended as an offer or solicitation for the sale of any financial product or service or a recommendation or determination that any investment strategy is suitable for a specific investor. Investors should seek financial advice regarding the suitability of any investment strategy based on the investor's objectives, financial situation, and particular needs. Diversification does not ensure a profit or guarantee against a loss. There is no assurance that any investment strategy will succeed.
Past performance cannot guarantee future results. Investing involves risk and you may incur a profit or a loss.
Indexes are not available for direct investment.
©2020 M&T Bank Corporation and its subsidiaries. All rights reserved.