August 5, 2020—Chinese stocks, as captured by the MSCI China Index, have risen and comprise almost 40% of the market capitalization of the MSCI Emerging Markets Index. This Wilmington Wire addresses a question that has been posed by some investors: Should investors carve China out of their emerging markets allocation?
There are two sets of investors asking this question. First are investors who note the qualitative differences between the composition of the Chinese equity market and other emerging markets, particularly those outside Asia. While Chinese stocks are dominated by "new economy" e-commerce, internet-related, and technology stocks, those in other emerging markets (Korea and Taiwan excepted) are dominated by cyclical stocks, such as banks, energy, metals, and other "old economy" industrials. Investors in this category also wonder if it makes sense to continue to treat China, now an economic superpower, as an emerging market. As a result, these investors may believe it makes sense to have two separate strategic allocations, one for China and one for the rest of emerging markets.
The second set of investors view China exposure as a political risk concern, noting the growing strategic rivalry and conflict between China and the United States. These investors are aware of Beijing's control and support for strategic industries, particularly in the technology field, and the role such enterprises play in disputes between China and the U.S. when it comes to technology, intellectual property, and trade. They also note China's posture on Hong Kong and other strategic issues. These wary investors are concerned about the political risk of investing in China and may seek to sidestep China while continuing to invest in other emerging markets.
Our view is that a China carve-out from the emerging markets asset class is both unnecessary and undesirable for a number of reasons:
First, it is certainly possible to invest in China without investing in state-owned enterprises or those directly associated with strategic activities. Many publicly traded Chinese stocks have ongoing business operations that are not strategic in nature and have widely distributed ownership. Such stocks, including mega-cap e-commerce and internet-related stocks, comprise the bulk of the MSCI China Index by market capitalization.
Second, many active emerging market managers purposefully avoid investing in state enterprises. They consider state control to be a corporate governance risk, whether in China or in any other emerging market. They know that state enterprises often pursue policy mandates other than maximization of risk-adjusted returns. A conflict of interest between a controlling shareholder, in this case the government, and minority shareholders is a paramount example of a corporate governance risk. Consequently, active managers usually avoid investing in Chinese enterprises that are controlled by Beijing. They will also avoid stocks directly exposed to international disputes over technology, intellectual property, trade, or Hong Kong.
Third, blanket avoidance of Chinese stocks would necessitate foregoing investment in rapidly growing Chinese e-commerce and internet-related stocks, such as Alibaba, Tencent, and a host of others. These stocks have provided some of the largest excess return contributions in the emerging markets asset class. If investors in international markets had foregone such stocks in recent years, they would have underperformed emerging market indexes. The U.S. analogy would be to forego investing in FANG+ stocks, which have been among the best-performing U.S. stocks. If anything, the long-term revenue trajectory for these Chinese stocks is likely higher than for their U.S. equivalents, given that the Chinese economy offers a better prospect of higher consumer demand growth than the U.S. economy.
Fourth, we believe that China, Hong Kong's own business establishment, and the U.S. (as well as its European and Pacific allies) ultimately share the same broad objective of maintaining Hong Kong's important role in Asian regional business and offshore finance. Beijing's introduction of a new national security law has helped to quell disturbances that have seriously disrupted Hong Kong's local economy and created market doubt about Hong Kong's stability. However, the U.S., UK, Australia, and others are concerned that the national security law may trigger serious human rights abuses and erode Hong Kong's common law and judiciary. They have introduced deterrence measures: suspension of extradition treaties and special trade status, an offer of permanent residency status to some Hong Kong residents, and targeted sanctions on security-related organs and individuals that may become involved in abuses.
Fifth, we do not believe that investors would face disruptions if U.S. government threats to de-list Chinese ADRs were carried out. Chinese stocks have long been traded on the Hong Kong Exchange through H-Shares. That vehicle is available to Chinese companies who de-list their ADRs. Additionally, investors can access stocks listed on the Shanghai and Shenzhen Exchanges through the "Connect" programs that link those exchanges to the Hong Kong Exchange. The upcoming IPO for Jack Ma's Ant Financial, which could be the largest IPO in emerging markets history, will involve dual listing in Shanghai and Hong Kong, with no ADR. Given the central role played by the Hong Kong Exchange, it is perhaps not surprising that the company that runs the Hong Kong Stock Exchange has recently been one of Asia's best-performing stocks.
Sixth, an allocation to emerging markets (ex-China) may expose investors too heavily to cyclical "old economy" stocks, such as oil and gas, mining, and "smokestack" industrials, rather than to "new economy" stocks. It also leaves investors more exposed to currency depreciation, which reduces the U.S. equivalent return. Currencies such as the Brazilian real, Indian rupee, South African rand, and Russian ruble have historically demonstrated a long-term trend of currency depreciation, while the Chinese renminbi has not.
Seventh, we believe a China-only allocation would not only expose investors to single-country economic and political risks but also to the single-company risks of a handful of Chinese e-commerce and internet-related stocks.
Eighth, and finally, while there are well-established vehicles for investing only in Chinese stocks, the vehicles established for investing in emerging markets ex-China are very new, with little assets under management so far. Investors would have to combine specific ETFs for the countries with the largest country market capitalizations, such as Brazil, India, South Africa, and Russia.
Core narrative
Currently, we are slightly underweight emerging markets in our tactical asset allocation, as part of our overall underweight to global equities. Given China's almost 40% weight in the index, it is fair to say that our views on Chinese developments color our views on the asset class. Accordingly, we are carefully watching economic, political, financial, and other developments in China. Within emerging markets, our active managers make stock selections and portfolio construction decisions regarding the specific countries, industries, and stocks in which they invest.
Emerging markets, % of market cap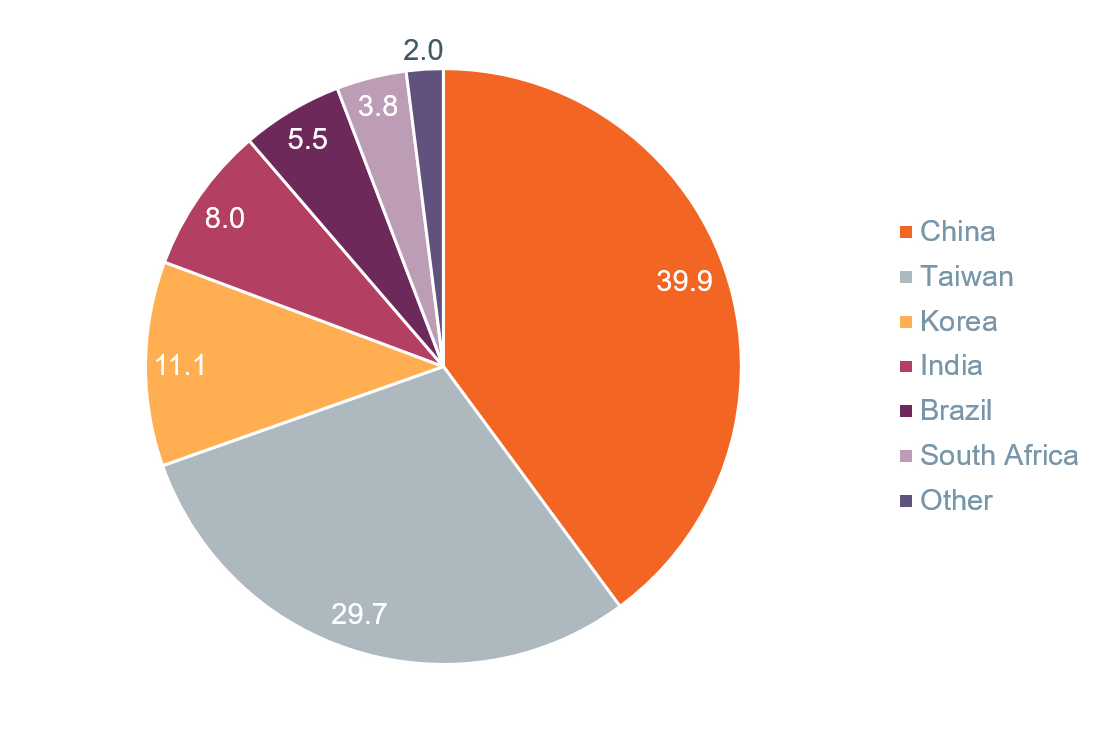 Source: Bloomberg. Data as of August 3, 2020.
Disclosures
Wilmington Trust is a registered service mark used in connection with various fiduciary and non-fiduciary services offered by certain subsidiaries of M&T Bank Corporation including, but not limited to, Manufacturers & Traders Trust Company (M&T Bank), Wilmington Trust Company (WTC) operating in Delaware only, Wilmington Trust, N.A. (WTNA), Wilmington Trust Investment Advisors, Inc. (WTIA), Wilmington Funds Management Corporation (WFMC), and Wilmington Trust Investment Management, LLC (WTIM). Such services include trustee, custodial, agency, investment management, and other services. International corporate and institutional services are offered through M&T Bank Corporation's international subsidiaries. Loans, credit cards, retail and business deposits, and other business and personal banking services and products are offered by M&T Bank, member FDIC.
Facts and views presented in this report have not been reviewed by, and may not reflect information known to, professionals in other business areas of Wilmington Trust or M&T Bank who may provide or seek to provide financial services to entities referred to in this report. M&T Bank and Wilmington Trust have established information barriers between their various business groups. As a result, M&T Bank and Wilmington Trust do not disclose certain client relationships with, or compensation received from, such entities in their reports.
The information on Wilmington Wire has been obtained from sources believed to be reliable, but its accuracy and completeness are not guaranteed. The opinions, estimates, and projections constitute the judgment of Wilmington Trust and are subject to change without notice. This commentary is for informational purposes only and is not intended as an offer or solicitation for the sale of any financial product or service or a recommendation or determination that any investment strategy is suitable for a specific investor. Investors should seek financial advice regarding the suitability of any investment strategy based on the investor's objectives, financial situation, and particular needs. Diversification does not ensure a profit or guarantee against a loss. There is no assurance that any investment strategy will succeed.
Past performance cannot guarantee future results. Investing involves risk and you may incur a profit or a loss.
Indexes are not available for direct investment.
©2020 M&T Bank Corporation and its subsidiaries. All rights reserved.