March 2, 2017— Headlines announcing new record highs in the U.S. equity markets seem to be happening almost daily. While this is certainly good news given our positioning favoring equity markets, we have to stop and ask where this leaves market stability as prices stretch ever higher. Given the seemingly endless disarray emanating from Washington, and the important role the new administration is thought to have played in this rally, it is important to understand where the strength is coming from in this market. Digging below the surface, we conclude that there is more to this market than the expectations around the new administration, as there is a fairly sound foundation beneath it as well.
The foundation underpinning this market comes from the so-called "reflation trade." Behind this is the view that the economy made a significant shift during 2016 between a world that is worried about "deflation" and potentially lower prices to a new environment that features sustained, but hopefully modest, upward pressure on prices. More importantly, this pressure on prices could become the source of stronger economic growth. Important to our analysis is the fact that this trend was actually in place well before the election last November and for the most part is continuing to take place irrespective of what Mr. Trump does or does not do. Supporting this theory, economic and financial market data has been steadily improving. A year ago as GDP fell below 1% growth rates at the end of 2015 and into the beginning of 2016, fears of recession were beginning to form. However, growth rates recovered moving back above 2.7% over the second half of 2016. The earnings recession that corporations suffered through during much of 2015 and early 2016, has come to a conclusion with year-over-year earnings growth turning positive in the 3rd quarter last year, followed by further advances between 6-7% to be reported for the final quarter of 2016. Figure 1 shows the U.S. Manufacturing PMI, which captures elements of both the economic and earnings story in the manufacturing sector as the index started sinking back in 2014 before bottoming in early 2016 and starting to show better performance as 2016 ended.
Figure 1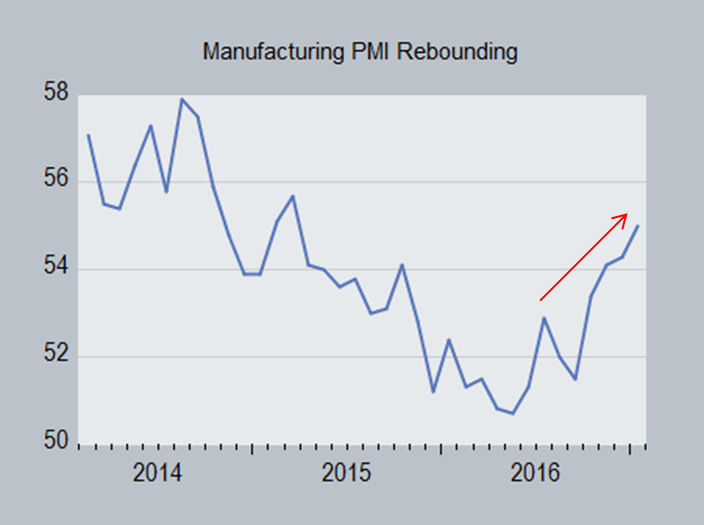 Source: Bloomberg
The daily stream of current news reports detailing the problems the Trump Administration is having trying to get their feet on the ground may help the TV ratings of the news channels but they are largely noise when it comes to what is important to financial markets. Tax reform is probably the leading issue for the financial markets but replacing the Affordable Care Act (ACA) and achieving an improved regulatory environment for business follows closely behind. Furthermore, these issues are also critical Republican issues meaning that achieving success in these areas is vitally important to the Republican leadership outside of the White House. Ultimately this means that the White House and Republican members of the Senate and House all have a stake in seeing tax reform succeed. This motivation may be one of the most important elements that will help keep this effort glued together.
The specific reforms that will be made are still taking shape between the White House, Senate, and House. The fact that these key players have not coalesced around a single plan is not alarming as the effort is still just getting started. President Trump will address a joint session of Congress on February 28 and we may learn more about his thoughts at that time. No doubt staff members have been working behind the scenes on the various alternatives which, despite the heavy lifting still to be done, have allowed Senator Portman (R) of Ohio who chairs the Senate Finance Committee's subcommittee on taxation, to publicly comment that he expects tax reform to be completed this summer.
This has left markets to rely on the promise of what is to come as opposed to the reality. And the promise is not small! Making estimates of the impact on corporate earnings is more art than science given the lack of specifics but several rough cuts from Wall Street analysts are pointing towards increases of 10-15% in per share earnings for the S&P 500.
Getting back to our original question, the place where the equity markets become most vulnerable revolves around the potential failure of the President and the Republican-led Congress to agree on a framework for tax reform. Some portion of the 10-15% earnings gain has probably been factored into the market and withdrawing it could be momentarily expensive. However, given the importance of this issue to the parties involved, we expect that this effort will ultimately move forward.
Core narrative
Our positioning favoring equity markets is perhaps one of our most significant investment themes, so understanding the market dynamics supporting this is critical. As markets reach new highs, the question becomes; are they getting to be too expensive and vulnerable to a setback? We believe that there are strong fundamental factors at work supporting the market that have come into play as the "reflation trade" has taken hold. Efforts to achieve tax reform are also critical to keeping markets moving forward and while there are political risks that this could fail, there are strong motivations for the key players to accomplish this reform thus providing further support to our overall view.
Disclosures
Wilmington Trust is a registered service mark. Wilmington Trust Corporation is a wholly owned subsidiary of M&T Bank Corporation. Investment management and fiduciary services are provided by Wilmington Trust Company, operating in Delaware only, and Wilmington Trust, N.A., a national bank. Loans, retail and business deposits, and other personal and business banking services and products are offered by Manufacturers and Traders Trust Company (M&T Bank), member FDIC. Wilmington Trust Investment Advisors, Inc., a subsidiary of M&T Bank, is a SEC-registered investment adviser providing investment management services to Wilmington Trust and M&T affiliates and clients.
These materials are based on public information. Facts and views presented in this report have not been reviewed by, and may not reflect information known to, professionals in other business areas of Wilmington Trust or M&T Bank who may provide or seek to provide financial services to entities referred to in this report. M&T Bank and Wilmington Trust have established information barriers between their various business groups. As a result, M&T Bank and Wilmington Trust do not disclose certain client relationships with, or compensation received from, such entities in their reports.
The information on Wilmington Wire has been obtained from sources believed to be reliable, but its accuracy and completeness are not guaranteed. The opinions, estimates, and projections constitute the judgment of Wilmington Trust and are subject to change without notice. This commentary is for information purposes only and is not intended as an offer or solicitation for the sale of any financial product or service or a recommendation or determination that any investment strategy is suitable for a specific investor. Investors should seek financial advice regarding the suitability of any investment strategy based on the investor's objectives, financial situation, and particular needs. Diversification does not ensure a profit or guarantee against a loss. There is no assurance that any investment strategy will succeed.
Any investment products discussed in this commentary are not insured by the FDIC or any other governmental agency, are not deposits of or other obligations of or guaranteed by M&T Bank, Wilmington Trust, or any other bank or entity, and are subject to risks, including a possible loss of the principal amount invested. Some investment products may be available only to certain "qualified investors"—that is, investors who meet certain income and/or investable assets thresholds. Past performance is no guarantee of future results. Investing involves risk and you may incur a profit or a loss.
Any positioning information provided does not include all positions that were taken in client accounts and may not be representative of current positioning. It should not be assumed that the positions described are or will be profitable or that positions taken in the future will be profitable or will equal the performance of those described. Positions described are illustrative and not intended as a recommendation outside of a managed account.
Indices are not available for direct investment. Investment in a security or strategy designed to replicate the performance of an index will incur expenses, such as management fees and transaction costs that would reduce returns.
Third party trademarks and brands are the property of their respective owners.
Contact an Expert