June 8, 2018— Global investors view European elections, referenda, and other changes of government through a market lens: To what degree are these political developments favorable or unfavorable for markets? The surprise 2016 BREXIT referendum outcome was, of course, market negative. French, German, and Dutch elections in 2017 were all positive, in that they produced centrist pro-European Union (EU) governments. Italy's recently formed coalition of left- and right-wing parties is a negative for markets, in that the coalition is unstable and both parties have maintained ambiguous positions toward the EU and euro. (See our recent blog post, "Is Italy about to say 'ciao' to the euro?".)
However, another contemporaneous European political development is positive for markets. On June 1, control over the Spanish government passed from Mariano Rajoy's center-right Popular Party (PP) to Pedro Sanchez's center-left Socialist Party (SP). We expect that SP rule will be favorable for markets and that the new elections will bring to power the even market-friendlier Citizen's Party. Given that Spanish stocks constitute a larger share of European market capitalization than Italian (4.9% versus 3.6%, respectively), global investors would likely see favorable Spanish political developments as partially offsetting the considerable uncertainties associated with Italy's new coalition government. We view the balance of political developments across Europe as supporting a continuing albeit trimmed overweight to European and, to international developed stocks more broadly, of which European stocks is the largest component.
Rajoy years—austerity, recovery, and turmoil
Rajoy's PP government came to power in the December 2011 elections, at the height of the eurozone debt crisis. Rajoy's government replaced the SP government of Jose Luis Zapatero, which had been profligate with spending and borrowing. Through cooperation with the EU, European Central Bank, and International Monetary Fund, Rajoy conducted aggressive fiscal austerity and economic adjustment. After several years, the program pushed along the economy from recession to recovery and improved bank solvency and liquidity. Spanish stocks performed well as the economy recovered, including those stocks (such as Banco Santander, BBVA, Telefonica, and Inditex) which, during the local recession, had diversified to include Latin America and beyond.
The SP watched Rajoy's economic adjustment program largely from the sidelines. It could not criticize an austerity program that its own unsustainable policies had made inevitable—nor, as a pro-euro party, could it challenge Rajoy's cooperation with the EU. Finding no home in the SP, anti-austerity forces organized a radical-left grouping, the Union Podemos (UP). Additionally, the Citizens' Party (CP) arose to present a centrist alternative. Subsequent to June 2016 elections, a vote of confidence confirmed Rajoy's government in power. Although PP won only 134 of the 350 seats in the parliament, the CP contributed 32 seats, and the SP instructed its 84 votes to abstain, providing more "yes" than "no" votes.
In the two years since the June 2016 elections, the economy has further recovered, taking wind out of the UP's anti-austerity sails. However, Rajoy has been criticized for using paramilitary forces to depose the Catalan regional government after it had declared independence, as well as for engaging in semi-authoritarian policing and prosecutorial tactics. The CP has benefited from unease with Rajoy, as its platform emphasizes not just anti-corruption, but also personal liberty and a willingness (given its roots and popularity in Catalonia) to tackle the Catalan situation. One notably positive feature of the Rajoy years is that, despite significant North African immigration and difficult economic adjustment, no stridently anti-migrant party has emerged in Spain, as has been the case in Italy and France.
Tipping point
By May 2018, a political tipping point was reached; first, Catalans elected yet another pro-independence regional government. Catalan President Quim Torra immediately called for negotiations with Madrid regarding independence, but Rajoy rebuffed his request. Second, Spain's high court convicted former senior PP officials of corruption-related crimes that had been committed during 1999–2006. Rajoy was criticized for questioning the relevance of these convictions for his current government. Although SP party leader Pedro Sanchez controlled only 84 seats in the Congress, he called for a vote of no confidence in Rajoy's government, which won by just 13 votes, 180–167. To achieve that outcome, Sanchez solicited 67 "no" votes from UP, 17 from pro-independence Catalan parties, seven votes from Basque parties, and five from other parties. While Sanchez sought to portray the outcome as a victory for the SP and for himself personally, the reality is that the UP and regional parties were voting against Rajoy rather than voting for Sanchez.
Our expectations
On taking the oath of office, Prime Minister Sanchez promised to hold elections well before the constitutional June 2020 deadline. We expect that he will try to wait as long as possible, in order to rebuild the SP's political support. There is no question that Sanchez will be pro-EU and pro-euro. One of his first moves was to hire a senior EU official, Nadia Calvino, as his economy minister. We believe that his government will join others in the EU, including France and Italy, in seeking a loosening of Maastricht budget restrictions, even while supporting the EU's larger efforts to produce greater political and economic integration.
Our view is that there is a high probability that Sanchez himself would face a no-confidence vote, forcing early elections, either in fall 2018 or early 2019. The threat to Sanchez' rule comes mainly from the Catalan independence parties. One of the new PM's first orders of business will be to respond to Catalan President Torra's call for new negotiations over independence. This is just as challenging an issue for SP as for PP, since public opinion outside Catalonia is overwhelmingly opposed to independence. If the pro-independence parties view Sanchez as equally inflexible as Rajoy, they will withdraw support, forcing an early election.
Since the June 2016 elections, Spanish public opinion has dramatically shifted. As you can see in Figure 1, current opinion polling suggests the CP would place first in a new election, drawing support that would previously have gone to the now-diminished PP. The CP's platform and messaging is clearly resonating with the Spanish public, including Catalans. The CP government would require significant additional vote contributions from other parties, the CP or SP, plus Catalans.
Spain: opinion polling, % of respondents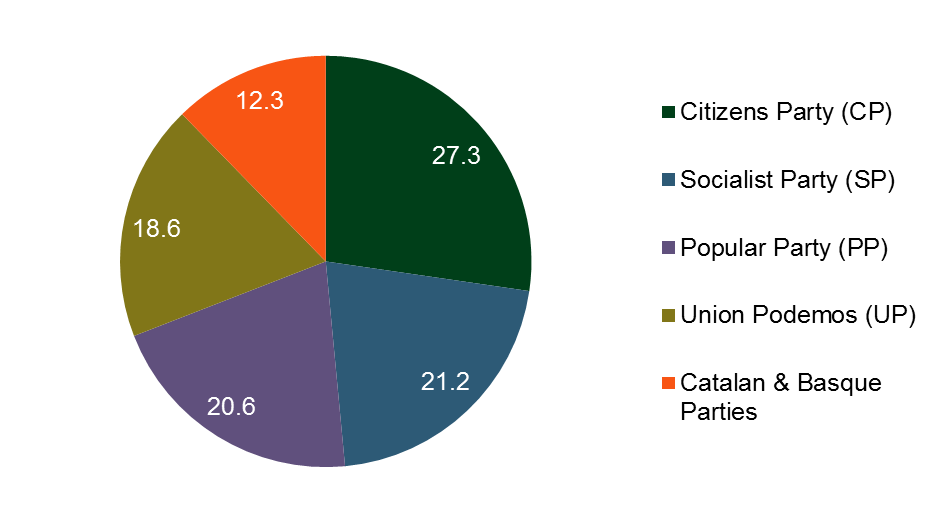 Source: Average of 7 polls taken May 1–June 2, 2018 : Electopanel, Invymark, Impop, Sociometric, NC Report, Simple Logica, Metroscopia and WTIA
Core narrative
Credit is due Mariano Rajoy's PP government for turning around Spain's economy and finances since the height of the eurozone debt crisis. The June 1, 2018 no-confidence vote represents a symbolic end to a difficult chapter in Spain's economic history. The new SP government is pro-euro and market-friendly. We expect new elections in the fall of 2018 or early 2019 that will bring to power a new government led by the market-friendly Citizen's Party. Given that Spanish stocks constitute a larger share of European market capitalization than Italian, global investors would likely see favorable Spanish political developments as partially offsetting the considerable uncertainties associated with Italy's new coalition. The balance of political developments across Europe supports a continuing albeit trimmed overweight to European and broader international developed equities.
Disclosures
Wilmington Trust is a registered service mark. Wilmington Trust Corporation is a wholly owned subsidiary of M&T Bank Corporation. Wilmington Trust Company, operating in Delaware only, Wilmington Trust, N.A., M&T Bank and certain other affiliates, provide various fiduciary and non-fiduciary services, including trustee, custodial, agency, investment management and other services. International corporate and institutional services are offered through Wilmington Trust Corporation's international affiliates. Loans, credit cards, retail and business deposits, and other business and personal banking services and products are offered by M&T Bank, member FDIC. Wilmington Trust Investment Advisors, Inc. is an SEC-registered investment adviser providing investment management services to Wilmington Trust and M&T Bank affiliates and clients.
These materials are based on public information. Facts and views presented in this report have not been reviewed by, and may not reflect information known to, professionals in other business areas of Wilmington Trust or M&T Bank who may provide or seek to provide financial services to entities referred to in this report. M&T Bank and Wilmington Trust have established information barriers between their various business groups. As a result, M&T Bank and Wilmington Trust do not disclose certain client relationships with, or compensation received from, such entities in their reports.
The information on Wilmington Wire has been obtained from sources believed to be reliable, but its accuracy and completeness are not guaranteed. The opinions, estimates, and projections constitute the judgment of Wilmington Trust and are subject to change without notice. This commentary is for information purposes only and is not intended as an offer or solicitation for the sale of any financial product or service or a recommendation or determination that any investment strategy is suitable for a specific investor. Investors should seek financial advice regarding the suitability of any investment strategy based on the investor's objectives, financial situation, and particular needs. Diversification does not ensure a profit or guarantee against a loss. There is no assurance that any investment strategy will succeed.
Any investment products discussed in this commentary are not insured by the FDIC or any other governmental agency, are not deposits of or other obligations of or guaranteed by M&T Bank, Wilmington Trust, or any other bank or entity, and are subject to risks, including a possible loss of the principal amount invested. Some investment products may be available only to certain "qualified investors"—that is, investors who meet certain income and/or investable assets thresholds. Past performance is no guarantee of future results. Investing involves risk and you may incur a profit or a loss.
Any positioning information provided does not include all positions that were taken in client accounts and may not be representative of current positioning. It should not be assumed that the positions described are or will be profitable or that positions taken in the future will be profitable or will equal the performance of those described. Positions described are illustrative and not intended as a recommendation outside of a managed account.
Indices are not available for direct investment. Investment in a security or strategy designed to replicate the performance of an index will incur expenses, such as management fees and transaction costs that would reduce returns.
Third-party trademarks and brands are the property of their respective owners.