March 25, 2020—The flurry of recent news suggests a grim picture for employment in the near term as mitigation measures are put in place to control the spread of COVID-19, including social distancing and temporary business closures. These have led to a significant number of workers furloughed or laid off as business revenues have dropped drastically for a number of industries, particularly in the service sector. Marriott is reportedly furloughing tens of thousands of workers without pay (though with benefits) and restaurant groups like Danny Meyer's Union Square Hospitality group has laid off 80% of its staff, impacting nearly 2,000 employees. Hundreds of retail stores from Apple to Lululemon to Nordstrom have announced temporary store closures and employee furloughs, though many of the companies are offering some pay for workers until planned re-openings, most of which are targeted for the end of the month. The impact on workers has spread beyond just the service sector as well, with reports of auto manufacturers, including GM, Ford, and Chrysler all closing production plants temporarily. GE's jet engine business and Haliburton have also announced layoffs and furloughs, respectively.
As a result, initial jobless claims made headlines last week, surging by 70,000 in the week ending March 14, from near multi-decade lows to 281,000, the highest level since September 2017 when Hurricane Harvey hit. This was the largest one-week increase in initial claims since 2012, and larger than any one-week increase during the Global Financial Crisis. Several states specifically cited COVID-19 impacts in the latest data. By industry, states reported service sector layoffs broadly, and specifically in accommodation and food services, as well as transportation and warehousing.
Going forward, we expect to see a massive spike in unemployment claims that will be released this week. And it's possible we'll also see staggering figures in the number of people unemployed, given the news flow on furloughs and layoffs, but they may not be fully reflected in the upcoming March employment report (to be released on April 3). We would expect these to be more fully incorporated in the April report (to be released on May 8). Although the data might not seem to be in sync with one another, the nuances of the data help explain why.
Initial jobless claims are expected to rocket higher in Thursday's release
The spike in claims was the first reflection of the outbreak's impact on the jobs market but is only a hint at what is ahead. Data on initial jobless claims measure the number of people newly collecting unemployment insurance benefits under a state or federal government program on a weekly basis (while continuing claims measure those who have been collecting unemployment insurance on an ongoing basis). These data are released with a one-week lag and are some of the most timely and leading indicators on the health of the labor market.
Anecdotal reports from states last week noted a surge in new applications for unemployment insurance (in some cases causing outages of application websites). Along with ongoing corporate announcements of new layoffs and furloughs, initial jobless claims for the week ending March 21 (to be released Thursday, March 26), are expected to spike from current elevated levels of 281,000. The median consensus estimate for initial claims is 1.5 million. This would be a record high and would be nearly double the 1982 high of 695,000 (Figure 1). The expected jump in claims would also be the largest one week increase in the history of the data by far, with the current largest weekly increase on record occurring in July 1992 (+172,000) during a General Motors shutdown.
Figure 1: Initial jobless claims expected to spike to record levels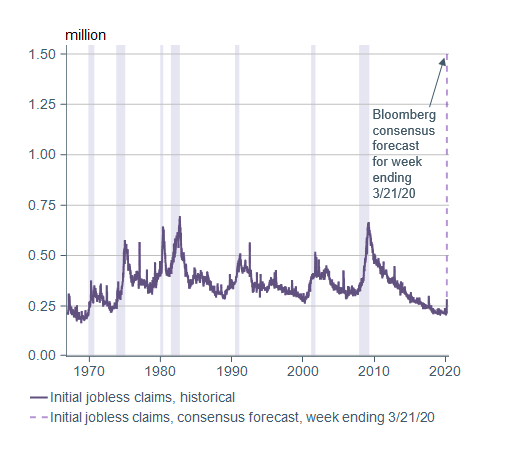 Data as of: March 23, 2020. Sources: Department of Labor, Macrobond, Bloomberg.
 Surge in claims will likely not be fully reflected in the March employment report (to be released on April 3), but that does not mean the labor market is out of the woods
Despite the surge in initial jobless claims this Thursday, we would not expect to see the impact to come through in full force to the unemployment rate in next week's jobs report for two reasons:
Timing of data collection for the March employment report suggests it will not fully reflect the surge in claims expected later this week
It may seem natural that unemployment insurance claims would be used to calculate the more widely followed unemployment rate released in the monthly employment reports. However, this is not the case. Although the word "unemployment" is used for both unemployment insurance as well as the unemployment rate, they are two different concepts and come from different data sources. Unemployment insurance is a program for individuals recently separated from a job, under specific conditions, and who had been paying into the program. 
The unemployment rate is derived from the Bureau of Labor Statistics conducting a survey of households to collect data (often dubbed the household survey) to gauge how many people are working and how many are looking for work, which is then used to calculate the unemployment rate. In addition, it surveys companies (often referred to as the establishment survey) to calculate the number of nonfarm payrolls on firms' books, or more simply: job growth. 
These surveys are conducted during the week that includes the 12th of each month (the reference week), data for the March employment report will have been collected prior to the large surge in furloughs and layoffs that have occurred only in more recent days (with most starting around March 15).
This means both unemployment rate and nonfarm payrolls to be released on April 3 will capture any households who say they lost a job by the middle of the month, roughly comparable with the jump in claims of +70,000 seen through the week ending March 14 (+70,000 initial claims to a level of 281,000). However, the millions of people shut out of their jobs in the latter half of March filing for unemployment insurance reflected in Figure 1 will likely not figure into the unemployment rate. This suggests that next week's jobs report is likely to show a labor market as being (misleadingly) stronger than might be suggested by current news flow due to data collection timing.
Timing will be key to the employment numbers going forward as well. If the current level of furloughs and layoffs persist during the reference week in April (week including the 12th of the month), we are likely to see a much more drastic climb in the unemployment rate and hit to nonfarm payrolls. However, if there is sudden dramatic improvement in conditions, and firms are able to maintain payrolls and return furloughed employees to work by the week of April 12, the current spike in claims would not be reflected in the employment report for April (though this is not our base case). 
The downward impact of furlough announcements on March nonfarm payrolls will be dependent on whether firms are paying employees during the period
There is a possible disconnect between the job growth numbers and the unemployment rate. While the unemployment rate calculations count furloughed workers as unemployed (whether or not they are paid), those same furloughed workers are still counted on nonfarm payrolls if they are being paid during any part of the reference period (week including the 12th of the month).  Though not all employers are paying their workers during their furlough period, a number of large employers are currently  planning to pay employees for scheduled shifts. These workers will still be counted as part of nonfarm payrolls, suggesting the dent to nonfarm payrolls would be less harsh than might be suggested by the media reports. However, if the current level of store closures persists into April, it seems less likely that even large firms would have the capacity to continue paying workers, pointing to downward pressure on payrolls in future months. 
Scale of labor market disruption going forward will depend crucially on the speed and efficacy of health, monetary, and fiscal policies
When thinking about potential labor market outcomes in response to a shock to the economy, it is common to look back at history to get a sense of the potential outcomes. The Great Recession of 2007–2009 is the most immediate, and most severe in modern history, having precipitated the loss of nearly 8.7 million jobs from peak employment in January 2008 to its trough in February 2010, while the unemployment rate spiked from a low of 4.4% in May 2007, to a high of 10.0% in October 2009.
While the job losses during the Great Recession were massive, they were spread out over the course of two years, and the recession was driven by internal economic imbalances. The current downturn in activity differs in that it has been triggered by an external, noneconomic shock, one that that has hit economic activity with unprecedented speed, annihilating revenues for a large number of companies in a very short time period, particularly in the service industry, which accounts for just over 70% of employment. Given the number of moving parts that are crucial to resolving the current shock to the economy and the difficulty in predicting the health related outcomes in particular, we recently published our framework for analyzing potential economic outcomes based on various scenarios (Covid-19 and the Economy: How Bad Could it Get?). As we note in that publication, we expect many sectors to feel the impacts of the current COVID-19 outbreak, in particular, those highlighted in orange in Figure 2 below.
Figure 2: Employment by industry as of February 2020,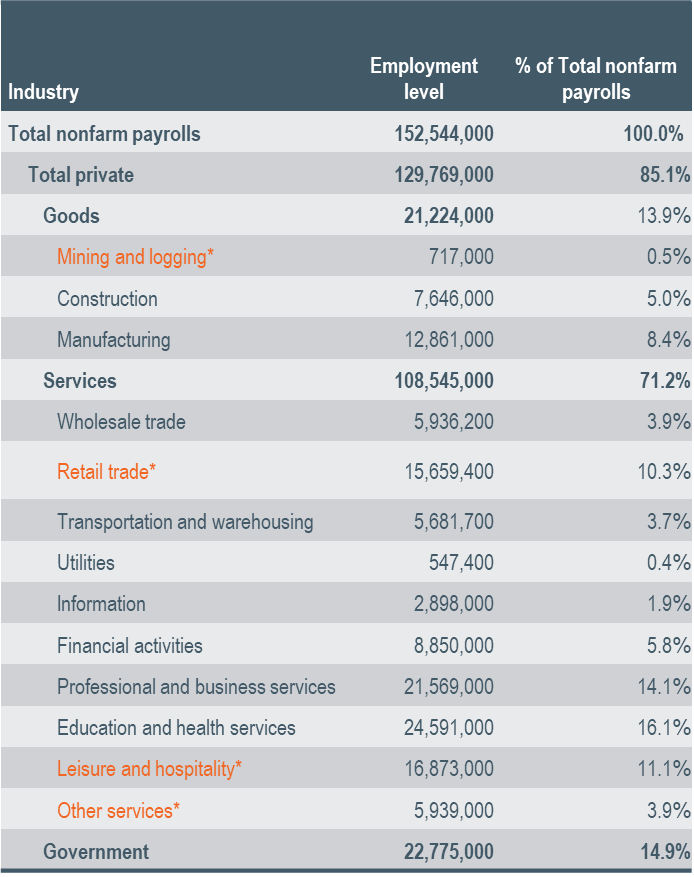 * Industries expected to be hardest hit by COVID-19 outbreak and drop in energy prices
Data as of: February 29, 2020. Sources: Bureau of Labor Statistics, WTIA.
Jobs in the leisure and hospitality sector are expected to take the most drastic hit in the near term, as travel, gatherings of large groups, and eating out at restaurants and bars have been sharply curtailed, both because of government recommendations, and also due to individuals taking precautions on their own against contracting the disease. While retail jobs had already been on the decline due to the ongoing transition toward online retailing, job losses will likely be accelerated by the COVID-19 shock, and fewer workers will likely be rehired even after activity rebounds. "Other services," which include personal services such as salon and fitness services, as well as membership associations and repair and maintenance, are also likely to come under pressure as individuals avoid close contact with others. In addition, the recent plunge in oil prices is expected to hit energy sector jobs, which fall under the mining and logging category. These are sectors where we would expect job losses to exceed those seen during the Great Recession, if the duration of the mitigation measures and health concerns were to extend out six months, given the unique nature of the current shock. We also note that employees of small businesses, which account for roughly half of total employment, are likely to be more vulnerable to job losses in the near term, given the drastic hit to balance sheets, and the less ample cash buffers these companies are likely to have compared to large companies.
Though we would still expect on net to see job losses in the economy on the whole, the impacts of the virus on some sectors of the labor market may actually boost job creation. In the transportation and warehousing industry for example, companies like Amazon and Walmart have reported that they will hire additional workers to meet the surge in demand, likely offsetting some of the layoffs that would be expected in other areas such as airlines or rail travel.  Employment in sectors like healthcare would be expected to see gains as well.
The longer the duration of the mitigation measures, the more starkly the labor market will feel its impacts. As an example, assuming sharp declines in the labor force over a one-month horizon in leisure and hospitality, more moderate declines in retail, other services, and mining and logging industries, and mild declines in construction and manufacturing, suggest that job losses could mount to roughly 5.6 million over the period, implying an unemployment rate of close to 7%. We would stress, however, that if Congress's and the Federal Reserve's efforts to extend credit and prevent a prolonged downturn are successful, this could be a short-term spike in unemployment. In a protracted scenario, however, job losses could be more severe than those seen during the Great Recession given the unprecedented scale of the reduction in activity due to health (rather than purely economic) related concerns.
Core narrative
The scale of disruption in labor markets will depend acutely on the ability of health policy to contain the outbreak quickly and of government and Federal Reserve policy to help companies and individuals bridge the gap until restrictions in activity are lifted and individuals feel comfortable from a health perspective returning to normal consumption patterns. While the Federal Reserve is using nearly every tool it has used in the past, including during the Great Recession (and has created a host of new ones never used), both the real economy and markets are depending on government measures to help provide more direct aid to companies and individuals. Any further delay on the part of policy makers could result in companies being unable to "bridge the gap" in being able to meet payroll and other expenses due to lack of revenues, resulting in a waterfall of further layoffs. 
Although we expect the employment data to deteriorate further in the near term, we would note that U.S. equity markets have already moved significantly to the downside, in line with the median pullbacks seen during past recessions (~32%) and typically begin to recover roughly 6 to 9 months ahead of the real economy. We believe an underweight position in U.S. large-cap equities is appropriate at this time. We continue to monitor developments closely and stand ready to adjust portfolios, as we look for signs of a deceleration in the number of new daily cases of infection, more clarity around the extent and duration of mitigation measures, and improved signals on market leadership and positioning.
Disclosures
Wilmington Trust is a registered service mark used in connection with various fiduciary and non-fiduciary services offered by certain subsidiaries of M&T Bank Corporation including, but not limited to, Manufacturers & Traders Trust Company (M&T Bank), Wilmington Trust Company (WTC) operating in Delaware only, Wilmington Trust, N.A. (WTNA), Wilmington Trust Investment Advisors, Inc. (WTIA), Wilmington Funds Management Corporation (WFMC), and Wilmington Trust Investment Management, LLC (WTIM). Such services include trustee, custodial, agency, investment management, and other services. International corporate and institutional services are offered through M&T Bank Corporation's international subsidiaries. Loans, credit cards, retail and business deposits, and other business and
personal banking services and products are offered by M&T Bank, member FDIC. 
Facts and views presented in this report have not been reviewed by, and may not reflect information known to, professionals in other business areas of Wilmington Trust or M&T Bank who may provide or seek to provide financial services to entities referred to in this report. M&T Bank and Wilmington Trust have established information barriers between their various business groups. As a result, M&T Bank and Wilmington Trust do not disclose certain client relationships with, or compensation received from, such entities in their reports.
The information on Wilmington Wire has been obtained from sources believed to be reliable, but its accuracy and completeness are not guaranteed. The opinions, estimates, and projections constitute the judgment of Wilmington Trust and are subject to change without notice. This commentary is for information purposes only and is not intended as an offer or solicitation for the sale of any financial product or service or a recommendation or determination that any investment strategy is suitable for a specific investor. Investors should seek financial advice regarding the suitability of any investment strategy based on the investor's objectives, financial situation, and particular needs. Diversification does not ensure a profit or guarantee against a loss. There is no assurance that any investment strategy will succeed.
Past performance cannot guarantee future results. Investing involves risk and you may incur a profit or a loss.
© 2020 M&T Bank Corporation and its subsidiaries. All rights reserved.