March 7, 2018 – Recent fluctuations in markets, including large single-day declines, have served as a reminder to investors that markets don't always march steadily upward and that drawdowns can be swift and violent. Most notable were market declines early last month when on Monday, February 5, and Thursday, February 8, the S&P 500 fell by 4.10% and 3.75%, respectively. One might argue this return of volatility, albeit potentially temporary, may be long overdue as we have seen historically low volatility for an extended period of time. Figure 1 below shows measures of the VIX Index, a popular gauge of the stock market's expectation of volatility. The VIX Index was particularly low in 2017, leading up to its recent spike. In fact, since January 1, 1990, the VIX Index has closed below 10 on 61 separate occasions, with 52 (85%) of these days occurring in 2017.
Investors' recent experiences watching major market indices whip from sharply negative to abruptly positive over the course of just a few days has caused some to pull a portion of their portfolios out of the market, witnessed by the reduction in assets in the SPDR S&P 500 Trust ETF (SPY) shown in Figure 1.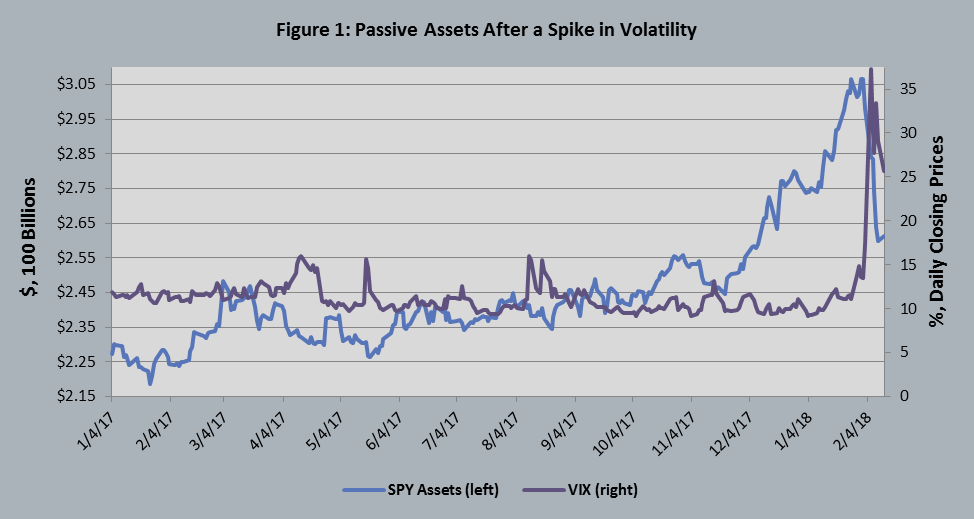 Source: Morningstar
Staying invested, however, can be particularly crucial at times of heightened volatility, with accelerated selling often occurring at just the wrong time. What's more, market timing, or trying to time trading activities to occur at the market's peaks and troughs, is very difficult and puts one at risk of missing a market rally. Figure 2 below shows how big the impact would have been had an investor not been invested in the S&P 500 on its 25 best days since 1970.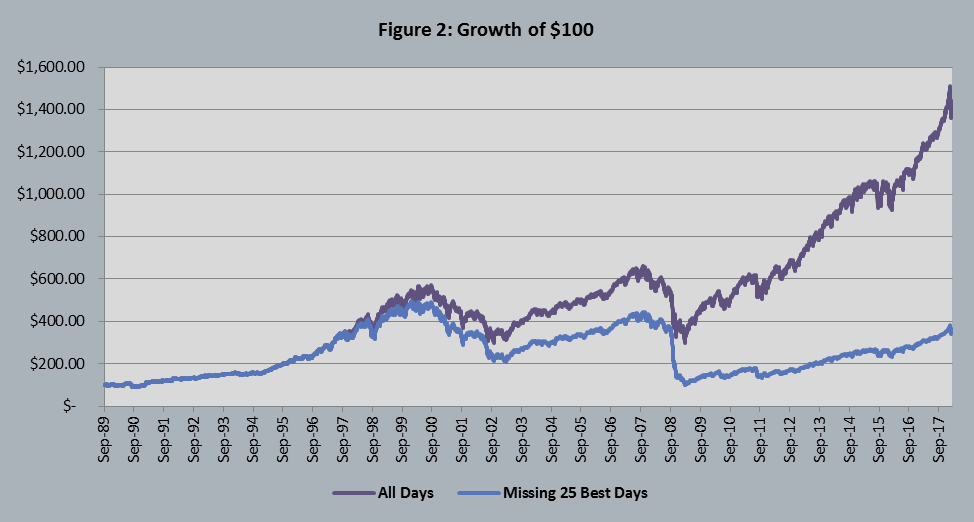 Source: Morningstar, WTIA
For illustration purposes only. Indices are not available for direct investment. Investment in a security or strategy designed to replicate the performance of an index will incur expenses, such as management fees, taxes and transaction costs that would reduce returns. Past performance does not guarantee future results. Performance includes reinvestment of dividends and capital gains.
Liquid alternatives can help keep cautious investors, who might otherwise take their money out of the market, stay invested during periods of market volatility. Many of these investment strategies are designed to be effective "protectors" of capital during market drawdowns as illustrated in Figure 3. Liquid alternatives can be defined as mutual funds or exchange-traded funds that pursue strategies outside of traditional long-only stock and bond portfolios. Historically, they have provided a smoother ride with less beta exposure to traditional markets, focusing instead on generating alpha that can act as an uncorrelated return stream and may actually produce gains at times when traditional asset classes like equities and bonds are down.
Alternative funds have unique risks and characteristics, which you should understand before you invest. This and other important information can be found in the fund's prospectus and shareholder reports.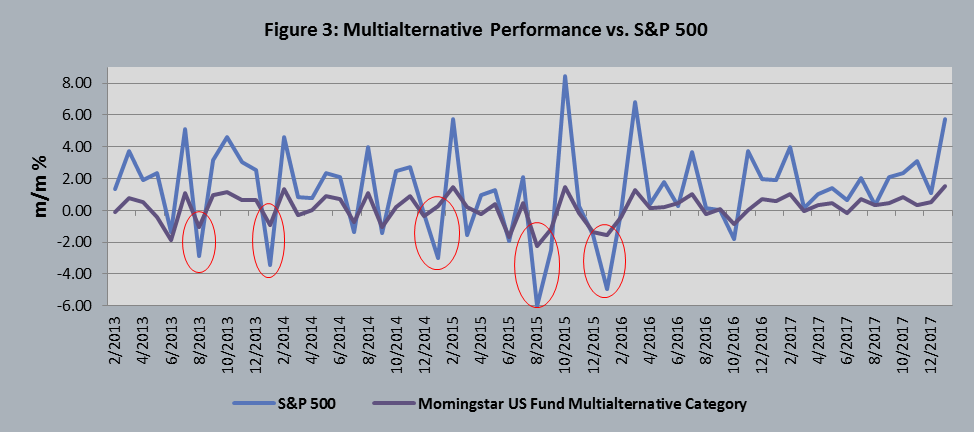 Source: Morningstar
Some investors have already started to move assets into liquid alternative funds, either leading up to the recent volatility increase and market drawdown or during this time period, and we believe that liquid alternatives may be an appropriate component of certain portfolios. However, before purchasing these types of investments, a rigorous manager research effort is required to identify strategies with the highest potential for successful outcomes. While there are managers running true hedge fund strategies in mutual fund structures, there are many liquid alternative funds that do not offer true diversification. As further discussed in analyst Jordan Strauss' article, "A tale of two alternatives," in our July 2017 Capital Perspectives, we approach liquid alternatives by looking for certain key characteristics. We look for strategies that produce true alternative beta exposure and generally have lower expense ratios. We also seek liquid alternative managers with appropriate scale, which we believe better positions them to create an advanced investment infrastructure, trade sophisticated strategies, and attract highly talented investment teams.
Through a rigorous due diligence process, we have sourced several liquid alternative strategies for our platform of external investment managers. We categorize these strategies as either directional hedged strategies or absolute hedged strategies. Typically, absolute hedged strategies have lower historical and expected correlation to traditional assets, like equities and bonds. During a recent drawdown period from January 29 through February 8, the S&P 500 was down 10.12%. On average, our absolute hedged strategies were down 3.2% (net of fees) over that same time period.*
Please contact your Wilmington Trust representative for further information on available liquid alternative strategies and whether they may be suitable for your portfolio.
Core narrative
Our assessment of the early February market drawdown remains that it was a correction. We believe the economy continues to be in an expansion and it is prudent to maintain portfolios in such an environment. Liquid alternatives can play an important role in portfolios, where appropriate, as they can help investors stay invested, while often providing meaningful protection during market drawdowns and a smoother ride amid heightened volatility.
*The average 10 day return for the drawdown period from January 29, 2018 through February 8, 2018 was calculated by Wilmington Trust Investment Advisors for the purpose of demonstrating performance during a recent period of market decline and is provided here for illustrative purposes only. Performance information used in this calculation was provided by Morningstar. Performance data does not reflect the deduction of the sales load of fee, and that, if reflected, the load of fee would reduce the performance quoted. Past performance does not guarantee future results.
Important Information
The performance data quoted represents past performance; that past performance does not guarantee future results; that the investment return and principal value of an investment will fluctuate so that an investor's shares, when redeemed, may be worth more or less than their original cost; and that current performance may be lower or higher than the performance data quoted.
Investors should understand that liquid alternative strategies may use a wide variety of investment objectives, leverage relatively complex investment and trading strategies, may have higher expenses than traditional mutual funds, and limited performance history. Investors should also research the fund manager's professional experience and management history. These risks can be discussed with your investment advisor or by reviewing the fund prospectus and shareholder reports.
Definitions:
S&P 500, is an American stock market index based on the market capitalization of 500 large companies with common stock listed on either the NYSE or the NASDAQ. Index components are determined by S&P Dow Jones Indices. It is a free-float capitalization-weighted index.
VIX Index, short for the CBOE Volatility Index, is a popular measure of the stock market's expectation of volatility implied by S&P 500 index options. It is calculated and published by the Chicago Board Options Exchange.
Alpha: A measure of the difference between a portfolio's actual returns and its expected performance, given its level of risk as measured by beta. A positive Alpha figure indicates the portfolio has performed better than its beta would predict. In contrast, a negative Alpha indicates the portfolio has underperformed, given the expectations established by beta
Beta, is a measure of the fund's sensitivity to market movements. It measures the relationship between a fund's return and a market benchmark.
SPY: SPDR S&P 500 Trust ETF, a unit investment trust traded on the New York Stock Exchange that seeks to track the S&P 500
.
Disclosures
Wilmington Trust is a registered service mark. Wilmington Trust Corporation is a wholly owned subsidiary of M&T Bank Corporation. Wilmington Trust Company, operating in Delaware only, Wilmington Trust, N.A., M&T Bank and certain other affiliates, provide various fiduciary and non-fiduciary services, including trustee, custodial, agency, investment management and other services. International corporate and institutional services are offered through Wilmington Trust Corporation's international affiliates. Loans, credit cards, retail and business deposits, and other business and personal banking services and products are offered by M&T Bank, member FDIC. Wilmington Trust Investment Advisors, Inc. is an SEC-registered investment adviser providing investment management services to Wilmington Trust and M&T Bank affiliates and clients.
These materials are based in part on public information. Facts and views presented in this report have not been reviewed by, and may not reflect information known to, professionals in other business areas of Wilmington Trust or M&T Bank who may provide or seek to provide financial services to entities referred to in this report. M&T Bank and Wilmington Trust have established information barriers between their various business groups. As a result, M&T Bank and Wilmington Trust do not disclose certain client relationships with, or compensation received from, such entities in their reports.
The information in this piece has been obtained from sources believed to be reliable, but its accuracy and completeness are not guaranteed. The opinions, estimates, and projections constitute the judgment of Wilmington Trust and are subject to change without notice. This commentary is for information purposes only and is not intended as an offer or solicitation for the sale of any financial product or service or a recommendation or determination that any investment strategy is suitable for a specific investor. Investors should seek financial advice regarding the suitability of any investment strategy based on the investor's objectives, financial situation, and particular needs. Diversification does not ensure a profit or guarantee against a loss.
Any investment products discussed in this commentary are not insured by the FDIC or any other governmental agency, are not deposits of or other obligations of or guaranteed by M&T Bank, Wilmington Trust, or any other bank or entity, and are subject to risks, including a possible loss of the principal amount invested. Some investment products may be available only to certain "qualified investors"—that is, investors who meet certain income and/or investable assets thresholds. Past performance is no guarantee of future results. Investing involves risk and you may incur a profit or a loss.
Any positioning information provided does not include all positions that were taken in client accounts and may not be representative of current positioning. It should not be assumed that the positions described are or will be profitable or that positions taken in the future will be profitable or will equal the performance of those described. Positions described are illustrative and not intended as a recommendation outside of a managed account.
Indices are not available for direct investment. Investment in a security or strategy designed to replicate the performance of an index will incur expenses, such as management fees, taxes and transaction costs that would reduce returns.
Third-party trademarks and brands are the property of their respective owners.