July 13, 2020—Stock earnings season typically provides a hiatus from the macro news cycle and offers a more granular view into the health of businesses across the economy. As we head into reporting season for the second quarter, we think investors may need to brace for disappointment–not necessarily for the revenue and earnings figures themselves, but rather for the lack of guidance on the road ahead.
A whole lot of ugly
Make no mistake: the second quarter will be ugly. Analysts expect S&P 500 earnings to contract by approximately 44% and revenue to contract by 11% versus the same quarter last year. Prospects are much worse for the U.S. small-cap index with analysts expecting a decline of 103%. For reference, the worst quarter of the 2008/2009 financial crisis saw a contraction of S&P 500 earnings of -69% year over year in the fourth quarter of 2008. Energy and cyclical areas of the economy like autos and retail are expected to take the biggest hit to their bottom lines, with anywhere from a -100% to -300% decline in earnings year over year. Not surprisingly, areas expected to hold up better include technology—because of the dependency on technology for companies and workers adapting to remote working environments—and utilities, one of the most defensive sectors.
Earnings will be bad whichever way you slice it, but actual earnings could potentially come in much better than expected if the economic data are any guide. A typical earnings season sees the majority of companies—approximately 60–70% based on the last five years of data—narrowly "beat" the median analyst estimate for revenue and profits by approximately 1–5% (on average over the last five years revenues have beaten at the low end of that range, and earnings have beaten at the higher end of the range). The Citi U.S. Economic Surprise Index is indicating a historically massive degree of an upside surprise for the economic data of late, compared to economist expectations (Figure 1). Much of that is due to the incredibly wide range of estimates for economic figures that are literally off the charts. For example, Wall Street economists surveyed by Bloomberg have a range of 5% for estimates of the unemployment rate in the fourth quarter of this year. That compares to the range in a typical expansionary period of 0.5% or less. Analyst estimates for earnings are exhibiting a similarly large margin for error. That could lead to higher stock volatility as companies report, though at this point investors are generally already looking ahead to 2021.
The economy is changing so quickly that the second-quarter numbers are arguably irrelevant, even if they end up coming in much worse or much better than expected. What is important, though, is that these figures are likely to mark the low point for the cycle, with expectations for the third and fourth quarters of this year improving though still contracting on a year-over-year basis. The market has been rallying, at least in part, on a presumption that the worst is behind us.
Results from the banks, among the first companies to report, could be telling for earnings season, the economy, and prospects for the equity market in the second half of the year. Banks have been generally much better capitalized during this recession than in 2008, but any indication that banks feel the need to set aside additional reserves for anticipated loan losses could weigh on earnings in the short term and signal more trouble ahead for an area of the market that has severely lagged during the post-March rally.
Low expectations
Management guidance and color commentary provided during earnings calls are typically as useful for investors as the quarterly accounting statements. Now, more than ever, guidance would be useful for investors to gauge whether the so-called second derivative, or rate of economic improvement, will continue. It is here that we think investors may need to set their expectations low and perhaps brace for disappointment. Companies have pulled guidance en masse this year, with roughly one-third of companies withdrawing or suspending 2020 guidance and less than half as many companies offering guidance for the second quarter than the average over the last 10 years. Prior to the recent surge in COVID-19 cases, we may have expected companies to begin offering guidance once again. However, in this environment, we find it unlikely that management teams will be willing to stick their necks out and offer any sort of conviction on the path forward.
Core narrative
With macro data dependent on a very unpredictable virus (and an arguably more unpredictable policy response from local governments) and micro earnings data not offering much insight into the future, we continue to manage portfolios with a cautious but not overly defensive stance. The cautious side of us recognizes that the economy has a deep ditch to climb out of still, despite a strong initial bounce in consumer and labor market data. There is also a U.S. presidential election less than four months away (in case you forgot). However, to get too defensive would ignore the rapid progress on therapeutics and vaccines, as well as the strong policy support coming from the Federal Reserve. There is also room for the market to run should participation broaden beyond the leaders in the tech and internet spaces. With this backdrop, a modest underweight to equities and a slightly elevated cash position is prudent.
Figure 1: Citi U.S. Economic Surprise Index at historical highs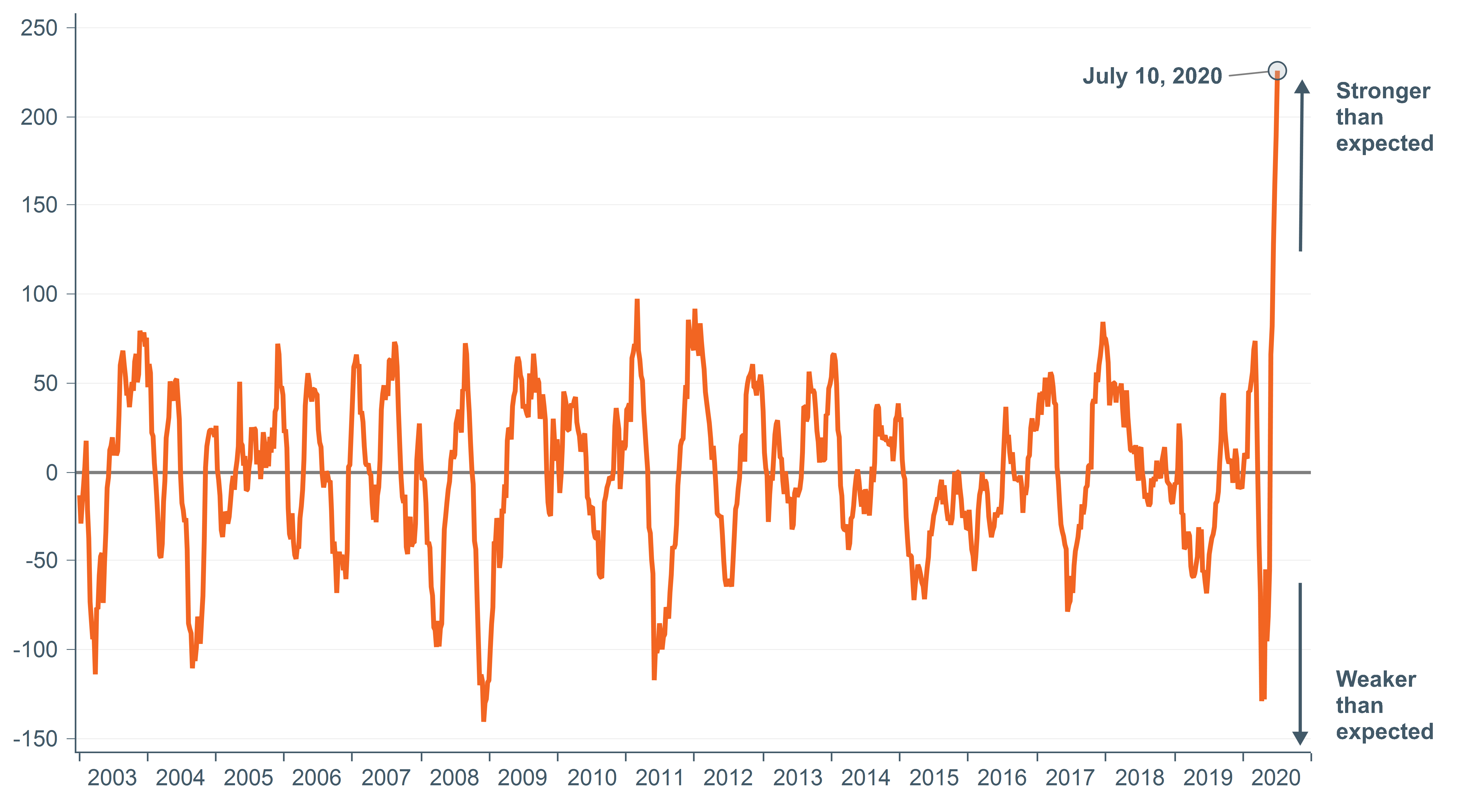 The Citi Economic Surprise Indices measure economic data surprises relative to market expectations. A positive reading indicates that data releases have been stronger than expected and a negative reading indicates that data releases have been weaker than expected. Sources: Bloomberg, Citi. Data as of July 10, 2020.
Disclosures
Wilmington Trust is a registered service mark used in connection with various fiduciary and non-fiduciary services offered by certain subsidiaries of M&T Bank Corporation including, but not limited to, Manufacturers & Traders Trust Company (M&T Bank), Wilmington Trust Company (WTC) operating in Delaware only, Wilmington Trust, N.A. (WTNA), Wilmington Trust Investment Advisors, Inc. (WTIA), Wilmington Funds Management Corporation (WFMC), and Wilmington Trust Investment Management, LLC (WTIM). Such services include trustee, custodial, agency, investment management, and other services. International corporate and institutional services are offered through M&T Bank Corporation's international subsidiaries. Loans, credit cards, retail and business deposits, and other business and personal banking services and products are offered by M&T Bank, member FDIC.
Facts and views presented in this report have not been reviewed by, and may not reflect information known to, professionals in other business areas of Wilmington Trust or M&T Bank who may provide or seek to provide financial services to entities referred to in this report. M&T Bank and Wilmington Trust have established information barriers between their various business groups. As a result, M&T Bank and Wilmington Trust do not disclose certain client relationships with, or compensation received from, such entities in their reports.
The information on Wilmington Wire has been obtained from sources believed to be reliable, but its accuracy and completeness are not guaranteed. The opinions, estimates, and projections constitute the judgment of Wilmington Trust and are subject to change without notice. This commentary is for informational purposes only and is not intended as an offer or solicitation for the sale of any financial product or service or a recommendation or determination that any investment strategy is suitable for a specific investor. Investors should seek financial advice regarding the suitability of any investment strategy based on the investor's objectives, financial situation, and particular needs. Diversification does not ensure a profit or guarantee against a loss. There is no assurance that any investment strategy will succeed.
Past performance cannot guarantee future results. Investing involves risk and you may incur a profit or a loss.
©2020 M&T Bank Corporation and its subsidiaries. All rights reserved.