August 13, 2020—The stock market has crossed another critical threshold on Wednesday, with the S&P 500 breaching the prior all-time high on an intraday basis. While we think the market momentum is likely to continue, we maintain a somewhat cautious stance going forward.
U.S. equities have recovered their pandemic losses on a surge of optimism around vaccines, monetary and fiscal stimulus, and a V-shaped recovery. The pillars holding up the market are real, but some are more structurally sound than others. The Federal Reserve's liquidity support is not going away anytime soon, and vaccine progress continues to move at a rapid pace. What appears to be on shakier ground is the outlook for the consumer. The jobless rate is still at historic levels with the labor market showing signs of stalling, and there is little evidence of consumer demand returning to pre-pandemic patterns anytime soon. (TSA traffic is one example, having improved in recent weeks but still sitting at -70% y/y.) Consumer debt has come down and retail sales have somewhat miraculously returned to February levels, but the consumer remains uncomfortably reliant on the continuation of fiscal stimulus in the form of unemployment benefits and direct checks. Congressional debates on further relief measures are at a standstill. While we continue to believe a deal in Washington will eventually get done, the risk of the consumer falling off a "fiscal cliff" does not appear to be priced into markets.
Core narrative
We continue to be cautious on the market, given what we see as three key underpriced risks in the markets: 1) stalling or rolling back of economic reopenings associated with school starting in the U.S., 2) small business bankruptcies and a plateau of the labor market, and 3) the U.S. presidential election. However, waiting for an equity correction is not a viable investment strategy, particularly when the yield on a 10-year Treasury is approximately 0.65% and there are few alternatives for investors seeking a reasonable total return in their portfolios. As a result, we continue to take a cautious but not overly defensive stance in portfolios, with our exposure to equities slightly less than our strategic benchmarks, a modest overweight position to fixed income, and a newly established allocation to gold. Within equities, diversification is key. We expect some near-term bumps in the economy will lead to outperformance of growth-oriented equities, but an exposure to higher-quality cyclical stocks is important given how strongly these stocks could bounce should data surprise to the upside. I discussed these and other market-related issues recently on CNBC: Watch now.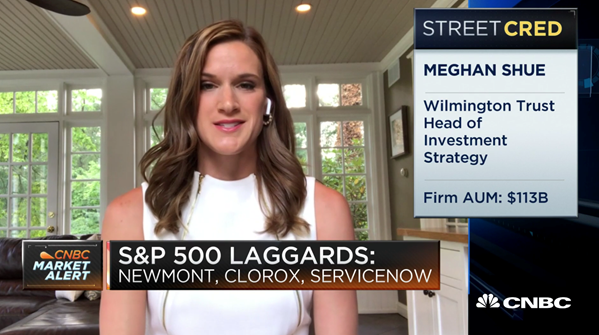 Disclosures
Wilmington Trust is a registered service mark used in connection with various fiduciary and non-fiduciary services offered by certain subsidiaries of M&T Bank Corporation including, but not limited to, Manufacturers & Traders Trust Company (M&T Bank), Wilmington Trust Company (WTC) operating in Delaware only, Wilmington Trust, N.A. (WTNA), Wilmington Trust Investment Advisors, Inc. (WTIA), Wilmington Funds Management Corporation (WFMC), and Wilmington Trust Investment Management, LLC (WTIM). Such services include trustee, custodial, agency, investment management, and other services. International corporate and institutional services are offered through M&T Bank Corporation's international subsidiaries. Loans, credit cards, retail and business deposits, and other business and personal banking services and products are offered by M&T Bank, member FDIC.
Facts and views presented in this report have not been reviewed by, and may not reflect information known to, professionals in other business areas of Wilmington Trust or M&T Bank who may provide or seek to provide financial services to entities referred to in this report. M&T Bank and Wilmington Trust have established information barriers between their various business groups. As a result, M&T Bank and Wilmington Trust do not disclose certain client relationships with, or compensation received from, such entities in their reports.
The information on Wilmington Wire has been obtained from sources believed to be reliable, but its accuracy and completeness are not guaranteed. The opinions, estimates, and projections constitute the judgment of Wilmington Trust and are subject to change without notice. This commentary is for informational purposes only and is not intended as an offer or solicitation for the sale of any financial product or service or a recommendation or determination that any investment strategy is suitable for a specific investor. Investors should seek financial advice regarding the suitability of any investment strategy based on the investor's objectives, financial situation, and particular needs. Diversification does not ensure a profit or guarantee against a loss. There is no assurance that any investment strategy will succeed.
Past performance cannot guarantee future results. Investing involves risk and you may incur a profit or a loss.
Indexes are not available for direct investment.
©2020 M&T Bank Corporation and its subsidiaries. All rights reserved.