May 17, 2019 – This week's nearly round trip in stock markets serves as yet another reminder that it is incredibly difficult and misguided to try to predict short-term movements in the financial markets. After a steep -2.5% drop in the S&P 500 on Monday, in response to an escalating trade war between the U.S. and China, the market clawed its way back and was set to close flat on the week as of Thursday afternoon.
Presumably, this rebound in the market was in response to some solid earnings reports from companies like Walmart and Cisco Systems, Inc., signs that talks between the U.S. and China had not been completely derailed, and evidence from the Trump administration that it would temper trade fights with allies, including Mexico, Canada, and Europe. (Specifically, U.S. trade negotiators have discussed removing metals tariffs on Mexico and Canada while also announcing a 180-day delay in any potential announcement to tariff auto imports.) However, on Wednesday, President Trump signed an executive order enabling the U.S. to ban telecommunications network gear and services from "foreign adversaries," while also adding Chinese telecommunications darling Huawei to its "Entity List" that would require any U.S. company to obtain a license before selling technology to Huawei. Though the executive order did not single out China, the moves represent a pretty direct escalation of the trade war via non-tariff means.
Investors appear to be struggling with how to re-price both the probability of a prolonged escalation of trade tensions between the U.S. and China and the potential impact on the global economy. So far, it appears the market is continuing to price in an eventual deal under the "cooler heads will prevail" scenario, seeing optimism in the likelihood of President Trump and President Xi meeting in person at the G20 summit at the end of June. However, we believe a degree of caution is warranted. It is true that a meeting between the two leaders is critical, but in our view, that meeting is critical not to seal a deal but rather just to get negotiations back on track. Up until the beginning of May, we had been of the view that the two sides wanted to reach a deal and would do so within a relatively short timeframe. We believe two important developments make that a more difficult feat:
The Chinese have made it pretty clear, in our view, that they are not keen on making structural changes to their laws to protect intellectual property and stem subsidies to state-owned enterprises.
With the Trump administration acknowledging that an agreement without teeth will not be acceptable, he is taking the fight public, making it challenging to now accept an agreement that does not include these important changes to Chinese law. He also has a remarkable amount of bipartisan support from Washington and the business community to fight this battle—though many within that group disagree on using tariffs as the negotiating tool.
Because of this, we think the spell has been broken, and investors should be cautious about any further efforts from the Trump administration to talk up the market with comments about "productive" or "constructive" negotiations.
Figure 1. Values of U.S. tariffs proposed and imposed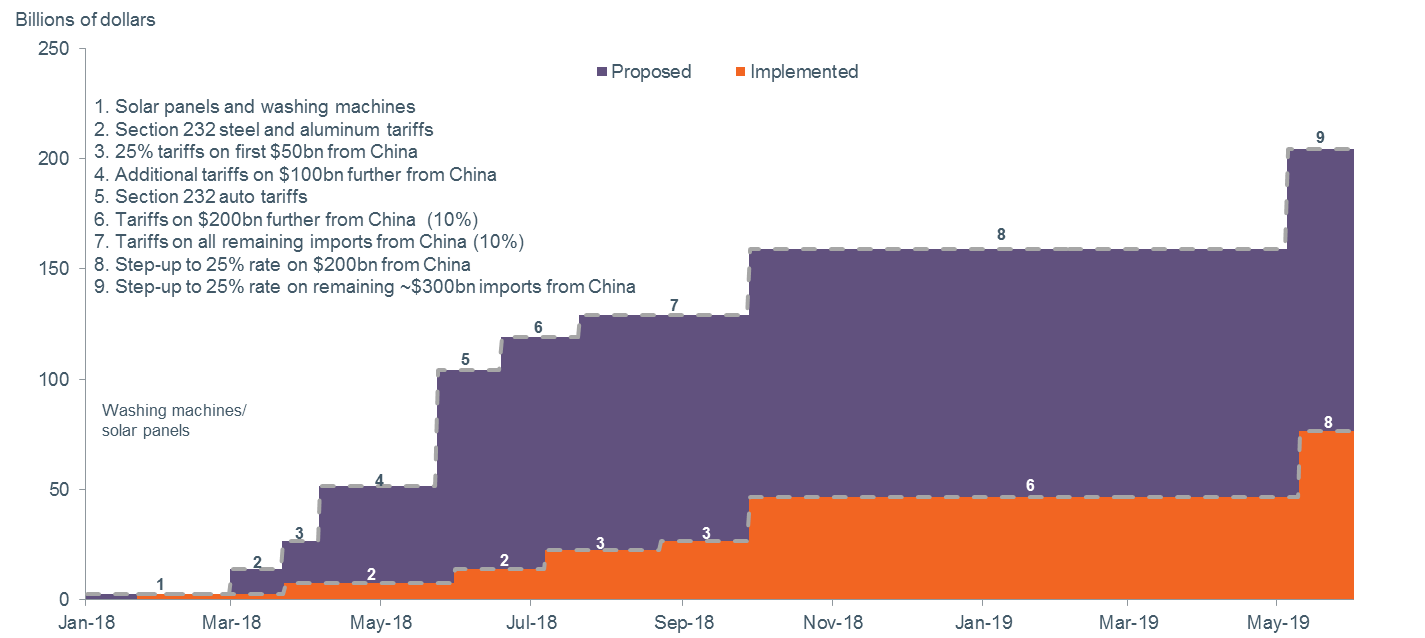 Data as of May 11, 2019.
Source: Goldman Sachs.
Core narrative 
The U.S. economy remains on solid footing, and the global economy appears to be stabilizing. But subsequent rounds of tariffs could begin to have negative compounding effects on consumer and business confidence and spending that are not fully appreciated at current stock market valuations. We expect a period of heightened volatility as trade tensions remain high for a prolonged period and global economic data mixed. Last week we took steps to mitigate risk in portfolios. First, we reduced our overweight positions to U.S. Large-Cap and Emerging Markets Equities to neutral. To be clear, we are recommending that clients remain invested; we just no longer feel it appropriate to hold more exposure to equities than our long-term strategic benchmark. We have also reduced cyclical exposure within our equity sector strategy by reducing allocations to those sectors most tied to economic growth, including technology, consumer discretionary, and industrials. The proceeds were used to increase our allocation to defensive sectors including consumer staples and utilities, which tend to outperform the broader market in periods of stress.
We will continue to monitor trade developments and economic data, prepared to adjust portfolios should conditions warrant.
Disclosures
Wilmington Trust is a registered service mark. Wilmington Trust Corporation is a wholly owned subsidiary of M&T Bank Corporation. Wilmington Trust Company, operating in Delaware only, Wilmington Trust, N.A.,  M&T Bank and certain other affiliates, provide various fiduciary and non-fiduciary services, including trustee, custodial, agency, investment management and other services. International corporate and institutional services are offered through Wilmington Trust Corporation's international affiliates. Loans, credit cards, retail and business deposits, and other business and personal banking services and products are offered by M&T Bank, member FDIC. Wilmington Trust Investment Advisors, Inc. is an SEC-registered investment adviser providing investment management services to Wilmington Trust and M&T Bank affiliates and clients.
These materials are based on public information. Facts and views presented in this report have not been reviewed by, and may not reflect information known to, professionals in other business areas of Wilmington Trust or M&T Bank who may provide or seek to provide financial services to entities referred to in this report. M&T Bank and Wilmington Trust have established information barriers between their various business groups. As a result, M&T Bank and Wilmington Trust do not disclose certain client relationships with, or compensation received from, such entities in their reports.
The information on Wilmington Wire has been obtained from sources believed to be reliable, but its accuracy and completeness are not guaranteed. The opinions, estimates, and projections constitute the judgment of Wilmington Trust and are subject to change without notice. This commentary is for information purposes only and is not intended as an offer or solicitation for the sale of any financial product or service or a recommendation or determination that any investment strategy is suitable for a specific investor. Investors should seek financial advice regarding the suitability of any investment strategy based on the investor's objectives, financial situation, and particular needs. Diversification does not ensure a profit or guarantee against a loss. There is no assurance that any investment strategy will succeed.
Any investment products discussed in this commentary are not insured by the FDIC or any other governmental agency, are not deposits of or other obligations of or guaranteed by M&T Bank, Wilmington Trust, or any other bank or entity, and are subject to risks, including a possible loss of the principal amount invested. Some investment products may be available only to certain "qualified investors"—that is, investors who meet certain income and/or investable assets thresholds. Past performance cannot guarantee future results. Investing involves risk and you may incur a profit or a loss.
Any positioning information provided does not include all positions that were taken in client accounts and may not be representative of current positioning. It should not be assumed that the positions described are or will be profitable or that positions taken in the future will be profitable or will equal the performance of those described. Positions described are illustrative and not intended as a recommendation outside of a managed account. Indices are not available for direct investment. Investment in a security or strategy designed to replicate the performance of an index will incur expenses, such as management fees and transaction costs that would reduce returns.
Third-party trademarks and brands are the property of their respective owners.