December 12, 2019—Chinese equities have been holding up reasonably well, despite the U.S. threat of expanded tariffs and technology sanctions, and the risk of blow-back from the Hong Kong situation. From its recent trough on August 5 to its subsequent grind upward through December 12, the MSCI China Index has gained 12.3%.
As we approach the end of 2019, it is worth "taking stock" of China, pun intended.   Currently, China comprises about 30% market capitalization of the MSCI Emerging Markets Index, a proportion that will increase as MSCI includes a broader range of "A-Shares" traded onshore. It is next-to-impossible to invest in a broad emerging markets fund, or even a broader international fund benchmarked to MSCI ACWI ex-U.S., without committing a substantial allocation to China.
This blog post aims to provide some insights into key investor exposure in Chinese equities. The attached chart shows the index market capitalization weights across various industries and for China's two largest stocks (Alibaba and Tencent), as well as stocks across various industries. The chart's components comprise about 80% of the Chinese market.
Here are some observations:
Alibaba
By far, the largest Chinese stock with 17% of China's market capitalization—the equivalent of Amazon
The company's quick rise during the last decade is attributable primarily to the rapid growth of China's middle class and secondarily to China having mostly skipped past the "brick-and-mortar" phase of large-scale retail development
Its rapid growth has spawned an "ecosystem" of Chinese manufacturers using the organization's online platform to sell their products
One major growth driver has been AliPay, which consumers increasingly use in lieu of cash and bank cards
A number of active international investors consider Alibaba to be one of the world's best-run companies
The stock's 17% weight reflects only the ADRs (American Depositary Receipts) traded in New York
Alibaba's weight in the index will likely increase by end-December with its recent Hong Kong public offering
Other retailers, such as JD.com, comprise 4% of China's market capitalization
Tencent
The second-largest Chinese stock, comprising 12% of China's market capitalization
Originally an internet gaming portal, it still derives a large portion of its revenue from gaming
Tencent is now even better known for WeChat, the firm's messaging service, and offers other social networking services
The firm developed an ecosystem of suppliers who offer gaming and other apps on its platform
Tencent benefits from "social commerce," based around recommendations from friends and influencers
The firm offers WePay as a challenger to AliPay
The firm has been expanding into other media-related businesses (e.g., Tencent streams NBA games in China and it co-produced the movie The Irishman)
Other media companies account for another 4% of market capitalization
While Tencent is clearly a high-flying stock, it has faced some headwinds in the form of tightening government regulation of gaming content and state censorship of media content (such as the reprisals against the NBA for comments made on Hong Kong).
Manufacturers                                              
The Chinese economy has a large and diversified manufacturing sector
Most manufacturing is carried out by unlisted enterprises, often owned by the central government or by provinces (e.g., the controversial technology hardware and cloud provider Huawei is state-owned)
Six key manufacturing industries (capital goods, energy, technology hardware, utilities, materials, and automobiles), collectively account for about 17% of China's market capitalization
Manufacturing firms reliant on goods exports have been adversely exposed to U.S. tariffs and technology restrictions
Some Chinese manufacturing firms have been at the forefront of developing advanced technologies (e.g., automobile companies are exercising technological leadership in electric vehicles and self-driving); we will likely see a large number of Chinese vehicles in the United States
Financial services
Collectively, China's banks maintain a 12% market cap weight in the index, which is about the same as Tencent
While major banks are publicly listed, the central government continues to exercise effective control
The banks that are at the heart of China's legacy socialist system, provide the means through which financing is extended to state-owned enterprises. China's central bank (the Peoples' Bank of China) not only uses monetary tools (e.g., discount rates and reserve requirements) like those used in market economies, it also can dictate the beneficiaries, volumes, and parameters of funding
Since the government controls banking activity, many active international investors in Chinese stocks consider the banks to be low-return, low-risk investments; growth-oriented investors tend to avoid them altogether
Non-bank financial industries (insurance, real estate, and capital markets firms) together comprise another 13% of Chinese market capitalization
The weight of these industries reflects a departure from the communist model, wherein private property rights were nonexistent
Non-banking-financed activities have long presented a risk of asset bubbles, primarily because the middle class in China maintain high personal savings rates and a limited (albeit expanding) range of investment options
The government engages in close monitoring, and heavy regulation, of these industries.
Finally, Chinese equities are generally inexpensive. The one-year forward P/E for the MSCI China Index is currently around 11.5x. Moreover, we do not believe that one-year forward earnings is the appropriate denominator for stocks that may show sustained double-digit sales and earnings growth for many years to come. However, rapidly expanding companies also require increasingly large amounts of capital. China's earnings-per-share growth has historically been constrained by dilution through new share issuance. This issue bears watching.
Core narrative 
China is continuing to manage a decelerating secular economic growth trajectory.   The authorities now speak more frequently of the quality of growth, rather than of the rate of growth. We see such quality manifest itself in select manufacturing and non-bank financial firms. While China presents macro risks due to tariffs and Hong Kong, we believe the country offers an attractive opportunity set.  This is one of the reasons why we have continued to maintain a neutral weight to emerging markets equities.
Weights in MSCI China Index, end-November 2019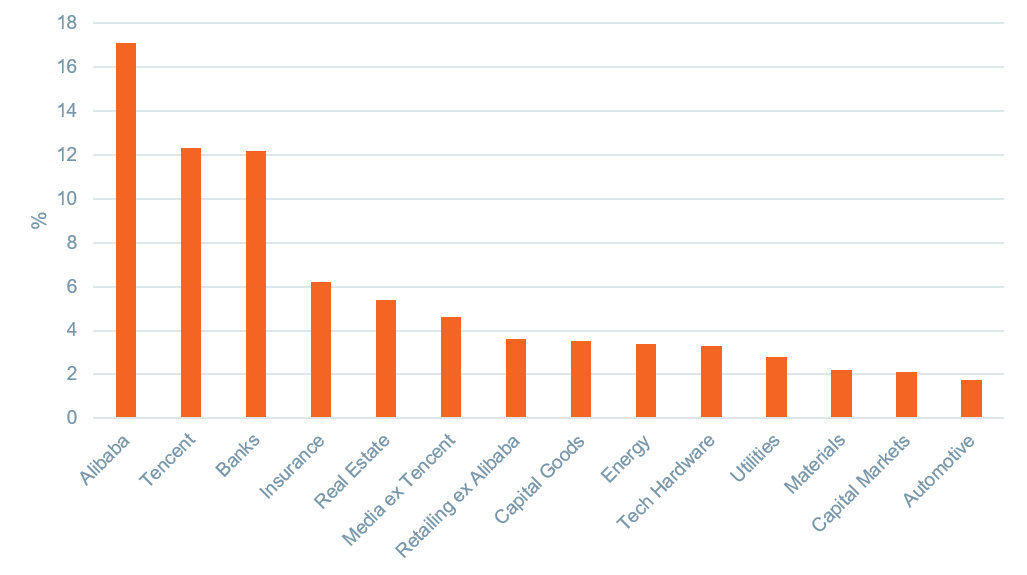 Data as of December 5, 2019. Source: Bloomberg.
Disclosures
Wilmington Trust is a registered service mark. Wilmington Trust Corporation is a wholly owned subsidiary of M&T Bank Corporation. Wilmington Trust Company, operating in Delaware only, Wilmington Trust, N.A., M&T Bank and certain other affiliates, provide various fiduciary and non-fiduciary services, including trustee, custodial, agency, investment management and other services. International corporate and institutional services are offered through Wilmington Trust Corporation's international affiliates. Loans, credit cards, retail and business deposits, and other business and personal banking services and products are offered by M&T Bank, member FDIC.
Facts and views presented in this report have not been reviewed by, and may not reflect information known to, professionals in other business areas of Wilmington Trust or M&T Bank who may provide or seek to provide financial services to entities referred to in this report. M&T Bank and Wilmington Trust have established information barriers between their various business groups. As a result, M&T Bank and Wilmington Trust do not disclose certain client relationships with, or compensation received from, such entities in their reports.
The information on Wilmington Wire has been obtained from sources believed to be reliable, but its accuracy and completeness are not guaranteed. The opinions, estimates, and projections constitute the judgment of Wilmington Trust and are subject to change without notice. This commentary is for information purposes only and is not intended as an offer or solicitation for the sale of any financial product or service or a recommendation or determination that any investment strategy is suitable for a specific investor. Investors should seek financial advice regarding the suitability of any investment strategy based on the investor's objectives, financial situation, and particular needs. Diversification does not ensure a profit or guarantee against a loss. There is no assurance that any investment strategy will succeed.
Past performance cannot guarantee future results. Investing involves risk and you may incur a profit or a loss.
Indexes are not available for direct investment. Investment in a security or strategy designed to replicate the performance of an index will incur expenses such as management fees and transaction costs which would reduce returns.
Reference to the company names mentioned in this example is merely for explaining the market view and should not be construed as investment advice or investment recommendations of those companies.
Third-party trademarks and brands are the property of their respective owners.