May 4, 2020— As investors turned part-time epidemiologists, we have been paying close attention to the trajectory of the COVID-19 disease, including growth in the number of new daily cases. There is evidence at the global and U.S. level that the so-called curve is being bent, though the U.S. curve is behind many other parts of the world and it has taken an unprecedented societal effort to do so.
Some argue there is a light at the end of the tunnel, with U.S. federal and state authorities setting up task forces for restarting economic activity, and other countries like Germany planning to begin reopening their economies as soon as April 20. We look to this development as contributing to the 25% rally in the S&P 500 index in just three weeks, though sentiment has also been buoyed by the rapid and robust deployment of fiscal and monetary stimulus around the globe. Unfortunately, we see the market as under-appreciating the complex process of reopening the U.S. economy, which depends on a critical balance of testing and therapeutics. As a result, the equity market appears overly optimistic and over-extended until more material progress can be made on these two fronts.
Dual axes: testing and therapeutics
If peak case growth is behind us, are we finally in the clear? Not quite. For one, it may be too early to declare peak case growth for the U.S., as different regions are operating on different timelines regarding the spread and containment of outbreaks. New York, New Jersey, Massachusetts, and Michigan have been earliest and hardest hit, but other states could be close behind in terms of growing caseloads. Second, containment is only being obtained through extreme and, frankly, unsustainable social distancing practices. That is why we are focused on progress along two other fronts: testing and therapeutics (Figure 1).
Figure 1: Understanding the importance of testing and therapeutics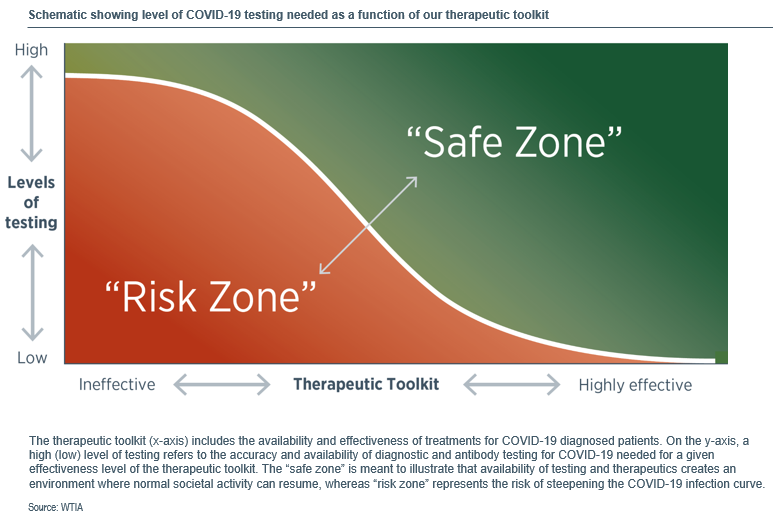 We discussed these issues on a recent conference call with Mark McClellan, M.D., director of the Duke-Margolis Center for Health Policy at Duke University. In our view, the key to reopening the economy lies in finding some balance between robust testing for COVID-19 and therapeutics that can effectively treat someone who gets the disease. If we can achieve sufficient progress on both of these axes (referring to Figure 1, which is a schematic for illustrative purposes only), or even meaningful progress on either testing or therapeutics, we see a path to reopening the economy.
For example, consider a scenario where we have extremely high levels of testing such that you could wake up every day and take an at-home diagnostic test to determine whether you have COVID-19. If the test is negative (and 100% accurate), you could go to work and carry on with your normal business knowing that not only will you not spread the disease to someone else, but others are engaging in similar behavior such that you are at minimal risk of contracting the disease. In this case, we would find ourselves high up on the y-axis of Figure 1, and society could exist in a "safe" zone that does not re-steepen the infection curve (i.e., lead to an increase in daily case growth), even if progress on therapeutics is delayed (i.e., we stay on the left side of the x-axis).
Conversely, if pharmaceutical companies are successful in developing, manufacturing, and distributing a suite of highly effective therapeutics to treat anyone contracting the virus such that it poses more of a nuisance than a material threat to life, that would put us on the far right of the x-axis. We would then have less of a need for robust testing to be in the "safe zone" because anyone who contracts the virus would have a very good chance of obtaining adequate treatment.
Highway to the danger zone
Unfortunately, in our assessment, we are simply not there yet in terms of adequate progress on testing and therapeutics, putting us in the "risk zone," which we expect will result in a delayed, gradual, and bumpy reopening of the economy and near-term weakness for equity markets.
Testing—A high level of testing includes scale and accuracy for diagnostic testing to determine if someone exposed or exhibiting symptoms has COVID-19; antibody testing to assess if someone has already contracted and recovered from the virus, thereby having immunity; and contact tracing to build a network of exposed individuals. (We would note that the science remains inconclusive as to whether having and recovering from COVID-19 means that individual now has adequate immunity such that he or she cannot contract the virus again and cannot spread it to others, though this is generally deemed to be the case with most coronaviruses.)
Figure 1 does not give precise numbers for either axis but consider some reference points. Howard Forman, M.D., director of the Health Care Management Program in the Yale School of Public Health, projects that the U.S. will need roughly one million diagnostic tests per day compared to the approximately 100,000–200,000 per day the U.S. is currently able to perform. The Trump administration's Assistant Secretary for Health, Brett Giroir, M.D., has pointed out that the amount of testing needed is amplified by contact tracing of positive cases, with every new positive case requiring five to ten tests for those in close contact with the affected individual. Dr. Giroir has targeted May for the U.S. to be running up to six million tests per month. According to The COVID Tracking Project, the U.S. has completed 3.2 million tests in total as of April 15.
Antibody testing is critical for any plan to "get back to normal" given evidence that as many as 25%–50% of COVID-19 infections could be asymptomatic[1] (never experiencing symptoms, which is separate from the asymptomatic "incubation period" of two to fourteen days, based on the CDC) but still able to spread the virus. Dr. Giroir projects that antibody testing could be available in weeks, but accuracy of those tests will be unclear for some time. Reliable clinical studies for any of these tests generally take months, but speed is of the essence. As it relates to antibody testing, a false positive indicating someone has the antibodies could provide a false sense of security, putting that individual and their close contacts even more at risk.
Therapeutics—A tremendous amount of collaboration and funding from public and private sources has been utilized to develop therapeutics that can treat COVID-19. As of April 15, the Milken Institute is tracking progress on 86 different vaccines and 137 treatments in the research pipeline, some with more promising prospects than others but only a handful in clinical trial phases II or III (Figure 2).
Figure 2: Researchers race against the clock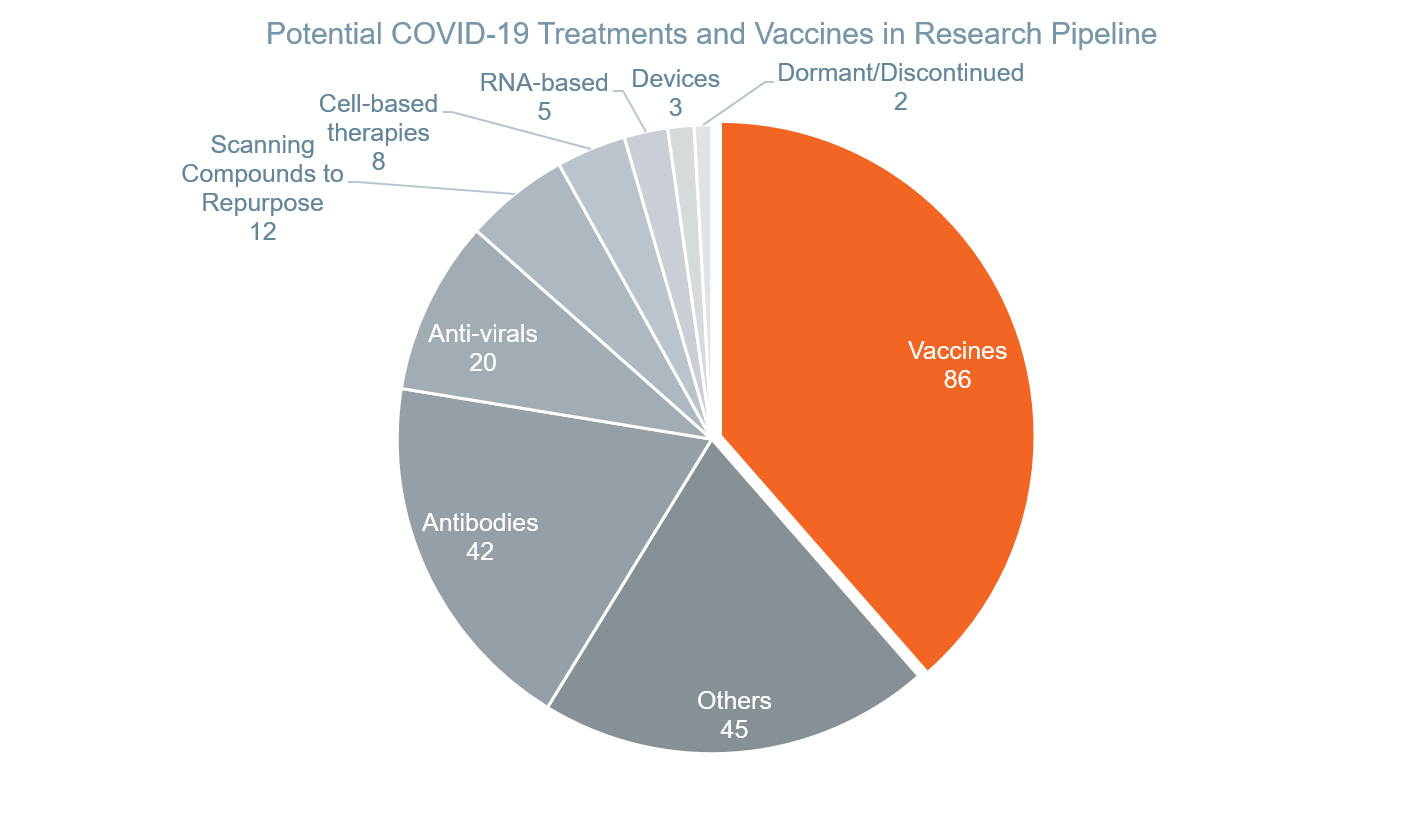 Source: Milken Institute. Data as of April 15, 2020. Represents the number of each kind of treatment or vaccine currently in some stage of the research process.
The most promising antiviral drugs at this point are ones that already exist for treating other viruses, including Remdesivir (shown to have some effectiveness against MERS but failed clinical trials for treating Ebola), Kaletra (works against HIV), and Favipiravir (approved in some non-U.S. countries for treating influenza). Other treatments being explored include the use of antibodies, blood plasma transfers, and stem cells.
Vaccines are a critical piece of the puzzle but separate from the therapeutics discussion, which we define as treating someone who contracts the virus and differs from a vaccine that prevents someone from obtaining it in the first place. A vaccine remains the end game and removes the need for either testing or therapeutics. Vaccine research is currently under way by a number of companies and groups including Moderna, Inovia, University of Queensland in Australia, Johnson & Johnson, and Sanofi. Antiviral treatments are more likely to be developed, approved, and widely distributed before a vaccine, which even the most optimistic researchers do not anticipate before 2021. While human trials for a vaccine have begun, director of the National Institute of Allergy and Infectious Diseases, Anthony Fauci, M.D., stated in March that a vaccine for public use was 12 to 18 months away.
Blurred lines
While our Figure 1 schematic shows a line dividing the "safe zone" on the right from the "risk zone" on the left, this line is somewhat blurred in reality. It also can be adjusted through various levels of mitigation, as shown in Figure 3. If we are willing to live with the strictest levels of mitigation and social distancing possible—"Level 3," which could entail stay-at-home orders indefinitely—then our testing and therapeutic needs will be reduced. However, if we want to return to our pre-COVID-19 way of life ("Level 0"), the bar for testing and therapeutics is much higher to keep society out of the "risk zone" on the left. The reality is that it may be a while, if ever, before we return to Level 0, and this may not be a bad thing. Instituting permanent practices like wiping down shopping carts or adding hand sanitizer dispensers at all public entrances would help to move the curve below Level 0 in a way that is not disruptive to the lifestyle and freedoms we have come to enjoy.
Figure 3: Getting to our new normal
Core narrative
Among the three variables—testing, therapeutics, and mitigation—there is a pathway to safely opening the economy, but we think more time is needed for progress on these key issues. The equity market does not appear to us to appropriately reflect the risks that such a reopening is delayed, gradual, or bumpy. Instead, at just 18% off all-time highs and 4% below index levels from a year ago, the S&P 500 looks to be pricing in a "V-shaped" recovery we do not think is realistic. The U.S. equity index looks expensive based on the current price and our estimate for 2021 earnings in the range of $150–$165/share. We hope it is not the case, but without highly effective therapeutics and robust testing we could find ourselves facing localized lockdowns again in the future. The economic fallout from the COVID-19 mitigation efforts will be steep, and if we cannot engineer a swift recovery, the scars could be much more permanent than many expect.
[1] The director of the Centers for Disease Control told National Public Radio on March 31, 2020, that as many as 25% of COVID-19 cases could be asymptomatic, and researchers at DeCODE, a subsidiary of Amgen, found almost 50% of positive cases involved no symptoms (in a test of 9,000 people in Iceland).
Disclosures
Wilmington Trust is a registered service mark used in connection with various fiduciary and non-fiduciary services offered by certain subsidiaries of M&T Bank Corporation including, but not limited to, Manufacturers & Traders Trust Company (M&T Bank), Wilmington Trust Company (WTC) operating in Delaware only, Wilmington Trust, N.A. (WTNA), Wilmington Trust Investment Advisors, Inc. (WTIA), Wilmington Funds Management Corporation (WFMC), and Wilmington Trust Investment Management, LLC (WTIM). Such services include trustee, custodial, agency, investment management, and other services. International corporate and institutional services are offered through M&T Bank Corporation's international subsidiaries. Loans, credit cards, retail and business deposits, and other business and personal banking services and products are offered by M&T Bank, member FDIC.
Facts and views presented in this report have not been reviewed by, and may not reflect information known to, professionals in other business areas of Wilmington Trust or M&T Bank who may provide or seek to provide financial services to entities referred to in this report. M&T Bank and Wilmington Trust have established information barriers between their various business groups. As a result, M&T Bank and Wilmington Trust do not disclose certain client relationships with, or compensation received from, such entities in their reports.
The information on Wilmington Wire has been obtained from sources believed to be reliable, but its accuracy and completeness are not guaranteed. The opinions, estimates, and projections constitute the judgment of Wilmington Trust and are subject to change without notice. This commentary is for information purposes only and is not intended as an offer or solicitation for the sale of any financial product or service or a recommendation or determination that any investment strategy is suitable for a specific investor. Investors should seek financial advice regarding the suitability of any investment strategy based on the investor's objectives, financial situation, and particular needs. Diversification does not ensure a profit or guarantee against a loss. There is no assurance that any investment strategy will succeed.
Past performance cannot guarantee future results. Investing involves risk and you may incur a profit or a loss.
Indexes are not available for direct investment. Investment in a security or strategy designed to replicate the performance of an index will incur expenses such as management fees and transaction costs which would reduce returns.
©2020 M&T Bank Corporation and its subsidiaries. All Rights Reserved.