October 25, 2018 — Equity markets continue to exhibit significant selling pressure. Unlike the prior corrections in early 2016 and early 2018, the origin of this month's rout in the stock markets is difficult to pin on any one factor. Instead, it seems to be due to a combination of a slight deterioration in the global growth outlook, concerns about peak earnings growth, and continued trade tensions. While all of these are valid concerns, the broad-based deterioration in equity markets far exceeds what we would think of as justified. As a result, global equity markets appear oversold, and this is increasingly looking like a technically driven correction.
While the markets are moving dramatically intraday, and it is difficult to ascertain what is prompting the swings, we would offer the following perspective:
Economic data remain strong in the U.S., and we are forecasting the U.S. economy to finish the year strong with annual growth of 3%. We do expect a slowdown in 2019, but we still see little chance of a recession occurring within the next 12 months. U.S. corporate earnings have missed for some key companies, but we are still on pace for roughly 20% earnings growth versus last year.
Non-U.S. economies have slowed, including China, but growth remains respectable. Chinese policymakers have also pledged support for private businesses and unleashed a series of stimulative measures, including personal tax cuts announced just this past weekend. The impact of these is difficult to estimate at this stage but could be meaningful.
Volatility spikes outside of recessions are rarely a good time to sell. The 1-year return for the S&P 500 after a spike in volatility (defined as a one-standard deviation move in the CBOE Volatility Index) has been positive 86% of the time, for an average return of 19%. That increases to 93% if you exclude periods when we were in a recession.
Major indexes have breached some significant technical trading levels this month, including the S&P 500's 200-day moving average. This is likely triggering sell orders by computer-driven trading strategies, further adding to the sharp daily moves. The last time the 200-day moving average was broken on the downside by such a large amount was in early 2016. Similar to today, the market was panicking about slowing growth in China.
It is important to remember that volatility in markets is painful, but a normal part of investing. As of the close of markets on Wednesday, the S&P 500 was down -9.4% from its all-time high. For perspective, the index fell -12% at the beginning of 2016 and just over -10% in February of this year. On average, since 1980, the maximum pullback in the S&P 500 in any calendar year has been -14% (Figure 1). Even if we isolate those calendar years when the index posted a positive return, the average drawdown has been -11%.
Volatility in the stock market is normal. The key is not to overreact. We do not know how deep this pullback could go, but with valuations for U.S. equities back at levels last seen in early 2016, and no deterioration in our economic outlook, we are holding our ground, but remaining nimble as we receive incremental data from corporate earnings.
Figure 1: S&P 500 Calendar-Year Returns and Maximum Calendar-Year Drawdown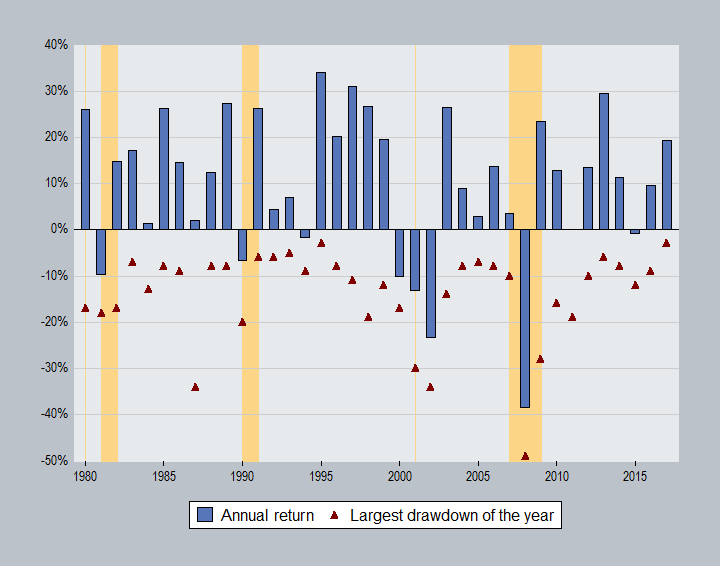 Data as of December 31, 2017.
Source: Bloomberg, WTIA.
Please join us for our Capital Perspectives conference call on Monday, October 29, 2018 at 2:00 PM EST. Our Chief Investment Officer, Tony Roth, and other members of our investment team's senior leadership will address the recent market volatility, as well as, the upcoming midterm elections.
Callers in the U.S.—800.745.9830
Outside the U.S.— +1 212.231.2924
Disclosures
Wilmington Trust is a registered service mark. Wilmington Trust Corporation is a wholly owned subsidiary of M&T Bank Corporation. Wilmington Trust Company, operating in Delaware only, Wilmington Trust, N.A., M&T Bank and certain other affiliates, provide various fiduciary and non-fiduciary services, including trustee, custodial, agency, investment management and other services. International corporate and institutional services are offered through Wilmington Trust Corporation's international affiliates. Loans, credit cards, retail and business deposits, and other business and personal banking services and products are offered by M&T Bank, member FDIC. Wilmington Trust Investment Advisors, Inc. is an SEC-registered investment adviser providing investment management services to Wilmington Trust and M&T Bank affiliates and clients.
These materials are based on public information. Facts and views presented in this report have not been reviewed by, and may not reflect information known to, professionals in other business areas of Wilmington Trust or M&T Bank who may provide or seek to provide financial services to entities referred to in this report. M&T Bank and Wilmington Trust have established information barriers between their various business groups. As a result, M&T Bank and Wilmington Trust do not disclose certain client relationships with, or compensation received from, such entities in their reports.
The information on Wilmington Wire has been obtained from sources believed to be reliable, but its accuracy and completeness are not guaranteed. The opinions, estimates, and projections constitute the judgment of Wilmington Trust and are subject to change without notice. This commentary is for information purposes only and is not intended as an offer or solicitation for the sale of any financial product or service or a recommendation or determination that any investment strategy is suitable for a specific investor. Investors should seek financial advice regarding the suitability of any investment strategy based on the investor's objectives, financial situation, and particular needs. Diversification does not ensure a profit or guarantee against a loss. There is no assurance that any investment strategy will succeed.
Any investment products discussed in this commentary are not insured by the FDIC or any other governmental agency, are not deposits of or other obligations of or guaranteed by M&T Bank, Wilmington Trust, or any other bank or entity, and are subject to risks, including a possible loss of the principal amount invested. Some investment products may be available only to certain "qualified investors"—that is, investors who meet certain income and/or investable assets thresholds. Past performance is no guarantee of future results. Investing involves risk and you may incur a profit or a loss.
Any positioning information provided does not include all positions that were taken in client accounts and may not be representative of current positioning. It should not be assumed that the positions described are or will be profitable or that positions taken in the future will be profitable or will equal the performance of those described. Positions described are illustrative and not intended as a recommendation outside of a managed account.
Indices are not available for direct investment. Investment in a security or strategy designed to replicate the performance of an index will incur expenses, such as management fees and transaction costs that would reduce returns.
Third-party trademarks and brands are the property of their respective owners.